Advocacy tools are the defining difference between a good idea that a few people have and a movement that triggers a radical change in the real world.
Ideals ignite advocacy campaigns. But they are run on information, technology, and tools. With advocacy tools, you can reach more people more quickly than you can with any other strategy.
The ideal advocacy campaign runs software for data management, daily operations, voter outreach, and logistics. The efficiency gained is worth every cent of the funds spent on these tools.
Here are the advocacy tools you need, no matter what change you and your volunteers are trying to bring into this world.
Cloud call center software
CRM software
Legislation and decision-maker tracking
Advocacy finance management tool
Dedicated donation software
We have provided you with five necessary tools and suggestions for each type. You can research further into any specific tool you need, as the market contains many offerings for each tool.
1) Contact your contacts: Cloud Call Center Software
Your first step and last step, no matter how far-reaching your final goal is, will be to reach out and talk to someone. While social media has meant reaching out can now be entirely digital, the mass phone calls to voters (in vogue since the 1960s) does remain a powerful tool in an activist's arsenal.
Several studies done over the past two decades indicate that phone banking does increase participation, sometimes by 3%. It is proven to be as cost-effective as door-to-door campaigning, with good results.
What happens in these calls?
Taking surveys, analyzing the results, and sorting contacts based on their answers.
Sorting contacts into those who need to be called again for follow-up conversations with more information or further nurturing.
Sending reminders for big days, more information for those who ask it, and responding to follow-up calls or messages the contacts send.
Running last-minute 'Get Out The Vote' pushes for confirmed supporters (if running a partisan campaign) and for all contacts (for non-partisan campaigns).
Collecting donations as and when the movement needs them.
Maintaining a 'smart' database of these contacts, with unresponsive numbers removed and updated.
And all of this has to be done while being compliant with Federal and state laws and regulations about how and when you can contact people.
It would be best to have a cloud-based call center software that lets you do all of this while allowing your volunteers to do it from a mobile app at any time and place they choose.
Suggested Software:
1) CallHub: This single 'hub' lets you make and receive calls, send out messages, share donation links, and take surveys. The software lets you make more calls per hour while staying compliant.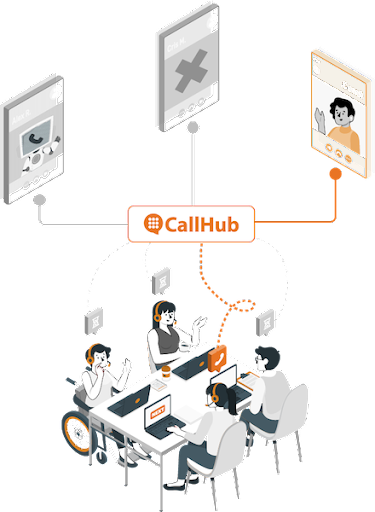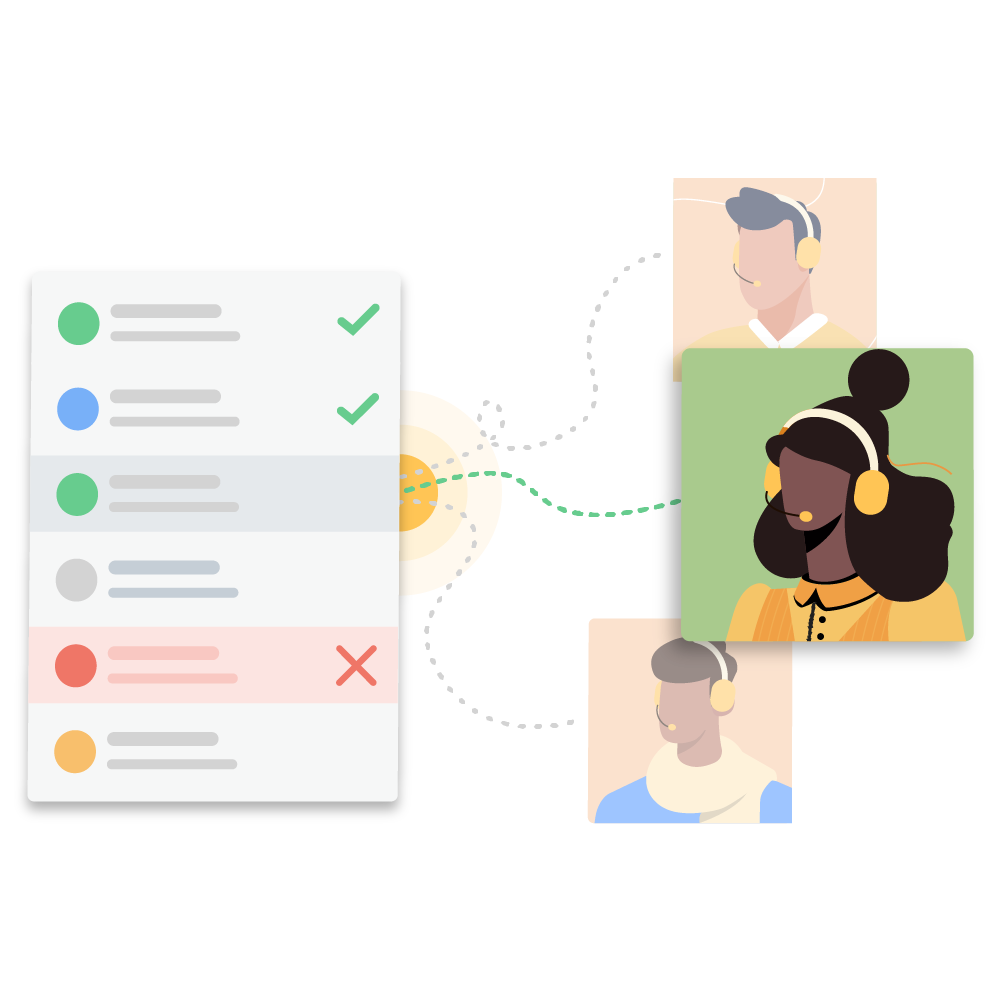 Here are some of the features:
You can choose from a range of auto-dialers that eliminate the manual effort of calling, so volunteers spend more time talking. Automatically dial contacts one at a time with the Power Dialer or maximize talk time with the Predictive Dialer.
Have volunteers run your campaign on the go from their smartphone – anytime, anyplace, with the CallHub mobile app.
Track calling activity, measure calls that convert into meaningful conversations, and compare how each phone call performs; all in real time.
Volunteers on a call can access data collected from previous conversations and synced databases to make each conversation authentic and personal.
You can also give contacts 'tags' to sort them and rate discussions based on whatever information or direction your campaign needs.
The backend auto-assigns volunteers to calls and displays dynamic scripts to those volunteers so conversations are seamless.
CallHub is also a text marketing tool that offers Text Broadcasting and Peer-to-peer texting capabilities. That way, all your communications to a mobile number stay under one roof. While text broadcasts are great for reminders and notifications, P2P texting allows volunteers to have meaningful one-on-one chats (the more preferred way of conversation among the young) with hundreds of supporters daily.
Together, these make up for a must-have communication advocacy tool.
Pricing: Start with a pay-as-you-go model.
2) Grow your website, and your lists: CRM Software
Your contact list is good for one campaign. But if your movement is a 'year-round' ongoing effort, you need a central hub to attract recurring volunteers and donors while continually tracking those who may be keen to join your cause.
It would be best to have Customer Relationship Software (CRM). Don't let the name fool you. CRMs are powerhouses in advocacy campaigns.
Some of the things a CRM lets you do include:
Run a fully-integrated website and supporter database with profiles.
Maintain ongoing petitions online and keep a record of past ones.
Maintain and streamline one-time and recurring donations.
Run continuous email and texting schedules for regular donors.
Track ongoing and past projects and events in one spot.
Maintain online payment systems and profiles so donors have a seamless experience whenever they return.
Suggested Software:
Bloomerang: Other than being able to do all the tasks mentioned above, this software will definitely help you give a better engagement and donation experience.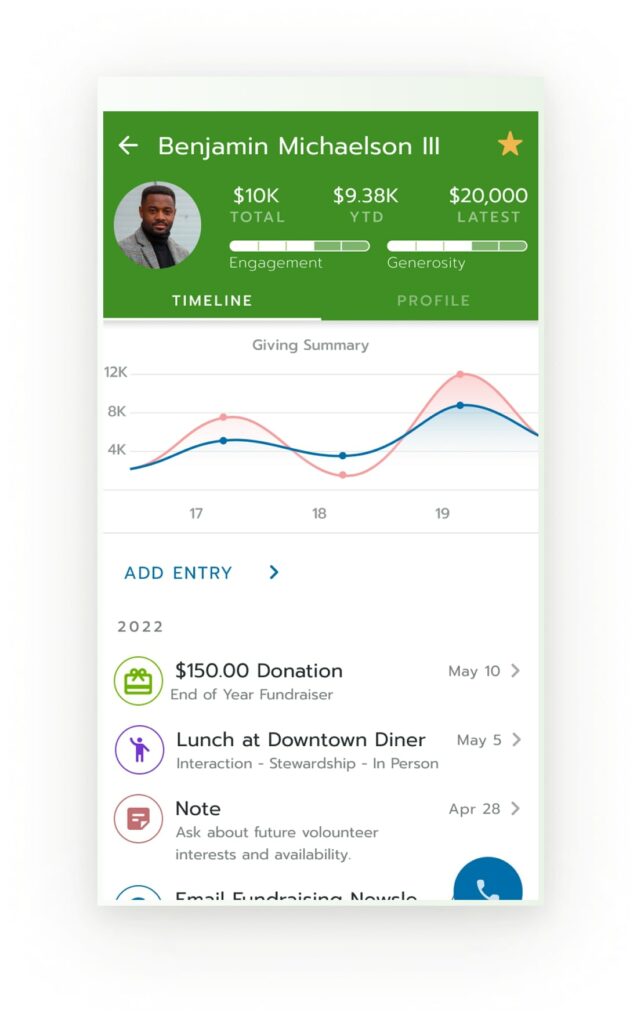 You can also improve at contacting donors and informing them about your next steps. Some of their features include:
Access to email marketing tools to plan reach out strategies with some nice templates.
An entire fundraising system that allows you to set up and sort your donations.
An automatic updates system, so that your contacts go through a pre-planned nurturing journey to maximize their engagement.
Plus, it allows you to sort donors any way you like and search your contact database through any category you choose.
Highly rated in the market, this is perfect for those of you in long-term advocacy and multi-year campaigns.
Pricing: Starts at $119/Month
Get started here: https://bloomerang.co/
3) Reach out to those who matter: Legislative and decision-maker tracking
One-half of advocacy is the people you reach out to. The other half are the decision-makers and legislation.
This may seem simple – you have a cause, and you know the policies and the people responsible for those policies. But once you get into more long-term advocacy with real consequences, it will take more work to keep track of all the related parties or all the legislation that affects your cause. You need such software to grow your network where change is needed the most.
Here are some of the features you need –
Track state or federal legislation and create lists of bills for your audience to follow along.
Let your advocates know the relevant legislation and decision-makers (from senators to school board heads) present in their district.
Help your advocates quickly contact their legislators for ongoing issues with multiple stakeholders and bills – through emails, social media, or even calling.
Help your advocates look up information on their elected officials and information on bills so they are informed about the issues.
Make maps about how many donors or advocates are affected by bills, and grow that network where it is weak.
Suggested software:
UJoin: Over and above the abilities mentioned above, this software helps you keep in touch with the advocates that matter and critically, keep them in touch with the legislation they are passionate about.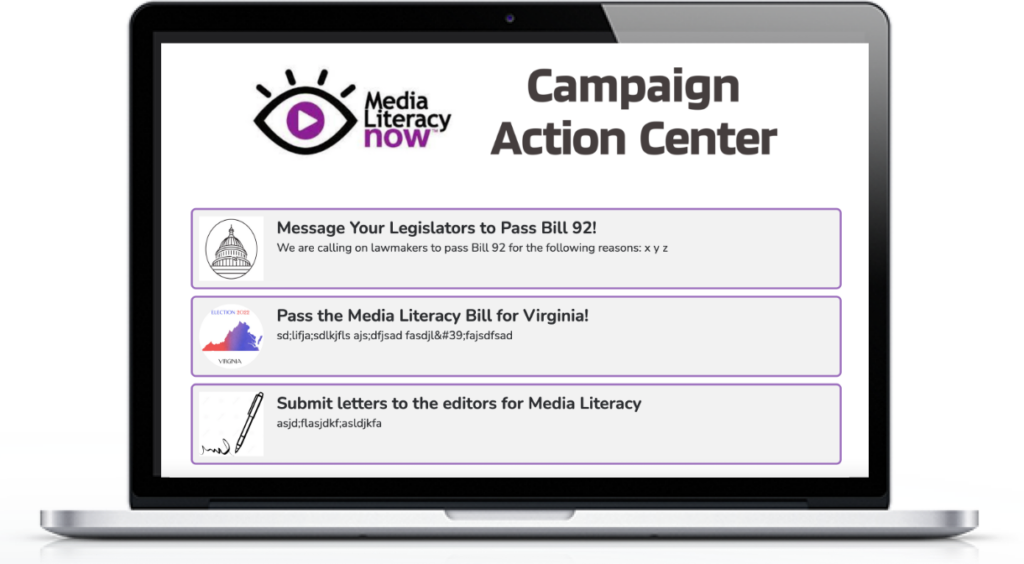 Their features include:
Helps you create action pages that drive engagement toward the cause you are working on.
Helps your advocates reach out to their legislators through customized emails or even pre-filled social media posts.
Have pre-designed templates for quick emails or social media posts, so that advocates can simply share at the best time, without worrying about the messaging.
A must-have if your issue stretches across multiple states or districts with several government bodies involved.
Pricing: Starts at $149/Month
Find out more here: https://ujoin.co/
4) Show me the money: Advocacy finance management tool
Back-of-the-envelope calculations and payment in cash may be how you get things going. Still, once the donations start pouring in (thanks to your well-run calling campaign), your movement must add finance management to your campaign management tools.
Are you a charity under Section 501(c)(3) or a social welfare and political lobby under Section 501(c)(4)? How will you raise funds for specific campaigns while paying for the daily administrative work of running an enterprise?
Paper – good old books – are great if you want to spend a lot of time and resources keeping them updated. Digital accounting is better and easy to keep track.
Some questions your software must solve are:
How will you provide donor certificates for tax exemption every time a donation is made?
How will you ensure all donations match Federal Election Commission (FEC) regulations when filed?
Are your accounting books balanced, and is there a track of how much cash you have to make payments?
Can you immediately reconcile the bank account and provide internal statements as and when needed?
Are you keeping up with state-specific regulations regarding specific candidates or kinds of lobbying?
Suggested software:
ISPolitical: Built by specialists in political compliance reporting, with experience going back to 1999, the company focuses entirely on compliance and is a leader in the industry.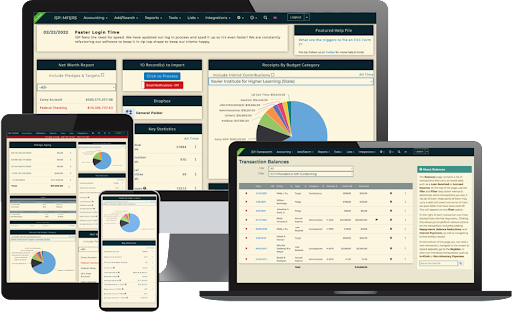 Their system ensures filing is efficient and hassle-free, even if you are a first-time entrant in advocacy or political campaigning.
A specific highlight is their promise that your filings will comply with multi-state regulations, as the case may be.
They claim – "ISPolitical's proprietary artificial intelligence analyzes FEC and other agency RFAI letters, delivering the most sophisticated compliance report warning system on the market."
So it will help keep you ahead of the red tape – whether you are a novice or an expert in the field of finance.
Price: On request
Know more here: https://ispolitical.com/
5) Keeping track of it all: Donation software
While CRM software has integrated donations, it may not always be worth your effort to use a generic donation system, especially if recurring donations are the main focus of your advocacy. Dedicated donation software has many advantages and often looks and operates better.
Consider these points –
How quickly can you get your fundraising going? Do you want it in a day?
How well integrated are you with payment modules and partners? Remember – a single delayed click may turn off a donor forever.
If donors are your primary focus, is their experience smooth and encourages them to return regularly?
Is your donation system geared to increase loyalty and engagement through rewards, gifts, and gamification?
Are you gathering relevant data from each donation to help you understand your donors better?
Suggested software:
Donorbox: This software is used by over 50,000 global organizations and individuals and has gained popularity for how easily you can start taking donations while remaining compliant with regulations.
Other than the features mentioned above, it also has these advantages:
They are especially known for increasing the speed of donating – a critical factor in collecting funds.
The features include donor profiles and surveys you can add each time someone donates, allowing you to gain a more wholesome idea about your donations.
It all sounds simple, but such software will dramatically increase the ease with which people can donate to you.
Price: Starts at $139/Month
Check out the tool here: https://donorbox.org/
In the end, it remains true that a gritty vision coupled with willpower and dedication can overcome all the odds. You can change the world with nothing but a pencil, a notebook, and a 'can do' attitude.
But you don't have to, and it doesn't have to be that slow, and you don't have to fall afoul of half a dozen regulations.
Do the world a favor, and help it change faster through the power of technology. Once you see how quickly this enables you to reach your goals, you will never take up a pen and paper again.