Strategic youth group outreach ideas will streamline your processes.
Every year, about 200,000 youths exit foster care systems in the US. They have low-income prospects and have a high probability of developing at-risk habits or health concerns.
Effective youth group outreach ideas can help connect with vulnerable youngsters. With early intervention, youth programs are known to:
Encourage the youth to give back to their communities (like joining churches or religious groups).
Help them improve their social skills and increase their self-esteem.
Improve BMI range, thereby contributing to their overall health.
Inspire youth to participate in science, engineering, and computer programs at an early age.
Unfortunately, at-risk youth are not always aware of the positive impact such youth outreach programs have on their lives.
So the challenge is to convince them to join youth groups and participate in the activities.
The key to improving participation is :
Having engaging and fun activities
Sharing personal experiences that the youth can relate to
Here we list 14 youth group outreach ideas that are fun, engaging, and also contribute to your campaign's success.
Community events and programs as youth group outreach ideas
Community outreach event ideas that are not centered around festivals have an advantage. They can focus on the issue at hand and can bring together youths, friends, and strangers all year round. Examples of such non-seasonal events and programs include:
Recovery groups
Tutoring and hobby classes
Baby or pet-sitting
Virtual parties
Community fundraisers
These youth group outreach ideas include community events and programs that unite needful youth with the right organizations. Here is a deeper look at them.
Recovery groups as youth group programs
Alcoholism and substance abuse has seen an unfortunate upward trajectory among teens and young adults. For those seeking help and rehabilitation, your events can be the chance they were looking for.
Whom to target: Extend invites to parents, partners, and friends of the individuals as they will bring them to events and be happy to help them.
Some youth group outreach ideas for recovery assistance are:
Celebrations of National Recovery Month (September), where beneficiaries share their journey
Picnics in parks
Parent-and-children tea party
How to improve participation:
Share your success stories
Encourage attendees to share theirs (without making them uncomfortable)
Provide enrolment forms at the location
Enable attendees to join using SMS opt-in (for the shy ones)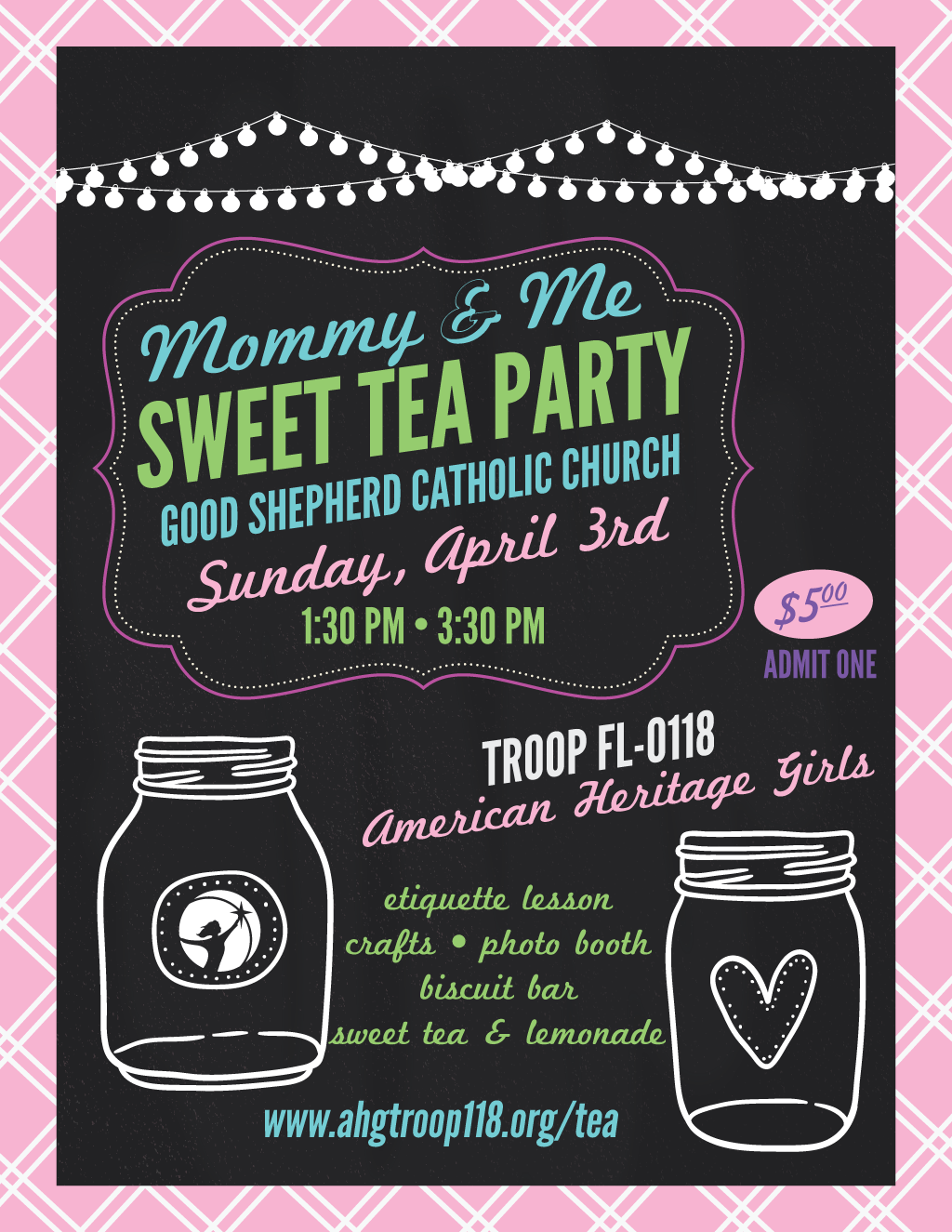 Tutoring and hobby classes as service ideas for youth groups
In 2016, 77.6% of low-income students graduated high school compared to 90% of their non-low-income peers. This is not an extraordinary trend, and historically, disadvantaged students have higher dropout rates.
If your organization focuses on education, starting tuition lessons or hobby classes can discourage youths from dropping out.
In the current scenario, where schools' opening is still highly debated, switching to online classes can be of immense help. They can improve accessibility (remember that most American teenagers own a phone), and you can organize them on a low budget.
What you need to arrange online tutoring or hobby classes:
A teacher who is also tech-savvy
Phone, laptop, or computer with a web-camera
Adequate lighting and good quality microphone (even headphones work)
Student(s) who are happy to join online
Set a schedule convenient for participants and teachers, and you are set to go!
Whom to target:
Students with course failures
Those who show signs of negative peer relationships (victims or perpetrators of bullying, substance abusers, vandals)
Students with low connection to the school community
How to improve participation:
Set up initiatives like the Big Sister, Big Brother
Online classes
Mentorship programs with tutors
Senior students lead hobby classes for younger ones.
Read Next: Effective Nonprofit Outreach Strategies – Creating a Plan and Improving your Outreach.
Babysitting or pet sitting as service ideas for youth groups
Many adults have resumed going to the office, leaving their children or pets alone. For them or for parents who need a break from the constant work, your organization can help with sitters.
Arrange for babysitters or pet sitters from your staff members to spread the word about your program. This can be set as a youth outreach idea as well as for fundraising.
If you aim to reach out to the youth, offer the service for free. In return, you can ask them to volunteer for you when convenient, circulate your message among peers or put up posters in their workplace.
If you wish to raise funds, set a small but substantial amount for every sitting hour.
Whom to target:
Parents or pet parents who have resumed going to work, leaving their kids or pets alone
Parents who need a break from the constant household work
How to improve participation:
Pair sitters within the same locality as parents
Enable sign-up via text
Offer something of value to the volunteers (this could be a way to earn pocket money)
More Resources for You:
Community Organizing: Important strategies to keep in mind.
Mastering the Art of Community Organizing: 6 Essential Steps for Success
Virtual parties and get-togethers for youth group programs
The Muskego Public Library in Wisconsin organized weekly online story-reading sessions to keep children engaged and entertained throughout the summer. Their events were a massive hit, getting between 200 and 500 views per live video.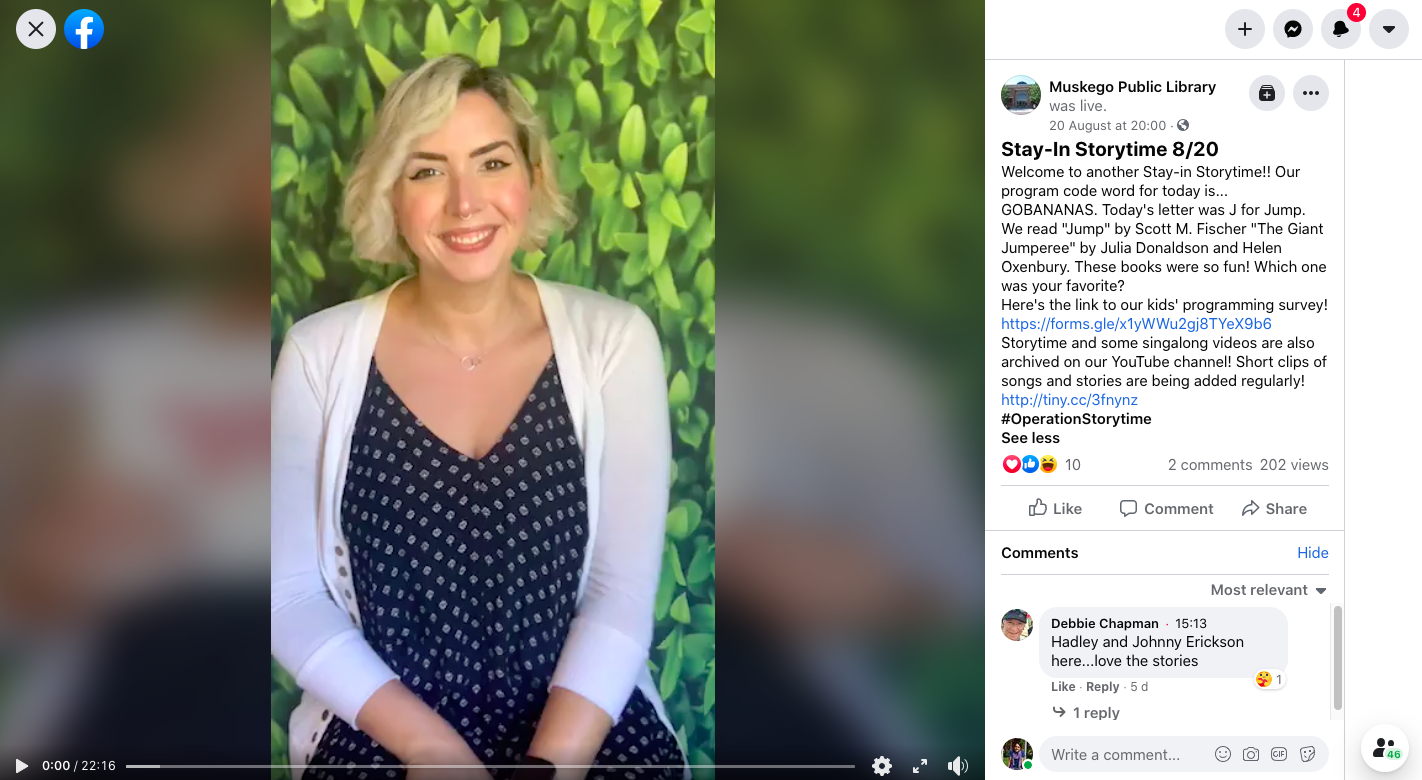 Whom to target:
Individuals who are struggling with mental health issues such as anxiety, depression, or loneliness
Parents, partners, and friends of such individuals who can refer your event to them
Individuals living alone during the pandemic
How to improve participation:
Use catchy hashtags to create a buzz
Join/start Facebook groups to become more discoverable
Encourage word of mouth – or your existing members to share the details within their feed.
Enable sign-up via social media
You can conveniently turn these events into outreach programs by talking about your work at the beginning of the video and posting your message as a caption or "pinned" comment on the video.
You May Also Like: How to Write a Great Phone Script for Ministry Fundraising (Sample Scripts Included)
Organize community fundraising programs for youth group outreach
In 2016, Youth Outreach Services, an organization working to help teens and young adults off the streets, organized a fundraising event. More than 50 people attended an evening of great food, drinks, and networking at a local brewery.
They raised funds via ticketing as well as cash and text donations. And while the donation jars were filling up, staffers who work closely with clients took the stage to share inspiring stories.
Just like that, the team could combine fundraising with youth group outreach!
Taking a leaf out of their example, youth groups can organize fundraisers and make outreach efforts simultaneously.
Whom to target:
Philanthropists in your network
People who know at-risk individuals personally
Previous donors and supporters
How to improve participation:
Share impact stories throughout the event
Keep enrollment forms in strategic locations of the venue
Enable sign-ups via SMS opt-in
If you are hosting the fundraiser online, post a link to the donation page.
Festivals and special occasions as youth group outreach ideas
What better time to spread joy when the vulnerable and at-risk youth yearn for it the most? Yes, we are talking about festivals. The following youth group outreach ideas give a unique spin to traditions to help you connect with the target audience.
Reverse Halloween for youth group programs
These festivities are to be scheduled a few weeks before Halloween. All your staffers and volunteers team up and contribute to purchase candies in bulk.
On the scheduled day, make gift pouches with these assorted candies. Add a lovely card highlighting your outreach message.
Go door-to-door to distribute these candies and take a moment to initiate a conversation about their concerns. If the opportunity presents itself, talk about your cause and convey how you can help them.
How to improve participation:
Make the event about the youth and not about your cause
Encourage them to reach out for help
Include youngsters who have benefitted from your outreach to share their stories
Secret Santa for the disadvantaged youth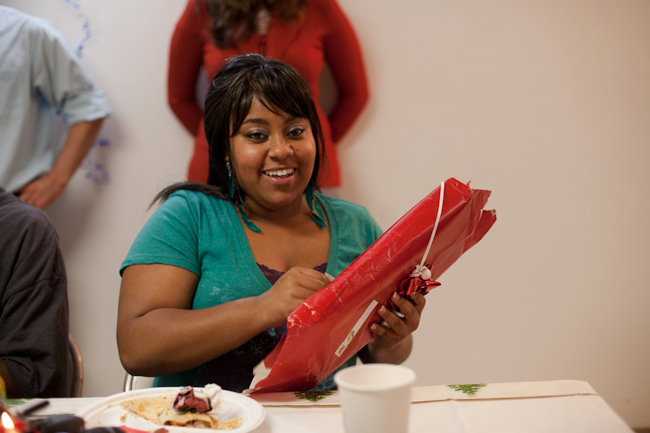 Be a Santa for the disadvantaged this holiday season.
Ask every member to bring at least one friend or family member (who is not already a part of your group) for this youth outreach idea. Every participant is a "Santa" to at least one disadvantaged person. They bring presents to give to the underprivileged and homeless people in your community.
This way, you can target your youth outreach program to the current staffer's friends and family via relational organizing. At the same time, you reach out to the low-income and vulnerable youth who are the "children" to your Santa!
How to improve participation:
Add a pamphlet or note with your contact information with every present
Talk to the beneficiaries and understand their problems. Encourage them to reach out
Offer small incentives to volunteers (like a supper party or token gifts)
Share a meal on Thanksgiving
This festive season, share a hot meal with someone who cannot afford it. In the process, this youth group outreach idea can help you connect with your target audience.
This is how it goes:
Each member organizes a potluck with their family or friends.
But, the delicious meal goes to the homeless people and disadvantaged communities in your neighborhood.
Note any allergies and food preferences and communicate them with the members who are cooking.
How to improve participation:
Discuss the plan in advance with the individuals or families whom you are targeting. Fix a date and time with them and ask for the number of people you'll serve.
Target low-income families and homeless individuals
Offer small incentives to the members who will be cooking.
Sales as an outreach idea for youth groups
Sales are a classic way to interact with strangers and spread your message to them. Although usually used as a fundraising initiative, sales can also be an opportunity to further your cause. You can
Speak about your cause,
Share your shortcode for people to opt-in to your text blasts,
Encourage young people to enroll in your organization.
Bake-sales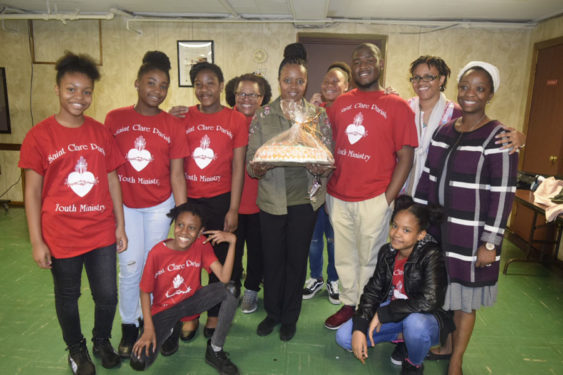 Cookies and cakes are irresistible- no argument there. And this is precisely what works in your favor in bake sales. Whether you want to raise funds for your cause or invite youths to check out your program, a bake sale guarantees success.
How to improve participation:
Distributes pamphlets and posters talking about your motto, objectives, and message.
Displays a shortcode or phone number for people to opt-in to your message list.
Give out the contact information of staffers or receptionists in case people want to get in touch personally.
Yard sales as a youth group outreach idea
The Episcopal Church of Annunciation in Marietta, Georgia, organized a yard sale earlier this year to reach youth outreach.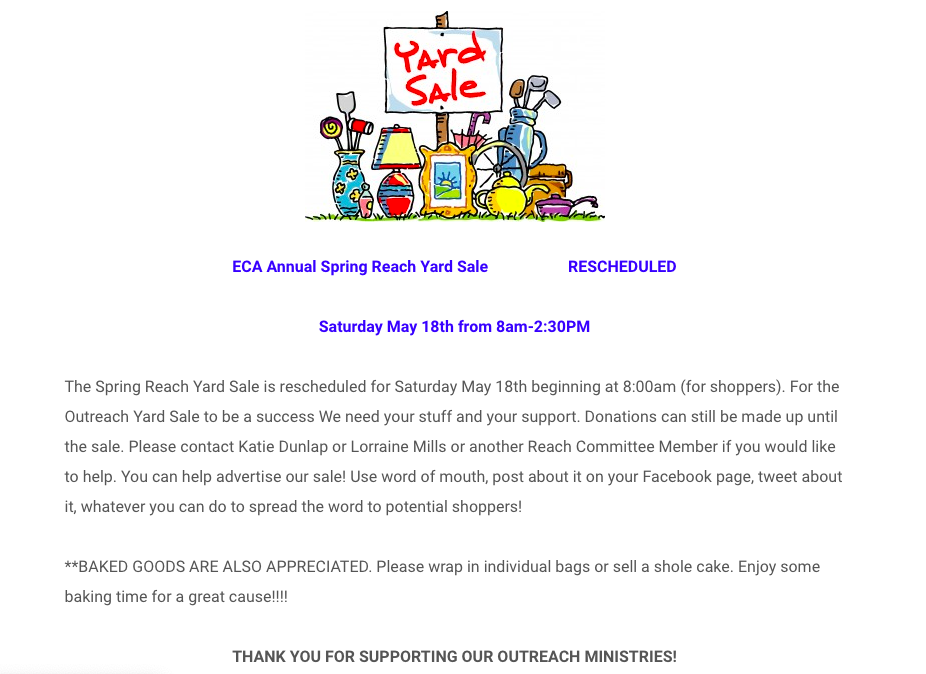 This youth event idea for the church asked supporters to donate old goods, volunteer for the event, and spread the word about it. This way, their outreach initiative began even before the yard sale was on!
Yard sales can be a thriving youth group outreach idea because:
Your current supporters can reach out to friends and family, asking to donate belongings
Shoppers can be targeted to spread your message and invited to enroll with you
How to improve participation:
Arrange for a large number of items, so they don't sell out early
Create a buzz about the sale on social media and offline
Send out personal invitations to donate or shop via phone calls and text messages
Seasonal thrift sales for youth group programs
These may not be popular around the year, but seasonal thrift sales can be super successful if you organize them at the right time.
For instance, winter wear is usually quite expensive, and for people with low income, this could be an issue. If you organize a yard sale for donated jackets, socks, and gloves with slashed prices, you can potentially reach out to many individuals.
This youth group outreach idea can target shoppers as well as volunteers at the counter.
Some seasonal thrift sales ideas are:
Back-to-school supplies
Electronic gadgets and kitchenware while you are spring cleaning
Winter wear, blankets, and boots
For all-round thrift sales, you can sell:
Books and stationery
Plants
Clothes
Toys
How to improve participation:
Talk about your organization and invite people to enroll during the sale.
Send personal invites beforehand
Enable SMS opt-in at the counter
Acts of kindness as youth group outreach ideas
If your organization promises to help vulnerable or at-risk youth with kindness and compassion, show them that at a youth outreach idea! Undertake acts of service as a group and help your community while spreading the word. Some youth group outreach ideas with this focus are:
Cleanliness drives
In India, a group of teenagers and young adults started a beach clean-up drive as a school reunion event. Soon, strangers not associated with the group joined them, and the army kept increasing. Together, they cleaned 1000+ tonnes of garbage from the beaches.
Apart from this incredible environmental impact, the clean-up drives also resulted in fantastic youth outreach.
Cleanliness drives for the community, or individuals can bring people together.
Is your neighborhood littered? Or perhaps the lake in your vicinity is stinking or garbage. Or the beloved veteran near your home cannot wash his car nowadays. These can be easily cleared up with a cleanliness drive for the community.
How to improve participation:
To let the entry be open to all
Explain the motives of the group and the initiative to every new participant
Collect contact details of the participants and inform them of your next initiatives via texts or calls
Encourage staffers and history participants to bring friends for every event
Food drive as service ideas for youth groups
In July 2020, the Atlanta Community Food Bank (ACFB) organized a food drive as an outreach idea for youth. They aimed to engage youth interested in community service and help them understand how the food bank community operates.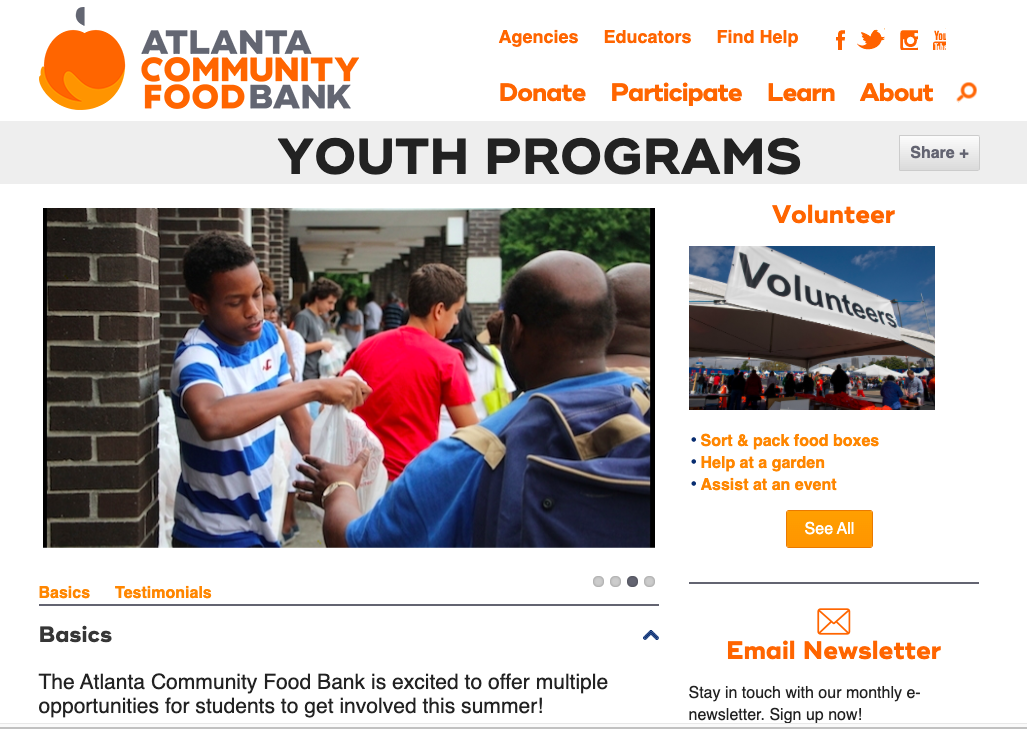 Anyone was open to enrolling as a volunteer, and the food bank selected 25 youths to run the drive. The successful drive distributed 10 million pounds of food across all their stations.
Taking inspiration, your organization can organize food drives regularly in your community.
Whom to target:
Parents and well-wishers of at-risk youths
If you focus on education, engage students who are at the risk of dropping out
People from low-income groups or those who have lost employment due to the pandemic
How to improve participation:
Advertise the food drive online with catchy hashtags
Provide a considerable incentive to volunteers (for instance, the ACFB drive got volunteers 40 community service hours)
Ask staff members and supporters to spread the word on your behalf
Running errands in neighborhoods as service ideas for youth groups
People above 60 years, those with a history of illnesses, and young children are at the highest risk of COVID-19 infections. This has restricted the outdoor movement of a lot of people.
As part of your outreach to youth, you can run errands for the vulnerable in your neighborhood.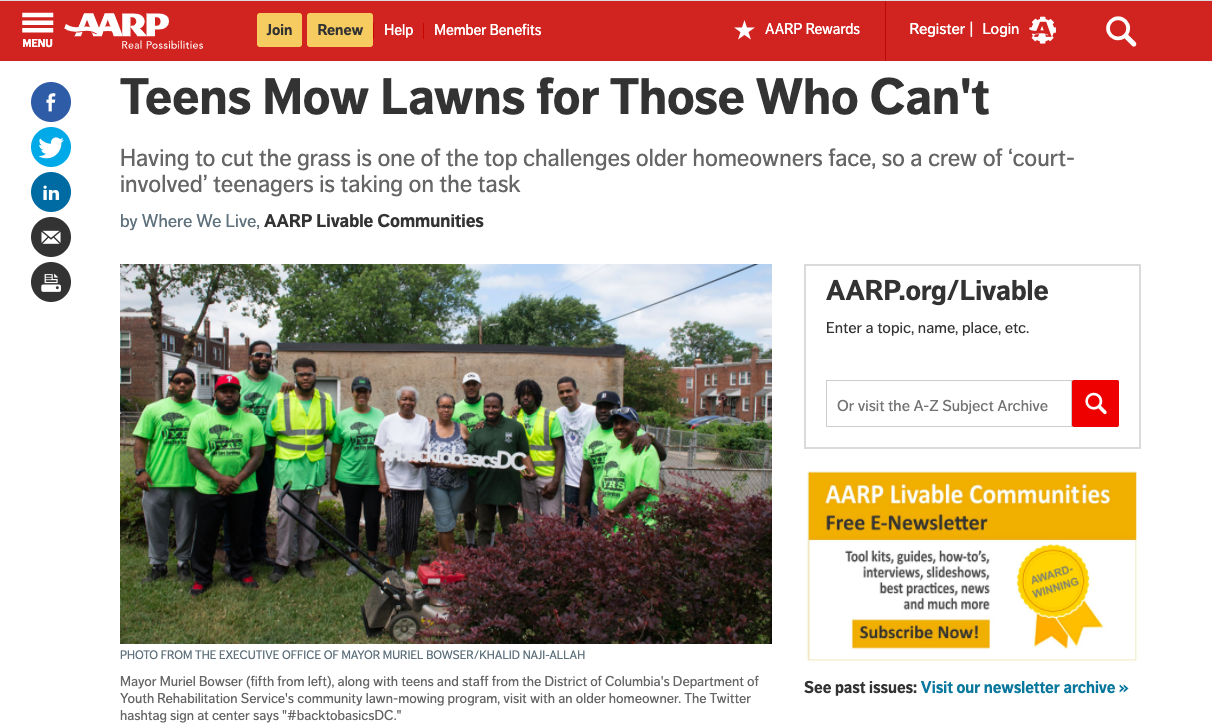 Whom to target:
Hold supply drives for senior citizens
Mow lawns, clean cars, or offer help in domestic chores for the differently-abled
Help working single parents look after their children or house while they are away
Cook meals for needy neighbors
This way, you can spread the word about your youth outreach ideas and the organization.
How to improve participation:
Speak with community members about their needs. Ask them to refer the needy
Provide monetary or other incentives to your volunteers
Ask people to contact you via SMS or call whenever they need a volunteer to run an errand
How do you connect with the youth?
You've selected what community outreach idea is suitable for your targeted youth. Now, the next question is how to inform people about it. It's always helpful to go for a multi-channel approach when you want to spread the word. Here, we list five crucial channels for your youth outreach event(s).
1. Texting
Target Audience: Teens, young adults, and parents who own a cellphone and are already on your contact list.
How can you use it? Enable sign-up via texts, send bulk updates via SMS, use MMS to increase engagement, recruit volunteers and have conversations via peer-to-peer texts.
Advantage: Text messages have a 98% open rate and a 209% higher response rate than emails. Since they are not restricted to smartphones, they also have a better reach.
2. Calling
Target Audience: Maintain communication with donors or supporters who have engaged with you previously by inviting them over a call. You can also include friends and family of your supporters if you already have their contact information.
How can you use it? Follow up with donors via phone calls, call regular youth group members to check up on them,
Advantage: Calling to get in touch gives your youth outreach a personal touch. You can explain the cause and event in detail and encourage people to join.
3. Social Media
Target Audience: Individuals who are active on social media channels like Facebook, Instagram, Twitter, Pinterest, and Snapchat.
How can you use it? Spread the word about your event, promote the sign-up page, invite donations via social media, encourage members to share, and spread the word using the right hashtags.
Advantage: Social media gives you a broad reach beyond your immediate social circle and their relations. For online events and donations, this means more opportunities for people to join across geographies.
4. Posters and pamphlets
Target Audience: Posters and pamphlets are a great way to attract attention offline. The target audience here is people who live in your community and frequent places like cafes, schools, parks, libraries, etc.
How can you use it? Spread awareness and long-form content. Reach people who are not comfortable with technology.
Advantage: Posters are your first point of impersonal contact with the target audience. It is a traditional method to engage those who haven't engaged with you previously.
Pamphlets help your volunteers engage with strangers briefly. These volunteers can form the first impression of your cause and go a long way toward encouraging people to join.
5. Word of mouth
Target Audience: Friends, family, neighbors, and colleagues of your staff members and volunteers.
How can you use it? Ask staff members to refer friends who they feel are suitable for the job. Conduct surveys and get feedback on your work. Word of mouth can also help you advertise your events to the target audience on a more personal level.
Advantage: Who better to advertise your youth outreach event than people who have worked actively on it? Word of mouth is great for local events because it gives room to explain the cause, address questions, and provide details in a personal conversation.
To set the ball rolling, ask your staff members and volunteers to:
Put up the event on their social media pages
Invite one friend every week to help with preparations
Note down all the responses they got from friends and family.
Youth group outreach ideas to get the youth to participate more actively:
The last decade has seen a downward trend in youth participation in outreach groups. Some eminent reasons for these include lack of awareness, lack of caring adults, and financial problems. 
If your organization can address any or all of these issues and is still struggling with youth participation, these development areas may help.
Use the right channels for outreach to youth
84% of American teenagers own a phone
75% of youngsters are active on at least one social media platform
These numbers are excellent guides on what communication channels are effective with this demographic. Text messages, phone calls, and social media posts about your outreach activities can reach the youth effectively.
Your youth group outreach ideas must make participation easy
The logic is clear. Participation decreases if:
It is difficult to join
The organization/activity is not appealing
To overcome this, you can follow a ladder of engagement.
Potential entrants still have very low engagement. They are still not wholly invested in your organization, and you need to take baby steps. For instance,
Step 1: Ask attendees to join your text message list
Step 2: When you acquire their consent to text, ask them to fill out a survey. Continue sending messages regularly
Step 3: Ask them to volunteer for a day
Step 4: Once a relationship is formed, ask them to join your cause.
By making participation without many obstacles or efforts, you help them come closer to your organization.
Some ways of making participation easy are:
Online joining forms
Online donations
Outreach events in places that the youth frequent. E.g., school, parks
Clearly define the motto of your organization
Are you rehabilitation at-risk youth from falling back into harmful habits?
Do you help teenagers from low-income families find jobs?
Does your organization focus on the education of disadvantaged groups?
Clearly defining your organization's motto and goals helps the audience understand what they can expect from you. It makes your communication with the potential entrants targeted, thus helping you reach the right audience.
Organizing events for successful outreach isn't an easy task. But with these youth group outreach ideas and tips, we hope your next event is a grand success!
If the overall event management is overwhelming you, read this guide next to get everything organized with ease: Nonprofit Event Management: All Necessary Tips and Tools For Your Event.
Feature Image Source: Alexis Brown/ Unsplash