Do you really need a fundraising CRM software?
To help you answer, consider these facts. A fundraising CRM enables you to:
Efficiently manage diverse fundraising efforts on one platform.
Collect donations from different platforms and transfer them all to your account by integrating with your payment gateway.
Automate processes like sending out thank-you emails after receiving a gift and adding details of the gift to the right donor profile.
Create reports on your efforts to provide valuable insights into what's working and what's not.
In short, a fundraising CRM software makes the fundraising process more efficient and effective.
Having said that, I understand that finding a new fundraising CRM software is not the most exciting task in the world. On the contrary, the research can be quite tedious.
Not anymore. We've done the research for you and put together a list of key features to look for when searching for a fundraising CRM and also listed out a few of our favorites.
What is fundraising CRM software?
Before getting to the key features, it's important to understand what the solution is and what it does.
A fundraising CRM software is a tool that helps facilitate the entire fundraising process. It streamlines fundraising operations by enabling you to control aspects of it from a single platform, which include:
Campaign management: Enabling you to create and run different types of fundraising campaigns like crowdfunding, peer-to-peer fundraisers, etc.
Payment integrations: Integrates with different payment processors allowing you to collect payments from a variety of sources like cards, wire transfers, etc.
Reporting and analytics: Offering you reports and analysis on fundraising efforts. For example, what fundraising channel is bringing in the most donations, which one is bringing in new donors, etc.
While there may be additional features that different fundraising softwares offer, these are the most basic functionalities that every tool offers.
A fundraising CRM is often referred to as a fundraising platform too. But don't confuse them with platforms like Fundly or GoFundMe because there are two types of these platforms:
Hosted: Applications whose backends are controlled by others. You can still use the features in the front end, but you won't have access to the admin functions. For example, you can create a fundraising campaign on GoFundMe, but you can't add an additional payment option, right?
Self-hosted: Applications that you control in the backend. So the fundraising CRM software you select is a self-hosted fundraising platform. You control all the admin functions and can modify them however you need.
How is a fundraising CRM different from a regular CRM and DMS?
When scouting for a fundraising platform, you're likely to come across websites offering you comprehensive CRMs or donor management systems. It's essential to understand the distinction between them to know which one would suit your needs best.
| | | |
| --- | --- | --- |
| | What is it? | What is it best suited for? |
| Constituent Relationship Management System (CRM) | It is a comprehensive tool that tracks every aspect of an individual's journey with your organization. It also helps you build flows for automated communications, sync different teams within the organization, and automate other processes to build better relationships with supporters. | Large and medium-sized nonprofits that need a tool to track and manage individuals at different levels of engagement (volunteers, strong supporters, prospects, etc.). It also helps different teams handling various operations (like marketing, stewardship, etc.) sync their data and collaborate seamlessly. |
| Donor Management System (DMS) | A DMS is a subcategory of CRMs designed specifically to collect and manage donor data and support donor relations. They are usually not as feature-rich as CRMs. | Medium and small-sized nonprofits focusing on improving donor relations over other tasks (like marketing for awareness). |
| Fundraising CRM | A fundraising CRM software is specifically designed to facilitate your fundraising operations. It doesn't track donor interactions or prospect touchpoints outside the fundraising process. | Nonprofits of all sizes that need a tool to facilitate different types of fundraising efforts over multiple channels like peer-to-peer fundraising on social media or an email fundraising campaign. |
While having all three tools is highly beneficial for any organization, the accompanying costs are a huge burden to bear. Hence, it's essential to prioritize the one you wish to start with and procure the rest as you grow.
What does a fundraising CRM do for you?
While the specifics may differ, the best fundraising CRM software facilitates the following crucial fundraising operations.
1. Online fundraising
Online fundraising is becoming increasingly important for nonprofits.
In 2019, online giving was up by 23%. 
On average, 39% of donors who made an online gift to a nonprofit in 2018 made an online gift again to that nonprofit in 2019, indicating that online donor retention is easier. 

It's only obvious that your fundraising CRM should help you manage your online fundraising efforts easily. Here are some specific tasks that it should enable you to do:
Create custom landing pages for different campaigns.
Craft custom online donation forms for different pages.
Create and automatically send out email appeals and follow-ups for email fundraising.
Let supporters create landing pages for peer-to-peer fundraisers with ease.
Provide multiple online payment options for all fundraising campaigns.
Apart from this, a few good-to-have features in a fundraising CRM include:
The ability to set up crowdfunding campaigns on your website.
Creating micro-store to carry out merchandise (t-shirt, mugs, etc.) fundraising.
Integration with donation matching platforms to support matching gift fundraising campaigns.
2. Offline fundraising
Even though online fundraising is on the rise, offline methods still account for a significant portion of all fundraising revenue. Hence, it's important for your fundraising CRM to support these efforts to some extent by allowing you to:
Create customized templates and auto-populate them with relevant data (like donor name, past donation, address for mailing, etc.) for direct mail fundraising.
Craft a custom donation form to collect donations during offline interactions. Prospects will be led to this form either through text-to-donate, by scanning a QR code, etc.
Sync with your donor management system to add donor data collected in offline fundraising campaigns to the relevant donor profile.
Being cloud-hosted solutions, the ability of a fundraising platform to support your offline campaigns are limited. However, these three features should take care of most of your offline fundraising operations.
3. Data tracking and reporting
Once your campaign is over, you would want to look over the results to understand what worked and what didn't. For this, you'll need data from each campaign.
A fundraising CRM software enables your organization to track the following data:

Donation amount and the donor who gave it.
Campaign the donation is coming from. You may be running multiple campaigns at once, and you'll need this data to see which one's faring better.
Amount of the donation that is tax-deductible. This will come in handy when sending out tax receipts or donor acknowledgment letters, as you'll be able to directly merge this field in it.
Method of giving.
Every fundraising software has an analytics dashboard that organizes this data into reports. With these reports, you can get insights into your campaigns, track relevant metrics, and even notice trends across campaigns.
For example, with a campaign report, you can track:
How many donors from your previous campaigns donated again.
What was the average gift size of these repeat donations?
These metrics help you understand your current donor retention rate and potential retention for the next campaign.
You can customize these reports to add additional fields and track other metrics that are relevant to you.
Fundraising CRM software you can consider
To find a fundraising CRM that fits you best, you can go through different options and their feature list and compare that with the features described above. That's going to be a tedious but important task.
But, if you're short on time, here's a list of some of our favorite platforms you can consider instead.
1. CauseVox
CauseVox is a comprehensive fundraising platform with a focus on boosting your digital fundraising efforts. It comes with an in-built CRM that lets you build automated communication flows by integrating it with relevant communication software.
A notable feature of the platform is event ticketing, which allows you to sell tickets for both offline and virtual events.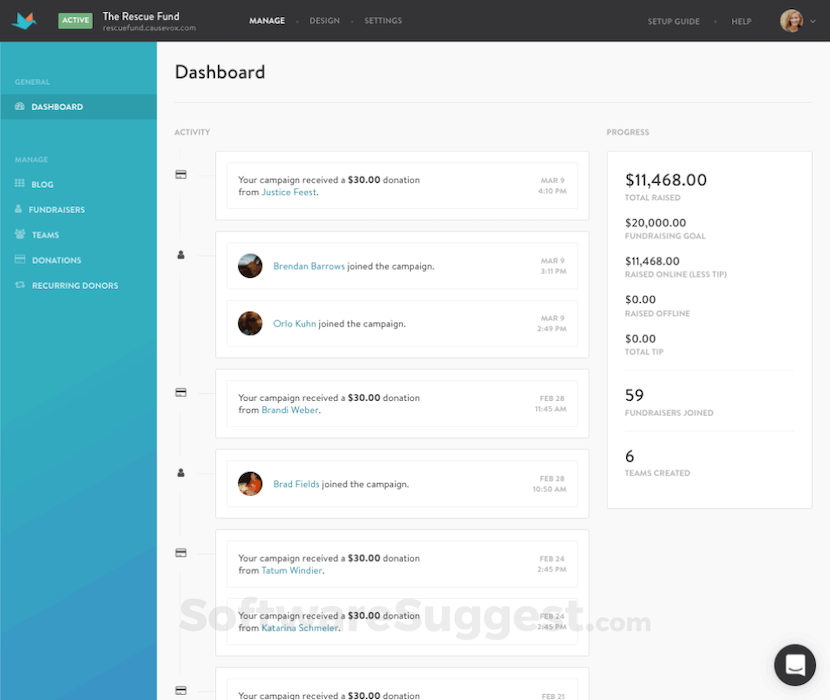 Pricing
CauseVox is available to nonprofits in three different packages:
Basic: $0/month (this has limited functionalities but is good enough for small organizations).
Standard: $139/month
Plus: $245/month
2. CharityEngine
CharityEngine is a nonprofit fundraising solution that's built for multi-channel fundraising. Apart from the typical online fundraising campaigns, this tool also helps you create and manage major gifts, direct mail, eCommerce, and event fundraising.
This fundraising software also offers an A/B testing feature, which comes in handy if you are experimenting with a new type of campaign.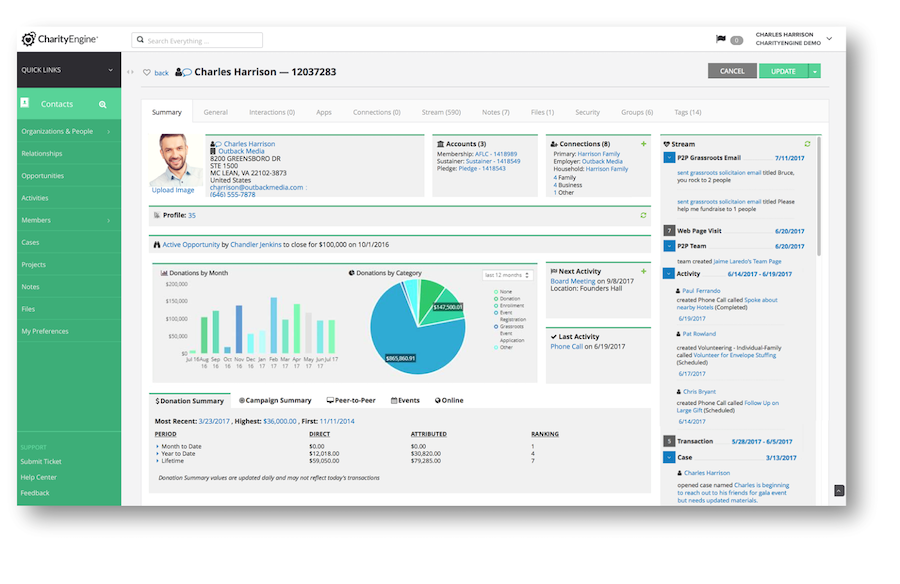 Pricing
Third-party sources state that CharityEngine's pricing plans begin from $200/month. However, the platform suggests you book a demo first and talk to their team so they can come up with a customized plan for you.
3. Luminate
Built for nonprofits by Blackbaud, Luminate is a powerful cloud-hosted fundraising software. This solution comes with an inbuilt donor management system that allows you to create custom donor profiles to track and manage their interactions and help build better donor relations.
A notable feature of Luminate is their content creation and management tool that lets you create different types of content for your campaigns within the platform.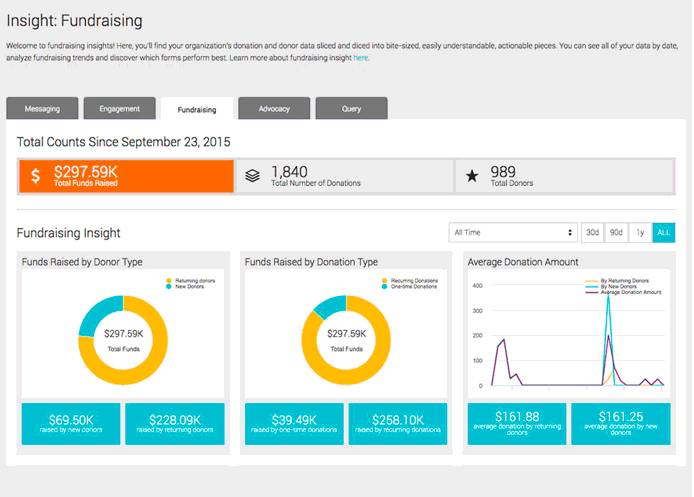 Pricing
Luminate also offers custom packages based on a nonprofit's requirements. You will have to get in touch with their support team to get a quote.
4. NeonCRM
NeonCRM is a cloud-based tool that offers both fundraising and donor management solutions through a single platform. Apart from supporting your fundraising operations, it also helps you with communications, event management, and donor tracking.
One feature that stands out is the nonprofit website design tool that allows you to build microsites or even a full website for your organization.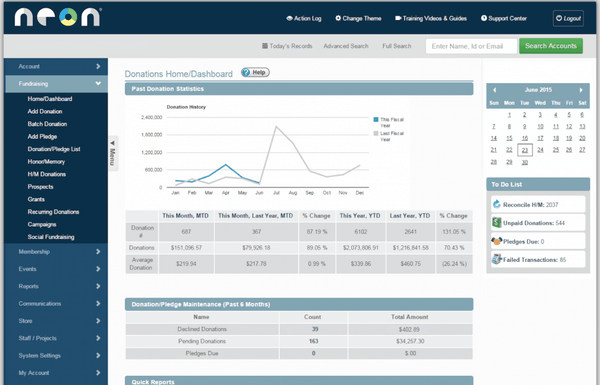 Pricing
NeonCRM offers packages for nonprofits of different sizes. Each package has a set of features that are suitable for an organization of that capacity.
Essentials light: $49/month
Essentials: $99/month
Impact: $149/month
Empower: $299/month
5. QGiv
QGiv is another comprehensive fundraising CRM with a focus on online fundraising operations. This platform is known for its easy-to-use interface and a large degree of customization for every aspect of fundraising.
Apart from common fundraising operations, QGiv also offers a text-to-give platform to support text fundraising.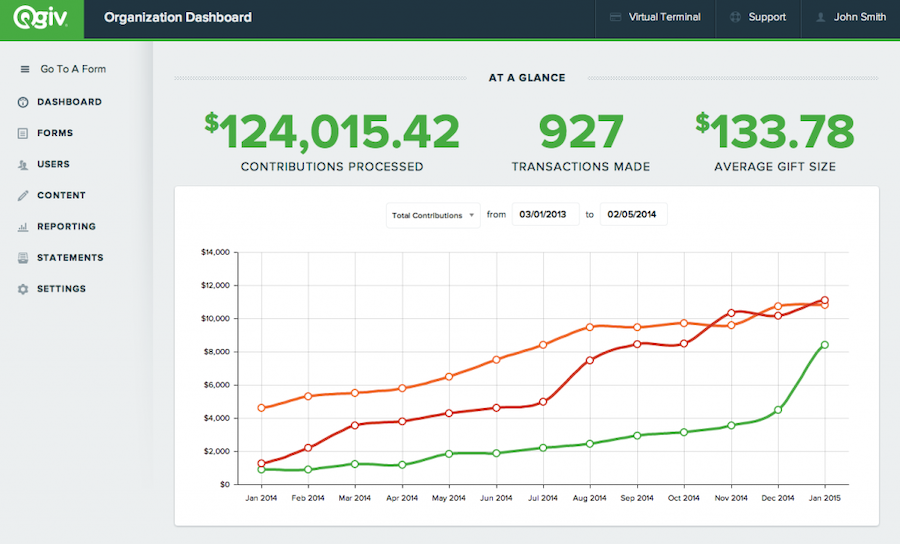 Pricing
QGiv offers four different packages based on the types of campaigns you wish to primarily focus on. They charge a subscription fee and processing fee for each transaction (mentioned along with the monthly cost).
Data: $15/month (3.95% + $0.30 per transaction).
Mobile suite: $129/month (3.95% + $0.30 per transaction).
Peer-to-peer: $229/month (4.95% + $0.30 per transaction).
Auction: $229/month (3.95% + $0.30 per transaction).
6. Panorama
Panorama is a fundraising CRM software built by FrontStream. It's an integrated solution with multiple fundraising apps for different types of campaigns (like auctions, virtual events, etc.) hosted on one platform.
A feature to look out for in this software is the donor and volunteer management system that comes in handy when managing events.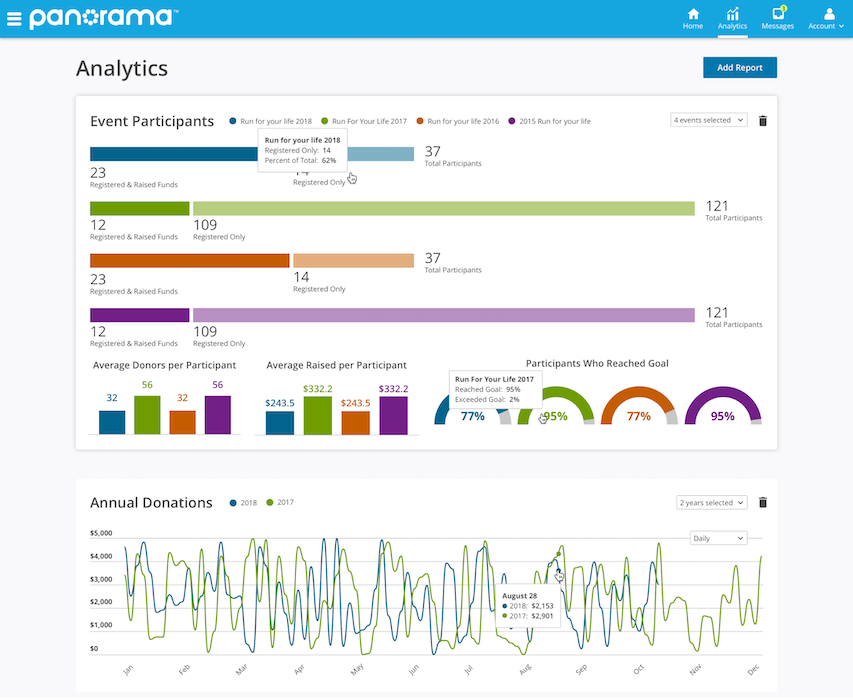 Pricing
Panorama basic: $0/year (+transaction fee)
Panorama pro: $600/year (+transaction fee)
It also offers custom packages for enterprises. To know more about that, you can get in touch with them to request a quote.
Finding a new fundraising CRM software is like laying the foundation of your house. While it isn't exciting, it has a long-term impact on your organization, one that can be expensive if done wrong.
Hopefully, the points above guide you in the right direction and ease the efforts that you need to put into this process.
Featured image source: Kuncheek