Did you know, since Facebook launched its fundraising feature in 2015, over 45 million people have donated through the platform, raising over $2 billion for various charities?
In recent years, Facebook fundraisers have emerged as an easy way for donors to contribute to their favorite charities. While they have been termed as a high ROI fundraising channel needing little to no intervention, many organizations have steered clear from this outlet.
A significant reason for that is a lack of understanding of the platform and its benefit for nonprofit fundraising. This post will help you change that.
To give your organization a clear picture of the value of this social platform for raising money, we have outlined everything there is to know about how Facebook fundraisers work.
Let's get started by understanding why Facebook has become such an essential channel of fundraising.
Why opt for Facebook fundraising?
Given Facebook's success as a fundraising channel, nonprofits can be sure to see some significant benefits from opting for it. But that is not the only reason why you should consider Facebook for fundraising. Here are a few other advantages to convince you.
1. Facebook is the largest social platform.
Facebook has a whopping 2.45 billion active users, as of 2019, that you can reach out to. Of course, you won't be able to reach out to all of them. However, if you're able to convert even a small chunk of this mass into your supporters, it'll translate to a large number of donors and an upsurge in funds.
The Pan-Mass Challenge (PMC) is an excellent example to understand the potential of the massive audience on Facebook. PMC is one of the largest fundraising events. In 2018, the challenge drew over 6,300 participants who collectively raised a record-breaking sum of $52 million.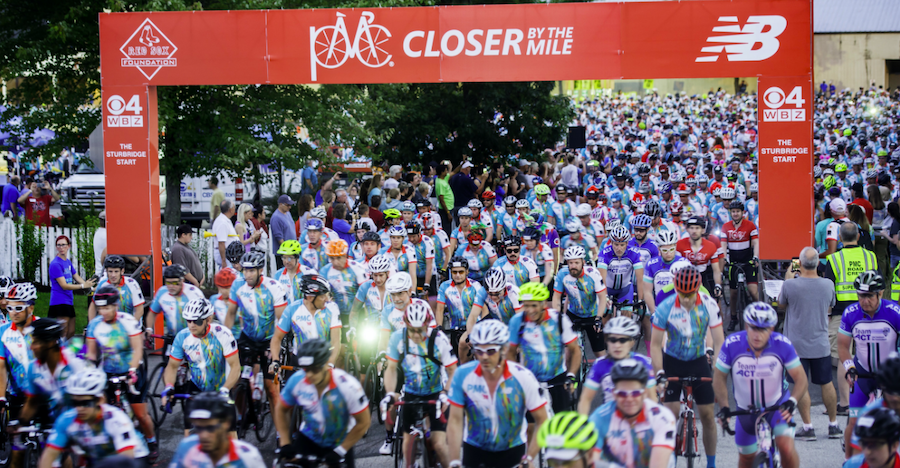 Now, imagine having access to millions of participants for your fundraising campaign, that too, without the costs of an event. Those are the kind of opportunities Facebook comes with.
2. Facebook fundraising is absolutely free.
Yes, you read that right. In 2017, Facebook announced that it would be charging no fee for any transactions to nonprofit organizations.
This benefit is unique to Facebook as there is no other platform out there that does not charge even a processing fee. To top that, Facebook does not even have a subscription fee, unlike most other platforms.
This establishes Facebook as a cost-effective channel of fundraising that you cannot ignore.
3. The donation process is shorter on Facebook.
A longer donation process increases the likelihood of drop-offs. The primary reason for it is that donating is often an impulse decision, and that impulse may not last long. The longer the process, the more chances that the motivation fades away.
A typical donation journey includes the following steps:

Facebook cuts this journey by almost half, thereby increasing the likelihood of people completing the process:

Here's an example of how it looks on the platform: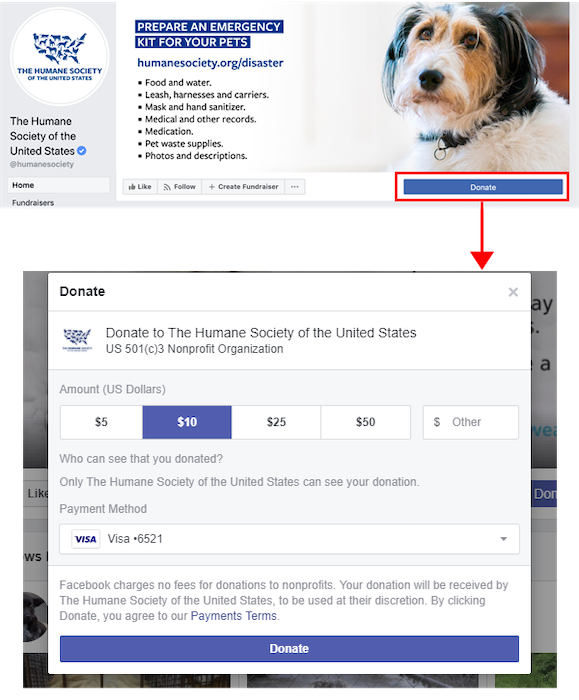 Notice how the donation form too is short and requests no additional information, which is the cherry on the top.
4. Most nonprofits are already fundraising on Facebook
As per the Nonprofit Social Network Report, 89% of nonprofits have a Facebook presence. This means that a majority of your competitors are already using Facebook to raise money.
In 2019, 3.5% of online donations came from Facebook. While this may not seem like a considerable number, keep in mind that this is an average, and some nonprofit sectors are seeing a more significant influx of revenue from Facebook.
By leveraging Facebook, other nonprofits have an additional fundraising channel and are definitely raising more funds from it.
On average, a small Facebook fundraising campaign draws six donors with the average gift size of $30. Therefore, nonprofits are raising an average of $1800 per campaign on Facebook with zero costs.
The Challenges with Facebook Fundraising
Every fundraising channel comes with its own set of challenges, and that's true for Facebook too. Here are two major obstacles with Facebook fundraisers :
1. Disconnected donor data
Nonprofits collect donor data in every campaign to add them to a cultivation funnel.
However, on Facebook, you don't get any information on the donor, which makes it challenging to follow-up with them and increase their lifetime value.
You do get the donor's first and last name and the donor's email id, but only if they opt to share it. This data is available in the Daily Transactions Report.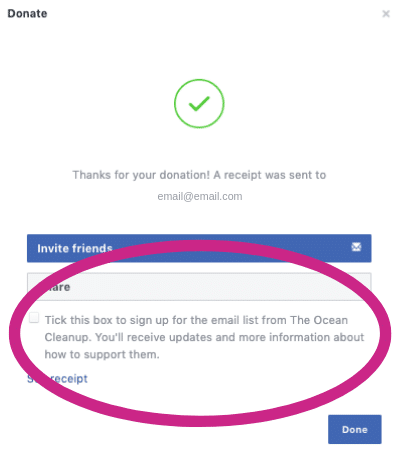 Solution
Use Facebook to attract new donors but, leverage methods to direct them to your website or donation pages or links.
There are two ways you can do this:


Text-to-donate
Chatbot on your Facebook page
What is it?
Text-to-donate is a system where prospects send a keyword to your number and get an automated response with the relevant donation link. You can set it up with a mass texting software.
For people coming to your page, you can use a chatbot that is automatically triggered to take the user through a conversational marketing flow to collect their information.
How to set it up
Set a keyword and rent a shortcode for the campaign.
Set up an automated text message with the link to be sent as a response.
Create posts encouraging people to opt-in to donate with all details.

Promote the post organically or using a paid ad.
Select a chatbot tool to integrate with Facebook. Create a conversation flow that starts with an initial question triggered when the visitor first visits.
As per the visitor's replies, take them through a conversation leading to a web page.
Integrate the chatbot with your CRM to export data collected during the conversation.
Advantages
Provides control over the fundraising process and enables data collection

Helps build SMS list
Flexibility to add multiple call-to-action to increase the likelihood of conversion

Exports data directly to CRM to add a donor to the right stage of the cultivation cycle
Here's an example of a local church leveraging Facebook to promote text-to-donate: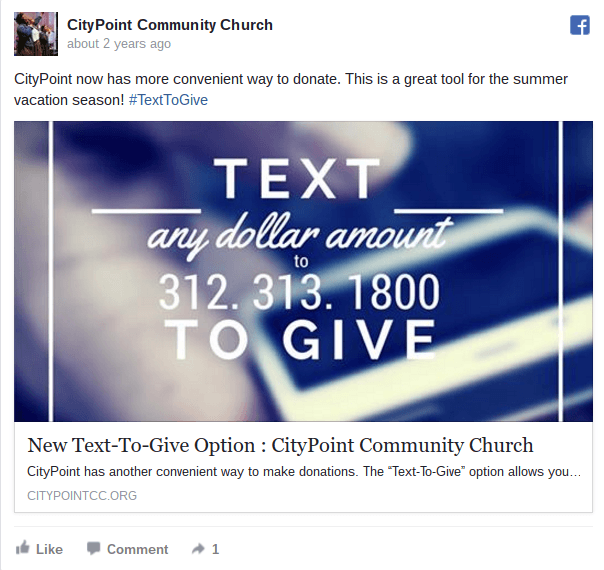 Here's an example of a conversation flow on the chatbot tool, Chatfuel: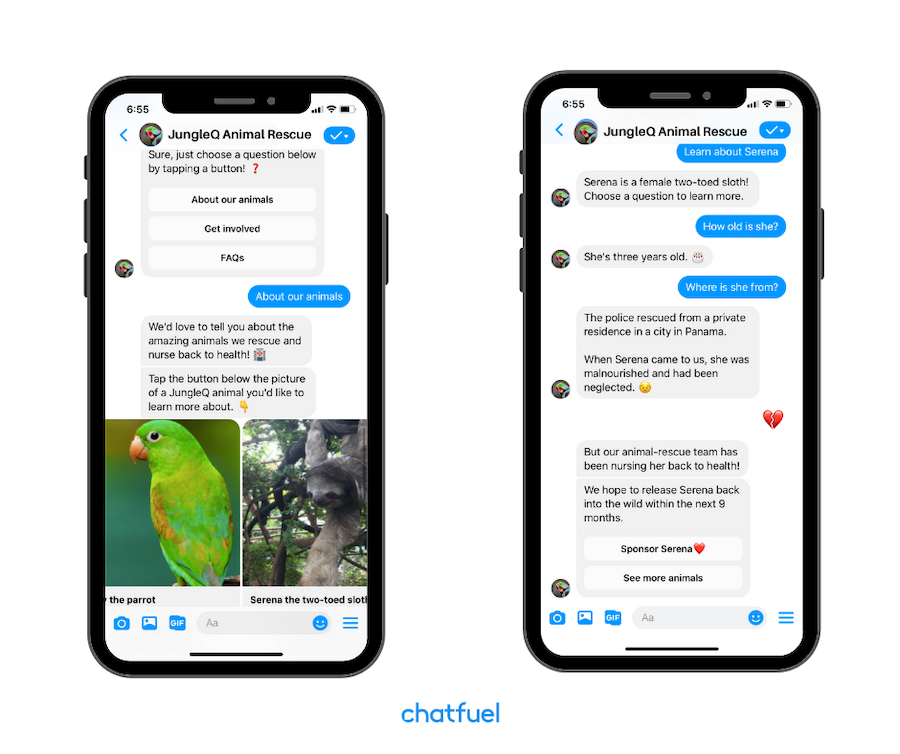 2. No control over fundraising experience
The second challenge with Facebook fundraisers, especially peer-to-peer fundraising, is that everything happens on the platform. This leaves no room for you to customize the donor's or fundraiser's experience.
The only elements that you (or the fundraisers) have control over are:
Cover photo
Campaign title
Description of the campaign
Solution
Make the best of what you have and brand all campaigns with the right visuals and messaging.
Here, again, you don't have any flexibility and will have to play by the platform's rules. However, you can make sure to deliver the right brand experience, if not the fundraising experience. Here's how you can do that:
1. Create guidelines for all fundraisers
People give 38% more when campaigns are branded with name, logo, and colors, helping reinforce the intention of the gift. Having a set of guidelines helps here.
Here's what they should include:
Branded cover images: The images must have your logo and follow your organization's color scheme. Have multiple options to give fundraisers some flexibility to choose something that resonates with them.
Description structure: Provide a template with what the descriptions should include and tips to ramp it up.
Hashtags: Every campaign should include hashtags to make the organization and campaigns searchable.
March for Dimes provides clear guidelines to people running Facebook fundraisers for their annual event, March for Babies. They provide supporters with everything they need like cover images, thank you post images, hashtags to be used, etc.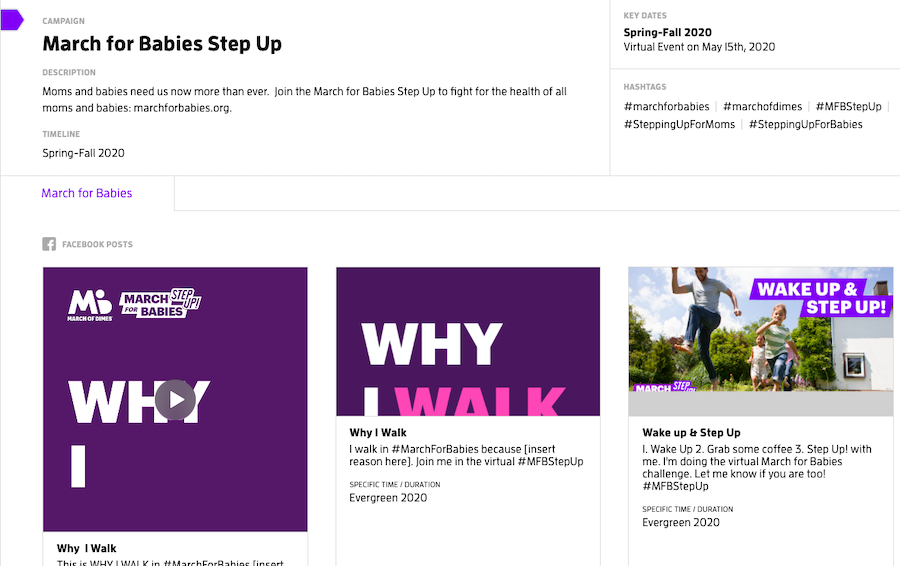 You can put up these guidelines on your website and even link them out from your Facebook page description.
These challenges may seem significant at first and may keep you from opting for Facebook fundraising. But, keep in mind that the benefits far outweigh these issues.
Types of Facebook fundraising options for nonprofits
Now that we know about the pros and cons of fundraising on the social media platform, let's take a look at how different types of Facebook fundraisers work.
There are five major ways of raising funds on Facebook:
1. Donate button on the business page
When you create a business page for your nonprofit, Facebook allows you to place a call to action right below the profile's cover image (as shown in the image).

To activate this button on your page, here's what you need to do:
Set the page category to "Nonprofit Organization" and register with Facebook as the same.

Click on the CTA and select the edit button. Select the "Donate" option.

Select the option "Donate through Facebook" to complete the process. Remember, this option will only be available if you have registered as a nonprofit with Facebook.
2. Collecting donations from posts on the Facebook page
Once you've registered with Facebook as a nonprofit, you also have the option to add the donate button on your posts. Here's an example of that: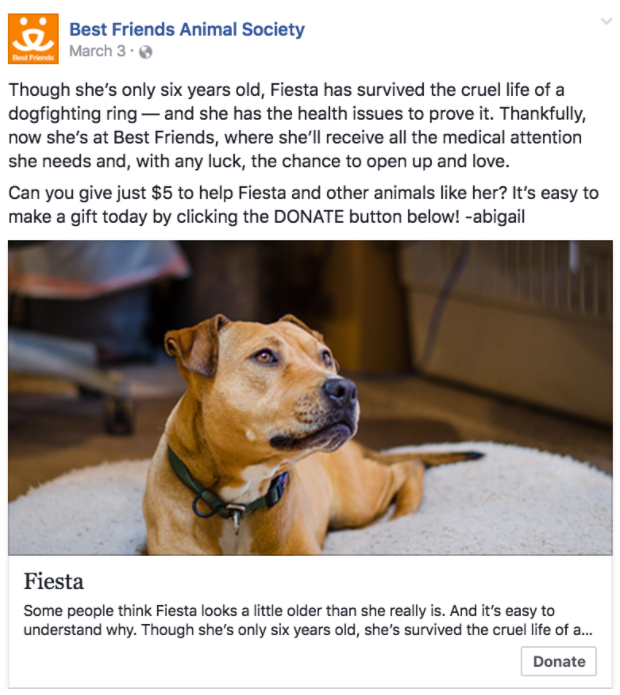 All you need for the post is:
A strong visual to grab the prospect's attention.

A compelling copy for the post. Talk about why people should donate and make sure to hit the right emotions with a nonprofit storytelling approach.

A headline and description for the post. This is added at the bottom of the image. Use this space well to give a quick overview of the story above. Many prospects may not read the entire post.
3. Donations from Facebook ads
Apart from organic posts, nonprofits also have the option to include the "Donate" CTA in paid ads.
The structure of the ad is similar to that of an organic post (as shown in the image below).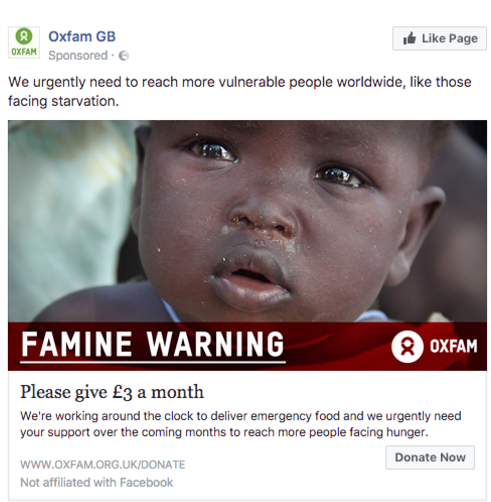 Facebook ads are the perfect way to distribute your donation link to a large audience, especially if you don't have a lot of followers, and your organic reach is limited. To set up a Facebook donation ad, here's what you need to do:
Create an ad campaign by navigating to "Facebook Business Manager" and select "Conversions" as the objective.
Identify and create your target audience. You can create an audience based on demographics, location, and behavior. Note the characteristics of your past donors to understand who will be the most relevant audience for you. Alternatively, you could also upload your database and create a lookalike audience. Facebook automatically shows the ad to people with similar behavior.
Choose the budget and schedule and design your creatives with relevant visuals, ad copy, headline, and a short description.
Once you have this setup, your ad starts showing to people at the set date and time.
4. Donations from Facebook page live-streams
Recently, Facebook unveiled that people could include the "Donate" button even in live-streams.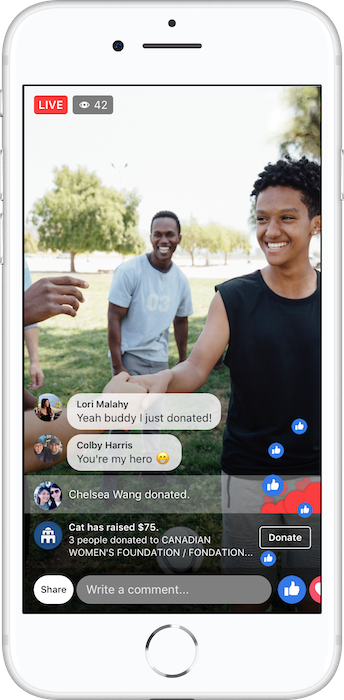 To set it up on your page:
Before going live, select the more options ("…") button and choose "Add a donate button."
Select the nonprofit you want to raise money for. Select your organization if you're doing it from your own page.
The button appears on the bottom right along with the charity's description when live. Users can make donations directly from the video without having to exit it.
The donate option is available even after the live stream ends, and the video recording is added to your page.
This option is perfect for organizations shifting to virtual events (due to social distancing) to connect and engage with their audience while raising funds.
5. P2P Fundraising
Peer-to-peer fundraising on Facebook has become one of the most popular ways of raising money. In 2019, 97% of all donations through Facebook were from P2P fundraisers.
The reason for this is the fact that people are more likely to respond to a donation appeal from a friend or family member rather than an organization.
The intuitive features allowing people to set up a fundraiser easily and Facebook's algorithm prioritizing these posts on people's feeds boosts the impact of these fundraisers.
Setting it up is quite easy:
Once your organization is registered with Facebook, a "Create Fundraiser" button is added to your page.

Alternatively, you can also select the option to "Raise Money" from the "Create a Post" feature and select the nonprofit of your choice.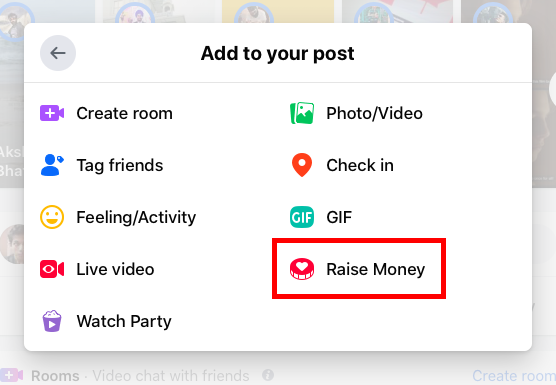 Next, you will need to write a title and description for the campaign and add a cover image. The nonprofit's cover picture and description are added by default, but users can change them.
The resulting campaign looks just like a peer-to-peer or crowdfunding page hosted on Facebook.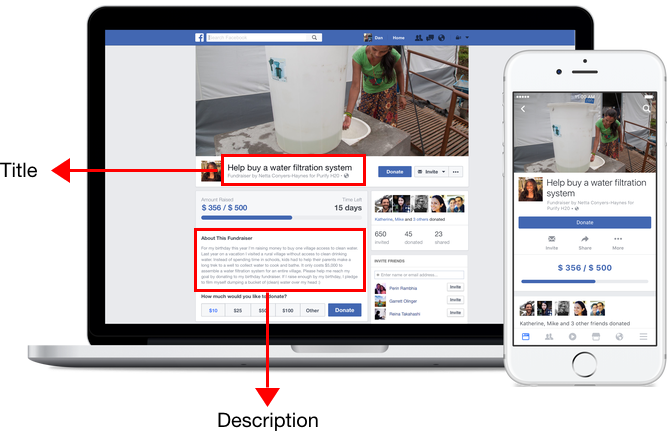 Alternatively, supporters can also fundraise using Facebook stories. They can add CTA to their story by swiping up and selecting the "Fundraise" sticker along with the charity and posting it.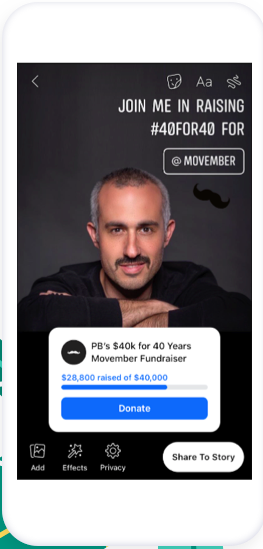 That being covered, let's go over how Facebook fundraisers work to get a complete understanding of the entire cycle.
How do Facebook fundraisers work?
Step 1: How to register your nonprofit with Facebook?
The first step of getting access to Facebook's fundraising tools is to register your nonprofit. To enroll as a charitable organization, ensure that you fulfill the following requirements:
You should be a 501(c)(3) organization registered with the IRS.

You have a tax ID number.
You must have a bank account registered with a licensed financial services institution.

Your organization's Facebook page category is classified as 'Nonprofit Organization' or 'Charity Organization'.
Your nonprofit's address is included in the 'About' section of its Facebook Page.
Your Page is published and complete with a cover image and description.
If you fulfill all of the above requirements, you can start your enrollment application here.
Step 2: How do you get started with Facebook fundraising?
The approval process can take about a month after submission. Once that's done, there are two paths that you can take:
1. You raise money for your organization.
This is done primarily through:
Organic posts
Facebook ads
Live-streams and
The donate button on your page.
Use a mix of visuals that induce empathy and happiness. Research backs the rationale behind both approaches, which is why using a mix is recommended.
2. Ask your supporters to raise money for you.
Drive people to fundraise on your behalf through organic posts, ads, or on your nonprofit website.
Reach out to regular donors and ask them to start a fundraiser for you to get some traction initially.
Provide them with the branding guidelines for all the elements of the fundraiser.

Support them by regularly providing tips to help them reach their goals.
Step 3: How do you get the money from a Facebook fundraiser?
There are two ways in which nonprofits receive donations from Facebook:
Direct payout – Facebook Payments (Razor Pay for certain countries): Funds raised through page headers, organic posts, and paid posts are received through this.

Donor-advised funds – Network For Good (or PayPal Giving for certain countries): Funds raised on organic or paid posts, P2P fundraisers, and matching gift programs are received through DAFs.
The key differences between the two options are as follows:
| | | |
| --- | --- | --- |
| | Facebook Payments | Network For Good |
| Deposit type | ACH or direct deposit | Electronic transfer or cheque through the mail (to the location given during registration) |
| Payout time | Every two weeks | 45-75 days after a donation is made |
| Minimum threshold to receive payment | $100 | $10 |
| Donor contact information | Available in the daily transaction report if the donor opts for it. | Not available. |
Step 4: How do you send donation receipts for Facebook fundraisers?
Facebook does the paperwork for you here and sends the donation receipt with all the relevant information to the donor's registered email address.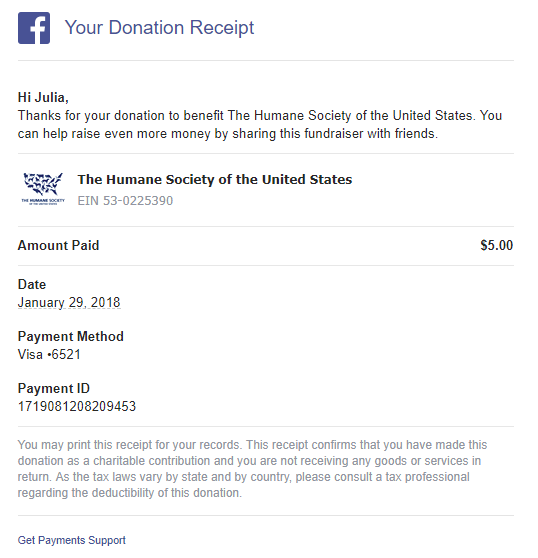 Not being able to send a donation receipt takes away the chance to send a thank you message along with it, but it saves you the hassle of tedious paperwork.
Step 5: How do you track all Facebook donation transactions?
To help you keep track of all donations through the platform, Facebook provides charities with three types of reports:
Payout report: This report shows the funds that will be transferred to your account after the payout period.

Daily transaction report: This includes detailed information on each donation made to your organization.
Multi-day transaction report: This report contains the same information as the Daily transaction report but for a greater date range.
To download the report, head to the Settings tab, then select Donations, and Download Donation Reports. Select the kind of report you want and the date range (if applicable) to download the CSV.
That marks the end of your Facebook fundraising campaign.
To Conclude
Facebook has proven it's worth for nonprofit fundraising. Sure, it comes with its own challenges that may seem substantial at first.
But before you eliminate the possibility of including this platform in your nonprofit fundraising plan, ask yourself, "Are the challenges really worth giving up an additional fundraising channel that millions of users prefer?"
For any more insights into how Facebook fundraisers work, shoot me an email at [email protected], and I'll be glad to help you out.
Featured image source: Kon Karampelas