In August 2017, Facebook launched an exciting feature that aimed to help nonprofits with online fundraising.
It allowed Facebook users to set up individual fundraisers for a cause they care about. So, as a nonprofit, you can inspire your volunteers and donors to set up a social fundraising campaign; and share it with everyone in their network. Friends and family in their circle can donate to your cause.
Here is what a birthday fundraiser can look like: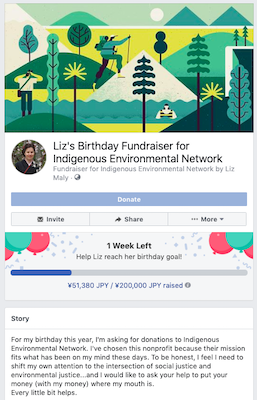 Looking at it objectively, it has a lot of critical elements (as any peer-to-peer campaign) that can make it a success:
Credibility: The Ask comes from someone in the prospect's network.
Making a personal connection: Friends, family, and acquaintances would be more willing to donate
Uses a channel that donors prefer: 18% of donors worldwide have used facebook fundraising tools
Improves visibility: Your nonprofit is talked about and noticed in the volunteer's network.
Since Facebook also scrapped the $5 fundraising fee, all the money raised goes directly to your organization's bank account.
Based on the above advantages, a lot of nonprofits limit themselves to Facebook as their only online fundraising platform.
While it is an excellent way to diversify fundraising, only using Facebook for online fundraising is not a great move. You still need an exclusive online fundraising platform for your nonprofit.
Picking the right fundraising software is an important step in getting started with online fundraising for your nonprofit.
In this post, we will look at all the salient points that helps in choosing the best online fundraising platform for your organization.
Why do you need a separate online fundraising platform?
An online fundraising software enables your donors to give quickly and easily to your nonprofit via different channels. Instead of going to social media every time, donors can give via texts, emails, your website form, or any online channel they find convenient.
Since this number is steadily growing, you will definitely need a fundraising platform to keep track of it. For instance, take a look at the numbers for online donation in 2015: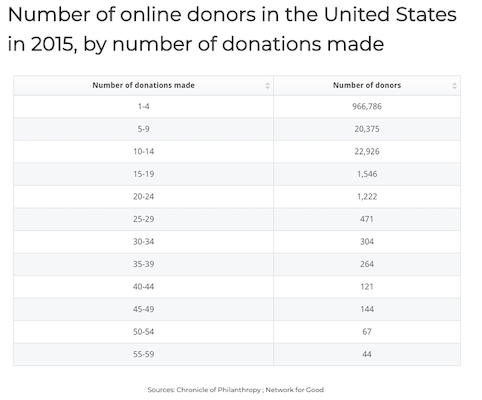 For your nonprofit, using an online fundraising platform will mean increasing your chances of receiving a donation. It also means a more efficient way to manage fundraising efforts. Here are some more advantages that you should consider:
More options for customization: You can make branded donation forms with your organization logo and customize the environment using Java and CSS.
Higher probability of supporting your engagement strategy: Encourage donors to give via emails, crowd fundraising, peer-to-peer campaigns, and also ticketed events.
Better online experience: Provide a seamless online giving experience by plugging the gaps.
Easier for your staff (more efficient process): Have all the analytics in one place.
Integrates better with your overall fundraising goal: Know exactly how to diversify your fundraising. The same platform can help you with multiple fundraising efforts.
Pro Tip: Notice the online thermometer on the facebook donation page? It encourages prospects to give by providing a visual goal. Some of the online fundraising platforms help you customize this fundraising thermometer to be more appealing and conversion-centric.
Top online fundraising platforms for your nonprofit
No two online fundraising platforms are the same. For instance, a crowd fundraising software like Indiegogo is vastly different from a donor-centric platform like GlobalGiving.
However, some of their functionalities can overlap. E.g., both Indegogo and GlobalGiving enable funding by multiple donors.
In this post, I have tried to classify the various tools based on their primary objective – that is, what the software does best. I also mention certain vital features along the way that can make or break your choice.
Before you continue, do so with a clear idea of the exact features you are looking for in your online fundraising platform. Otherwise, it can get a tad bit confusing.
What are the types of online fundraising platforms available for nonprofits?
You can segment the multitude of online platforms into 8 different categories, based on their primary features.
Some of these platforms are built to be a comprehensive tool – they can take care of online fundraising end-to-end. So they can easily fit under more than one category.
Despite having such a multitude of features, such platforms have been built to solve one fundamental problem. They each have a primary element to solve that problem.
DonorPerfect is one such example. It provides online donation forms, enables matching gifts, and also allows for crowdfunding and social sharing.
However, it primarily allows nonprofits to engage and cultivate your donors via emails. So it comes under a donor management system.
Pro tip: Some platforms offer different tools as separate products. For instance, Salsalabs has Salsa donor management and salsa for online fundraising as separate software.
1. Peer to peer fundraising platform
A peer-to-peer fundraising platforms enables nonprofits to build custom forms for each supporter. All these donation pages tie up to one campaign – which can also be tweaked and branded with your organization logo.
Since this method of fundraising depends on inspiring prospects in your network to donate, the fundraising pages you create should keep you volunteers engaged. Here is an example of one such campaign from SalsaLabs: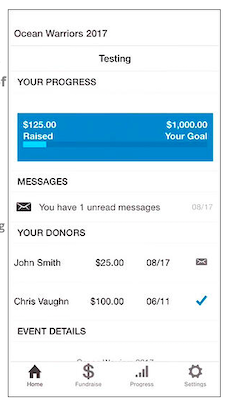 What add-on features to look for?
Leaderboards: To show the various supporters how well they are performing and who is doing better.
Fundraising thermometers: To show participants and donors how far away they are from the goal (or how close) and encourage them to donate.
Fundraising badges: This is an excellent option to thank your best-giving donors and gamify the process. Those donors who give the most can be given online badges for supporting your cause.
Examples of great peer-to-peer fundraising platforms are Kiva, Qgiv, Salsa, Bonfire, and Snowball.
2. Crowd fundraising platform
Crowd fundraising platforms enable nonprofits to create a page on a platform that is visible to donors. It can then be shared with your network (via social, email, and other channels) and then encourage them to give.
Some crowd fundraising platforms (like Indegogo), have a community of enthusiastic donors who frequently search the platform for a worthy cause to give. That is, they act as a platform to connect donors to projects.
There are 4 different types of crowdfunding possible. Your platform may or may not support all four.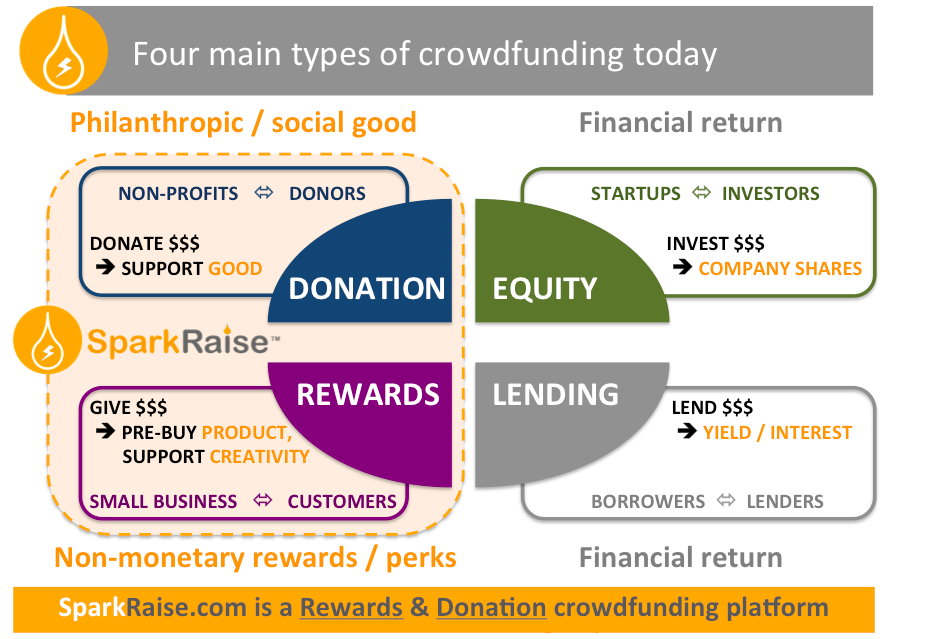 However, as a nonprofit, you would always choose a donation-based crowdfunding for your cause. So pick a platform that helps you primarily with donation-based crowdfunding.
What add-on features to look for?
Fundraising thermometers: As in peer-to-peer platforms, crowd fundraising platforms will also come with fundraising thermometer that encourages prospects to donate more.
Shareability: Since you are raising money from a large number of people, the forms you create should be shareable on social media and be mobile responsive.
Funds tracking: See how well you can track how much money was raised, who gave how much and which page raised the most.
Examples of excellent crowd fundraising platforms include Causes, Indiegogo, Crowdrise, Fundly, and Donately.
3. Donor management platforms
Donor management platforms are more like an end to end solution for your fundraising. They do a little more than just enabling donors to give on your site. They capture the information, allow you to segment the donors, email them, and then follow-up with them later.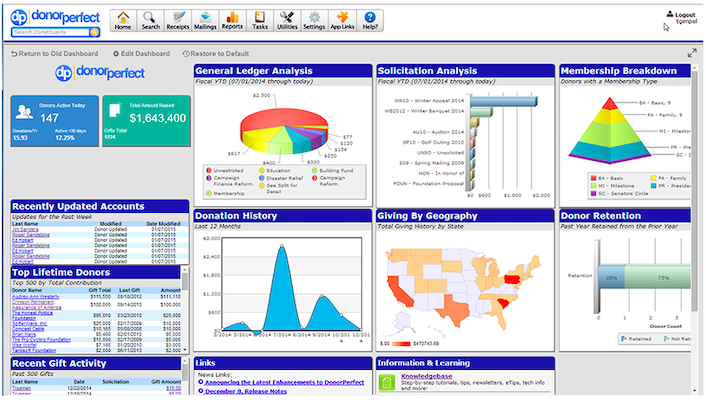 The key here is that these platforms are not exclusively for online fundraising. If your nonprofit raises funds via offline methods, then you should be able to add those donors to your database.
What add-on features to look for?
Donation forms: Donor management platforms should have built-in donation forms. Or they could have options to integrate with the donor forms you are already using.
Donor tracking and segmentation: You should be able to see the complete donation history of each donor (what he gave, how he gave, how much he gave). The platform should allow you to separate these donors and communicate with them.
Analytics and reporting: What is your donor retention rate? What is your average gift size? How did each of your campaigns perform? These are some numbers your reports should tell you at a glance. You can also check for specific amounts and reports that make the most sense for your business.
Here are some superb donor management platforms you can check out – SalsaCRM, Luminate CRM, DonorPerfect, Bloomerang, and Donorstudio.
4. Online giving platforms
Online giving platforms are those that primarily focus on providing you with a donation form. It can be on your nonprofit's website, or even a form on mobile so that donors can give during an event.
These mobile forms should enable prospects to give at the click of a button. They should also make it easy for donors to give again. Here is a form that helps with both the above: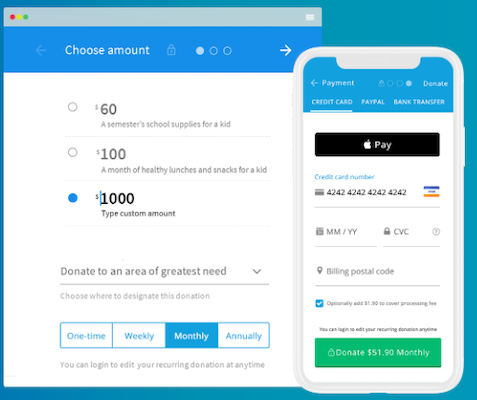 What add-on features to look for?
Integration: The donation form should integrate with your existing software. It should also be a fit for your current fundraising process.
Mobile-responsiveness: Since the majority of online giving happens over mobile, the donations page should render well on smaller screens too.
Customization: You should be able to control the number and type of fields in each form, whether it can take your organization logo and branding.
Check out these online donation platforms to see which of them are a good fit for your nonprofit: Givelify, Givily, Donatekindly, Donorbox, and Soapbox Engage.
5. Matched giving
When a company matches the donation amount (either by an employee or in the overall campaign) in a 1:1 or 1:2 ratio, it is called matched giving.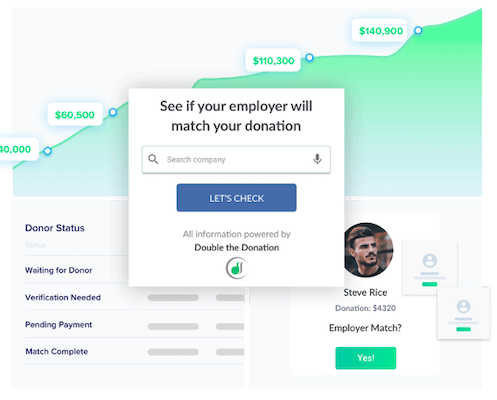 Matched giving platforms are those that enable companies, employees or nonprofits to identify and the opportunites and make a donation.
What add-on features to look for?
Match gift identification: Every time a donor gives in his details while donating, your tool can automatically bring up matched giving opportunities.
Automation of outreach: See if you can trigger automated reminder emails to donors to follow up on the status of their matched gift.
Custom branding and messaging: Can the emails and SMS you send out be customized to your organization's logo and messages?
Double the Donation is an excellent matching gift software you can try. For nonprofits who have a revenue of more than $25,000 in annual gift matching, 360matchpro is a superb option. Otherwise, you can just look at Facebook fundraising tools to see if another donor (not always a company) can match your gift.
6. Event management software
If your nonprofit generates a significant portion of its income via conducting events, then an event management software (focussed specifically towards nonprofit fundraising) could benefit you more.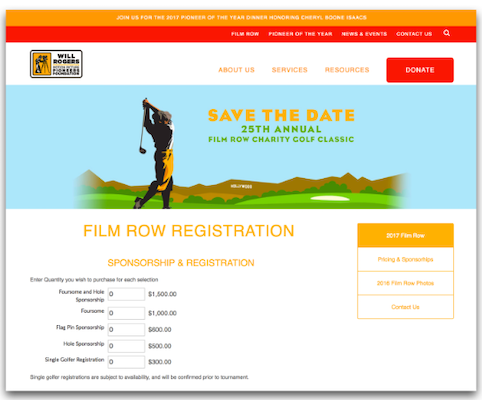 This online fundraising software should help your nonprofit with everything event related – from setting up the event, managing volunteers, and following up with guests.
What add-on features to look for?
Ticketing features: Your supporters and guests should be able to buy tickets for your event online. The software you pick should enable you to do so.
Event registration: If it is a non-ticketed event, your guests should be able to register for it online and also RSVP online. So look for registration forms that are mobile-friendly.
Event calendar: If you are running multiple events, having a clear fundraising event calendar, and how it fits into your overall fundraising goal can help you stay focused. Check if your software can help you with that too!
4A good cause, DoubleKnot, Onecause, Charity Engine, and Fonteva are some of the top players who can help you out.
7. Auction events software
Software that helps you with auction event is in a class of its own. This is because it enables online text and mobile bidding. Here is what mobile bidding looks like: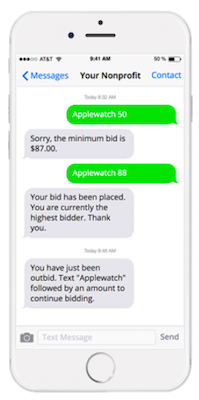 Though ticketing and event registration is a part of the whole set up, for conducting auctions, you have to have the text and mobile solutions to make it easy for your bidders.
What add-on features to look for?
Online auctions: Bigger nonprofits that want a wider audience can conduct auctions online, with a site like e-bay. The software should enable you to set up the site, upload items, track the bidding, and follow up with the buyer.
Live virtual auction: Bidders can participate in an on-going auction and watch the video of the items being bid and also raise the bid on what they want.
Managing the bidding process: Alert bidders if they have won or been outbid, manage invoices, and track the funds raised.
If you think such a fundraising platform will help you, check out Greatergiving, ClickBid, Auctria.com, Visual auction, and AccelEvents.
8. Text-to-give software
Text-to-give is when donors directly send in the amount of money they want to donate to your nonprofit's text-to-give number.
The platform you choose will give you a keyword. Prospects interested in making a donation will send you the keyword. And then, they can text you the amount they wish to donate.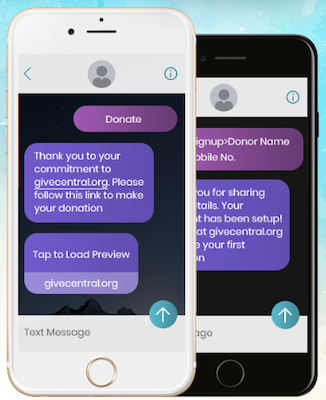 The donation amount is deducted from their mobile carrier bill.
What add on features to look for?
Text-to-donate model: Using the keyword, donors initiate giving via text. They are then redirected to a donation page to complete the transaction.
Collect donor data: Can it help you to get donor information (like name, number, email, etc.)
Reports and analytics: Know how much money was raised, which donor gave the most and how many people donated in a particular campaign.
Depending upon your donors' giving preferences, you can opt for a text-to-give or a text to donate model. Some examples of text to donate platforms are, CallHub, Securegive, GivebyCell, Mobile Commons, and Mypledger.
Having so many options for one online fundraising platform can definitely get very confusing. To ensure that you pick the best online fundraising platform, read on about how you should assess them.
How to pick the right fundraising platform?
If your nonprofit has never used a fundraising platform, then the job of picking the right platform is tougher. You have no benchmark and no insights into what worked before and what features you actually need the most.
In such cases before you even start your quest, here are a list of questions that can put you on the right track: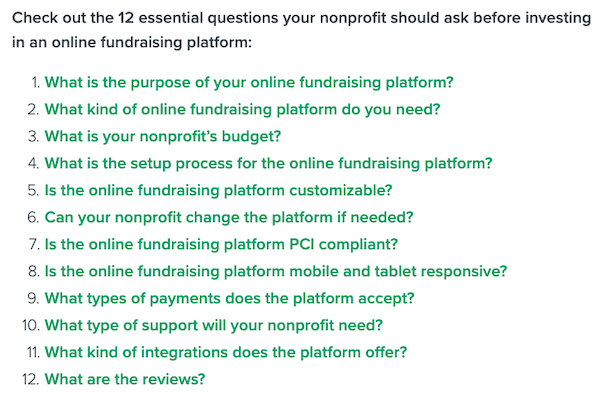 Now that you know what to look for in a tool, here is how you can get started with finding the best tool for your nonprofit.
1. Put together a committee
You need a dedicated group of people who will own this project and see it to completion. Based on the size of your organization, the number of people in this committee can vary.
However, ensure that you make the team members as diverse as possible. E.g., you can have someone from the finance team on your side as they can sort out the budgeting.
Someone from the communication team can guide you to make an informed decision about the various aspects of the tool.
Having a vast committee is not always necessary. But getting multiple perspectives on this decision is important. Also, having more than one owner can help speed up the selection process.
2. Identify your needs
Before you start searching for a tool, you (and your committee) should have a clear idea of how you want it to work for you.
You should be able to clearly articulate, "What is the biggest problem that the tool will solve for us?"
Will it help with crowd fundraising? Will it be just a platform for making online donation pages? Or will it be a comprehensive donor relationship platform?
It is up to you (and your committee) to come up with the answers to these questions. Knowing your online fundraising priorities will help you veto tools that 'seem' like a good idea.
3. Get input from your donors
Your donors are as invested as you are in seeing your mission succeed. So go ahead, ask a few of them how you can improve their giving experience.
This will enable you to think from the donor's perspective and highlight gaps in your online fundraising process that you had not previously considered before.
For e.g., if a donor requests more targeted communication, you know that your tool should also enable you to segment donors and send emails.
If a donor says that the donor form is not easy to fill, then your tool should enable you to custom build a more manageable form.
Though these insights seem pretty fundamental, it is something that you should consider before finalizing your online fundraising platform.
4. Ascertain your budget
Being a nonprofit professional means working under strict budgets. No surprises in seeing it extend to your tools as well.
What you need to watch out for is, apart from the fees of the platform, if there are other hidden fees (like a percentage of every donor transaction; additional charges while using a credit card, etc.).
Check with your colleague in the accounts department (maybe he is on the committee?) whether your budget can accommodate the hidden costs.
Though these costs seem minimal at the beginning, the amount of money adds up, with more donors coming in. So be clear on how much you can afford to spend every month (and per donor) for your tool.
5. Obtain an "all-clear" from your Leadership team
Ideally, this is something you do right before you put together a committee. However, the way some organizations work is entirely different. For e.g., some board members would want to have the project approved right from the start.
In some organizations, the board members would prefer to be involved only at later stages (right before purchase).
Either way, ensure that your leadership board approves of this project before starting all the hard work.
6. Understand your constraints
Buying the online fundraising software for your nonprofit could actually be the easy part. After purchase, setting it up to work seamlessly, exactly how you envisioned it could be a lot more complicated.
Here are some things you have to consider:
Migrate all data from your current system into the new one
Will you get help from your vendors to do it? Is it charged extra?
Do you have the bandwidth to take up these tasks?
Knowing the above factors will help you define the project timeline, with as little nasty surprises along the way as possible.
Can I get an online fundraising platform for free?
On average, at least 70 people every month search for a free fundraising tool online. If you are one among those 70, know this: There is no such thing as a free fundraising tool!
So when a software claims to be free, what do they mean?

To understand this, let's learn a bit more about how online fundraising platforms work.
Every platform will charge you at least per transaction, or per donor. Here are the four kinds of fees they can charge:
Subscription fee: What the platform charges you to use their software. It could be a one-time fee, or monthly or billed annually.
Platform fee: The platform deducts a percentage of the money that is donated to you.
Donor fee: Usually an alternative to platform fee, the software charges a percentage from the donor who chooses to give.
Processor fee: Is the fee that the credit card charges per donation to handle the transaction.
These costs are deducted from your account after the donation has been processed. So if a donor donates $100, what you receive in your account would be $100 minus the processor fee and the donor fee.
Now, if a platform says that it is 'free,' then what it means is that the subscription fees might be waived. You still have the other charges to contend with – money that is taken directly per transaction, before it reaches your account.
Pro tip: To offset these fees, check if your donors would like to take it up. Platforms like Causevox allow donor tipping, where donors can pay over and above their original donation amount to cover the transaction cost.
Take away
Choosing the right online fundraising platform for your nonprofit needs a lot of research. Hopefully, the above ideas will help you pick the right platform for your organization.
Remember, the best online fundraising platform is not that which is a market leader. Rather, the best fundraising platform for your organization is suited to your specific needs and strategy.
Make sure that after all the effort you put in, you actually come away with an online fundraising platform you (and your team) can use. Always remember, a tool may not be a perfect fit for you. However, you can make it work with a few compromises (either features or pricing).
From the above list, what is your pick? Which fundraising platform are you looking to get? Drop me a note at [email protected] and let me know!