Imagine this.
A speaker gets the crowd fired up and buzzing with energy at a public rally or event. But once the crowd disperses, all the energy disappears too. A minimal number will follow up on the matter, be it visiting a website or registering on a form.
Instead, what if you put that energy into use during the event?
For instance, ask your supporters to text a predetermined number during your rally. Almost every supporter is bound to have a smartphone with them at all times, and this has a higher chance of getting them to sign up than a random mail a few days later to their inbox.
350.org adopted this strategy and saw some great results. At a rally held in Minnesota, 350.org asked their speakers to announce a keyword and a number. Of the 6000 people that attended the rally, 2919 joined their message list by opting in this way.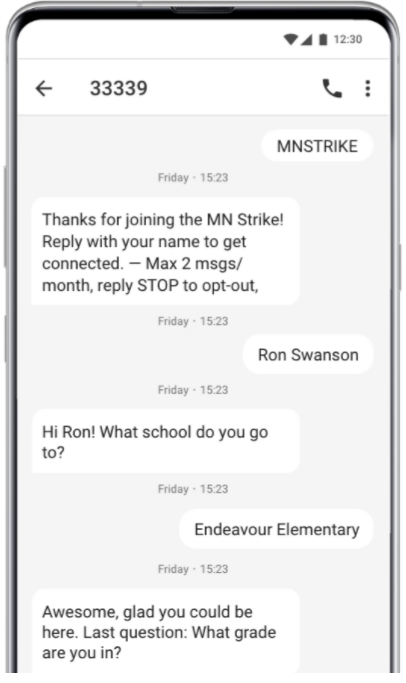 Moreover, compared to the traditional strategy of email, SMS has shown remarkable results in terms of open rates and getting people to connect across social media portals such as Facebook and Twitter.
Now, what if you follow up with your supporters and connect with them at their convenience? What if you could convert the energy of your rally into tangible supporter action? Once supporters have signed up, sending out calls-to-action and relevant updates about the campaign becomes easier through mobile advocacy.
Did you know?
Younger populations, who are attracted to advocacy campaigns, consider text messaging one of the most prevalent forms of communication.
This guide takes you through the process of going mobile with advocacy. Before we get there, let's see the advantages of doing so.
Advantages of going mobile with advocacy
Ease of access
With a phone in hand, it just requires a push message or an SMS to connect with all your supporters and reinvigorate them about your campaign. This increases the chances of reaching them.
Real-time response
Supporters can connect immediately and reach out to elected officials or local representatives in Congress to petition for your cause.
Timely information broadcast
Speed is a critical aspect of advocacy campaigns. By going mobile with advocacy, live updates about any developments concerning the campaign are quickly delivered to your supporters.
Strengthen motivation
SMS campaigns keep your supporters in the loop and ensure they do not forget about the cause. This way, rallying supporters for an event becomes easier.
Steps for a successful mobile advocacy campaign
A successful mobile advocacy campaign inspires supporters to take the right action. Here are a few steps to best use mobile for advocacy campaigns.
1. Set goals and plans
The first step is defining what you hope to achieve and creating a plan. Setting goals will help you measure the performance of your advocacy efforts.
Consider the data you have collected over the past to define a measurable goal. Lay out the plan for the campaign by considering the specifics, like:
Which contacts have supported you in the past and donated regularly?
Which contacts need a slight push?
How do you approach reaching out to the new joiners on your list?
Who will lead the team, and who will be a part of the team?
What is the communication strategy?
What tools will you use depending on your use cases?

2. Identify a vendor
To access the tools you need to run the campaigns, you need to identify a suitable vendor. Be it texting, calling, social media, email, we advise you to try out the tool and understand if the platform is ideal for your requirements before purchasing a subscription.
Note: Consider going for a vendor compliant with all the industry standards like 10DLC, TCPA, etc.
3. Craft the mechanics of your campaign
Turn your plan into a series of steps required for going mobile with your advocacy campaign. Consider the specifics like:
What channels will you use to promote your phone number so people know how they can reach you?
How do you plan on collecting their phone numbers?
How frequently will you engage your supporters?
The messaging for every stage of your supporter's journey.
Best practices:
Get consent from your supporters before you start texting them.
Gather as much data as possible. SMS Opt-ins are one way of doing so.
Create a schedule for sending out messages to your supporters, so they neither feel spammed nor forget you.
Send the text messages as per your contacts' time zone and at a time when they are most likely to engage. For example, if your audience consists of working individuals, it's best to text them outside business hours.
Segment your lists based on their level of engagement, location, etc., and target them accordingly.
Identify yourself in the first text message to know whom they are talking to.
Shape your messaging based on your audience's preferences. Test your message if you're unsure yet.
Have a clear call to action.
Make an ask that is pretty simple, and that people can act on it immediately.
4. Set up a plan to transfer the collected data to your CRM
Work with your vendor to identify how you will transfer all the data collected during the campaign into your CRM. A good texting software should sync all the data in real-time and make it available for future campaigns.
5. Evaluate your campaign
Analyze the data from your campaign and evaluate the metrics to measure the success of your campaign.
How CallHub enables mobile advocacy
Our SMS marketing software has been used time and again by advocacy groups, civic organizations, NGOs, and election campaigns to reach out to their audience and ensure the timely delivery of messages.
We have been trusted to run campaigns across the world, whether to carry out sign-up campaigns, send out messages as part of a bulk messaging campaign, or send automated responses to predetermined keywords.
How does text messaging for mobile advocacy work
Different types of texting campaigns working in tandem can help you have an effective outreach, and CallHub offers multiple texting tools to help you do that. For instance, the first step to a successful campaign is building a solid contact list.
Let's see how that works with a 'text-to-initiate' campaign.
SMS Opt-in
'SMS Opt-in', which is a contact list building tool, is a popular way of going mobile with advocacy. Here, your supporters text you a keyword indicating their interest in receiving your messages, attending an event, etc. Once they send in the keyword, you can send follow-up questions using automated responses to collect more details such as their name, email address, etc.
For instance, you display the short code or long code you have set up for the campaign along with the keyword. It may look like this: Text JOIN to 55555, JOIN being the keyword and 55555 being the short code.
The organizers at MN350 used SMS Opt-in to collect data and segment their audience. For instance, when they wanted to recruit volunteers or organize local art builds, they needed to know to whom to send texts.
That meant getting data that could be used to target specific groups with specific messages. Through CallHub's SMS Opt-in campaigns, organizers could get people's data by sending automated follow-up questions right when they signed up.
By collecting identifiers like a contact's age or school, they could target different groups of people with different messages.
Text broadcasting
'Text broadcasting' is another method to engage your contacts through texts. For example, to send information about a rally, a link to a sign-up form, instructions on reaching out to their representative, etc.
Text broadcasting to a list of contacts who opt-in voluntarily can be very effective. Contacts who opt-in are more likely to take action due to the increased trust.
MN350 used text broadcasting to keep up with the contacts on their lists, with the help of low-barrier asks like signing petitions. One petition they sent out received a positive response rate of 22%!
Peer-to-peer texting
Peer-to-peer texting involves your volunteers texting contacts from your list and forming personal connections while inspiring them to take action. Since people have opted-in to your list, they will be open to interacting with your volunteers.
The one-to-one conversation model in peer-to-peer texting helps inspire action among your contacts. Your volunteers can start by
Mobilizing supporters and providing step-by-step instructions to take an action
Understanding your audience's stance on the causes you support
Raising funds, etc.
This is how MN350 used peer-to-peer texting:
An initial personalized text asking supporters if they were willing to become organizers was sent out. Over 22% of the people who got the message replied positively and received a follow-up message with a link.
The link led to a form asking interested supporters how they would like to help connect them to their local chapter of the organization. Supporters who signed up joined the organizers, who focused on demanding change from local targets leading up to the main event on December 6th. With the help of the newly recruited organizers, the next step was to bring people out to the main event.
Organizers for the climate strike started sending text messages a few days before the event. Based on the data they had collected during their opt-in campaigns, these texts were targeted.
Over 10% of the 2919 people contacted via peer-to-peer texts said they would come to the rally.
Get started
Traditional advocacy needs to evolve with the times, and going mobile is the right way to keep up with supporters. By enabling two-way communication, resource sharing, and live feedback, you can maximize marketing for your campaign while gaining control over factors that remain inaccessible through conventional routes.
CallHub also helps you connect your audience with your representatives using patch-through calling. Learn more about how patch-through calling works for advocacy.
Featured image: Photo by Sasha Kim from Pexels