Dealing with debtors can be challenging.
Getting familiar with a channel that makes the process smoother can help you better handle these interactions.
SMS allows faster and direct contact with your clients, resulting in successful debt collection, regardless of if you are a business or a debt collection agency.
This is a complete guide to using SMS for debt collection.
The post goes in-depth into strategies, tips, and best practices for using SMS for debt collection. We'll also show you how to create an effective SMS debt collection campaign.
Successful SMS debt collection strategies
Here are some strategies associated with using SMS for debt collection.
Send a payment reminder: When your client's payment is overdue, send them a reminder using a text broadcast.
Follow up on overdue payments: Follow up on your reminder with a text broadcast and encourage two-way communication to understand the reason for the delay.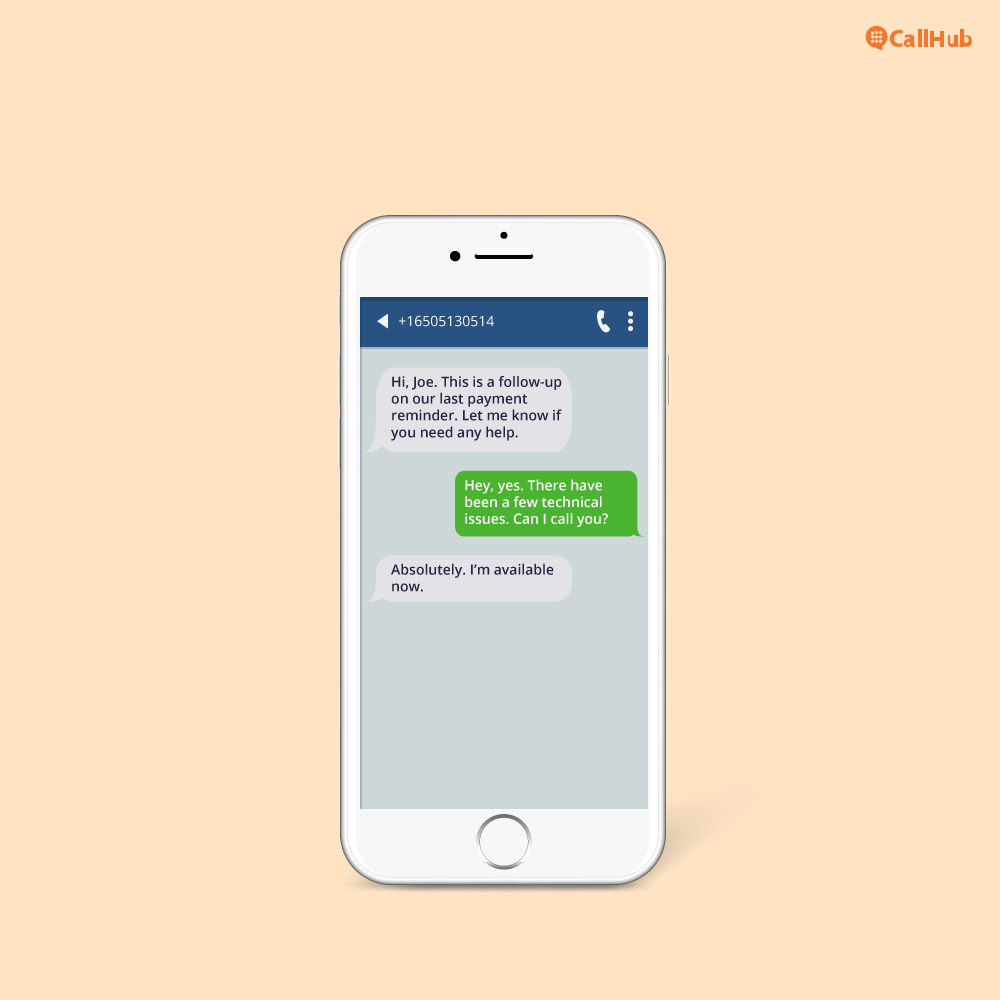 Resolve queries: Set up autoresponders associated with different keywords along with your text broadcast to resolve common questions. This could be around alternate payment plans, debt amounts, legal consequences, etc. Your client can text you a keyword, and CallHub will send the SMS you have set up.
Text Broadcasts are primarily used to send updates and reminders, and appeals to all your contacts. Typically it's a message sent to update your audience on a particular matter. CallHub, in addition, lets you receive responses and notifies you of the same, so you can address it at the earliest.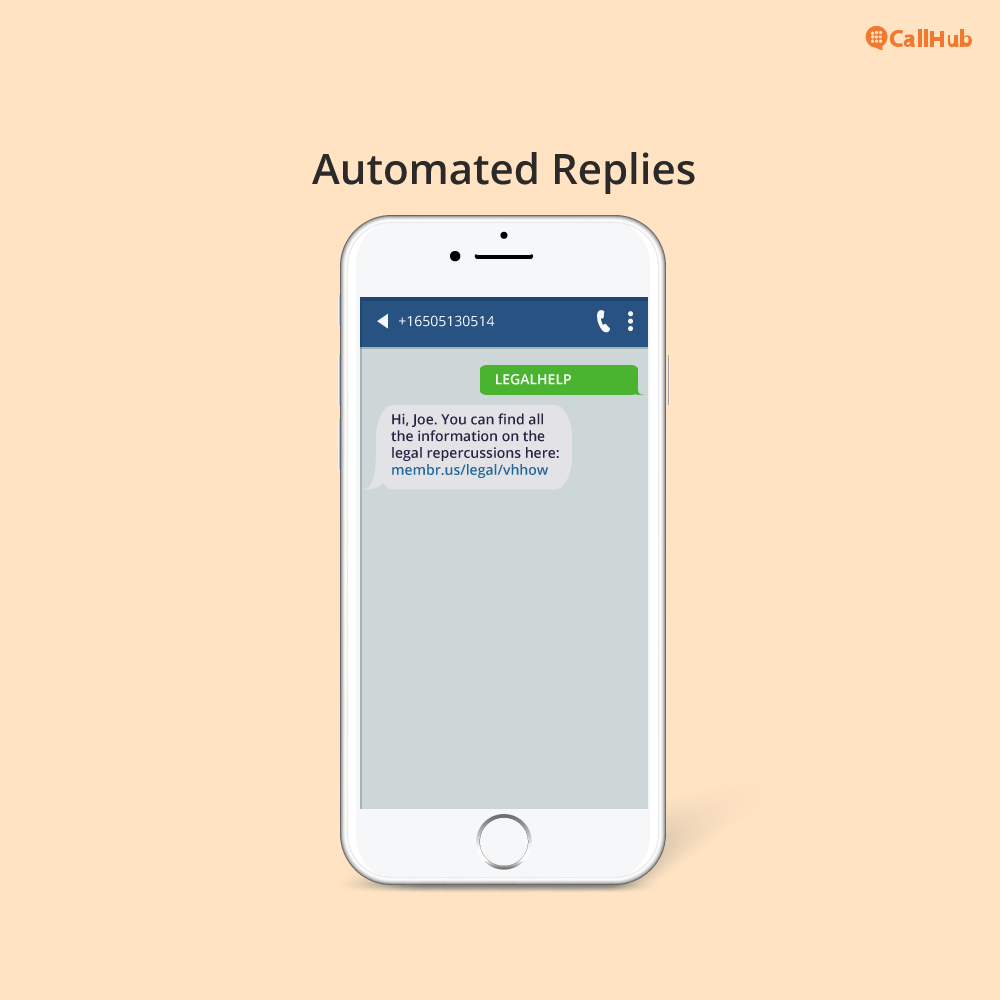 Your clients can also respond to your reminder and follow-up messages with their queries. CallHub will send a notification to the email address you've specified in the campaign, and your agents can resolve your clients' queries.
Mention the specifics: One of the best ways to maximize your chances of getting the amount you're owed is to mention what that amount is along with the due date in your debt collection SMS. This can help your client know the message is not a scam and alert them to take immediate action on clearing the payment.

Inform clients of the laws: Let your client know of the legal implications of late payments or failing to pay you. Remember, your goal here is not to harass them but inform them of the repercussions. This transparency can smoothen the collection process.

Offer multiple options: Provide alternative means to clear the debt. This could be offering multiple payment options, letting them make the payment in the subsequent month, etc.

Thank them for completing the payment: Thank them for paying off their debt. This will improve your relationship and increase loyalty.
Best practice: An effective SMS for debt collection is one that has a clearly defined call-to-action and complies with the law.
Here's a collection of samples for using SMS for debt collection.
Tips for using SMS for debt collection
Consider timing and delivery of your text message. Use our Analytics tool to understand the best time to send your messages.
Limit the number of messages. Spamming your clients can have legal consequences.
Be respectful. As per the laws, you cannot threaten or harass your clients regardless of the sum they owe you.
Have your reminders and follow-ups ready. SMS templates are a great help, especially when you have multiple clients you need to collect the debt from.
You May Also Like: Debt Collection Tips To Help You Make Better Collection Calls And Improve Recovery
Key benefits of using SMS for debt collection
Increased response rate: 90% of people read an SMS within 3 minutes of receiving it, according to research. The average response time to an SMS is 90 seconds, shows a study.
Improved customer relationship: An SMS is a non-invasive way to reach your customers without endangering relationships due to its friendly nature.
Saving time: Scheduling an SMS for debt collection that can reach multiple clients at once saves you time. The personalization feature CallHub provides helps provide an enhanced experience and improve relationships.
Creating a sense of urgency: An SMS establishes a sense of urgency, mainly when it consists of specific details with a crisp and concise message.
How to start using SMS for debt collection?
Getting started with SMS for debt collection is simple with CallHub and will only take a few steps.
1. Sign up with CallHub
Start your 14-day free trial and get $3 credited into your CallHub account. This lets you send up to 750 texts.
2. Get a number
You have two options to choose a phone number for your campaigns with CallHub.
Validate your existing ten-digit number to text enable it on CallHub.
Rent a local or toll-free number for any country you are running campaigns in. CallHub also helps you get a 10DLC number or register your existing number.
3. Create contact list
Create a contact list for your campaign by importing your contacts from your CRM or/and uploading a list as a CSV file. 
4. Reach your clients
Click on the 'Create' button under 'Text Broadcast' from your dashboard.


Choose the contact list and number for your campaign.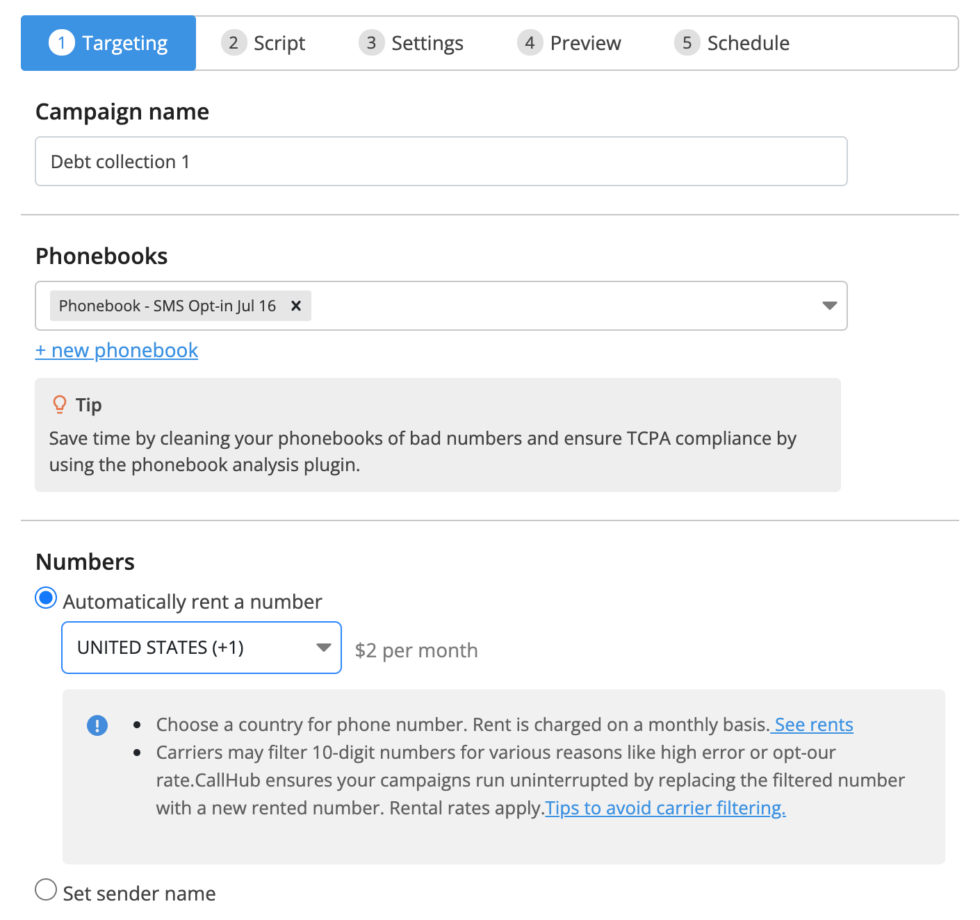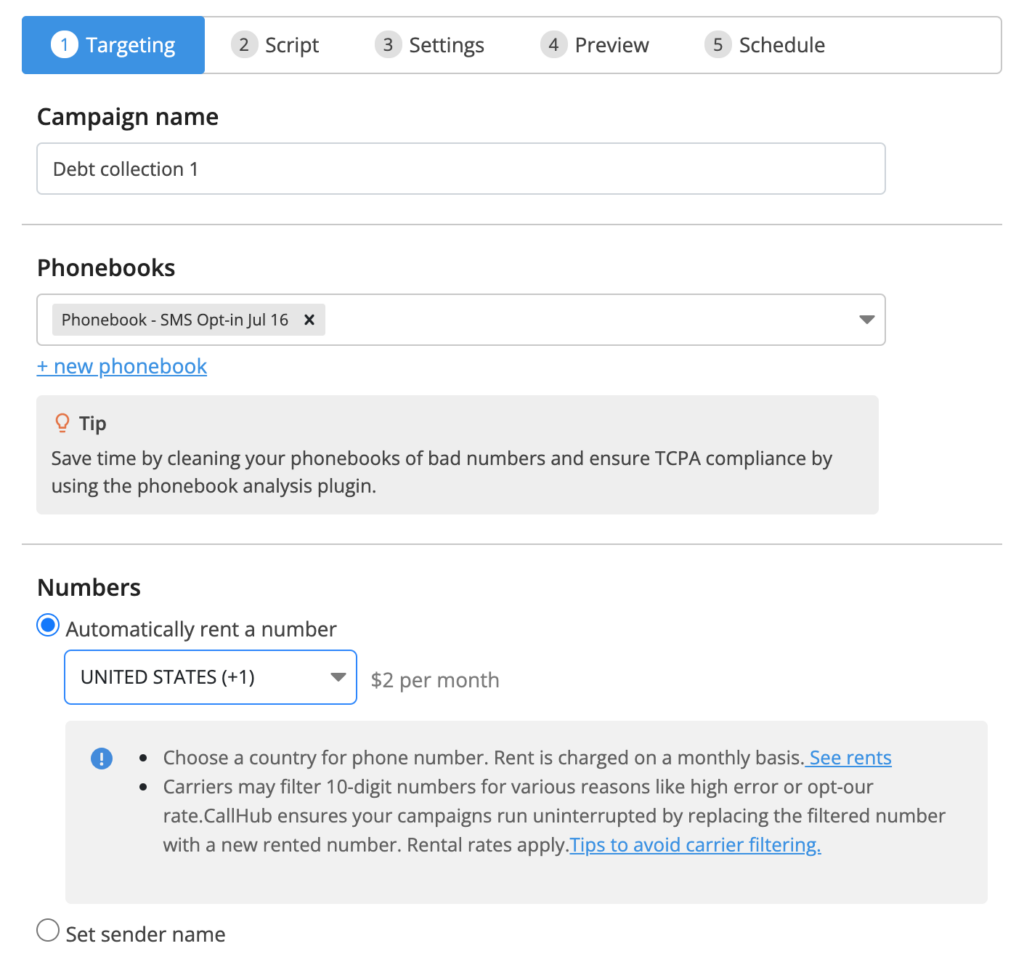 Add your personalized message using merge tags available on CallHub. These tags get replaced by the appropriate data.CallHub has a few predefined merge tags and lets you add custom ones too. This will help you improve the engagement rate, and your clients are more likely to take action.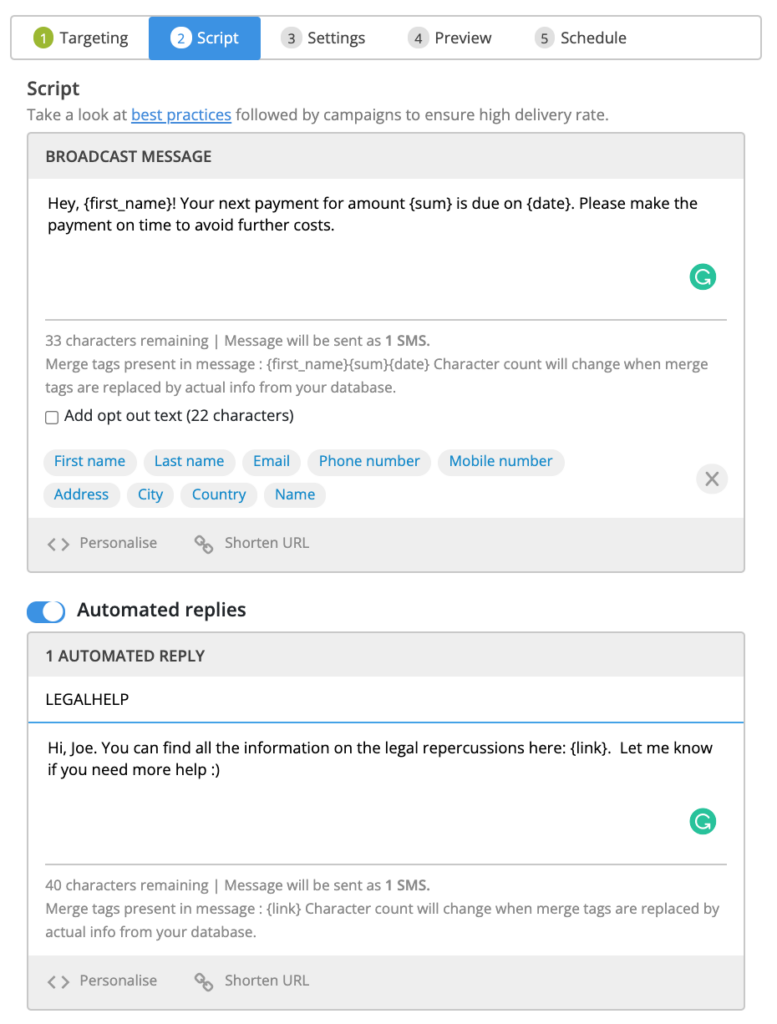 Best practices: Make sure your message sounds natural and conversational.
Note: A standard SMS contains at most 160 characters. If you exceed the limit, you will be charged for 2 SMS.
The 'Automated Replies' feature lets you respond to incoming queries from your clients. You can set up a keyword and the message to be sent when your client texts you this keyword. Promote these keywords along with the necessary instructions and include them in your SMS broadcasts, so your clients know how they can get help.
CallHub also helps you shorten, customize, brand, and track the links you add in an SMS using a built-in Link Shortener and Tracker.
Next, add your email address on which you'd like to receive the notifications when your clients respond to your messages.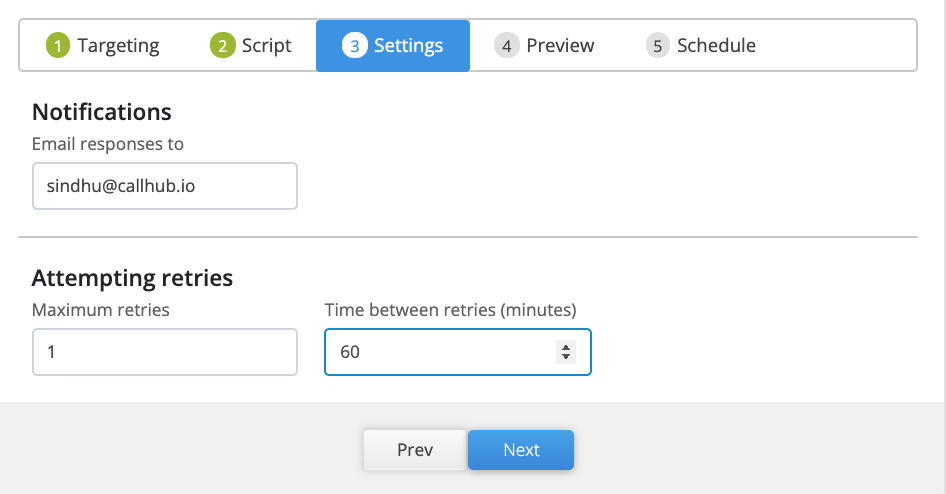 The 'Maximum retries' option lets you resend the SMS to your client if it fails. You can choose a number between 0 and 10. The 'Time between retries' specifies the delay between each retry.
Preview your campaign, verify everything and schedule it.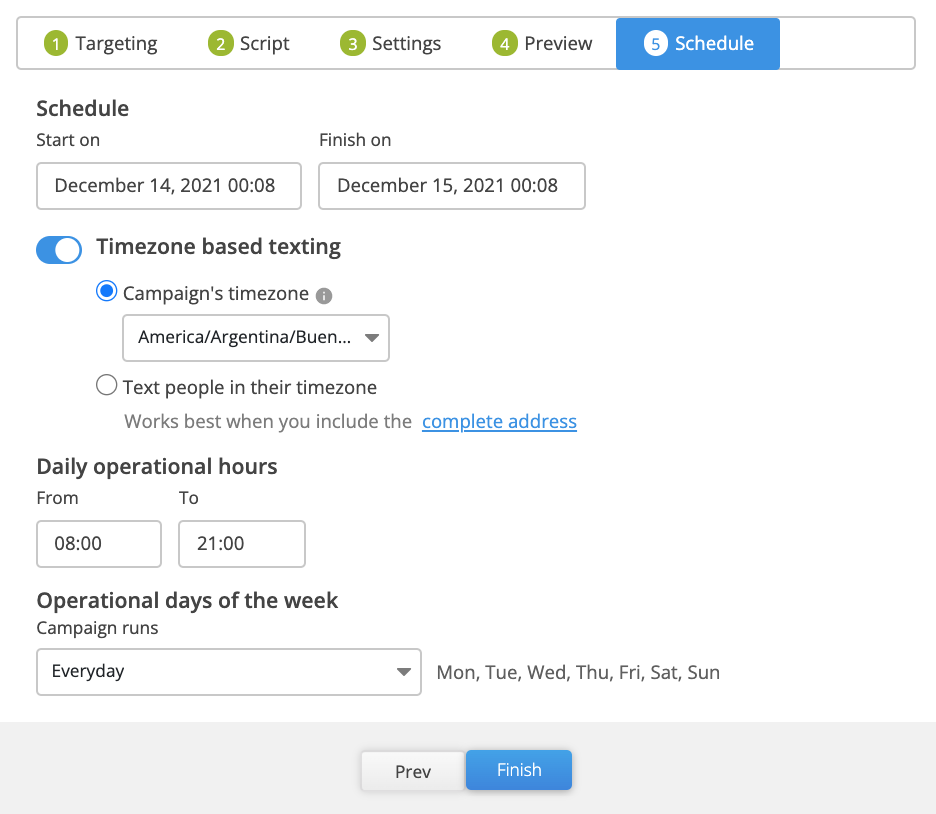 CallHub lets you set a start and end date along with the operational days and hours.
As for the timezone, you have two options:
To manually specify a timezone using the 'Campaign's timezone' option.
To run the campaign in your contacts' timezone.
Best practices:
Integrate with your CRM either directly or through Zapier to sync data bi-directionally in real-time and leverage it in your campaigns. Here's a list of CRMs we integrate with.
Using our analytics and advanced reporting, see the delivery rates, response rates of your messages and get a better understanding of your campaigns' performance and the effectiveness of your strategy. Discover the best time to schedule your campaign, test different messaging, and optimize your campaigns.
Contact segmentation helps you stay relevant. For instance, you can move contacts that have cleared your payment into a separate contact list and send them a thank-you message.
Clean up your contact list to remove invalid numbers using our Analysis plugin, available on our 'Store'.
Major updates to debt collection practices
The federal government opened the way for debt collection through SMS in 2020. There are certain regulations to be followed to avoid penalties and potential jail time.
In addition to the existing rules, here are a few things to consider before you schedule your SMS for debt collection:
Although the messages can be unlimited, every message should have clear instructions on opting out. CallHub provides built-in opt-out message instructions, which, when enabled, will append your message with a one-liner on how your clients can opt out.
The message cannot be aggressive or pose any threats.
You need to get consent and identify yourself.
Messages must be sent at a reasonable time, i.e., between 8 am and 8/9 pm, depending on the state's rules. With CallHub, you can schedule your messages in accordance with your clients' time zones.
Check out the Fair Debt Collection Practices Act to learn more.
CallHub's SMS marketing software is affordable and lets you create a free account and credits $3 to get started. No credit card details are needed, and you can pay as and when you use our services.
Create your free account today.
Featured image: Photo by Mikhail Nilov from Pexels