An automatic call software automates phone dialing for telemarketing and sales teams.
The software is most commonly used for cold calling. At the same time, it has a wide range of additional use cases like appointment reminders, payment collection, weather alerts, phone banking, fundraising, and more.
The product benefits almost every industry and every organization.
What is an automatic call software?
An automatic call software is an outbound call center software, which helps you by automatically dialing phone numbers from your contact list or database. You can configure the system to broadcast a prerecorded message or connect your contact with a live agent.
Dialing modes
Automatic call software have been helping businesses for decades. The fundamental mechanism is, businesses upload or import their contact lists, schedule campaigns, assign agents, and the tool's auto dialer software automates the dialing part.
But, auto-dialers have developed over the years. Now, you can choose between different dialers for different campaigns, sync information with your database, automate personalization, and much more.
CallHub's automatic call software is one great tool that provides these features to aid different business applications.
Let's take a close look at the different dialers we offer.
Predictive dialer
A predictive dialer dials multiple numbers ahead of time and connects only the answered calls to agents using machine learning algorithms. It analyzes several metrics such as the talk and ring time, answered calls, number of agents available, etc., to dial numbers at the right time. These metrics are also used to determine the rate at which the numbers are dialed, maximizing the time agents spend talking.
The predictive dialer also screens out wrong numbers and unanswered calls to ensure your agents' time isn't wasted. If you're looking at connecting with a large number of contacts, a predictive dialer is the one for you.
Power dialer
A power dialer dials one number at a time. This dialer dials the next number only after an agent indicates that their call has been completed. With a power dialer, your agents decide the pace at which calls are made, thereby giving them enough time to have meaningful conversations.
The power dialer is the ideal option for persuading your audience, conducting surveys, and solving your audience's problems. Bottom line, for any call that needs personalized attention and preparation, power dialer is the way to go.
Robo dialer
A robo dialer lets you make as many simultaneous calls as you want without any waiting time. With a robo dialer, you'll be able to reach a large number of people, by playing a recorded message or using text-to-speech technology.
Robo dialer software are typically used to update, remind or alert people with legitimate information. For instance, remind your audience of an upcoming appointment, a pending payment, or an upcoming event.
The type of dialer you should be choosing completely depends on the purpose of your call.
Read Next: 12 Essential Auto Dialer Features That Make Your Job Easy
FastClick dialer
A FastClick dialer helps you make calls to cell phones and landlines while staying compliant with TCPA regulations. The dialer uses human intervention for initiating calls. Although this is not entirely an automatic call software, it outpaces other dialers due to its intelligent queuing and call routing.
The FastClick dialer is ideal for high-volume calling campaigns such as for voter outreach and debt collection. For campaigns using this dialer, you should have a dedicated calling agent who will queue calls to maintain the speed.
Here's the best part: Since the dialer is already TCPA compliant, it saves you the time and effort of analyzing if a number is a landline or cellphone.
The benefits of automatic call software
From lead generation for businesses to fundraising appeals for political campaigns, an automatic call software is widely used among organizations. If you're not using an autodialer, you are losing out on the opportunity to connect with your audience on a personal level, at scale.
An automatic call software helps organizations improve their operations in many ways, and in this section, we'll have a look at the significant benefits.
Improved operational efficiency
It's practically impossible for a human to discover an unproductive number before dialing it. CallHub's automatic call software does this job for you; it weeds out bad numbers so your campaign can focus on the productive ones.
Additionally, it removes different hindrances associated with a call, such as misdialing, waiting, listening to answering machines, busy tones, and facing call drops.
The software skips over such calls and routes only the connected calls to agents, resulting in improved operational efficiency and agent productivity.
Real-time monitoring and reporting
Which approaches are working? What's the best time to call a contact?
To be able to answer these questions, organizations need to measure and optimize their campaigns based on different key performance indicators, such as average talk time, answer rate, and more.
CallHub's automatic call software provides insights into your campaign's health through customizable reports for more robust marketing practices. Real-time monitoring helps you track performance anytime and monitor your campaigns. We go in deep about this later in this article.
Time optimization
CallHub's automatic call software is an excellent tool for time optimization. You can automate a ton of your outreach activities, such as sending reminders, follow-ups, etc., with a voice broadcasting system, text message, or a robocall.
Your agents can instead spend time building relationships with personalized conversations and nurturing leads.
Effective database management
Generally, automatic call softwares integrate with CRMs. The integration helps organizations import contacts and update their information automatically. This, in turn, helps you effectively personalize conversations.
Later in this article, we explain how CallHub's CRM integration helps you manage your contacts and streamline the communication process.
All in all, the vast range of benefits of an autodialer makes it hard to ignore the need for it for organizations. However, every organization has different requirements, and it's ideal that you ensure the software you subscribe to has everything you need. Our guide on how to choose the right automatic call software for your organization can help.
Standard features of automatic call software
An automatic call software provides several features that manage different aspects of the tool. To completely utilize an autodialer, it's important you understand its features.
Here, we have a list of 12 essential features of an automatic call software.
1. Do Not Contact list
CallHub's automatic call software is built with a capability to detect unproductive numbers and add them to a separate list called DNC (Do Not Contact). The DNC list helps you store all contacts that you do not want to contact in the future.
This feature improves your calling efficiency by 4X and helps you stay compliant. This is a huge time saver and also saves you from hefty penalties.
On CallHub, DNC works in two ways:
Suppression list: Allows you to exclude a set of contacts from your calling list.
Opt-out list: Stores contacts who do not want to hear from you and excludes them from future campaigns.
See how you can add numbers to a DNC list.
2. Call recording
Every organization needs to monitor the quality of the calls to improve the campaign performance.
CallHub's automatic call software enables you to record calls and access the recordings anytime. This will help you identify the gaps in your agents' performance and train them accordingly, thereby helping them to perform better. Call records will also help you deal with legal liabilities if any.
This guide shows you where you can find the call recordings on CallHub.
3. Call monitoring
With call monitoring, managers can help and train agents in real-time. For instance, there may come a time when the agent doesn't know how to handle a situation. In such times, the manager or supervisor can guide the agent without the contact hearing them.
This feature would be a life-saver during the onboarding of agents.
This is how CallHub's interface looks when you join live sessions to monitor your agents.

4. Time zone management
This feature lets you run campaigns in a specific time zone of your choice. So, you can rest assured that your calls will go at the right local time, increasing the chances of your contact picking up the call.
On CallHub, you can choose one of two settings for time zone management.
Set a time zone for the campaign.
Call people in their time zone.
5. Call transferring
You may need to transfer the call to another person from your team, and automatic call software can help you with that.
On CallHub, a campaign manager can choose a set of numbers for the calls to be transferred to. If the manager doesn't assign any numbers, the agent can type in one, and the call would be transferred to the same.
See how you can add patch-through numbers on CallHub.
6. Answering machine detection
This is one of the essential features of an autodialer. It offers the ability to detect answering machines and take a predefined action, such as playing a different audio message or hanging up the call.
This, in turn, will increase the call volume because agents would only spend time talking to your audience resulting in a high occupancy rate and productivity.
CallHub's automatic call software can easily detect answering machines.
7. CRM integration
Most organizations today use a CRM to organize and manage their contacts and streamline the communication process.
CallHub's automatic call software integrates with many apps and CRM, including Salesforce, Zapier, and more. Every valuable information you collect while on the call gets synced with your CRM. This helps you automate personalization and enable effective communication with a large audience.
Such sync up helps you segment lists, add automatic merge tags to scripts, and update captured information against the contact's profile. This way, every conversation becomes an opportunity to learn, store information, and better inform the next.
This tells us that automating the repetitive parts of your day-to-day operations is the key to increasing productivity.
8. Call disposition
Call disposition is a label that indicates the outcome of a call. They help you determine the success rate of a campaign. Call disposition also gives you the ability to generate comprehensive reports based on the outcomes.
For example, the disposition 'ANSWER' would mean your contact has answered the call. Similarly, 'CALLBACK' lets your agent schedule a callback with your contact.
Check out all the call dispositions available on CallHub.
9. Local caller ID
Establish a local presence when you call your contacts by changing your caller ID to match your contacts' location. This will increase the pickup rates for your campaign.
See how you can increase your engagement rates by up to 20% using CallHub's dynamic caller ID feature.
10. Data import/export
An automatic call software also can bulk import your contacts and their associated information onto the tool.
Here's how it works on CallHub:
Step 1: Convert your contact list into CSV format.
Step 2: Click on '+Import contacts'.
Step 3: Choose an existing contact list or create a new one to import contacts into.
Step 4: Select your CSV file and hit 'import'.
Step 5: Map the columns according to the expected format.
This guide shows you how to import contacts onto CallHub in detail with screenshots.
11. Reporting and analytics
An automatic call software offers an overview of your calling campaigns using dashboards that update in real-time. Set performance goals, visualize your campaigns, track relevant metrics, and identify problems.
Here are some screenshots of CallHub's report analytics tool.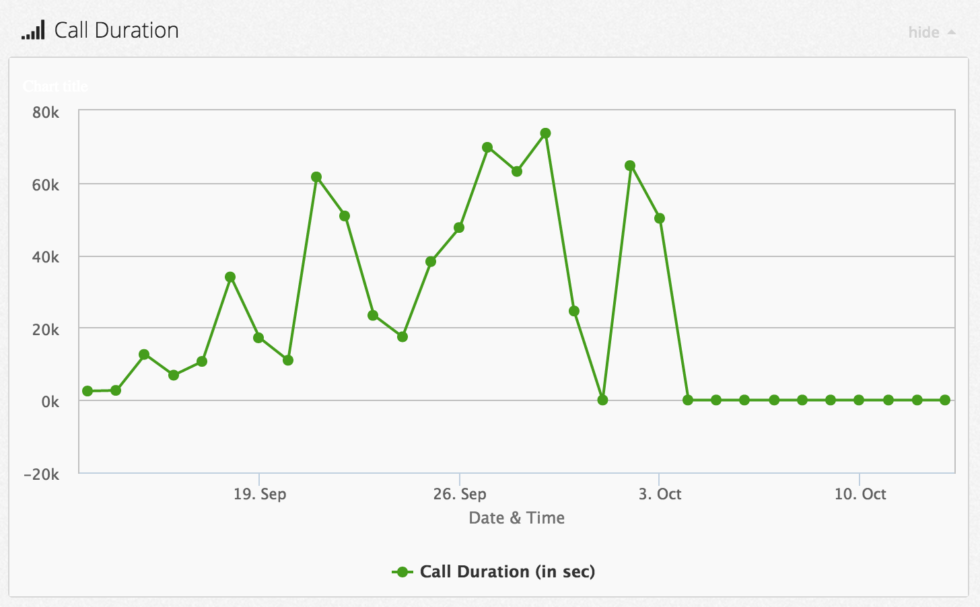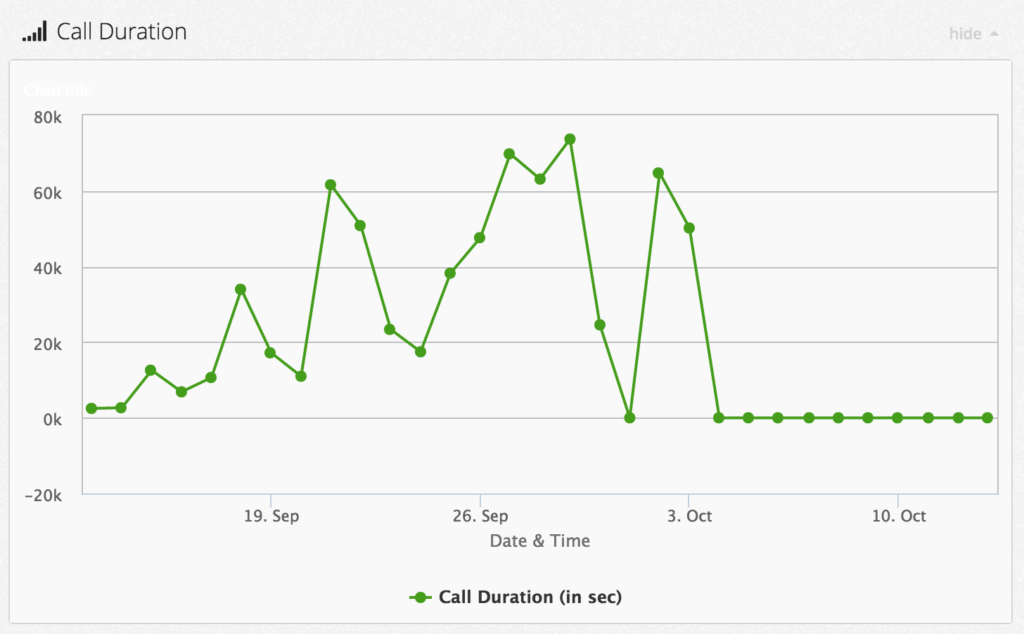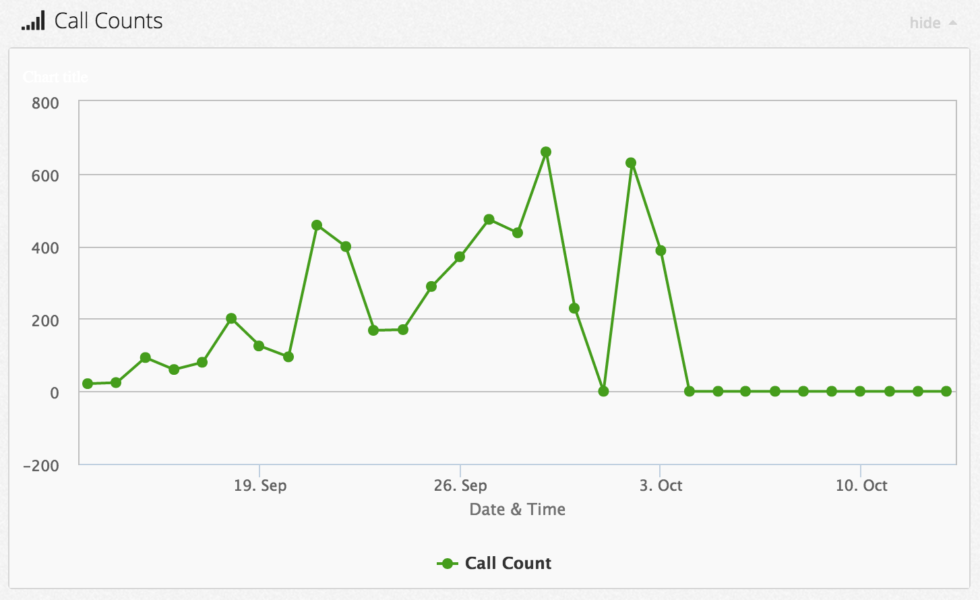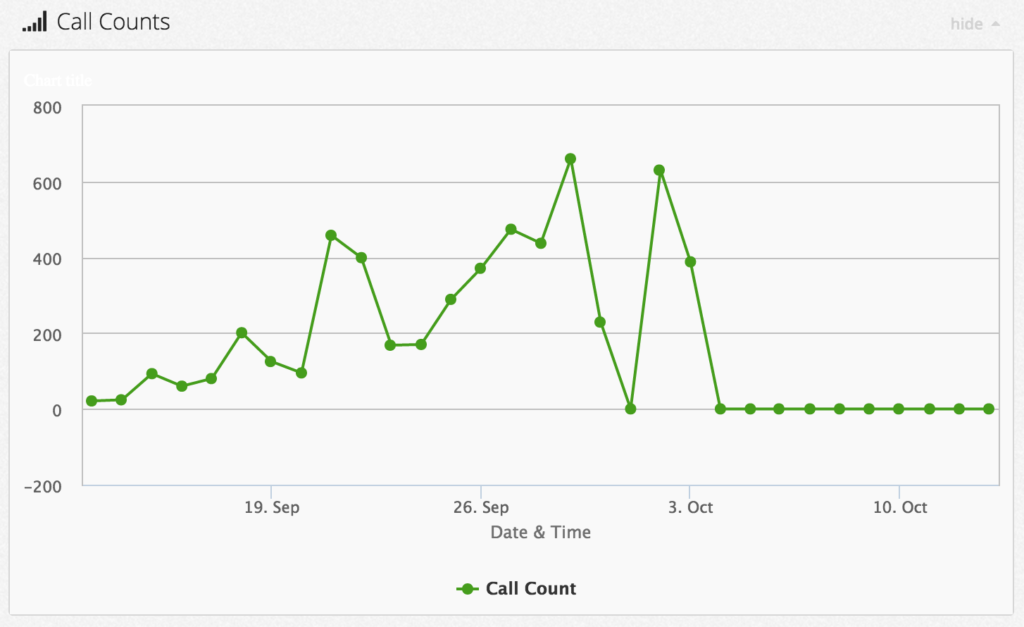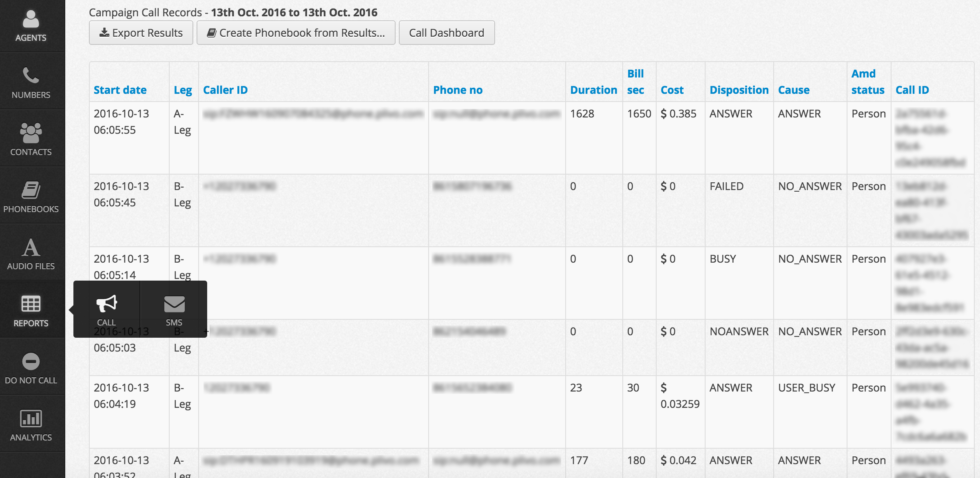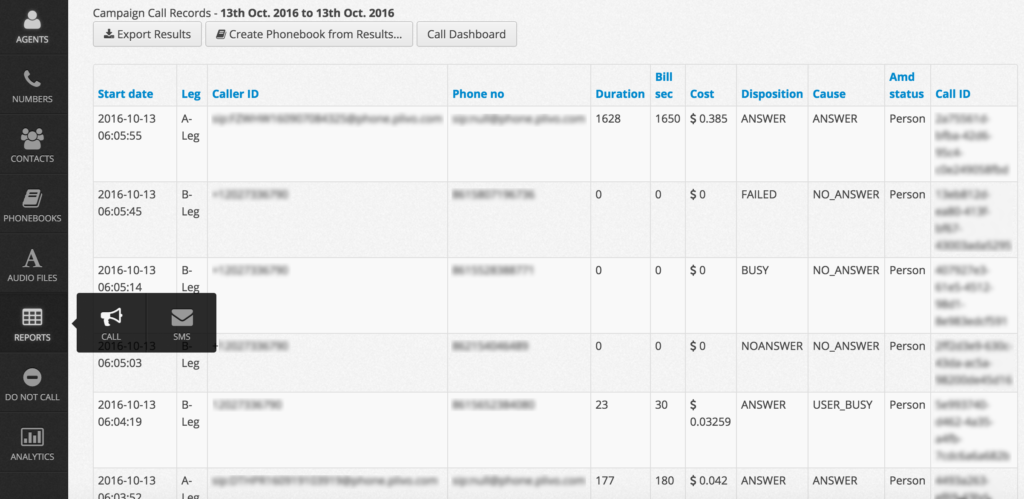 Detailed call report
Detailed reports with campaign statistics help you improve your campaign efficiency and the graphs in real-time monitor calls as they're happening.
Here are some metrics CallHub offers insights into:
Answer/reach rate
Average call duration (per day and throughout the campaign)
Number of calls made (daily/weekly/monthly)
Unique contacts reached
Agent performance (by calls made, talk time, and connect time)
Agent recruitment
Agents making calls over time
Team leaderboard (calls made over time, connect time)
Also, see how you can get campaign results and detailed call reports on CallHub.
12. Callback scheduling
You won't be able to reach all your contacts at the first attempt due to various reasons– your contact is busy, they request a callback, may not answer, etc. The callback scheduling feature on CallHub helps you reconnect with your contacts by scheduling follow-ups.
This will increase the chances of reaching a maximum number of contacts from your list over time.
See how the feature works on CallHub.
Key considerations for buyers
Not every automatic call software is built equal. There are a few key considerations buyers need to make before subscribing to an auto dialer.
Because an automatic call software needs as many agents as possible to talk to your audience on your behalf, unlimited agent seats is a must-have for an effective campaign. CallHub earns a positive in that case. We do not charge for agent seats, so it won't affect your budget no matter how many agents you add.
If you use a CRM, it's important to ensure your automatic call software can integrate with one. Our app integrations help you tie it all together.
You need to test the ease of use and core functionality of a product before you subscribe to it by making a payment. Make sure the vendor you choose offers a free trial of the software. CallHub provides a free trial by crediting $3 to your account free of charge to explore the tool, which lets you make calls with a duration of up to 10 minutes. The typical cost for a call starts from ​​$0.297 per minute, and texts cost $0.163 per text.
Choosing a cloud-hosted dialer helps reduce the infrastructural costs. Oh, CallHub is cloud-based, by the way 🙂
High uptime is critical to use any product effectively. CallHub has had a 100% uptime in all aspects.
Access to the support team with a high response rate would save you from halting your operations. Our product specialists guarantee a 99% response rate.
You may not want to always get in touch with a live agent and may be looking for a self-learning ability. The software you choose should be able to help you with that. CallHub offers a vast pool of self-learning resources to operate the tool.
The ease of use is an essential factor for any tool. Our customers find our tool very easy to handle. Read the reviews here.
How does the automatic call software work on CallHub?
We saw a bunch of features and benefits of an automatic call software. The amazing news is, CallHub offers all these features and dial modes we mentioned above.
Now, let's see how they all come together and work on CallHub.
Step 1: In this first step, you'd be adding the brief and the script for your agents to refer from. This is where you also select the call dispositions you'd like for the campaign.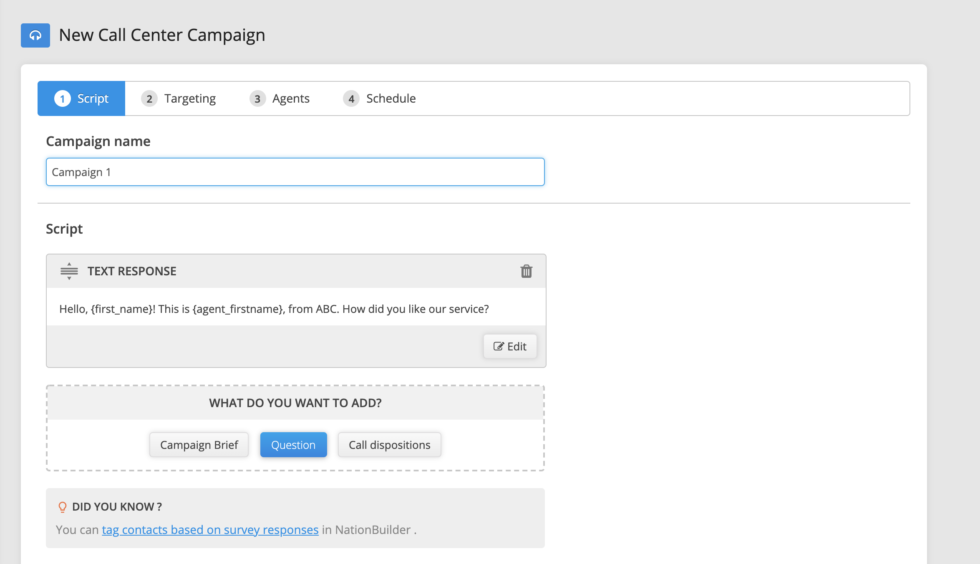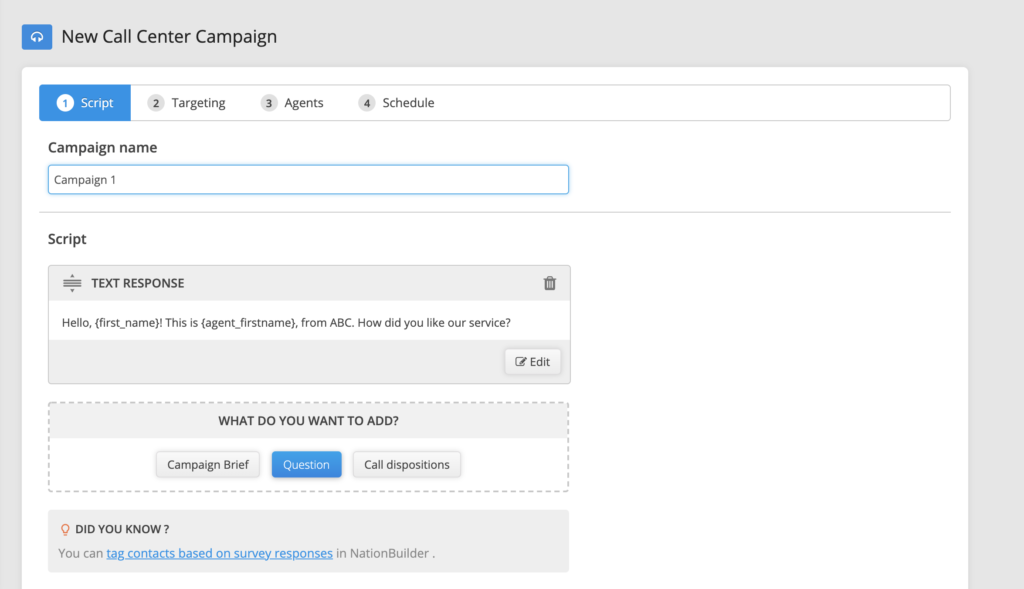 Once you add these, you enable the options for follow-up texts if needed. The follow-ups could be either extra information after talking to your contact or a note if they don't pick the call.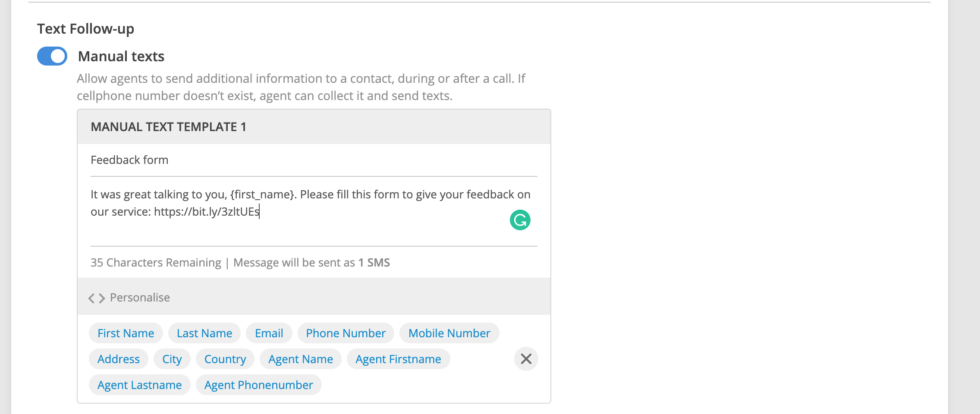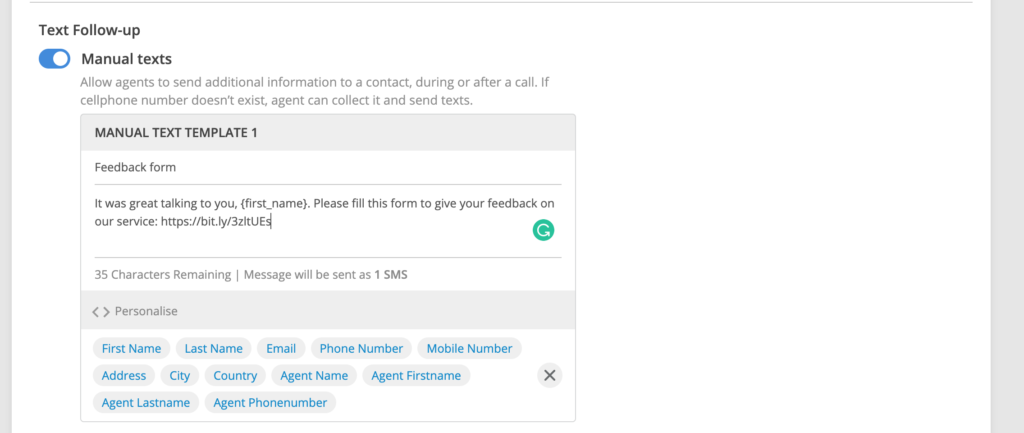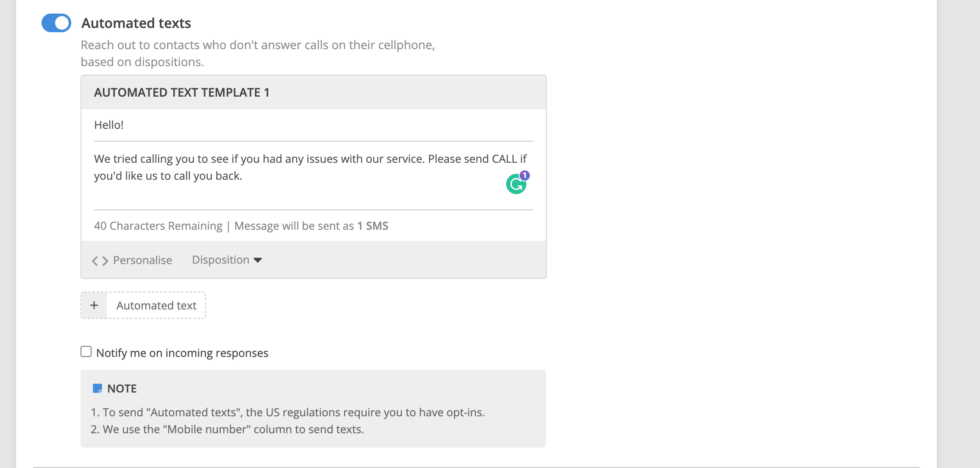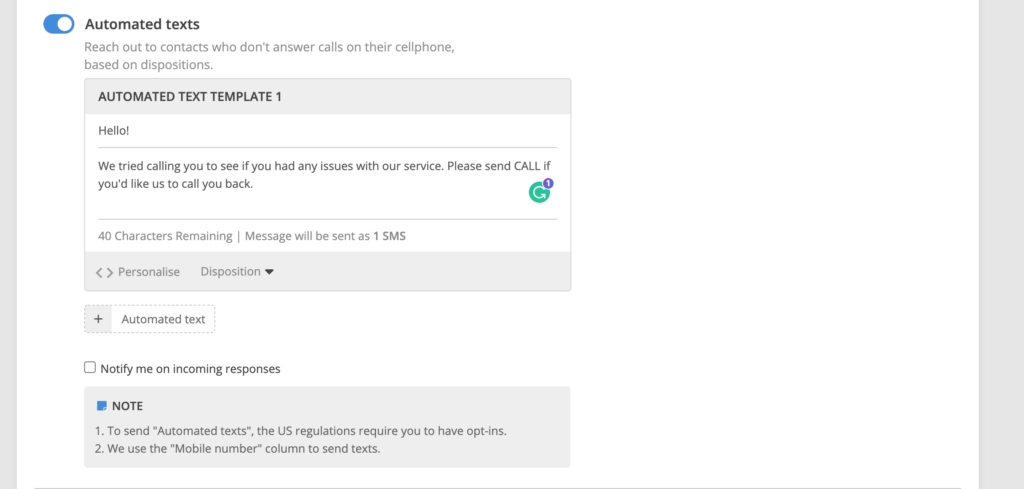 Step 2: In the targeting stage, you'd do the following:
Choose your contact list.
Pick the validated number or rent a new number (this number will appear on your contact's phone).
Allow for call transferring.
Choose one of the dialers based on your campaign requirements.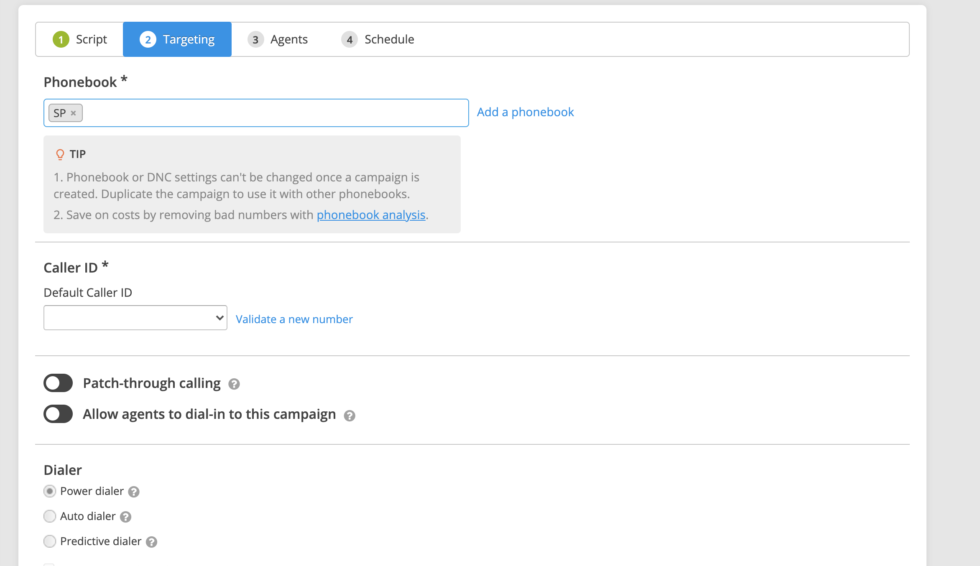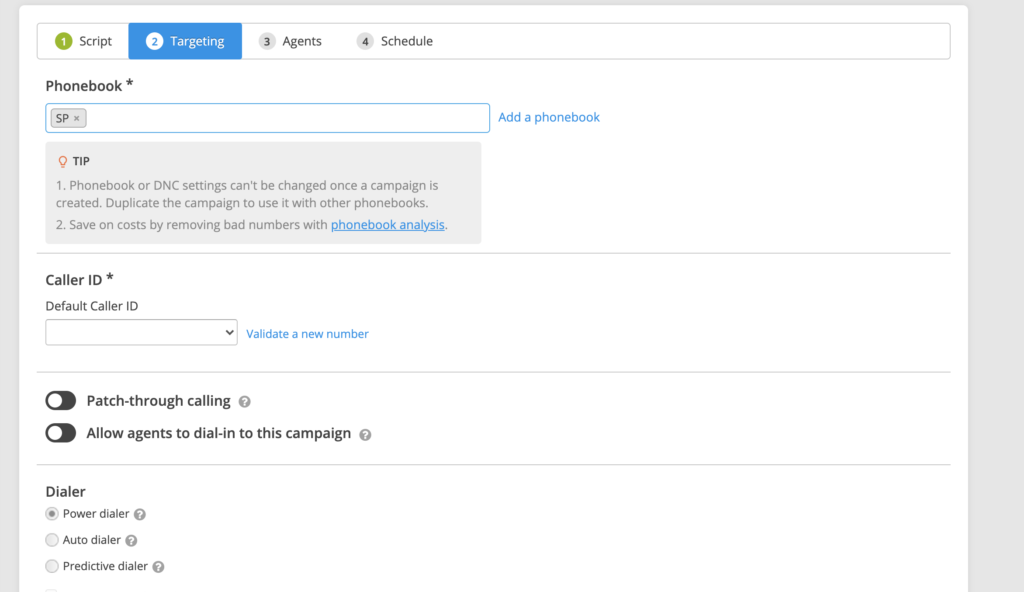 Step 3: After filling in the targeting requirements, you can assign agents and choose to enable call recording.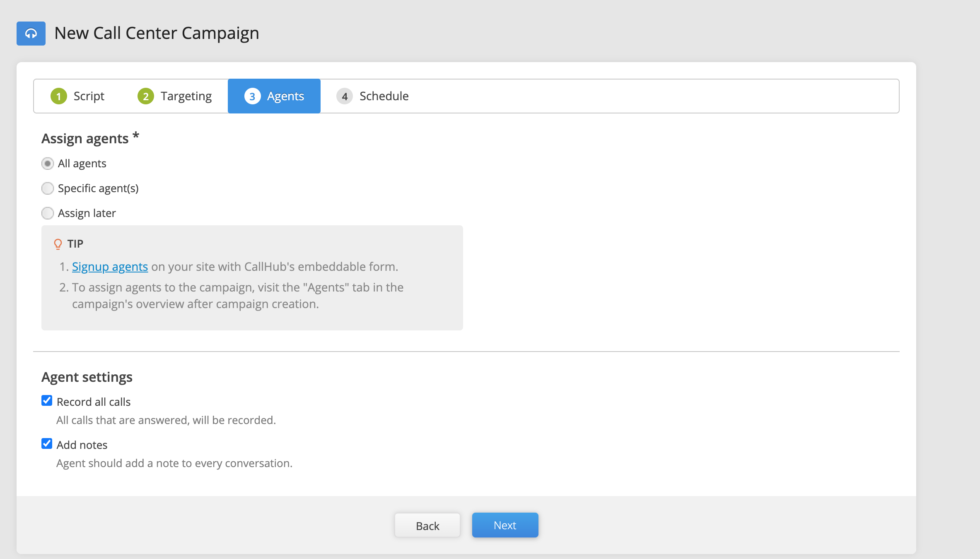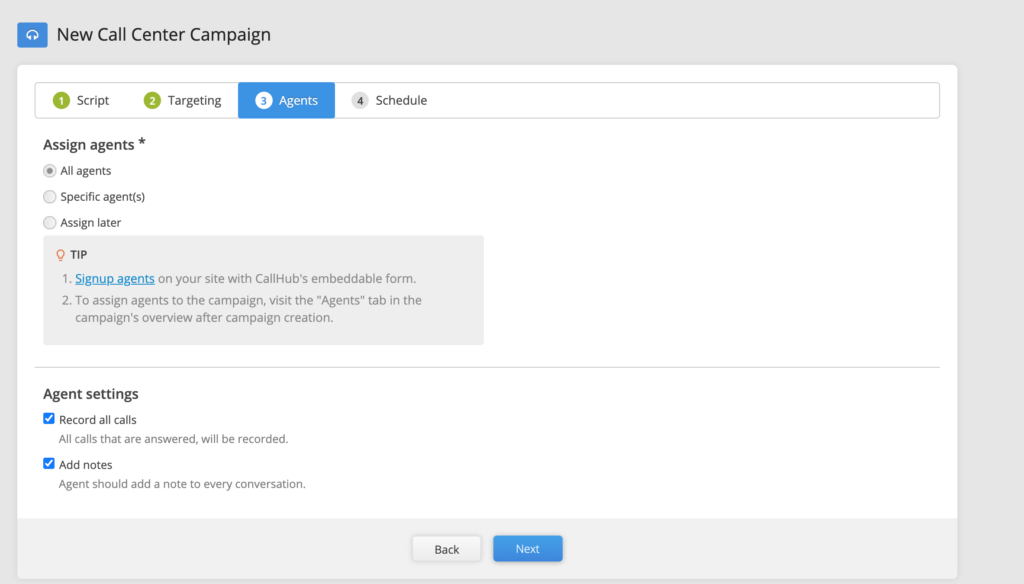 Step 4: In the final stage, you can choose the timezone and schedule the campaign by the hours and days of operation.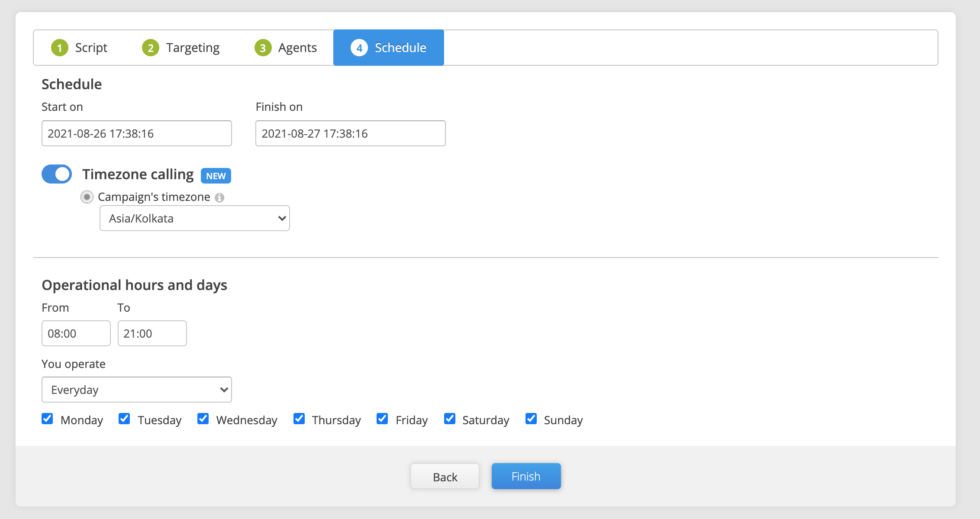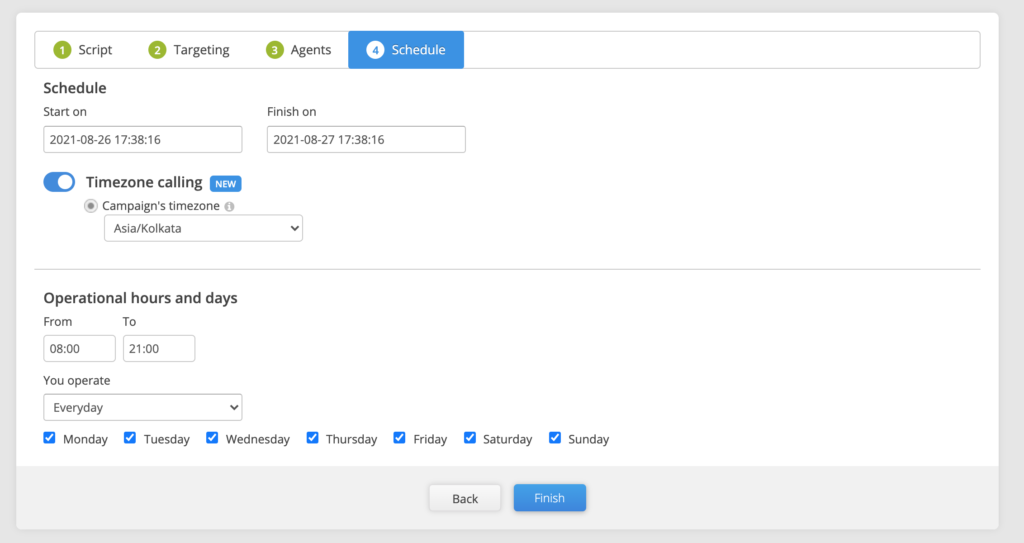 And there you have it- your calling campaign up and ready to run.
Our customers find the whole process of setting up a campaign very easy and have seen excellent results, which back up what we've said about our product in this article.
See what our customers have to say:
"We can make calls at about 5x the rate that we would with a manual dialer, getting through a list of 100 calls in just over an hour. This has been a huge capacity saver in our organization."
– Amanda Destefano, Leadership Organizer, United Workers
"I really love your team. You are just super responsive and super friendly, and nothing's too difficult! It's been a really good experience."
– Shaun Murray, Senior Organizer, GetUp
"Solid dialer, responsive support, and awesome CRM integrations!"
– Django Merope Synge, Campaigns Director, GetUp
"Cost is one. We also really liked the user-friendliness of CallHub on the agent side. We had consistent feedback from all kinds of volunteers of all ages and all abilities across the country that it was just really easy to use."
– James Wardlaw, Field Director, NDP
"A lot of our folks are volunteers, a lot of them are retired, they are often anxious with technology, and they were able to use CallHub easily. It's empowering for volunteers who don't see themselves as very tech-savvy to be able to pick up a new piece of software and a new program and just use it, so that was great."
– Celine Trojand, Community Organizer, Organizing for Change
Get started!
Not all organizations have the same requirements. Do you need to power up your sales game? Are you looking for an all-in-one software? Do you need a bunch of apps and CRM integrations?
CallHub's automatic call software is a solution for all. Also, the platform is quick to set up and easy to onboard your agents.
Featured image: Photo by Mikhail Nilov from Pexels