In this exploration of impactful nonprofit marketing ideas, we draw inspiration from successful campaigns across various platforms.
Speaking of nonprofit marketing campaigns, back in 2013, UNICEF Sweden launched a powerful campaign to highlight the fact that "Likes don't save lives." Through the commercials, the organization wanted social media users to do more than like posts and donate to provide polio vaccination to children in need. 
Here's one of the ads created for the campaign:
These nonprofit marketing ads didn't take long to gain the desired attention and got enough donations to vaccinate over 600,000 children.
To encourage your audience to take the desired action, you must engage with them creatively and effectively. If you want to do that, here are five amazing nonprofit marketing campaigns that can inspire solid marketing ideas for nonprofits. 
TL;DR: Here's a quick look at all the takeaways before we look at each campaign in detail.
Event marketing

Resonate with your message
Recognize donors to encourage more donations
Social Media Marketing

Look out for new channels for acquisition
Have multiple options for helping
Text Marketing

Understand audience persona
Encourage sharing with incentives
Video Marketing

Convey critical information in an engaging way
Make it easy to help
Content Marketing

Have diverse content
Identify your target audience
Event Marketing: PAWS Chicago 5K Race 
PAWS is a nonprofit animal shelter organization based in Chicago. The name is an acronym for "Pets Are Worth Saving." Founded in 1997, the organization focuses on discovering solutions to end the euthanasia of homeless pets.
The objective
Every year, PAWS Chicago conducts the 5K race with the objective:
Raise funds to build "No-kill communities."
Spread awareness about pet euthanasia
Bring the community together and engage them 
The nonprofit marketing campaign 
The PAWS Chicago 5K Walk/Run is the region's largest dog-friendly event. Each year, it draws in a crowd of around 7,000 people and over 3,000 pets. 
The event is split into a running and a walking course, with pets being allowed only in the latter. Moreover, people can participate in the race either as teams or individually. 
The run commences with a speech from the founder, Paula Fasseas, and an announcement of top nonprofit fundraising teams and individuals. The address is followed by a pet parade and later leads to the initiation of the race.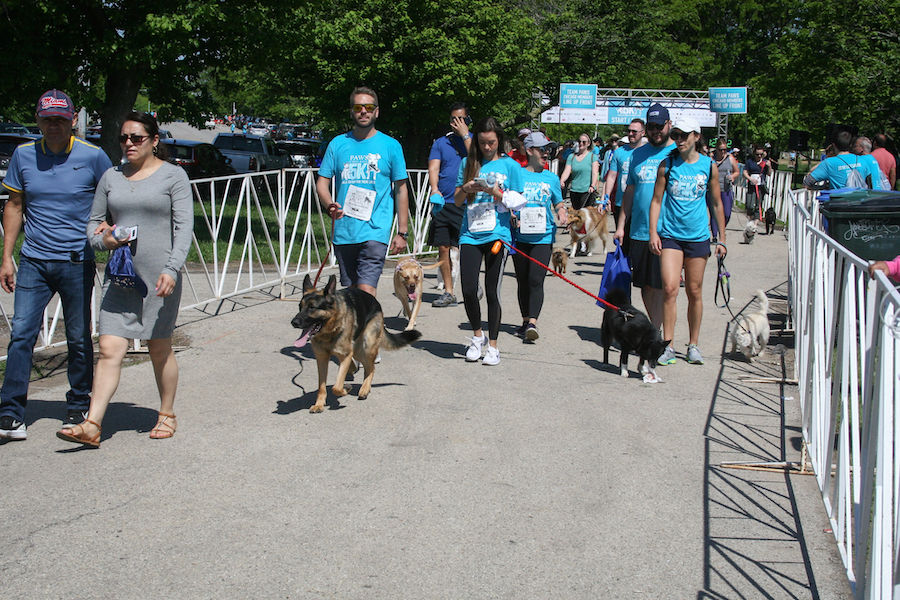 The nonprofit raises money primarily through registration fees. The fee covers the charges for the t-shirts it provides to all participants. For those who cannot make it to the event, the organization also has the option to mail it to them for an extra cost. 
Apart from that, the event also has food and drink stalls, pet care, and a kids' area set up by partner organizations. 
The organization always sets off with a fundraising goal for the event. The progress of this is displayed on their registration page as a slider, along with top fundraisers.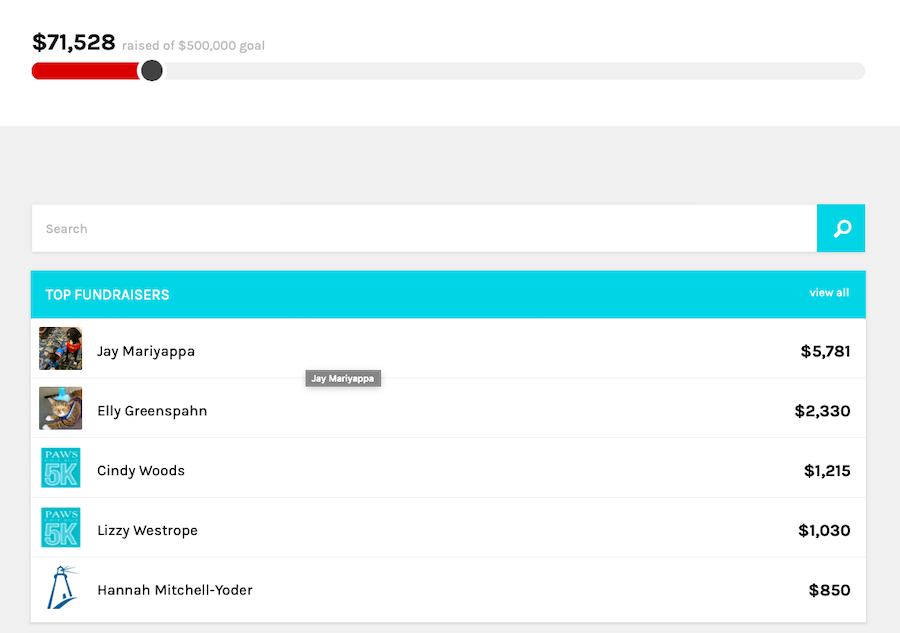 Takeaways
Conduct events that resonate with your message
When planning an event, make sure that people can relate it to your cause. When they think back about it, you want them to remember your cause. 
Recognize donors to encourage more donors
Everyone longs for recognition, and recognizing donors motivates them (and others) to give more. PAWS Chicago lists out the names of all donors to appreciate them. This, in turn, encourages others to donate and the existing ones to become promoters. 
Read Next: Writing the Perfect Nonprofit Fundraising Plan – In 10 Easy Steps.
Additional tips for event marketing
Use a multi-source fundraising strategy.
In an event, sticking to one source of funds (like ticket fee) is likely to reach saturation fast. After all, there is only a limited number of people who will participate. Diversifying fundraising (with stalls, goodie sales, etc.) can help you get more out of your audience and reach your goals more quickly. 
Seek different types of donations
Apart from sales, you can also reach your fundraising goals by reducing the costs of your event. By securing in-kind donations or even volunteers (to help you with the groundwork), the ROI of your event increases. 
Leverage influencers to draw attention
Have others promote your event to draw bigger crowds. These influencers don't have to be celebrities. You can ask your loyal donors to spread the word within their circles. 
Apart from getting more eyes on your event, this is also a great way to engage with loyal donors and make them feel more valued. This initiative exemplifies the power of community engagement in nonprofit marketing.
Social media nonprofit marketing: Social tees – Swipe right to adopt
Social Tees Animal Rescue is a foster-based nonprofit organization in New York City. The organization takes abandoned animals from shelters where they are at risk of euthanasia. They place them in adoption homes after providing them with appropriate veterinary care. 
The objective
With the nonprofit marketing campaign on social media, Social Tees aimed to:
Increase awareness about their cause. 
Boost adoptions of homeless puppies. 
The campaign
The increase in the use of social media gave the Agency BBH and Social Tees team an incredible idea. They decided to leverage this channel in a unique way to grab people's attention.
The organization created profiles of 10 puppies on the dating app "Tinder." These were all abandoned dogs who were looking for a new home. 
Each profile was unique and followed the rules of the platform (like no group pics). The ages of the puppies were manipulated to get more matches. Other details about them were given in the engaging bios.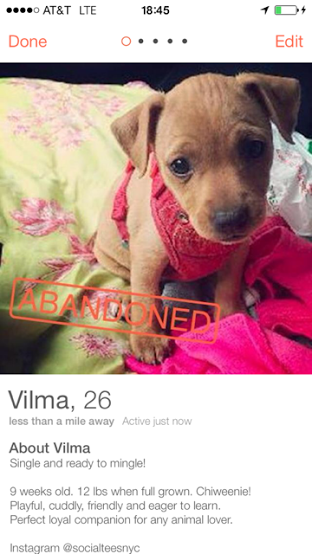 If a user is matched with a dog, they'll be sent a message with information on the organization and details about getting involved. This message included options for adopting a puppy forever, temporary adoptions, or even just taking them on a walk. 
The profiles of these dogs garnered nearly 2,700 matches, and one puppy even found a permanent home within a few days.  
Takeaways for successful nonprofit social media campaigns
Leverage new channels for donor acquisition
The idea of using a dating app to boost pet adoption, although unconventional, was effective in the end. If you plan it right, each social media channel can be an excellent opportunity for acquisition. Especially if millennials are your target audience. They are highly driven to volunteer, and social media is the perfect platform to engage them. 
Provide multiple options for people to get involved
Not everyone you acquire may be able to donate (adopt in this case), but still can be helpful. With multiple options to help out, you can get more people involved with you. This, in turn, leads to more awareness through word of mouth. 
This creative use of social media channels effectively increased pet adoption, showcasing the impact of innovative nonprofit marketing ideas.
You May Also Like: 3 Creative Ways to Keep People Involved in Your Cause Online
Additional tips for nonprofit marketing on social media
Interactive content requires your audience to do something rather than passively scroll past it. Mixing interactive content with your other posts is key to boosting engagement rates. Businesses that consistently post interactive content have an average click-through rate of 50%.
People remember how you make them feel, and making them feel good grabs you more attention than anything else. Humor hooks your audience and even motivates them to share your content. A balance of such content can increase the impact of social media on nonprofits. 
Have a multi-channel strategy
With a plethora of social media channels available, it's recommended to have a plan for all (or at least most) of them. You never know where you might find the perfect audience. In the case above, for instance, Tinder turned out to be a more effective channel than the others. 
Text nonprofit marketing: DoSomething.org – Would you rather?
DoSomething.org is one of the largest nonprofit organizations exclusively for young people and social change. Using their digital platform, the nonprofit's members can join volunteering, social change, and civic action campaigns to make a real-world impact.
The objective for marketing ideas for nonprofits
The objective of the marketing campaign by DoSomething.org was to:
Engage with all its members. 
Spread awareness about personal finance. 
The campaign
Since their target audience was so active on SMS, DoSomething.org decided to run a texting campaign to educate these students in personal finance. 
The organization ran an interactive SMS game based on the popular game, "Would you rather?" In this, participants were asked to choose between two alternatives in a series of amusing money-saving and money-making scenarios. 
After answering a question, they would receive a money-saving tip. At the end of the game, the organization gave participants a personal finance guide to refer to and share. Those who shared the game with friends were automatically entered into a draw to win a $3000 scholarship.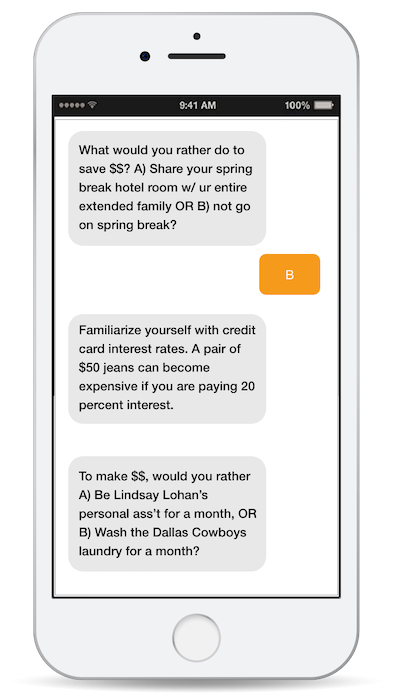 In a few days, DoSomething.org had engaged with a massive crowd of teens. 102,748 people played the text messaging game, and over 95,000 money-saving tips were delivered. 
Takeaways
Understand audience persona for better decisions
Understanding your audience is critical for making sound decisions. Knowing their audience helped DoSomething.org choose the right engagement platform and type of messaging for maximum impact. 
Encourage sharing with incentives
Peer-to-peer sharing is the most effective and cost-efficient way to acquire new users. People are more likely to act on a message shared by a friend as it has some familiarity. And the best way to get people to share your message in their networks is by incentivizing it.
This example illustrates the potential of interactive nonprofit marketing strategies via text messages.
Additional tips for nonprofit text marketing
If you want more people to pay attention to your messages, personalize them. It's a psychological fact that people focus on personalized information. With the right mass texting software, you can achieve a high level of personalization (using tags) and boost your impact. 
Use a local number for texting
Receiving a text from an international number can be seen as spam and ignored. This can reduce your read rate and overall reach. Hence, when leveraging text marketing for your nonprofit, ensure you use a local number and establish trust with your audience. 
Make conversations engaging with visuals
Another psychological fact is that people are wired to respond more to graphics than text. Plus, they are also more likely to share visually appealing messages. Mix up your texting campaigns with MMS marketing to achieve more conversions and reach. 
For better results with text marketing, read our guide on SMS Marketing for Nonprofits.
Video nonprofit marketing: Samaritan's Purse – How to pack your shoebox
Samaritan's Purse is an evangelical Christian organization aiding people around the world. The organization has helped meet the needs of people who are victims of war, poverty, natural disasters, disease, and famine since the 1970s. 
The objective for marketing ideas for nonprofits
Samaritan's Purse runs Operation Christmas Child annually to give children in need gifts on the holiday. The objective of the campaign was to: 
Guide donors through the donation process.
The campaign 
Operation Christmas Child was created in 1990 for the children in Romania. Each November, thousands of churches, schools, groups, and individual donors prepare and collect shoeboxes filled with toys, school supplies, personal items, and other small gifts. 
The shoebox gifts are distributed by volunteers overseas to children based on their needs. However, there are a few things to keep in mind while packing a shoebox.
Samaritan's Purse made a humorous "how-to" video explaining the process of packing for the initiative.
Apart from the do's and don'ts explained in the video, the website also features a monetary donation option under the video. This is to ensure that people have the opportunity to be involved in other ways too. 

The year the video was released (2016), Samaritan's Purse collected a record-breaking 9.1 million shoeboxes from the United States alone. 
Takeaways for successful nonprofit marketing
Leverage video to convey critical information in an engaging way
Websites with videos experience users spending 88% more time browsing. They are one of the best ways to raise awareness and convey important information more effectively. 
Make it easy to get involved with your organization
New donors give on impulse. However, if it's too complicated to help, this impulse dies, and you lose prospective donors. In the case above, if you read the instructions, the process seems complicated. However, the video makes it look easy and keeps the impulse alive. Moreover, the donation option gives people an even easier way to help. 
The engaging video conveyed critical information and simplified the donation process, showcasing the effectiveness of video-based nonprofit marketing ideas.
Additional tips for nonprofit video marketing
Presenting a fact within a story is 22 times more memorable than stating the fact alone, as per cognitive psychologist Jerome Bruner, as cited in an Insight Demand presentation. Moreover, stories also help establish an emotional bond with your audience. Videos are the perfect medium of nonprofit storytelling and can drive the desired action more effectively. 
Videos are more effective in driving action, but you need to convey what that action is simply and clearly. However, ensure you don't confuse the audience with too many "asks" in the video. It's also a good practice to include links in the video description to make it easier. 
Distribute the video as much as possible
To get the desired attention, you will need to distribute the video through multiple channels. On your nonprofit's website alone, it may not be able to draw in sufficient traffic. You can start by putting it on various social media channels and asking people to share it with their networks.
Content Marketing: Healthy Kids Running Series stories
Healthy Kids Running Series is a national, community-based nonprofit created to motivate kids to lead a healthy and active lifestyle. The organization was founded to combat increasing rates of childhood obesity in America by promoting a more active lifestyle. 
The objective
HKRS wanted to promote its services and drive awareness about it among new "town coordinators." Their goal was to grow the number of towns offering the Healthy Kids Running Series significantly.
The campaign
Since the organization didn't have a huge budget, it needed a cost-effective way to spread the word. They were seeing growth in referral traffic but were unable to convert it into predictable success. 
Hence, they decided to revamp their blogging efforts to draw in more referral traffic and thus more relevant eyes. 
They had to be unique and hence decided to share authentic stories of real people. It started with a series of "employee perspectives" posts in which volunteers and board members shared their thoughts. They also created profiles of successful community coordinators.
Following that, they partnered with organizations like Mom Junction to share healthy recipes for kids and curated content from the CDC.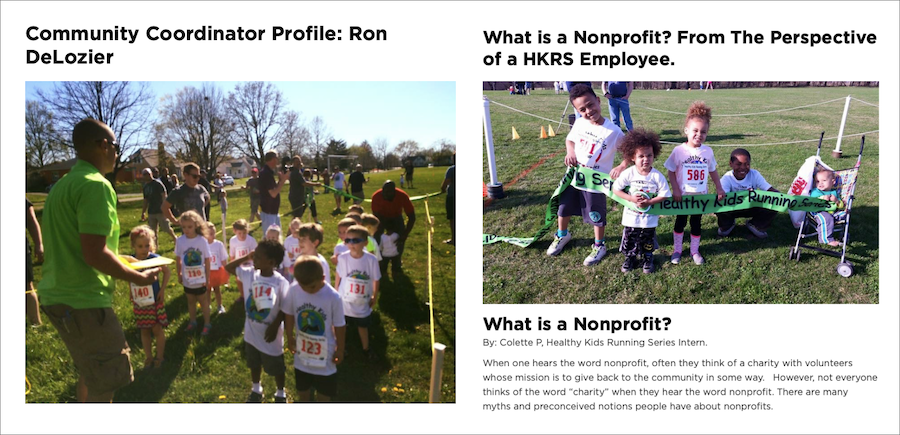 A majority of the website's content comes from partners, volunteers, and coordinators. As a result, their referral traffic went up from 5% to 48% within a few months. 
Takeaways for a successful nonprofit marketing
Diverse content helps you target different segments of your audience. It also keeps the blog more engaging by providing value for varying levels of knowledge. Moreover, experimenting with content also gives you insights into what your audience resonates with most. This allows you to align your efforts accordingly.
Identify your target audience
Identifying your target audience helps you make better decisions on content topics. Knowing your audience gives you a clear picture of what they would be searching for and address those questions. 
This diversified content approach significantly increased referral traffic, emphasizing the impact of storytelling in nonprofit marketing.
Additional tips for nonprofit content marketing
Incorporate user-generated content
People trust their peers more than organizations promoting them. Having real people show your impact builds authenticity and serves as social proof. Moreover, real people narrating their stories, humanize them and emphasize your effect better.  
Use visual content to maximize engagement
Using visuals in your content breaks the monotony of the text and keeps the reader hooked. In 2021, more than 50% of marketers incorporated visuals in 91% of their content. Hence when writing a post, make it more appealing with infographics, summary tables, gifs, etc. 
To maximize the impact of every piece of content, repurpose it into different formats and channels. Repurposing content helps you enhance your reach by delivering content to your target audience in different places. 
To conclude
Marketing for nonprofit organizations is a blend of art and science. It starts with knowing your audience and what triggers an emotion or action. And use creative ways to implement those triggers in your marketing campaigns. 
A word of caution. While one campaign may have worked for some organizations, there's no guarantee it will work for you too. So be inspired, but more importantly, be aware of your strengths and weaknesses, your audience, and then plan for your goals.
Incorporating these innovative nonprofit marketing ideas helps organizations enhance their outreach and impact.
So, good luck with your nonprofit marketing campaign. Don't forget to share your experience with us in the comments below.
Featured Image Source: Canva Studio