Holiday fundraisers for schools are essential to support various programs, clubs, and expansions financially. Why? Because the holidays are the time of the year when people are most likely to open their hearts and wallets. One-third of all giving happens in the last two months of the year.
But, with social distancing becoming the new normal, schools are struggling to come up with new, practical holiday fundraising ideas.
To help you overcome that challenge and step up your fundraising game this year, we've come up with 10 virtual holiday fundraising ideas that you can try instead.
Quick holiday fundraisers for schools
If time is a constraint and you want to get started immediately, you'll need fundraising ideas that don't require an elaborate setup. Here are a few ideas that can get you off the ground with very little arrangement apparatus.
1. Virtual quiz competition
One of the most easy-to-implement holiday fundraisers for schools, a normal quiz, except that it's organized virtually. All you need for a virtual quiz is:
A theme for the quiz. It could be anything that your questions are based on, preferably something fun and interesting for the children. One example is holiday movies.
A quizmaster to moderate the competition. Anyone from your faculty could volunteer for it. Typically, a quizmaster is one who asks the questions and keeps the time.
Incentives for the winners. You may not be able to get many people to join for the sheer fun of it. However, with exciting incentives, you will be able to pull a large crowd. These incentives could be donated by parents, faculty, or even local businesses.
The platform to host the quiz. You'll need a video chatting tool that allows you to share your screen and conduct a poll (for the questions).
Share your screen with the question and open up a poll for everyone. Give them some time to select their option and then display the results on the screen. You raise money by charging a small registration fee.
As the host, you'll be able to see who answered what correctly to determine the winners. Here's an example of a virtual quiz, conducted by BeerBods, in session: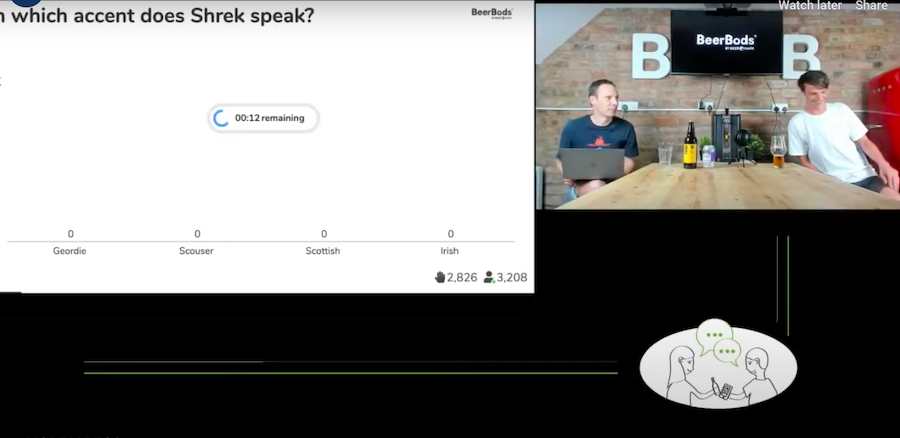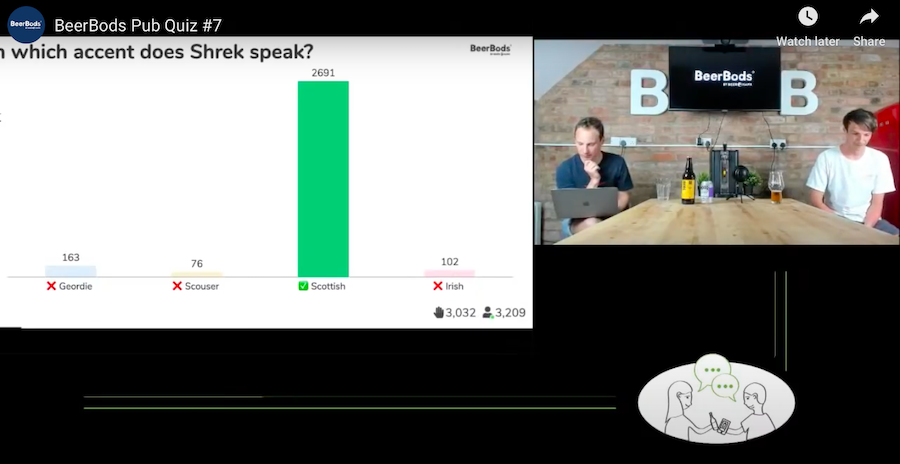 Pro tip:
Make the quiz exciting by partnering with other schools in the neighborhood. All schools can send teams to play against each other. A little friendly school rivalry always gets students going.
2. Pledge fundraising event
If you are looking for a holiday fundraiser for your school that involves teachers, students, and families, then a pledge fundraising event is perfect. Typically, this fundraiser is paired with an activity performed by faculty members or families. Here's how it works:
You start by announcing an exciting activity. It could be something like your teachers running a marathon, parents eating a large number of hot dogs in a given time, or any such quirky activities that you know will excite participants.
Start asking people to pledge money for the completion of these activities. For example, for a hot dog eating competition among parents, people can pledge the number of hot dogs a parent eats in the given time, maybe a dollar for one. So if the chosen parent eats 4, the donor must pay $4.
Select a video chatting platform to showcase all participants doing the activity. You can live-stream the competition to others on YouTube or Facebook.
Collect the donations at the end of the event.
You truly get creative with the activities that you can organize. Just make sure to choose one that excites all people.
Pro tip:
Provide pledge incentives to get people to give more. Promising a nice incentive to donors who pledge a specific amount of money is a good way to encourage them to give more – For example, a custom t-shirt to those who pledge $10 or more.
3. Amazon wish lists
Don't limit your fundraisers to just money. You can expand your donor base by accepting in-kind donations from people who can't give cash. Wish list holiday fundraisers for schools can help you facilitate that.
Here's how you'll go about it:
Create a wish list of items your school needs on an eCommerce website. Typically, Amazon is a popular choice for it.
Promote the link to the wish list in your emails, social media, etc. Since 35% of people use only their mobile to make online purchases, setting up an SMS opt-in campaign to send the link would be great. Learn more about the working and setting up of SMS opt-in here.
Have people purchase the items for you and deliver them to your school.
Often people are skeptical about how their money is being used and hence, choose not to donate. This fundraiser eliminates that skepticism and ensures that donors know what their donation is being used for.
Here's an example of an Amazon wish list created by a teacher for her classroom.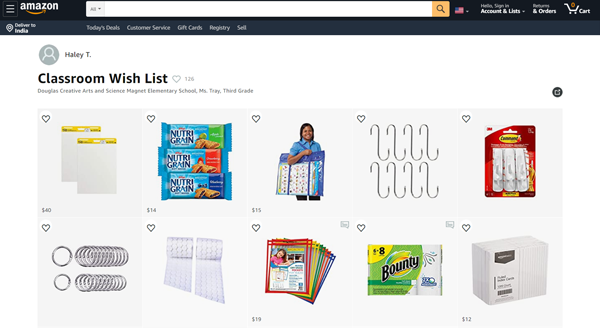 Pro tip:
Leverage the wish list to ask for cash donations. Apart from getting people to buy these products, you could also showcase the wish list to donors and ask them to make a cash gift online if they don't want to go through the purchasing process. The wish list adds credibility to your appeal while conveying exactly how the funds will be used.
4. Start a face mask fundraiser
The holidays are the perfect time to launch this classic product fundraiser, which you can easily run online. After all, who isn't in the mood for cookies during the holiday season? Follow these steps to get started:
Select a product fundraising partner to work with. You'll order the cookie dough from them, and they'll set you up with the necessary tools. For example, ABC Fundraising's cookie dough fundraiser provides order brochures and online resources.
Set up your fundraising web store. Your product fundraising partner will provide a web store where you can sell cookie dough online.
Encourage parents and students to share the page. Once you're set up, all you have to do is share the page with your community and promote your fundraiser.
Since your students won't be selling cookies door-to-door, it's especially important to ramp up promotion online. Spread the word widely, and tell your community exactly what school initiatives these funds will support.
Pro tip
To get your supporters into the holiday spirit and increase promotion, launch a social media challenge alongside the fundraiser. This can be as simple as challenging families to bake or decorate cookies, then posting pictures on social media and tagging your school's account. You can make it a contest and share the winners' pictures on your school's page, or you can share as many posts as you like!
Connect with alumni who have donated to similar fundraisers in the past. Explain what the campaign is and why you need their help. If they respond positively, you could ask them to give part of the amount or directly place the order for you.
Whatever they choose, send a follow-up text with the relevant link. Apart from helping you raise funds, this is also a good alumni engagement strategy to help you maintain strong relations with them.
With CallHub, you can now send follow-up texts right from the calling interface. There's no need to switch between applications or pay for another texting service. Learn more about it here: Text through call center.
Christmas fundraising ideas for schools
Near the end of the year, you'll need to venture into Christmas fundraisers that go with the spirit of the festival. That's what will get you ahead. Here are a few ideas you should try out.
1. Homemade decoration sale
A homemade Christmas decoration sale is a holiday fundraising idea that kills two birds with one stone:
It provides people with cost-effective decorations and
Raises money for the school.
Plus, it also engages students and parents by giving them something exciting to do.
To organize a sale, you will need to:
Gather raw materials for making decorations. You can ask parents or a local business to donate it.
Distribute these raw materials among children and ask them to craft Christmas decorations like wreaths, ornaments, etc. Children could use the help of their parents and get creative with the decorations.
Collect these decorations and put them up for sale on a marketplace like Amazon. Since you'll save on overhead costs, you'll have a price advantage over others. Plus, you can mention how the decorations are customized and handmade to add to their appeal.
Here's an example of a few homemade ornament balls crafted by children:
Pro tip:
Incentivize the top-selling decorations. To get the kids' creative juices flowing, you can introduce a little healthy competition in the fundraiser. The ornament that sells the most gets a special prize. This would motivate them to come up with creative ideas.
2. Online raffle
Online raffles are also holiday fundraisers for schools that are extremely popular. Here's how you can organize a raffle for your school:
Select an online raffle website to host the campaign. Yourschoollottery.co.uk is a popular example of this. Alternatively, you could host a giveaway on social media or through an email blast to all parents.
Choose the raffle ticketing options. You could either sell one ticket for a specific amount or a bunch of them (like ten tickets for $25) based on your raffle's format.
Select a prize for the winner. This could be anything that you can give away – for instance, a TV set donated by a local business.
Live-stream the ticket drawing. This ensures the transparency of the event and also adds to its excitement. You could also plan for a brief entertainment session before the drawing to give people extra time to buy tickets.
When organizing a Christmas fundraiser raffle, make sure that you research the laws first. In some areas, raffles are considered gambling and are hence illegal. Each state has different restrictions, so keep those in mind first.
Pro tip:
Schedule a text message reminder for the live stream to increase viewership. Send it out as a text blast to all parents and members of the school.

Since texts have a high open rate (98%), you can be sure that your message will be delivered and read. This won't just increase viewership but even donations from viewers who didn't donate earlier.
3. Gift wrapping services
During the holidays, especially Christmas, everyone's in a rush to buy and wrap gifts. You can take this opportunity to ease the load and raise money for your school. Here's how:
Set up stalls outside local stores or in neighborhoods. Team up children and/or teachers to man these stalls offering gift-wrapping services. Make sure you get permission from the businesses before doing so. Alternatively, you could also set up these stalls around neighborhoods.
Charge a small amount for the services. Make sure to let people know that this is for charity, so they are more likely to avail it.
And that's it! When setting up stalls, make sure to take all safety measures required.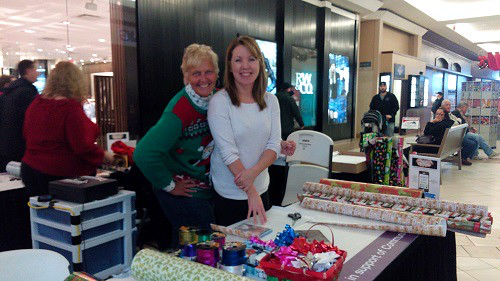 Pro tip:
Raise a little more money by offering extras. You can offer extras like ribbons, bows, and tags with calligraphy to make the gifts more appealing for a slightly higher price. Place a sample of gifts with these extras on them to showcase how good they look. This would get people more interested in opting for them.
You May Also Like: 17 Unique Ideas for Christmas Fundraising (with Examples to inspire you)
Unique school fundraisers that you can try
Along with the holiday fundraisers above, you can experiment with the following unique school fundraisers too.
1. Clothes (or other goods) drop-off scheme
During the holidays, it's quite common for families to dispose of preloved goods. Instead of getting rid of them, you could organize a holiday fundraiser for your school to collect these goods and donate them to the underprivileged.
All you have to do is:
Spread the word about the fundraiser to all parents and children, asking them to save the goods they plan to dispose of.
Make sure to provide clear instructions about the fundraiser. This should include a list of acceptable goods, acceptable conditions, etc. For instance, clothes shouldn't be torn. They have to be in usable condition.
Set up a date and location for everyone to drop off the goods. You could set up multiple drop points in different neighborhoods, and your faculty could go around and collect them.
So how do you raise money by doing this? Organizations like bag2school.com or clothingdrivefundraiser.com pay you money for each pound of clothes (or other goods) collected. So after collecting everything in one place, you can reach out to these organizations and let them take it away.
Pro tip:
Collect goods from the neighborhoods to raise more money. You can team up children to go around their neighborhoods collecting these goods. Apart from raising more money, this would also be a good team-building exercise for the children.
2. Virtual school fair
Fairs are also popular holiday fundraisers for schools that have taken a hit due to social distancing. However, if you can't do it on-premises, you can still take it online.
Plan out the different virtual-friendly competitions/activities – single-participant dance competitions, pet shows, etc. You could also host online games on the side. Assign the responsibility to students to set up virtual meeting rooms to get participants and host games.
Create a landing page for the fair with all the details. Promote the landing page through emails, social media, and text blasts.
Set up a virtual meeting for all participants and judges. Alternatively, you could also have participants submit videos of their performances. You can live-stream the whole event on YouTube or Facebook for the other viewers.
You can raise money by charging a small entry fee for each participant. Moreover, you could also add a donation button to the live stream so people watching the fair could also donate.
If you're looking for inspiration, here's an example of how Dance Addiction conducted its virtual dance competition:
Pro tip:
Integrate pledge fundraising to drive more donations. Spice up your school fair by including activities or competitions like dance-a-thons, eating competitions, etc. Pair these activities with pledge fundraising to raise more money from it.
3. Online classes for new skills
The holidays are a good time for students to learn a new skill. Take this opportunity to teach students what they want to learn while raising money for the school.
Create a list of skills that can be taught. Look into parents and teachers with special skills (arts and crafts, musical instruments, etc.) who would be open to teaching them.
Set up a registration process. Showcase the options of skills students can learn and let students register for the ones they like. Charge a small fee for these classes. You can set up a landing page for this.
Create a schedule for these classes that fit the students and the teachers and get started.
Since everyone is getting used to virtual classes, this wouldn't be too hard to implement.
Pro tip:
Keep the classes open for all to raise more money. You don't have to stick to teaching these skills to students. Even parents, friends, and families could take up these classes. Surely a lot of people would be interested in learning a new skill. And since you'll be charging for each participant, you will raise a lot more money.
Fundraising challenge: Outreach
Picture this; you plan a great holiday fundraiser for your school. You expect a lot of participation and donations. On the day of the event, you fire up your video chatting tool to see only three. This happens quite often, and it won't get your fundraiser too far.
While upgrading holiday fundraisers for schools is essential, another challenge that needs to be overcome is outreach.
To raise more money through your school fundraisers, you need more people actively engaging with you and participating in your fundraisers. To achieve that, you need to reach out to them more effectively using a channel that:
Lets you engage with parents or students in two-way conversations.
Allows you to schedule messages as reminders in advance.
Is personal, and the message doesn't get lost in the horde of other messages.
Texting is the channel that ensures all three.
In the lockdown's initial phases, 37% of people claimed that they were texting more than usual, unlike emails. Moreover, with a high open rate (98%), texts ensure that your message is delivered and read.
All you need is a mass texting solution that allows you to schedule automated text messages for reminders and engage in personal conversations with two-way texting.
Once you sort that out, you'll be all set to organize successful fundraisers for your school.
Related reading:
→ School text messages to parents: What you need to know
To conclude
Holiday fundraisers for schools don't have to stop due to the current norms; they just need an upgrade. With the above ideas, you can achieve that.
You can adapt the holiday fundraising ideas above exactly as they are or use them as inspiration for your creativity. However, remember that since most fundraisers will be planned or conducted virtually, you have to be impeccable with planning virtual events. Check out our article How to plan a virtual event successfully to ensure your fundraisers are a success.

Feature image source: National Cancer Institute