How to Get Re-Elected as an Incumbent
April 26, 2018 - 4 minutes read
Running for re-election as an incumbent presents significant benefits as well as several pitfalls.  On the plus side, incumbents usually have an enormous advantage in terms of name identification, press coverage, and fundraising capacity.  On the other hand, depending on the year, there can be a significant anti-incumbent mentality among the voters.  Statistically speaking, however, incumbents enjoy a huge advantage over challengers on Election Day.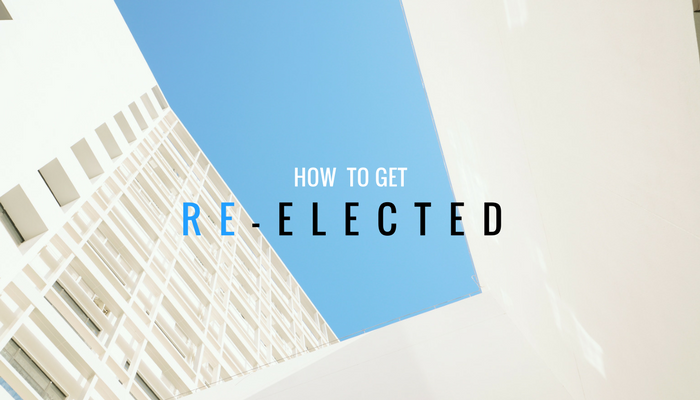 As an incumbent, there are several things you can do to put you in an excellent position to win your next election:
Run a "Constant Campaign"
One of the worst things you can do as an incumbent is to shut down your campaign apparatus the day after you win.  If there's even a small chance that you are going to run for re-election, you should be running a "constant campaign."  This means keeping your campaign activities (such as fundraising, canvassing, and coalition building) going year round.  It will be hard for any challenger to compete with a campaign that has been humming along since the previous Election Day.
Schedule Lots of Events in Your District
As an elected official, chances are you will be invited to lots of local events, ranging from rec center openings to civic association meetings, and everything in between.  Embrace these events, and go to as many of them as possible.  Likewise, have your team schedule lots of other events, such as neighborhood tours, business visits, and other opportunities for you to directly interact with your voters.  The more people see you, the more they will understand how much you care about them, their neighborhoods, and their issues.
Put Together a Committed Team of Volunteers
The period in between elections is a great time to build a team of committed volunteers to help you in your next campaign.  Volunteers love to work for incumbents, because it feels exciting to be working for an actual elected official.  Focus on finding new volunteers and getting them signed up to help on your campaign as early as possible.  Then, provide them with training opportunities so that they can be effective in helping you get re-elected.
Embrace New Technology
Just because you got elected by knocking on doors and sending out snail mail postcards doesn't mean you should avoid new technology in your next election.  The best campaigns combine old-fashioned techniques like canvassing and rallies with newer tactics in order to build an effective and efficient election strategy.
Some of the new technologies your campaign can benefit from include:
Peer-to-peer texting, which harnesses the power of volunteers to reach out to thousands of voters directly on their cell phones through text messaging
Phone banking using a virtual call center, which will allow your campaign to hire a team of trained callers or  volunteers, to reach voters at their homes and offices, and
A customer relationship management (CRM) system for your campaign, which will make the process of organizing and mobilizing voters, donors, and volunteers much easier and much more effective
Remember, as an incumbent, you enjoy significant advantages over your opponents, but you aren't guaranteed a win.  Every cycle, incumbents lose their re-election campaigns because they didn't implement an effective strategy.  Use a combination of tried-and-true tactics and new technologies like those listed above to make sure you are ready to declare victory on Election Day.