5 Ways It Ran Like A Lean Startup – The Obama Campaign
September 6, 2016 - 5 minutes read
Obama's 2008 presidential campaign was one of the first to embrace the use of technology and the internet to promote a campaign. The campaign saw unprecedented levels of community engagement. It helped Obama become more popular among younger people and it made him a viral phenomenon on social media. His 2012 campaign was no less. The campaign increased the use of data analytics, technology and the internet to new levels. So what does that have to with the "Lean Startup" method?
"Lean Startup isn't about being cheap [but is about] being less wasteful and still doing things that are big." – Eric Reis
Consciously or not, the Obama campaign used Lean Startup principles to drive campaign goals. "If something's working, we're going to go do a bunch of it. If it's not working, we're going to go throw it out." said campaign manager Jim Messina. Lean principles became the essence of running the campaign. Let's take a look at how he did it.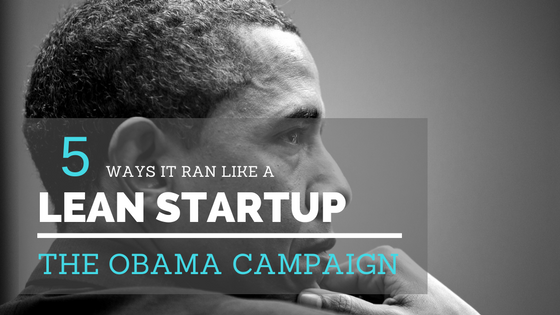 Metric Driven
"We are going to measure every single thing in this campaign," Jim Messina.
For the 2012 campaign, Messina brought in an analytics team 5 times the size of the 2008 operation. Massive internal data sets enabled the campaign to measure outcomes and outline favourable strategies. It refined marketing, communication and fundraising programs allowing the operation to manage its own ad placement and not rely on outside media consultants. The campaign pivoted its marketing strategies multiple times during the course of the campaign depending on data inputs and continuous testing.
Split-Testing
A/B testing or Split testing is a Lean technology principle that involves iterating on results from multiples tests. These results are based on feedback loops from the market. A particular test involved sending e-mails to small groups of supporters from different senders. The test found that mails sent from Michelle Obama did better during spring time. After that, her name would appear in mails sent to larger lists. Messina executed about 500 a/b tests during a 20 month period increasing donation conversions by 49% and sign-up conversions by 161%.
Micro Targeting
The campaign used behavioural targeting to create custom messages for each supporter. They used these messages in social media and on-the-ground activities. The campaign knew who was and who wasn't registered to vote, who had a low propensity to vote and who needed persuasion to vote. When a supporter logged into the campaign dashboard with their Facebook account, the analytics team, with permission, would go through the profiles of their friends and handpick the few who could be encouraged to vote. If any of their friends were unregistered to vote, the campaign team would ask them to send a message to persuade them to register. Rather than telling the supporter to send the same message to all their friends, they selected a targeted approach. This assured better voter turnout.
Guerrilla Marketing
The 2012 campaign stayed away from the traditional blanket approach to television ads. They took feedback from voters who were from different states.They used this feedback to decide the type of ads to run.
When the numbers told them to buy ads next to unconventional programming like Sons of Anarchy and The Walking Dead they did it. These ads tested 14% more efficiently than the traditional route of buying ads next to local news programming.
The Dinner with Barack contest emerged out of another data-mining discovery when it showed them that women in their 40's have an affection for contests, small dinners and celebrities.
Understanding demographics and they behaviour on the internet led them to Reddit. They learnt that many young potential voters were on Reddit. So Obama joined too by hosting an AMA to answer voter questions.
Streamlined Operations
Streamlining processes improves efficiency by eliminating unnecessary steps from a process. When the Obama campaign launched Quick-Donate (emulating Amazon's 1-click ordering) users could donate with a single click-through email or SMS. This small improvement t increased donations by a factor of three.
The campaign's success can be attributed to its willingness to constantly learn, change and improve. By listening to its supporters, the campaign took a shape and form that would build the strongest connection with its supporters.
Demoratic Party
,
Hillary Clinton
,
startup advice
,
Tips
,
US Elections