7 tips for a successful Phone Banking party
August 11, 2016 - 3 minutes read
Phone banking events offer an excellent opportunity to bring together volunteers and get some serious work done for a campaign. Volunteers for a political or awareness campaign get a chance to meet each other, share ideas and build relationships which are great for their cause.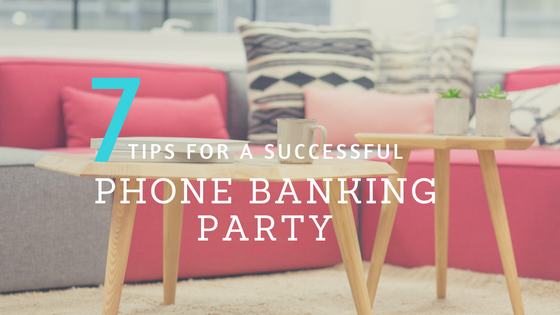 Send your out invites early
Make sure to send out invitations early so that volunteers have time to arrange their schedules for the event. Hosting the event and sending invites on social media will get you faster responses. One day before the event make sure to call up those who have accepted the invite and make sure that they are coming. Often times people forget these events and you don't want an empty house on the day of the event.
Provide basic instructions
As soon as all your guests have arrived, introduce yourself and give them basic instructions on your plans for the event. Encourage them to ask questions and clarify any doubts that they might have. If the volunteers are to use an online phone banking software guide them on how to use it. Plan for a 25 min session guiding your guests on how to take part.
Have the scripts ready
You should have scripts ready to hand out to the volunteers. Encourage them to find their own voice in the script and change the style while keeping to the content. People sound much friendlier when they are at ease with what they are saying and people are less likely to hang up the phone on a friendly voice.
Have the calling list ready
Ensure that the calling list for each volunteer is available. For many, this might be the first time at a phone banking event. Guide them on how to go about making calls and taking down relevant notes for each call made. Note down any particular instructions that you need the volunteers made aware of so you don't forget it during the event. e.g.. Should the volunteers leave voice messages if they can't reach the person?. Give them clear instructions.
Offer refreshments
It needn't bee anything fancy, just some basic snacks and drinks will do to keep the mood light and pleasant.
Cell phones and Laptops
The volunteers should have access to cell phones, or laptops with a headset for online phone banking. You can make it easier on yourself by asking the volunteers to bring it along when they arrive.
Precise directions
Provide clear and precise directions to the party. Preferably include google map locations with your invites. Include your number and address with the invites so that volunteers have a point of contact for if they get lost.
Keep these points in mind and your next phone banking party will be a success.
Call Center
,
Cloud Calling
,
Phone Banking