A political call center software offers a direct line of communication between the party/campaign and the voter. Whether it's educating them about your cause, collecting donations, or asking them to vote, a phone call gives you the flexibility to be persuasive.
However, you will need to maximize your reach before an election to ensure you get your message across. A political call center software that can automate the dialing process is the backbone of such campaigns.
An automated political call center software helps you
Improve voter turnout through one-on-one, personalized conversations.
Personalize future campaigns by collecting voter data and syncing them with CRMs.
Stay on top of campaign goals by keeping track of progress and making data-driven decisions.
In this article, we'll see what to look for in a political call center software so that you can reap all the benefits.
What to look for in a political call center software?
If we consider the overall picture, choose a call center software that
Is easy on your campaign's budget
Offers the features you need for your campaigns, and
Helps you scale.
Let's break that down.
For example, if your volunteers opt to work from home, which is the norm these days, you will need a virtual call center software. This will help you scale your campaigns with a broader reach and manage campaigns virtually.
So, how do you choose a software that is right for you?
Let's see.
Integrations that sync data across platforms
Your political call center software has to integrate with popular campaigning tools, such as CRMs. Consider a software that lets you share voter data across platforms bidirectionally.
CallHub integrates with multiple platforms, ensuring all your activity on our platform is synced with the CRMs. For instance,
All the audio files from our calling software sync with your NationBuilder account.
You can import surveys from your NGP VAN account into CallHub to run phone banking.
The CallHub-VoteBuilder integration lets you import the voter lists, voting history, polling location, etc., from VoteBuilder to CallHub.
CallHub also offers multiple features (which we will discuss later in this blog) to help you collect a tremendous amount of data when you run phone banking. For instance, their survey responses, if they've voted in the past, if the voter picked your call, and so on.
All this data can be synced back with your CRMs to inform your future campaigns better. This helps you segment your voter lists and run targeted campaigns in the future.
If a CRM you use is unavailable in our app directory, you can use Zapier integration to connect with it.
Scalability without affecting up-time
Campaigns vary in size, and their needs keep changing. For example, during GOTV efforts, agents contact tens and thousands of individuals daily, whereas a fundraising campaign has a relatively smaller list, where each call has a longer duration.
You need a software that will help you scale up with ease to handle such campaigns. By scaling up, I mean your political call center software should be able to handle sudden surges in the call volume or volunteer seats while maintaining excellent up-time.
To ensure the scalability of a call center software, look for features like
Multi-region connectivity, so you can reach voters from across geographies.
Multiple campaign phone numbers so you can run multiple campaigns simultaneously.
Unlimited agent accounts, so you can recruit as many volunteers as you need for a campaign.
Multiple connection types, so your volunteers can join the campaign from anywhere with their preferred connection type.
Campaign duplication abilities, so you can duplicate existing campaigns to create multiple campaigns in the shortest time.
CallHub has 99.51% up-time along with all the features mentioned above!
The right dialer to suit every use case
Dialers come with different functions and benefits. Look for a political call center software that provides multiple dialer options so you can switch between them based on your campaign needs.
CallHub's automated dialers help you reach all your voters in a short period, no matter how widespread your campaign's reach is in terms of geographies. They skip busy tones and unanswered calls and connect only the answered ones to your volunteers.
In case a call reaches your voter's answering machine, you have the option to leave a voice message.
The different automated dialers on CallHub are
Predictive Dialer: With a Predictive Dialer, one volunteer can make around 110 calls per hour, as opposed to 35 calls when you manually dial numbers. The dialing rate is adjusted to maximize the agent talk time and minimize the drop rate. The predictive dialer works best for large campaigns with more than 6-8 active volunteers in the campaign. Example: GOTV.

Power Dialer: Places a call when your volunteer indicates they're ready. This gives your volunteer enough time to enter notes and tags and prepare for the next call. The power dialer works best for campaigns where it is crucial to have conversations with each contact on the list. Example: Voter persuasion.

Auto Dialer: Dials 'x' number of contacts for your volunteer. This 'x' depends on the dial rate you set while setting up your campaign. The auto dialer works best for campaigns with a poor quality contact list and less than six agents available to join the campaign.
Ease of use for higher productivity
While considering the ease of use, a good to have factor is to see if your political call center software offers a free trial. During the free trial, you can evaluate the software and see if it provides you with everything you need to run an effective phone banking campaign.
CallHub's political call center software comes with a free trial along with $3 in your account. We also offer a pay-as-you-go model which lets you top up your account and start running campaigns.
Test the software for ease of use on that free trial, so you don't struggle to build a campaign. CallHub has a very intuitive user interface, that even non-tech-savvy volunteers find easy to use. CallHub also offers help materials and a Support team that will help you quickly get you up and running.
Pro tip: Check out the reviews of the political phone banking services you're considering to see what people are saying about the tool's ease of use.
Multichannel support to run campaigns smoothly
CallHub offers support through four channels:
Ticketing
Email
Live chat
Phone calls
We have a
94% customer satisfaction score
99.51% up-time, and
<3 hours of average response time.
CallHub's political call center software helps you with
CallHub's calling platform helps you engage your supporters in different ways and get them to vote for you. In this section, let's see the most common political campaign use cases CallHub's Call Center Software supports.
Voter registration
Voter registration using a political call center software essentially involves calling your contact list and confirming their registration to vote. If you find out they're not registered, the caller will continue helping them through the registration process.
This process could entail sharing a link to the form and the essential guidelines through a text. How do you send a text while you're on the call?
That's where our Texting from Call Center feature comes in. This feature lets you drop a text with any details you want to share from the call center interface.
Voter identification
How do you find out who will vote for you?
One answer: Surveys.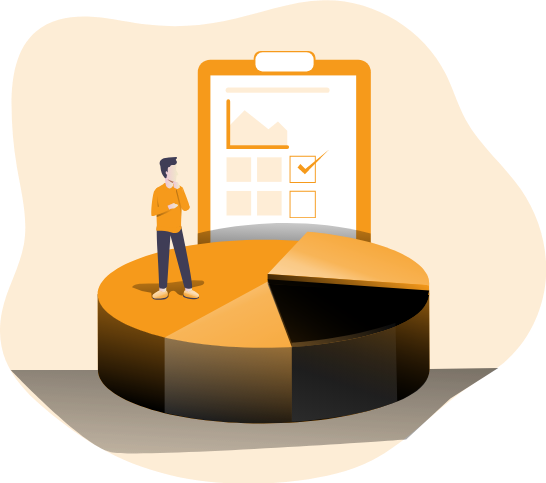 A survey helps you to
Identify political inclination in voters
Measure the favorability of a candidate
Gauge voter response to the new laws.
CallHub's political call center software lets you conduct surveys in 2 ways:
With a live volunteer who conducts the surveys and marks the answers on the CallHub calling platform as the respondent shares their answers.
With an automated call, where the respondent presses a button on their phone to answer the survey questions.
See how to set up a phone survey on CallHub.
Voter persuasion
A voter persuasion call is not just about asking people to vote for you. Your volunteers must have insights into who they're talking to in order to make a compelling ask.
CallHub's political call center software lets your volunteers view voters' profiles. You can pull all records available in your CRM into CallHub to inform your political campaign phone calls.
This includes all the notes you add against voter profiles in your previous campaigns, a history of your previous interactions, and other personal details. As we mentioned, the tool also offers a follow-up feature that lets you leave text messages to voters who don't pick up your calls.
CallHub's Inbound Calling feature also lets your voters call back and get in touch with a live representative.
Check out this guide on running a voter persuasion campaign.
Event invitations
The success of your events relies on the number of people that show up. Getting them there requires a lot more than a mass invite. They need to connect with you on a personal level and know the importance of attending your event before anything else.
While texting or mailing the invite can be the first step, inviting them over a call will add a personal touch and gives the opportunity to get them interested.
Event reminders
When you invite your supporters to an event, you also want to ensure they remember to attend it. Simple reminders providing the timing and location of an event are known to increase the attendance at an event, show studies.
A short voice message reminding them of your event can help you ensure they consider making it.
CallHub's voice broadcasting tool lets you get your message across to voters without any volunteer being on the call.
Collecting RSVPs
When your event is nearing, you need to count the number of supporters who can make it so that you can make the necessary arrangements.
CallHub's press-1 feature lets you collect RSVPs by letting your supporters press a predefined digit on their keypad.
This is how it can work:
Your supporters receive an automated call with the message that asks them to press 1 to RSVP.
They press the key and get added to the RSVP list as set by you while setting up the campaign.
Fundraising
Phone calls help you break the clutters and connect with your supporters personally, making them the perfect choice for fundraising. And good for us because with our Texting from Call Center feature, you can even share the link to your donation page when they are ready to donate.
See how you can make fundraising effective using 'call time'.
GOTV
The objective of a GOTV campaign is not to convince the voters, as you have already done that in your voter persuasion campaign. It's to encourage them to participate in the elections by turning up to vote.
CallHub's predictive dialer makes this easier by letting you get through the list quickly while personalizing your conversations.
More features of CallHub's political calling software that make calling highly effective
In the previous section, we discussed some features of our calling software and saw how they help you run political campaigns. Now, let's see some more of them that come in handy and make every calling campaign effective.
Call dispositions
Call dispositions record the result of a phone call to help you refine the list for future reference or even for the current campaign.
For example, one of your voters does not pick up your call. Choosing a call disposition 'Callback' will move them to a Callback list, helping you increase your chances of getting in touch with them.
Location-based Caller ID
Making the call appear to be coming from a voter's area increases the likelihood of them answering your calls by up to 20%. CallHub lets you add a local presence to your calls using a Dynamic Caller ID.
Call recording
Call recording helps you ensure that your volunteers are meeting the set expectations. Managers can access these recordings and even use them for training exercises.
Call scheduling
The automated call center software lets you decide when you want your campaigns running. This includes selecting the timezone you wish the campaign to run in. You can choose a specific timezone or make calls in a timezone of your voters' state.
The former is ideal when you are targeting an audience from a single state, and the latter works best when your contact lists have voters from different states or countries and you have their addresses.  
Answering machine detection
Should the call go to voicemail, we have you covered. CallHub detects answering machines and lets you play a voice message or hang up the call.
Mobile app
CallHub offers a mobile app that lets your volunteers join calling campaigns and start making calls from anywhere. With a mobile app, you can cut down on the campaign device costs as most of your volunteers already have a smartphone.
Volunteer management
You can organize your volunteers into teams on CallHub. This helps you save time by directly assigning a team to your calling campaigns instead of adding them individually.
Live call monitoring
Campaign managers can monitor a live call and guide them through the conversations, which can help you reduce training costs.
Analytics and reporting
Our analytics dashboard and reporting tools help you measure a campaign's performance in real-time. This enables you to stay on top of your campaign goals and optimize your campaign performance.
TCPA-compliant dialer
Our TCPA-compliant dialer lets you call voters on their cellphones without worrying about getting consent.
Voicemail transcription
You can allow your voters to leave voicemails through the press-1 campaigns and receive the transcript of the voice message via your email.
Get started
CallHub's political call center software is designed to address every use case.
Organizations like Democrats Abroad, candidates like Sheila for Congress and Jagmeet Singh, NDP leader, and even consultants like Barbara Nelson have used CallHub and achieved their campaign goals.
Book a demo with our political call center software experts to learn more about how to make the best of our tools.

Featured image: ​​Photo by Andrea Piacquadio