The global day of giving is right around the corner!
More than $2.47 billion was raised on Giving Tuesday 2020, a 25% increase from the $1.97 billion raised in 2019.
However, studies predict charitable giving may return to pre-2020 trends this year, which means there could be a drop in the total amount raised.
This is a point of concern, and it's best to be prepared to make sure that this drop doesn't affect you. This post will go over 8 Giving Tuesday ideas for 2022 that can help you ensure that. 
Giving Tuesday Campaign Ideas
To ensure your Giving Tuesday 2022 is a success, you have to adapt to changing times. One of those changes is shifting to digital fundraisers. Here are some Giving Tuesday ideas that align with that shift.
1. Peer-to-peer fundraisers
One of The GivingTuesday Data Commons' recommendations for nonprofit fundraising is to keep donors engaged and closely involved with your organization. What better way to do that than by getting them to fundraise for you?
Here's what you need to do to organize peer-to-peer fundraisers:
Help donors set up individual landing pages to raise money for your Giving Tuesday campaign.
Provide them with images, templates, and branding guidelines that they need to follow when promoting their fundraiser.
Train them and provide them with tips and best practices for fundraising.
These fundraisers then go dig into their network to raise funds for you. You could also promote a little healthy competition and incentivize the top fundraisers to keep people motivated. You could use a tool like Funraise to help you track and showcase everyone's progress for this.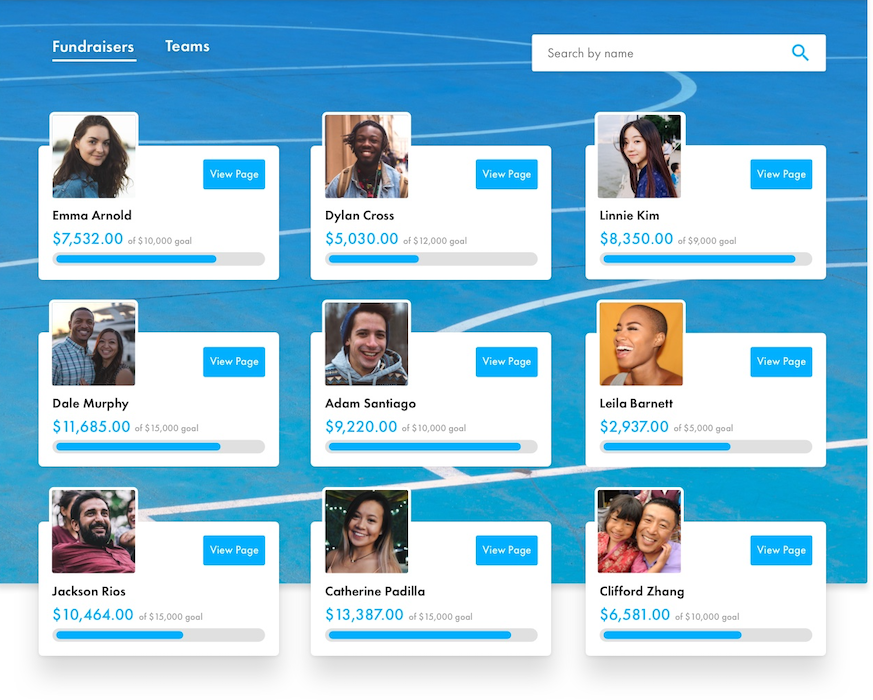 For more recommendations of tools to help you with this Giving Tuesday idea, check out our list of peer-to-peer fundraising software here.
2. Pledging donations
Want to keep things entertaining and create hype around your Giving Tuesday campaign? Pledges are a great way to do that. Pledges can help you with two things:
Raising funds.
Cutting through the competition by getting to prospective donors first.
While your Giving Tuesday campaign has to start on the given date, i.e., 29th November 2022, your pledge campaign for Giving Tuesday can start way earlier. Here's what you can do:
Set up a landing page to collect pledges for Giving Tuesday.
Promote your pledge campaign to prospects well in advance of Giving Tuesday. This also helps hype your Giving Tuesday campaign when the time comes.
Collect pledges from prospects. These pledges could be for volunteering, donation, or peer-to-peer fundraising pledges.
Send out reminder texts or emails a few days before Giving Tuesday targeting all those who pledge support.
Collect pledges on the day you launch your campaign.
For more details on implementing this Giving Tuesday idea, check out our post on pledging donations.
3. Wish list campaign
Typically, a donor gives to your organization; you allocate those funds to different projects or purchase different things and go about helping beneficiaries. A wish list fundraiser eliminates the middle step.
Instead of asking them for money, you directly ask them for things you need to fulfill your mission. Typically, you add these items to your "Wishlist" on an eCommerce website like Amazon, and donors purchase these items for you.
Wish list campaigns can be extremely effective because:
They show donors exactly what the funds are being used for.
It gives donors better flexibility in terms of donation amounts.
Apart from that, wish list campaigns are also slightly different from traditional fundraisers, so they also add a fun factor to the experience.
Here's an example of a Wish List created by City Wildlife, a wildlife rescue and rehabilitation organization, on Amazon.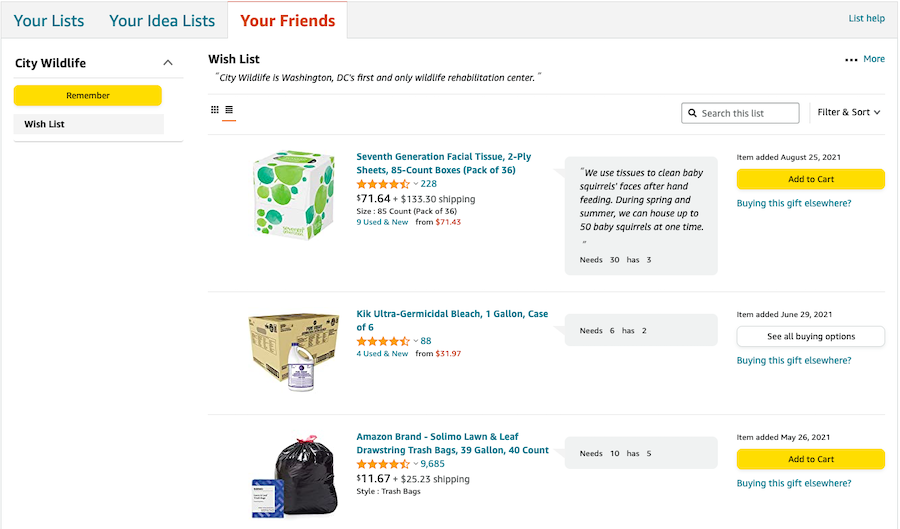 As in the example, a quick tip to enhance this Giving Tuesday idea would be to add comments that specify why you need the item and how many of them do you need (and currently have).
You May Also Like: Website Prep Tips for Giving Tuesday Campaigns
4. Virtual event fundraiser
If your traditional Giving Tuesday campaign entails organizing a fundraising event, and you can't do it in person (for obvious reasons), take it online with a virtual event.
Here's a brief of how you can do that:
Choose a tool to stream a live or pre-recorded video of the event.
Promote the event like your normal event to collect registrations.
Send out reminders to registrants a day before the event and even a few minutes before going live.
Host your virtual event and send a link (or add a call-to-action button) to the donation form and collect donations online.
Apart from helping you raise money, virtual events also eliminate many typical infrastructural requirements, which increases their ROI.
Best Friends Animal Sanctuary used this Giving Tuesday idea in 2020 and hosted a virtual event using Periscope and raised over $250,000. Here's a sneak peek of the event.
For more details on organizing a killer online event, check out our post on virtual event planning.
5. Merchandise selling fundraisers
​​Selling branded merchandise is a great way for nonprofits to boost their fundraising efforts on Giving Tuesday. The tangible item they receive in return for their gift acts as a donation incentive, increasing the likelihood of people donating.
Plus, when people use your branded merchandise, they also actively promote your mission and organization. Here's how you can put this Giving Tuesday idea into action:
Select the kind of merchandise that you wish to sell and design them with your branding. This merchandise could be T-shirts, mugs, or other accessories.
Partner with local businesses that could provide you with these products either as a donation or a highly discounted rate. Platforms like Bonfire or Custom Ink can also be helpful here.
Choose a platform that lets you set up an online store and list the items for sale. QGiv and DoJiggy are two options that you can look into. If you're going with tools like Bonfire or Custom Ink, you may not even need this.
Start promoting the fundraiser and raise the money you need.
Here's an example of a T-shirt fundraiser organized by Marquette University for Giving Tuesday.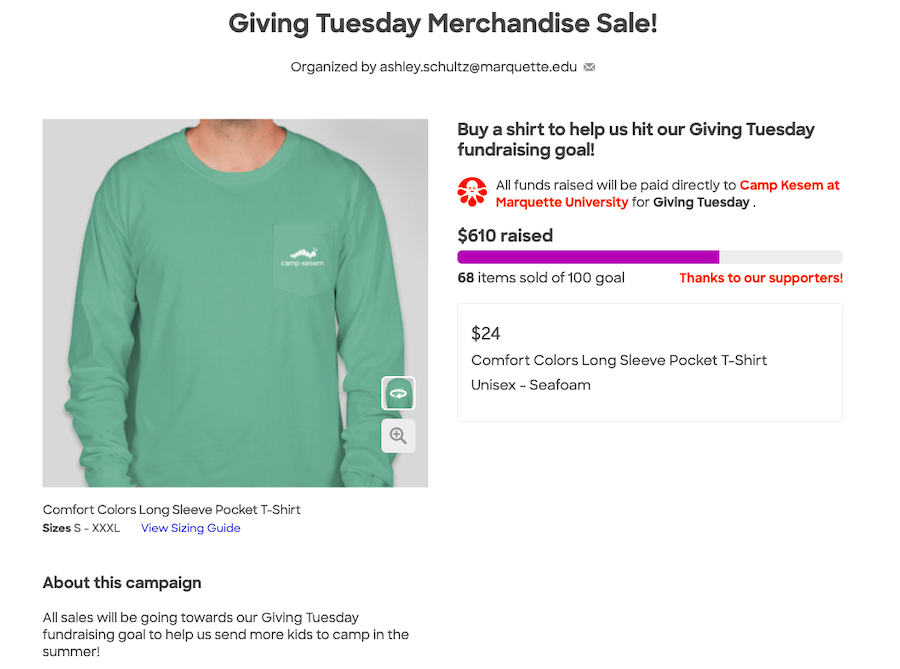 6. Matching gifts
A matching gift drive is a great way to double the funds you raise during your campaign.
Matching gifts are a part of corporate philanthropy programs. For every donation an employee makes, the company matches it by donating the same amount. This is a 1:1 matching ratio. Some companies even match donations at higher ratios.
Matching gifts are known to increase donations. In fact, 84% of donors report a higher likelihood of giving if their donation is matched.
Here are the steps to implementing this Giving Tuesday idea:
Create a landing page for your Giving Tuesday matching gift program. You can include guidelines and requirements to submit matching gift requests on this page.
On your landing page donation form, embed a matching gift tool that lets donors search for their companies' matching gift programs. The tool then takes care of the next steps.
Promote your matching gift campaign over multiple channels to get as many donors to participate.
For insights on promoting your matching gift drive, refer to this post on marketing matching gift campaigns.
7. Silent auction
Silent auctions are fundraisers that can make donation incentives quite exciting. The act of bidding against people only to be rewarded at the end with an exciting gift is both thrilling and a great way to raise money.
A silent auction is one in which you list out the items for auction, and people can bid on them for a specific period of time. At the end of this period, the bidding stops, and the highest bidder wins.
The best part of these auctions is that you can do it all online. Here's how:
Start by making a list of rewards to bid on. You can get local businesses, major donors, or even influencers to donate gifts and experiences.
Choose a platform to help you list the items and collect silent bids. OneCause is one such platform.
Create a landing page and add the auction details, including time and dates, bidding rules, requirements, etc.
Add a registration form to the landing page to get people to sign up for the event. Promote it wherever possible.
Shoosmiths is popular for its Giving Tuesday silent auctions. Last year, they raised over £24,000 for 12 charities.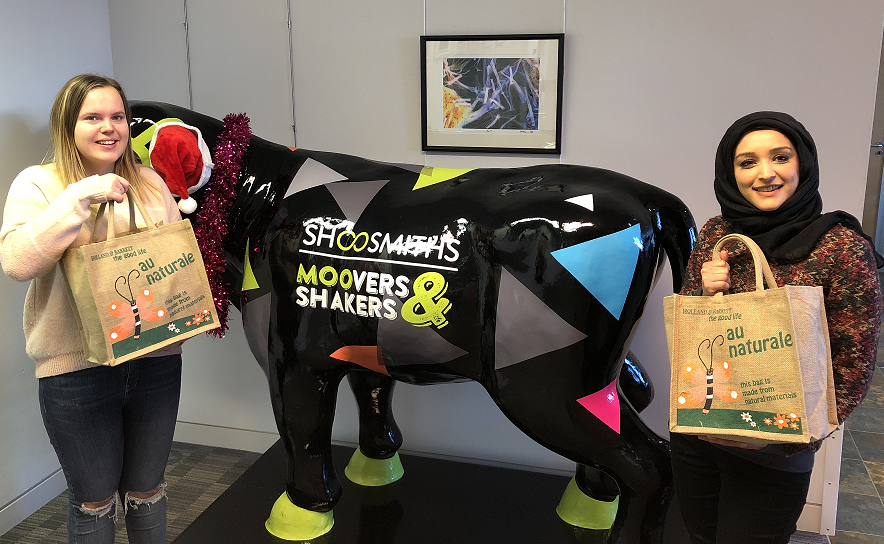 8. Influencer marketing
Influencer marketing has proven its success in the business world and can be equally beneficial for fundraising too.
In influencer marketing, you partner with an influencer and get them to promote your campaign to their audience. An influencer doesn't necessarily have to be a huge celebrity. Anyone with a decent following on social media and a passion for your cause can be helpful.
To execute this Giving Tuesday idea, here's what you can do:
Find an influencer you can partner with. You can start by looking into your network. If there's no one, then you can directly approach people who you may think are relevant. A tool like Insense can be helpful here.
Ask them to promote the link to your campaign with their following. Alternatively, you could also ask them to donate and feature them among your audience to compel people to donate.
Here's an example of an influencer promoting a Giving Tuesday campaign with Telus.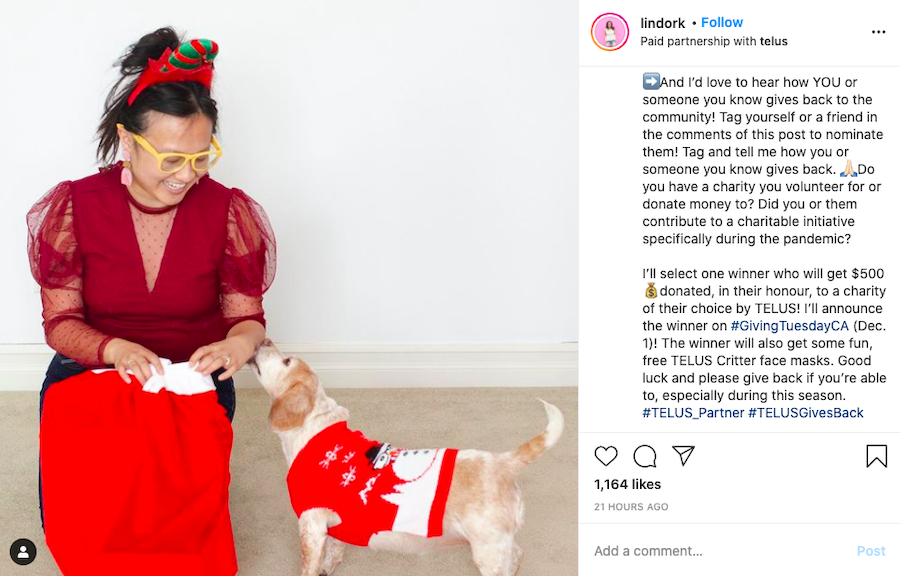 Tips to make your Giving Tuesday ideas more effective
We discussed some unique Giving Tuesday ideas and how to execute them. Now let's take a look at some tips that can enhance the impact of these ideas.
Have a fundraising goal
There are primarily two reasons why all your Giving Tuesday ideas are incomplete without a goal:
Studies show that having a defined goal to reach motivates people better and leads to better performance.
The goal proximity effect comes into play; when you're closer to your goal, efforts towards that goal increase. People are more likely to donate to reach a set target rather than a vague number.
Here's an example of Charity: Water using it in their emails.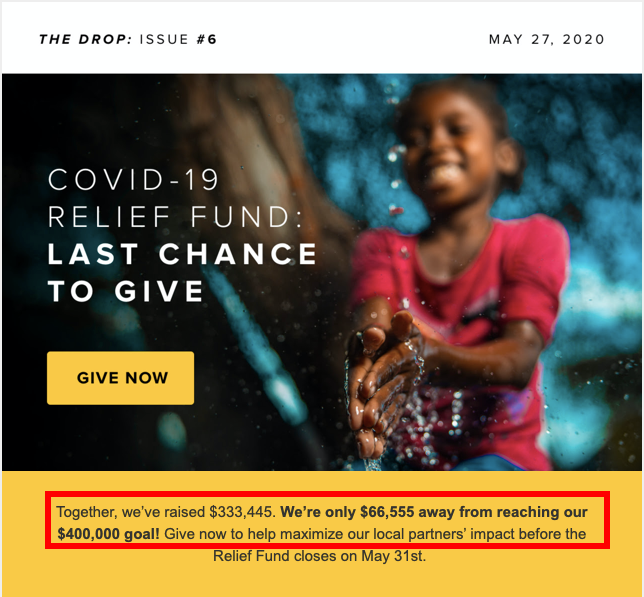 Set a fundraising goal for your Giving Tuesday campaign based on your performance in the previous years.
For instance, if you raised $10,000 in 2018, $12,000 (a 20% increase from 2018) in 2019, you can set a target of $15,500 (~30% increase from last year). The target is slightly ambitious than your current growth trend (of 20%) but not too much to seem impossible.
Have a dedicated landing page
When you launch your Giving Tuesday campaign, having a campaign-specific landing page makes it easy to:
Promote your campaign: No matter the channel, all you have to do is share the link to this landing page that has all the relevant information and call-to-action buttons.
Attribute the funds to your Giving Tuesday campaign: This is important to help you keep track of your campaign success.
With tools like Unbounce and Instapage, building a landing page is extremely easy. Here's an example of Volunteer New York implementing this Giving Tuesday idea.

Show your progress with a thermometer
The fundraising thermometer is a classic feature for your Giving Tuesday campaign. It is a visual representation of the campaign goal and the progress you're making.
Humans are visual creatures and process images faster than text. The fundraising thermometer gives people visual confirmation about the work being done (i.e., funds being raised). It also induces the goal proximity effect, compelling more people to donate.
You can add the thermometer on your Giving Tuesday landing page and even share it on social media whenever you make significant progress.
Here's an example of Le Moyne College using a fundraising thermometer for their Giving Tuesday campaign.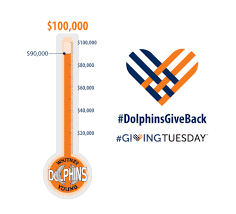 For more information on implementing this tip, check out our post on creating a fundraising thermometer.
Create a calendar event for the campaign
Among all the hush of Black Friday, Cyber Monday, etc., there's a good chance some people might miss out when the campaign goes live, and you could lose some potential donors.
Now businesses often send out Cyber Monday and Black Friday texts and emails to remind people. You can do something similar and send people a calendar invite and get them to block their calendars for the day. Your calendar invite should include:
Link to the campaign landing page.
Specific instructions for the campaign (different options to give, how to give, etc.). Keep the instructions concise and link out to resources in the invite.
You can start sending out these invites via emails, texts, or even as text follow-ups after a call. Adding it to your email signature is also a good idea.
With an invite, people automatically get a reminder on the day of the campaign, which can drive them to act.
You May Also Like: Done With Giving Tuesday? Here Are Some Of The Best Ways To Thank Your Donors.
Include donor stories in your emails
It's quite common to include stories about beneficiaries in your emails. However, adding donor stories too is another Giving Tuesday idea that you can implement.
While a beneficiary story induces empathy, a donor story can add a little social pressure and drive donations just as effectively.
You could send these emails a few days prior to Giving Tuesday. You could also send it as a follow-up to your first solicitation email on Giving Tuesday to nudge people to give.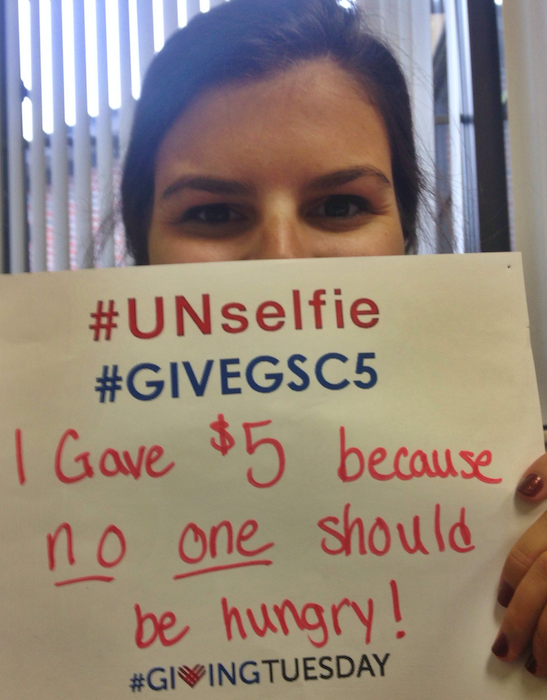 The #UNselfie campaign had donors posting such stories on their social handles for awareness. You could repurpose these stories (with their permission) in your emails too.
Use telephone fundraising for high-value donors
Another one of GivingTuesday Data Commons' recommendations for nonprofits' Giving Tuesday campaigns is focusing on recapturing donors.
As fundraising returns to pre-2020 levels, there will be a large pool of recently lapsed (but highly engaged) donors. Steward these high-value donors and re-engage by leveraging telephone fundraising.
Connecting with donors over a call is highly personal and shows how much you value them. This, in turn, makes them feel closer to your organization, thereby increasing the chances of recapturing them.
Read Next: 30+ Fundraising Giving Tuesday Script Samples to Ease Your Job
Getting started
The best recommendation would be to implement all of the above Giving Tuesday ideas for your campaign. However, it may not be as simple as it seems.
While you can execute some of these ideas quite instantly, others require a lot of preparation.
The best way to go about it would be to prioritize the easy-to-implement ideas while working on the others on the side.
For instance, a live stream would require a good camera and microphone and someone with the skills to set it up and troubleshoot it. So while you're working on that, go ahead with creating a calendar invite and sending it out to everyone.
That's how you'll be able to put everything in action and watch your campaign succeed.
Featured image source: Photo by AbsolutVision on Unsplash