Ethical Fundraising: Importance of financial transparency
February 1, 2018 - 5 minutes read
As young boys of seven and nine, my brother and I were each allocated twenty cents as pocket money. Back in the day, that was enough to buy a comic book, pick up goodies from the local bakery and a soda on the way back. Of course, sometimes twenty cents didn't suffice. The first time I went to my mother and asked if I could have another ten cents, I was surprised she actually said yes. All she wanted to know was what I spent the twenty cents on.
It's not so surprising anymore.
Even when it comes to donors to a fundraiser, all they want to know is that their contribution goes into what the organizers claim. Organizations working toward public good have a few obligations towards the donors who support their cause and the general public as well – accountability and transparency. Ethical fundraising is key to a successful donor relationship.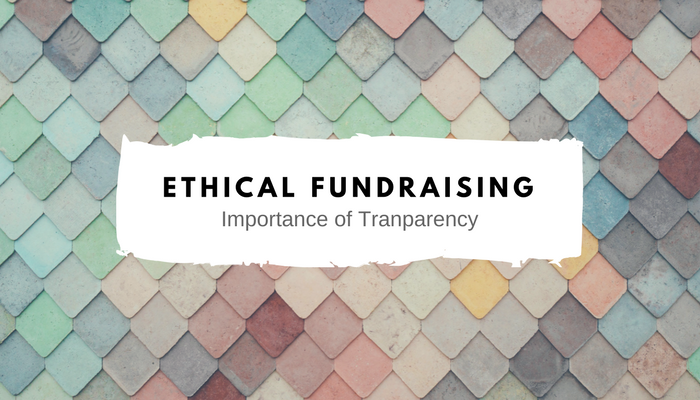 What true transparency entails
Accountability is the obligation of an individual or organization to account for their activities, explain and justify them to anyone who has the right to know the details. Transparency is about being open and honest about the operations and transactions of the organization so that the recipient of the data can understand and follow where the investments were utilized.
Both accountability and transparency go hand-in-hand because just releasing information about your activities that people aren't able to make head or tail of means your data isn't transparent. You have to know how to convey the data to the concerned audience.
For fundraising to be a smooth and successful affair, the organization has to be able to explain to any interested party how they operate. A simple way of being on point with this information is staying updated on a few simple questions:
What did we accomplish?
What difference did we make in the lives of our beneficiaries?
What else could we have done?
Being true to oneself in answering these questions means they would always have an honest response for any enquiries made about their activities.
The benefits of being transparent
There are, of course, several benefits of being transparent when you are fundraising. While some are direct benefits that help your organization, some are more of long-term rewards that play out in the future.
measure to what extent your intended goal with the fundraiser is achieved
improve relations with those who the organization is accountable to
clarify your work from others in the same sector
motivate existing workers, trustees and new supporters
collaborate and learn from the ongoing process to strategize future work and investment
share knowledge with others in the sector so they can improve as well
Steps to create a transparent culture
The end goal of being transparent is building trust for the organization and its activities. Trust needs to be maintained because once lost, it is impossible to redeem oneself.
So these are a few steps to ensure you build and increase trust for your organization among existing and new donors.
Convey where their money was invested. Send a thank you note or a personalized email updating the donor on where their money was spent.
Specify the exact impact made by the sum contributed by a particular donor. Knowing their donation was used efficiently will make them trust the fundraisers to contribute more down the line.
Being transparent also means the organization has to take responsibility not to mislead the public with false or incomplete information. The statements and claims made through their marketing material cannot be unsubstantiated and the voice they use to relay this information has to be clear and consistent.
So these are some ways fundraising organizations can create a transparent culture and attract more support for their cause.
Fundraising