How to Improve Attendance at Events (7 tips! )
June 22, 2018 - 6 minutes read
Empty chairs, piddling turnout, and rock-bottom benefaction is every event planner's biggest nightmare!
So, we've put together a list of eight proven ways to improve attendance at your events.
Step 1: Start Off Early
Early advertisement works to your advantage as it creates a buzz for your event. Just like promoting movies with sneak peaks and teasers, do the same with your events. You need to post relevant information and updates. By doing so, you build interest and online engagement. An early start is recommended as people can book events into their schedules. Keep it interesting and make the most of social media.
Step 2: Use infographics
Infographics offer a fun and unique take on events and are an effective way to get content shared on social media. It provides event goers with all the relevant information in a consumable format. You can create an infographic that shows all the events you will conduct in a year or something that tells the story of your event. And since 20% of ticket sales come through social channels, it's a great way to boost sales.
Step 3: Use Social Media
Create a YouTube channel. Take advantage of the craze for live videos and promote your event. Videos can feature behind the scenes footage, show how volunteers are helping you set up the venue, provide pro tips on what your audience can gain, or introduce your audience to sponsors. Do the same on Snapchat, the only difference being that you are targeting a younger demographic (16- 28).
Use Twitter to connect with bloggers, marketers and social media influencers. If your event is technology-based, Twitter is the best channel to promote it. Don't forget to use #hashtags.
Use LinkedIn to target and connect with people from a specific industry. It is the best platform to market to business professionals. If you are organizing a corporate event use LinkedIn is your best bet.
Use Facebook if you're organizing fundraisers, concerts, parties, etc. You can connect with many people from different age groups. Hosting creative contests around your event can get the attention you are looking for.
Use Instagram to connect with creative individuals and target a younger demographic. If you're organizing food festivals or leisure events, Instagram is the right channel for you.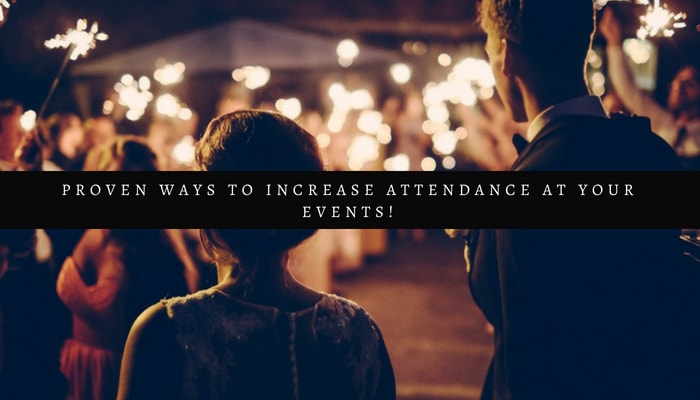 Step 4: Use Discovery Sites
Event-goers look at discovery sites to search for events. Reach out to them by promoting your event through such sites. Use discovery sites like Eventbrite, Eventzilla, Peatix, Event Smart, and Picatic to help build, manage, grow events and attract people with specific types of events in mind.
Tip: Ticketing is much easier if you are using such platforms.
Step 5: Personalize Invites
Due to the prevalence of emails, mailed invites get more attention, especially if you take the effort to hand-write them. But when you have to reach out to a large crowd handwritten invites seem like an impossible task. In such cases, you can use peer-to-peer texting tools to have personalized conversations at scale. You can manage thousands of individual conversations over peer-to-peer texting the day before the rally or event to get people to attend.
Remember not to use template emails or broadcast messages to send out event invites. This can backfire as most people ignore automated messages.
You can also try phone banking software to reach people directly on their phones to engage in one-on-one conversations.
Step 6: Give Out Early Bird Offers
We all love a good deal and offering early bird passes is a great way to promote your event. Come up with special offers, giveaways or discounts, anything that catches the eye! Give value adds to people who sign up early and give last minute discounts as a second chance to bargainers. While creating your early bird offers make it unique and create a sense of urgency around it.
Step 7: Ask Attendees to Promote your Event
A good way to promote your event is through word of mouth. Ask your attendees, participants, sponsors and VIP guests to promote your event to their friends and colleagues. Give out discounts for bringing friends or give small gifts for every 50 guests brought in. Come up with incentives to drive up the numbers. Find social influencers among your supporters and get them to advertise for you. Motivate sponsors, guest speakers and VIPs to promote the event to their networks.
Every event needs attendees to make it memorable and great. You also need them to fund your cause, attract new donors and further relationships with supporters. Without attendees, it's impossible to host a good event and achieve set goals. This article tries to solve that problem and help you boost attendance. The above steps will help you clear these hurdles and get the attendance you are looking for.
Tags:
event