How to make campaign phone calls with BSD tools
May 4, 2017 - 3 minutes read
BSD tools are known for their campaign management features. From the 2012 Obama campaign to NAACP advocacy campaign, politics to advocacy, there are so many organisations who have won through using BSD tools. Our phonebanking software integrates with Blue State Digital making it extremely simple to include complex call and volunteer managing features to your national campaign.
What kind of calling campaign do you need? Depending on the volunteers you have available and the infrastructure, there are many ways in which you can plan a calling campaign using CallHub and BSD tools.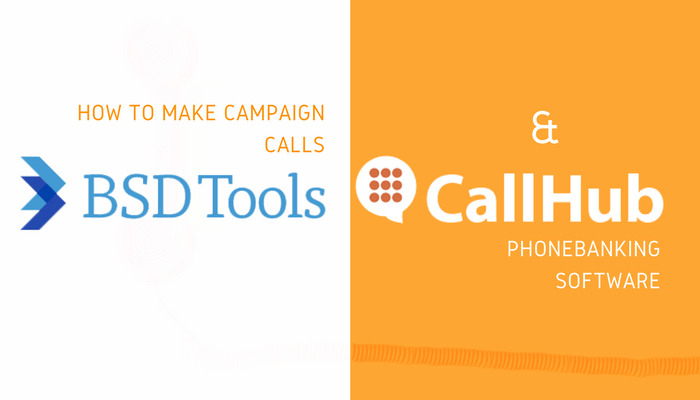 Volunteers from across the country
For a national campaign, you'll have supporters from across the country signing up to help. Using a tool that helps them get involved easily is what will help make your campaign a success. You'll need to run distributed campaign. Volunteers can signup to phone bank on your website and you as the manager can assign these contacts to calling campaigns in CallHub. Through BSD tools integration, easily import your constituent groups into these campaigns. Your volunteers can sign into CallHub and make calls from their own home or from a local office too.
How to integrate with BSD tools
Long term fundraising campaign
For nonprofit organisations or institutes, fundraising is a year long affair. To help meet your long term goals, you need to be able make sure you have the funds to do so. This is why donor stewardship is so important. Maintaining the relationship with a donor and keeping them informed of how the organisation is progressing, will keep them feeling more invested in your success and will lead to their continued support through donations. A campaign like this requires an in-house calling team that understands who their donors are, when the last time was that they were called and how much money is it be raised. A small team of 5 to 10 campaign callers can be setup in an office to make calls to donors. Import your contacts from BSD tools and once the calls are made, update a custom field that lets you know when the last time they were contacted.
Call your representatives
Grassroots advocacy involves keeping voters engaged with their representatives. This constant feedback is important in keeping representatives in check when passing legislation. Running patch-through calling campaigns are a great way of including supporters who aren't assertive enough to use click to call like Callout. With the help of volunteers, call your constituent groups and encourage them to talk to their representative or at least leave them a message. On CallHub, you can directly patch them through to their representative so that you don't lose any momentum. This is a great addition to your campaign.
For a detailed demonstration on how to run campaigns like these, get in touch with us and we'll take you through how simple the process is.
Tags:
Blue State Digital
,
BSD tools
,
Call Center
,
Phone Banking