71% of clients will end a business relationship because of the lack of phone etiquette.
Needless to say, phone etiquette is crucial for your business.
Phone etiquette is the way you converse over a call to represent yourself and your organization. This includes how to greet a prospect, the tone of voice to use, language, listening skills, and how a call is closed.
There are specific thumb rules you can follow to showcase your brand as professional and valuable.
In this article, we'll go over these rules for different types of phone interactions and how to implement them.
Phone etiquette while making calls
1. Actively listen to the caller to follow up.
71% of customers are irritated by salespeople who don't listen. Active listening helps avoid this and allows agents to ask relevant follow-up questions.
Relevant follow-up questions make prospects feel valued (and heard), thereby enhancing your credibility. The higher your organization's credibility is, the softer the objections to purchases are.
How to implement it
The best way to ensure that callers are actively listening is by having them take notes. Apart from fostering active listening, these notes also provide deeper insights into the customer's objections, thereby allowing you to craft better follow-ups.
The best approach to this is to employ a call center software solution (like CallHub) that allows you to take notes on the calling dashboard itself.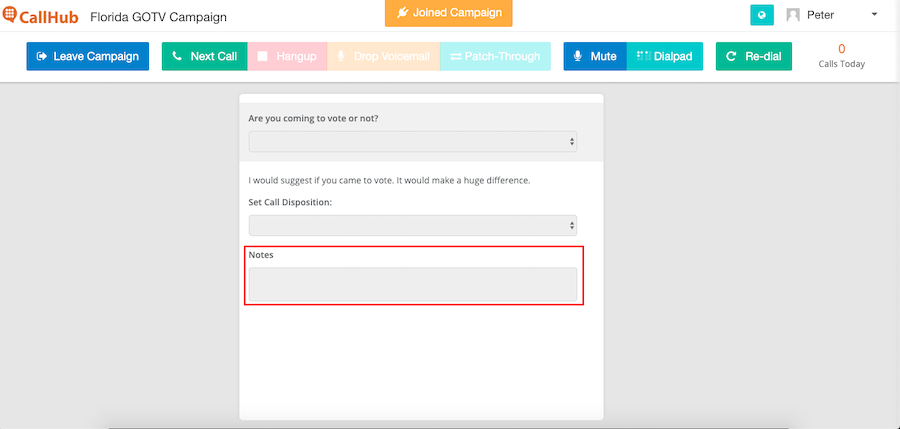 Using pen and paper for this is not advised as it makes the process unorganized and increases manual labor (to transfer the information to the CRM).
2. Never call anyone during odd hours.
Calling prospects during odd hours is not a good practice. It's even prohibited by law.
Calling during unusual hours gives prospects the impression that you don't respect their boundaries. This is in-turn could disseminate a negative opinion of your organization.
Anything outside of 8:00 AM to 9:00 PM on weekdays and 10:00 AM and 9:00 PM on weekends are odd hours. These timings, however, may vary depending on the state's laws.
How to implement it
Some call center solutions allow managers to define the hours for a campaign within which agents can make calls.
In case your operations are spread across regions, you can set up different campaigns with time limitations as per local laws.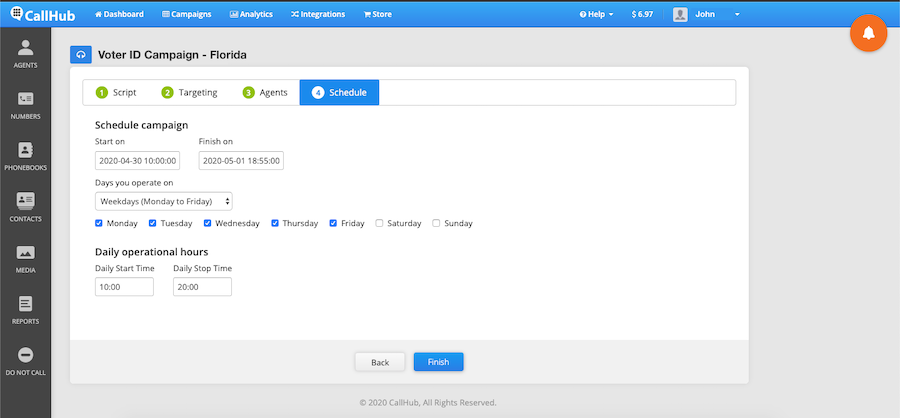 By setting up these restrictions in the backend, you eliminate the need for agents to keep track of the time, which would be distracting, and focus on making calls.
3. Keep the conversation to the point.
Studies show that the brain can only retain 20-30 seconds of information at a given time. This makes it crucial to keep conversations short and sweet.
Speaking two to three sentences and following up with a question is the perfect way to keep the conversation on point.
Callers should stick to high-level explanations and dive into specifics only when asked.
How to implement it
With conversations on the fly, there's a risk of either making it long with too much information or miss out crucial details to keep it short. Therefore, having an excellent script to guide your agents is extremely important.
To have more personalized conversations, ensure that the script is well planned and account for all possible responses and objections from the prospect.
For example, here's a great example of a detailed script:

Using a call center software like CallHub that displays the script to the agents on their calling interface is beneficial for this.
>> Related read: Building call center scripts that motivate action
Phone etiquette when leaving voicemail messages
1. Leave concise messages (with contact information in the end)
While leaving voicemails, every additional second after 30 seconds causes a decrease in chances to get a response by 2%. Typically, the ideal length of highly effective messages is 20 seconds.
Apart from the pitch, remember to include the contact information for the prospect to get back to while crafting your voicemail message.
A great way to reinforce the voicemail pitch is to send a text message too (if possible). With an open rate of 98%, texts can bring the prospect's attention to the voicemail while also delivering the pitch through another channel.
How to implement it
While you can have a script for agents to leave voicemails, a more efficient strategy would be to use pre-recorded messages.
Use a call center solution that allows you to upload voicemail messages and leave them at a click of a button whenever agents come across voicemails/answering machines.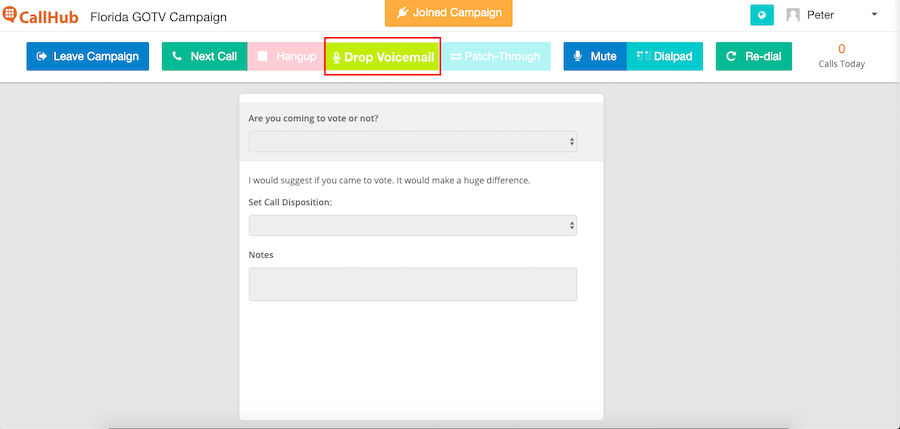 A pre-recorded message allows you to ensure the quality of these pitches. It also saves the agent's time, enabling them to focus more on active calls.
For text messages, using software that allows you to send texts through the calling interface itself is an efficient method to go about it. A text through call center feature will help agents save time by eliminating the need to switch between software.
2. Use a human voice
Using a human voice to record a voicemail message gives you the flexibility to manage the tone and tempo of the message. This way, you can stress on crucial information to highlight it within the message.
A human voice also adds a touch of personalization that compels prospects to listen to the message. A software-generated voicemail, on the other hand, is immediately dismissed as a hard pitch with no value.
How to implement it
Using a call center solution as described in the point above, is a great way to implement this.
Prepare a couple of voicemail messages for different scenarios (or A/B testing) and get them recorded. Upload these recordings to the software allowing agents to drop them at a click of a button.
Phone etiquette when putting on hold
1. Make it easy to pass the time on hold
Being on hold is dull, and spending even a minute can feel like an eternity. In fact, it can be so dull that over 60% of customers on hold usually drop off.
While you may not want to keep customers waiting, often, you don't have a choice. In such circumstances, the least you can do to minimize drop-offs is to keep them entertained/engaged to pass their time comfortably.
How to implement it?
A simple way to keep customers entertained is to play music for them while they're on hold.
Typically, using an upbeat tune works best to keep them engaged. Upbeat tunes can uplift the prospect's mood and make further conversations better.
CallHub uses the following default tune and has received an excellent response for it. However, you can customize the hold tune as per your liking too, in our software.
Music sample: https://soundcloud.com/nandhaan-verma/kevin-macleod-acid-trumpet
2. Return to the caller periodically.
When on hold, it's also crucial to assure prospects that you're there and actively working on their issue (or getting the information they requested).
Callers that are given information while on hold wait for up to 3 minutes more than those waiting in silence.
If the prospect is going to be kept on hold for long, it's best to get back to them in 30-second intervals giving them updates about what's happening. Ensure that these updates are valuable and assure prospects that their case is being worked on. If it is taking too long, ask them if they wish to continue to hold or leave a message.
How to implement it
The best way to return to the caller periodically is by having agents set a timer during the call.
You can have agents install an app for the same on their desktops and pre-set the timer to 30-second intervals. They can set it off as soon as they put the prospect on hold and get back to them when prompted.
Alternatively, you could also have agents keep track of this time with the help of the call duration timer on the calling dashboard.
While it sounds straightforward, this is a habit you'll have to induce in agents during their training.
Phone etiquette when transferring calls
1. Inform the prospect about the transfer
Make note that the likelihood of customers dropping off during hold while they're being transferred increases if it's done without any explanation.
This is because prospects are often unaware of whether they'll benefit (or solve their issue) from the transfer. The uncertainty often compels them to lose interest in you and drop off.
Hence, it's vital to explain prospects why you're transferring the call. Giving them an approximate of how long it may take for the call to connect is also useful.
How to implement it
While it may seem fairly straightforward, it's always best to plan a script with this scenario. Using software that displays a script on the calling dashboard itself will ensure that the agents have something to refer to.
You can include multiple call transfer scenarios in your script (based on different departments or people), allowing the agent to refer to it whenever needed.
2. Give all details to whom the call is being transferred.
52% of customers are frustrated if they have to repeat the information they already provided.
Hence, when transferring the call, make sure agents provide the details of their initial conversation to the person the call is being transferred to. Avoid having the client to repeat themselves. This will also ensure that the executive, whom the call is transferred to, has time to prepare for it.
How to implement it
Taking down notes comes in handy in these cases too. Employing software that allows you to take down notes on the calling dashboard itself can make the process smoother.
Agents can either explain the situation to the receiver using the notes as a reference or simply send them over. The executive can then continue the interaction and add to these notes as per their conversation.
Phone etiquette while taking messages.
1. Repeat the number and message back to the caller.
Miscommunication often leads to loss of leads or even dwindling relationships with customers. A significant cause of this is erroneous messages delivered to people by a third party.
For instance, a salesperson delivering an incomplete message to the support team, making it difficult for them to act on it without bothering the customer again.
By simply repeating the message, agents can confirm their accuracy and avoid such miscommunication.
How to implement it
While repeating the information is relatively straightforward, ensuring that agents have the right information is the challenge.
The best way to ensure this is by training agents to take notes during all customer calls. Keeping these notes as a reference, they can repeat the information for confirmation whenever needed.
If the fact that a message is to be given arises late in the conversation, these notes eliminate the need for the customer to repeat everything.
Additional phone etiquette tips
1. Train callers to speak clearly with a cheerful tone:
68% of customers said that a pleasant representative was critical to their positive experiences. Establishing this positive image is crucial for your organization's success.
2. Have callers immediately introduce themselves (and the organization)
Telecallers have to introduce themselves and the organization they are calling on behalf of to abide by outbound calling laws. You can add an introduction that covers this in all your calling scripts.
3. Ensure that calls are answered within three rings
Keeping customers waiting for long gives a negative impression of your capacity. This in turn may diminish the prospect's faith in your brand.
4. Encourage agents to be honest (and not prevaricate)
In situations where callers may be uncertain of the solution, encourage them to be honest. Train them to put the call on hold or transfer it to resolve the issue. 62% of customers say that the agent's resourcefulness was crucial to their positive experience.
To conclude
By implementing these phone etiquette tips, your callers can start making high-quality calls and yield great results.
The next step after this for you would be to take your time and plan out how to implement them in all phone interactions. For starters, you can have the agents rehearse them during their training.
However, keep in mind that applying these skills to all conversations needs the help of the right tool. Do you have the perfect call center solution that fulfills all the requirements mentioned above?
CallHub does, sign up here and give it a try.
Tags:
active listening
,
Calling Scripts
,
cold calling
,
Outbound calling