Text-to-Give Fundraising 101 for the Modern Nonprofit
July 7, 2017 - 16 minutes read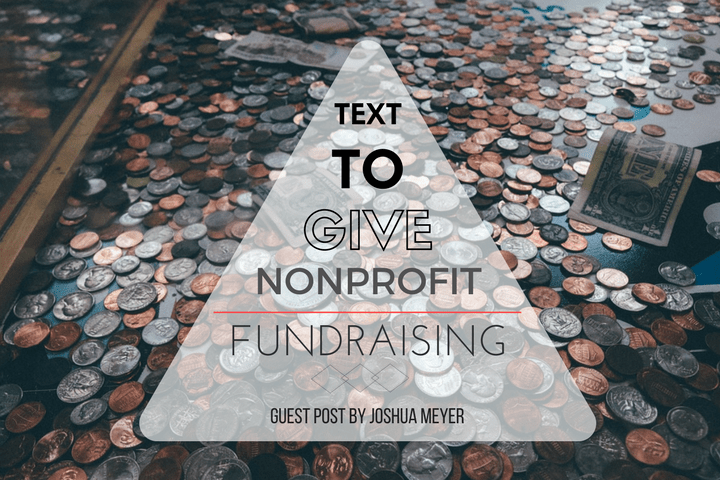 Despite its recent inception, texting has quickly circulated among everyone from baby boomers to millennials as not only a standard practice, but a major means of communication.
That's why when it comes to fundraising initiatives, more and more nonprofits are investing in text-to-give software to capitalize on virtual donations from the ever-growing pool of mobile users.
Although more time-honored forms of fundraising have certainly not gone out of style, text-to-give fundraising offers your supporters the unique ability to connect with your nonprofit anytime, anywhere!
If your nonprofit is still hazy on the details surrounding this new tactic, don't worry! We invite you to follow along with us as we tackle everything you need to know about getting the most out of your mobile fundraising efforts, including:  
By the end of this guide, you'll not only be fluent in text-to-give fundraising but will be recommending this strategy to all your nonprofit friends too!



1. How Text-to-Give Works
The first thing your nonprofit should know about text-to-give is that there are two sides to the overall process: the donors' experience and the nonprofit's.
It's important to recognize how the arrangement works on both sides in order to gain a full understanding of the tool at large.  
The Process for Nonprofits
For starters, your nonprofit must set up the communication channel on your end. This can be accomplished through the following steps:
Choose a text-to-give software provider.

Set up your nonprofit's keyword and/or shortcode.

Promote your text-to-give campaign.
Depending on the tech-savviness of your nonprofit team and the level of support your vendor offers, this part of your text-to-give initiative should be relatively fast and easy to complete.
The Process for Donors   
Likewise, your nonprofit supporters will quickly pick up on how to use your text-to-give feature to make swift mobile donations.
All you have to do is display these directions prominently on your social media pages or other means of communication:
Donor texts the nonprofit.

Donor receives an automated response with a link to a donation page.

Donor fills out the online donation form and submits it.

Donor receives automated receipt for their gift through text or email.
Takeaway: Although these procedures vary among software providers, text-to-give, in general, will help your nonprofit connect with on-the-go donors and build mobile advocacy for your fundraiser.



2. Text-to-Give Fundraising Benefits
As we mentioned earlier, text messaging has captivated modern audiences from all walks of life (including your supporters) which in turn provides endless benefits for nonprofits with text-to-give fundraisers.
However, to save you some time, we'll only dive into the top reasons why text-to-give fundraising campaigns are guaranteed to rock your nonprofit's world.
Profit from an Accessible and Convenient Platform
It goes without saying that text messaging may be one of the most accessible communication platforms in circulation.
Therefore, incorporating text-to-give into your next big fundraising campaign is bound to generate a steady flow of mobile donations among your supporters.
In addition to the universal nature of texting, the convenience factor of text-to-give is hard to beat.
This is shown in how simple it is for your supporters to connect with your nonprofit in a recognizable format and receive a real-time response in the span of a few minutes.
Overall, you'd be hard-pressed to find a more timely and conducive donation channel anywhere else!
Takeaway: Your nonprofit can play right into the hands of your most tech-savvy supporters through the innate convenience and social nature of text-to-give.



3. Text-to-Give Fundraising Opportunities
One of the best things about text-to-give fundraising is the sheer wealth of opportunities it presents to nonprofits.
In fact, some of the biggest fans of text-to-give fundraisers include all types of nonprofits:
Churches and faith-based

Disaster relief

Animal rights

Environmental justice

Arts and culture
This means that from long-term to limited-time fundraisers, your text-to-give strategy can be implemented across the board to best fit your nonprofit's individual needs.
Text-to-Tithe
In terms of fundraising, there are several directions for spiritual organizations to go in. None, however, can compare with the popularity and effectiveness of text-to-tithe campaigns.
Churchgoers can utilize this text-to-give software by leaving behind cash and credit cards in favor of texting their donations in a matter of seconds.  
To make the learning curve easier, many churches will use displays or projectors on Sunday mornings to walk congregants through the process step by step. Least to say, this form of text-to-give fundraising has won over parishioners time and again.   
For more lucrative ideas on fundraising for your faith-based group, check out these creative recommendations from Fundly.
Live Fundraising Events
You may think that once you get your donors to your live event, the mobile outreach tactics end there. On the contrary, now that you have all of your supporters in one place, there's no better time to encourage them to use their phones for mobile donations.
Whether you're hosting a regal gala, an informal cook-off, or any event in between, make sure to promote your text-to-give fundraiser with prominent signs and public speeches directed at donors.
In this way, your guests are free to live in the moment at your event while making contributions in a casual, discreet fashion.
If your nonprofit is planning a fundraising event, make sure you stay on top of the logistics by investing in event fundraising software! Check out BidPal's event fundraising features to learn more.
Takeaway: These text-to-give fundraising opportunities are just the tip of the iceberg for what your nonprofit can do to take your online donations to the next level.


4. Text-to-Give Best Practices
Now that your nonprofit has text-to-give in place, it's time to learn some essential best practices to guarantee you get the most out of your fundraiser.
Don't worry if your nonprofit isn't the most tech knowledgeable; with these practical tips and common courtesies, your donors will glide through your text-to-give process with ease and return to it time and again.
Pick an Effective Keyword
Needless to say, there are several text-to-give services out there with thousands of precise donation messages to sift through. So how do you make your nonprofit stand out and make it easy for your supporters to find you?
The answer lies in creating a unique, yet common keyword to use with or without a shortcode that will clear a virtual path from your donors to your nonprofit.
These keywords should be short and memorable with a direct link to your nonprofit's text-to-give fundraiser. One of the more popular examples of this is the massive #GivingTuesday following that's swept the nation in the last few years.
Another beneficial tip is to avoid keywords that are too unconventional in order to prevent autocorrect from messing with them and taking a drastic toll on your online donations.
Have a Mobile-Friendly Donation Page
Remember that getting your mobile donors to use your text-to-give platform is only half the goal.
The other half involves them being able to fill out a clean and straightforward donation form that they can efficiently access on their phones.
That being said, if your nonprofit doesn't implement a mobile-friendly donation page, then your text-to-give users will be more likely not to follow through with their gifts.
In a similar vein, if your online donation form is crammed with too much information or hard to follow, that can drive your donors away as well. To avoid this problem, keep your donation form short with a simple layout that's easy for your donors to fill out in a few minutes.
Thank Your Donors Via Text or Email
Speaking of donor appreciation, your nonprofit should always send a virtual thank-you note to every mobile user who supports your text-to-give fundraiser.
This polite practice can easily be accomplished by using your text-to-give software's donor data to send each supporter an automated text or email response after their donation.
Taking the time to perform this common courtesy will show your text-to-give donors how much you value their time and devotion to your nonprofit's fundraising efforts.
Takeaway: These pragmatic and considerate best practices will ensure that your nonprofit's text-to-give fundraiser will be the hit of the season!


5. How to Promote Your Text-to-Give Fundraiser
With such an efficient fundraising tool at your fingertips, it's only fair that your nonprofit be aware of all the marketing strategies out there designed to grab your donors' attention with text-to-give.
Like many other fundraising efforts, these tactics can be separated into two chief categories: online and offline marketing.
To learn how to get your money's worth through each approach, take a look at our breakdown of everything you need to know to successfully broadcast your text-to-give fundraiser.
Online Channels  
Fact: text-to-give fundraising is grounded in digital technology, so why wouldn't your nonprofit utilize all of your virtual assets to get if off the ground?
Despite the overwhelming number of options available to you, to spawn the strongest online response to your text-to-give fundraiser your nonprofit should start with these key platforms:   
Social media

Email

Nonprofit website

Peer-to-peer fundraising initiatives
These shareable platforms are ideal for displaying keywords on the web as well as developing a substantial online following. You can even use them to direct your donors to more information about text giving in general.
There's no telling the amount of publicity your nonprofit can generate by steering your text-to-give fundraiser down these online avenues.
Offline Channels
That being said, it's important to recognize traditional forms of marketing as well when it comes to promoting your text-to-give fundraiser.
For instance, you can still never go wrong with reaching out to donors via direct mail or capturing their attention with tangible print advertisements like flyers and brochures.
In addition, your nonprofit can kill two birds with one stone by making a live appeal for your text-to-give fundraiser at your next big fundraising event.
A great way to accomplish this is through event signage that makes the most of eye-catching visuals to promote your nonprofit's text-to-give keyword or online donation pages. Better yet, if your nonprofit has a lobby or popular congregating area, set up a virtual donation box of sorts by using signs to showcase text-to-give.
Either way, signage is a surefire way to grab your supporters' attention in the moment and steer them toward your text-to-give opportunities.
Takeaway: Whether your nonprofit prefers the online or offline marketing route — or perhaps a mixture of both — these promotional strategies will win over donors every time.
Launching a text-to-give fundraiser for the first time can be a little daunting for any nonprofit.
By following this comprehensive guide, your nonprofit will connect more readily with donors and accrue more online donations than ever before through the power of digital communication.
---
Author: Joshua Meyer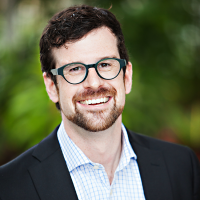 Joshua Meyer brings over 14 years of fundraising, volunteer management, and marketing experience to his current role as the Director of Marketing for BidPal. He holds a BA in human services and a master's in business administration from The George Washington University in Washington, DC. He began his career in the development department at the Human Rights Campaign (HRC), where he initially helped launch and complete the organization's Capital Campaign for a national headquarters building. He later went on to become the Associate Director of Events at HRC, helping to oversee the organization's Gala Event fundraising program. Currently, as a member of the BidPal sales and marketing team, Joshua manages all of the firm's marketing efforts. He has a passion for helping to create positive change and loves that his current role allows him to help nonprofits engage new donors and achieve their fundraising goals.
Tags:
advice
,
digital campaign
,
donor
,
donor stewardship
,
event
,
Fundraising
,
mobile marketing
,
Social Media
,
text-to-give
,
Tips