Updates to CallHub APIs
September 13, 2016 - 5 minutes read
Thanks to all of you, since we've opened our Call Center, conference and agent APIs, we've gotten a lot of positive response. Quite a few of our customers have already implemented them to create their own volunteer sign up forms, customised agent call centers and more. We've also written an eBook on how to use our apis and build your own Call Center.
A webhook (also called a web callback or HTTP push API) is a way for an app to provide other applications with real-time information. A webhook delivers data to other applications immediately, unlike typical APIs where you would need to poll for data very frequently. Many of our customers use webhooks to collect data on their campaigns.
On popular demand, we have updated our web hooks that shall help ease your workflows even more. Let's look at them: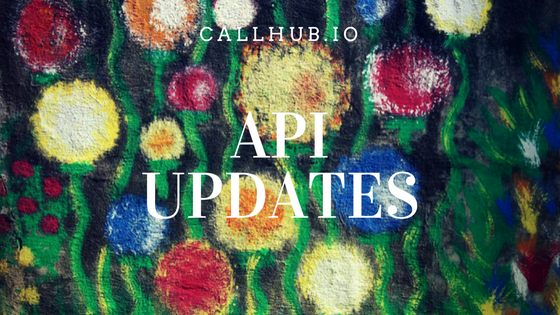 Agent activation
This event occurs when agents activate their account by clicking on the activation link.
As a campaign manager, you have put up a web form so that volunteers can easily get added to CallHub and start making calls for your campaign. But you're always worried that were your volunteers able to activate their accounts. Account activation is an essential step that enables volunteers to join a campaign and contribute.
Getting notified when volunteers activate their account can be really powerful. You can use this event in a number of ways:
Keep track of how many of your volunteers who signed up on your webform actually chose to activate their account; this way you have a fair idea on the campaign momentum and you can decide if you need more volunteers for your campaign
You can also choose to use the webhook to send an email with instructions on how to phone bank as soon as volunteers activate their account
Leverage the webhook to send a text message to your volunteers instructing them of the time and date for when the phone banking campaign starts
And last but not the least, thank them for their support with a personalised robocall
Call Centre Notes
Occurs when a note is added by a call center agent
Customers have used our cc.notes web hook in many different ways. We received a lot of feedback and based on their requests, we have updated our web hook to add below information:
Contact information
Following details about the people have been added to this web hook:
Email: We have added email address of the contact who was called as part of the campaign
NationBuilder ID: If the person called is imported from Nation Builder list, then the web hook data will contain the contact's Nation Builder Id
Agent information
Information about the agent that took the call will be shared too. You will now get:
Id: Id of the agent in CallHub
Username – Volunteer's user name
Email – Email address with which volunteer signed up
NationBuilder ID – If agent is logged in to Callhub with Nation Builder profile, we add the Nation Builder ID of the volunteers to the web hook data
Survey Data
Call Center Web hook now also returns the survey questions and answers. For instance, what was the response of a person to certain question in the response is also part of the web hook data
Zapier integration
CallHub integrates with Zapier to make it easier to build custom workflows. The new agent activation web hook and the call center notes web hook are both available from Zapier. Use these event to initiate any number of workflows such as:
Collect data regarding every interaction that happens in the campaign
Build analytics on top of your data and keep track of your campaign data
Add the volunteers to a specific path or a workflow in your CRM like Nation Builder
Enable automated volunteer management by integrating web hooks with intercom
Documentation
Itching to use these web hooks right away? Worry not, our Engineering team has documented these web hooks so that it's very easy for you to use them. Read the API documentation
---
Think we're missing something? Write to us and we'll take it to the drawing board.
Agent API
,
Call Center
,
Phone Banking