If you are a nonprofit that is wondering how to ask for donations, I've got a few insights from Dikkersonbakker's study to motivate you:
Nonprofits are facing a shortage of qualified fundraising professionals.
Inflation is at an all-time high.
Interest rates? Well, they're going up.
Scary trends aside, there is also positive news on the horizon:
There are significant policy changes in favor of fundraising.
Major giving is becoming crucial.
Corporate and Foundation giving is increasing.
To avoid the unsavory and take full advantage of the increase in giving and policy changes, you need to learn to ask for donations for your nonprofit ASAP. This article takes you through tips that will help you in your quest to raise funds effectively.
Who should you ask for nonprofit donations?
To begin with, you need to know who you need to approach for donations. For a nonprofit, these are a few key players you can ask:
Individuals
Businesses
Foundations
Let's explore each in detail.
Individuals
69% of donations are made by individuals. Individuals could be anyone. However, finding the right people who engage with your organization and are nurtured in your donor engagement cycle is challenging.
You need to engage in donor prospect research to identify individuals who could be potential donors and understand which of these donors could be long-term, high-value donors.
When you develop an ongoing relationship with individual donors, asking for donations becomes easier.
Read Also: 5 Types Of Calls To Develop Donor Relations
Ways in which you can influence individuals to donate:
Online donations: Direct prospective donors towards your nonprofit website or social media platform to encourage donations through donation forms or online giving.
Text giving: Share donation links with individual donors and encourage them to donate through text messages. The average amount raised through text giving is $107.
Monthly or recurring donations: Develop relationships with your donors and encourage them to commit to regular giving in the form of monthly or recurring donations.
Event fundraising: Host events such as auctions, exhibitions, children's fairs, etc., and invite prospective donors to participate in them.
Read Also: 4 Major Steps to Plan Your Next Fundraising Event
Pro-tip: Encourage individuals to donate by showcasing benefits such as tax exemption or the feel-good factor once they've helped a worthy cause.
Learn more about this in our post on Donation incentives and how they can increase giving.
Businesses
$24.8 billion – that's what corporates donated to nonprofits in 2020! That's a considerable amount. With the right strategies in place, your nonprofit can also benefit from the large sum that corporates are willing to give to nonprofits.
Every year, businesses conduct their own CSR (corporate social responsibility) activities under which they are mandated to donate a certain amount of money to social causes. However, there might be limitations about the kind of nonprofits each organization can contribute to. When reaching out to corporates for donations, find out if your nonprofit aligns with those rules.
Ways in which you can encourage corporate giving:
Corporate grants: Many corporations set aside money at the beginning of each fiscal year and gift these grants to organizations that they deem worthy or through competitions.
Matching gifts: For every dollar that you raise through your fundraising activities like crowdfunding, individual donations, etc., you can engage with a corporation that promises to match it. Matching gifts immediately double the amount of money you raise and can significantly help your nonprofit raise money. Plus, it also acts as a motivator to drive individual donations. 84% of donors report a higher likelihood of giving if the gift is matched.
Volunteer grants: When several employees of a corporate engage with a nonprofit and volunteer with them, corporates sometimes donate to such organizations in recognition of their employees.
Payroll deductions: You can encourage corporates to allow their employees to contribute to your cause through payroll deductions. Employees can volunteer for a small deduction in their payroll, which directly goes to your organization.
In-kind donations: If not money, you can encourage corporates to donate to you in-kind, that is, non-cash gifts such as their time, resources, expertise, etc. For example, if your nonprofit teaches teenagers from underprivileged backgrounds new skills, you can ask employees of firms to spend some time sharing their expertise with these kids.
Read Also: Here's a Complete List of Various Types of Nonprofit Grants – Apply Now
Pro-tip: Always highlight benefits such as tax deductions, boosting employee morale, expansion of CSR activities, and brand-building to encourage corporates to donate to you.
Foundations
Foundations are charitable organizations that donate money to nonprofits depending on their cause, the size of their organization, location, etc. Nonprofits could either compete for grants by foundations or apply for their annual grants in advance to be eligible to receive grants.
Foundation giving saw a 19% increase in 2020 and totaled $88.55 billion! Approach Foundation to ask for donations for your nonprofit.
Ways in which foundations can donate to you:
Community grants: Community grants are grants made to nonprofit organizations operating in a particular neighborhood or locality. Foundations donate to such organizations to improve things in a specific area.
Private grants: Private grants have no affiliations with the public or the government. This is why the rules and regulations governing it can be tailored by the foundation granting them.
Corporate foundation grants: A corporate foundation is set up by a for-profit corporation and its charity initiatives. The Gates Foundation is an excellent example of a corporate foundation. Apply to these foundations to receive grants for your nonprofit.
Read Also: The Secret to Great Nonprofit Grant Writing (Bonus Tips)
Pro-tip: Since Foundations operate to uplift a cause or community, showcase how your nonprofit can help these with the work you undertake. Also, explain how donating to your organization will benefit the foundation, the recognition they will receive, etc.
Now that you know who to ask for donations, let us find out how to ask for them in the next section.
How to ask for nonprofit donations
Asking for nonprofit donations is really about finding the most compelling way in which you can pitch your donation ask. We explore different communication channels for fundraising and how to ask for donations for nonprofit through them.
Direct mail
Direct mail is a very effective way to raise funds. 78% of donations come from direct mail. One of the reasons direct mail is so effective is because it makes the receivers of the mail feel special – because who even receives letters anymore?
This old-school technique is still golden for the present times. Here's an example of a good direct mail fundraising ask for you to refer: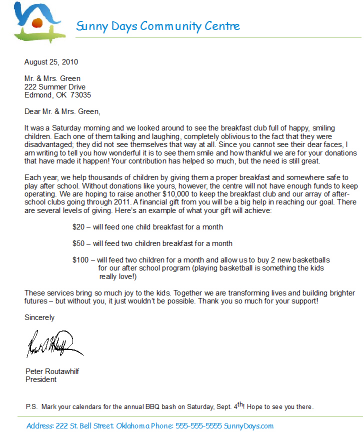 This letter incorporates all the best practices that you can incorporate while making a direct mail fundraising ask. They are:
Write a great letter: Write a letter that speaks briefly about your nonprofit organization, your mission, and how your funds are going to fulfill your mission. Weave a story around your nonprofit since it is a compelling way to move donors to action.
Read Also: ​​The perfect nonprofit storytelling approach to create effective messaging that drives action
Include a clear call-to-action: What is a prospective donor supposed to do once they receive your direct mail? Should they feel great about the initiatives you are undertaking, feel appreciated by your organization, or understand and act on your donation request?
Let them know clearly what you want them to do for you.
Make the donation process easy: Online communication channels allow donors to click a few buttons to donate immediately. However, that is not a luxury that direct mail offers. Therefore, you need to make the donation process smooth for your direct mail recipients.
Read Also: Direct mail fundraising ideas and making it work for you
In-person
In-person fundraising, such as street fundraising, donations kiosks at events, etc., can be intimidating. However, they can still be successful with the right strategies in place. Here are ways to ask for donations in person:
Form an initial relationship with the donor: Start with a warm greeting when you come across a potential donor in person. You can begin with small talk about how their day is, the weather, or any interesting quip about the situation.
Practice your pitch: The more the number of people you speak with, the better will be your pitch. Prepare a short ask in advance, which you can tell people and improve as you go along. Here is a sample:
Hello! How are you doing? I'm working with <organization name> to raise funds to feed 50 children every week. Would you be interested in donating a small amount to this cause?

Hi! It's been a sunny day, hasn't it? I'm here trying to help our <organization> to <add details about the cause>. We're looking to raise funds to make that possible. Would you like to donate?

** Always be prepared for a spontaneous conversation and listen to the recipient's response to reply appropriately.
Be prepared to adjust your ask amount: You may not always ask the lowest amount to prospective donors who walk by you. Depending on who you are speaking with, you can interest them in a higher donation amount, recurring giving, etc.
Read Next: 5 Grave Mistakes that Hamper Donor Relations (And How to Avoid Them).
Phone calls
Phone calls are an engaging way to ask for nonprofit donations. You can store your donor data on your communication platform and begin a calling campaign to raise funds. You can develop a good interpersonal relationship with prospective donors, engage them in a conversation and make your ask.
Here are ways to make a nonprofit donation ask through phone calls:
Get great software: A good phone calling software is the first step toward a successful fundraising campaign. Explore CallHub's range of calling tools to begin your phone campaign.
Prepare a great script in advance: A good script makes all the difference. It is the single most important factor when raising funds through phone calls. We've written a sample script for you:
Hi, am I speaking with <first_name>.

Hi <first_name>, I'm <agent_name> calling from <organization name>. Is this a good time to talk with you?

*If no, then*

Can I schedule a call for a later time?

*If yes, then*

Thank you for giving me your time. I'm looking to raise <enter amount> for our organization to <enter details about your initiative and how it will help>. Would you be interested in helping us out?
Follow-up: Conversions on phone calls need a little extra nudge. This is why sending a follow-up text message immediately after the call is a good way to stay connected with the prospective donor and increase the chances of conversion.
Read Also: How to Write The Easiest Fundraising Cold Call Script
Text Messages
Text fundraising is one of the most convenient ways to ask for nonprofit donations. 25% of donations occur via mobile devices, and text messages play a huge part in that number.
Frame a short fundraising message and share it with 1000s of people in your donor database in minutes. You can even engage in personal, one-to-one conversations with donors to solve any doubts they may have.
Here are text messaging best practices:
Prepare a great text message: Write a short, crisp donation ask that will compel readers to donate to your cause immediately. We've written a short message you can use:
Hey Luke,

Did you know that <organization_name> does <insert details about what you do>? You can help us by donating here: <insert link>
Add media: Adding visual content to your text message can make it very appealing. You can add images through MMS. MMS leads to 70% higher conversion rates than standard text messages.
Share links: Sharing links makes donating as easy as clicking a button (literally). Sharing links helps prospective donors immediately know how they can help, and they do not have to spend time looking you up on google to make a payment.
The way forward
Asking for donations requires a good strategy in place. The first step to successful fundraising is building a trustworthy nonprofit brand that inspires action. CallHub has several resources that can help you do that.
You can read our article A Quick Guide To Nonprofit Branding To Help Build A Better Brand to begin building an excellent nonprofit organization.
Featured Image Source: Printexstar