According to the National Center for Charitable Statistics, fewer than 100,000 nonprofits use any professional fundraising software or Constituent Relationship Management (or CRM) software. With approximately 1.5 million nonprofits operating in the US, that's an alarmingly low number.
If you are thinking of adopting fundraising software for your organization, this list of the best online fundraising software will help you decide on the best tools for your organization.
What is a fundraising software?
Fundraising software is any software/tool that helps make fundraising efforts easier and more effective for your organization and your donors.
What are the types of fundraising software?
The software that can greatly benefit your nonprofit fundraising efforts can broadly be categorized into:
CRM software
Donor research software
Peer to peer fundraising platforms
Auction/fundraising enablers
Fundraising communication software
Event management software
Bonus tools
Why do you need software for fundraising?
Software like Microsoft Excel, Access, or File Maker Pro are used by many organizations for data management. However, nonprofits need software that is more aligned to their needs, which offer the features required for fundraising, out of the box.
Not only does specialized fundraising software save you the time of trying to make business-oriented software work for your organization, but it also saves you the cost of finding someone to do it.
Whether you are an established organization or just starting, you will find that specialized fundraising software will improve your organization's productivity and increase the funds you collect.
Fundraising CRM
Putting together an effective donor retention strategy for your nonprofit needs you to store and access a ton of donor data. That calls for you to invest in a way to manage all this data for your nonprofit.
An ideal fundraising CRM will be able to:
Store your data
Let you access and gather information from the data
Interact with your organization's website and sync data
Luminate Online is a nonprofit CRM offering by Blackbaud. Primarily an online marketing and fundraising platform, it also offers constituent management capabilities with its constituent 360-database.
In addition to email marketing campaigns, you can also run SMS campaigns to your constituents with Luminate Online's robust CallHub integration.
What we liked
An all-in-one tool, easy to personalize
Manage email and SMS marketing campaigns (with its CallHub integration)
Recurring gift management aspect
Constituent 360 database tracks user interactions
Seamlessly integrates with Raiser's Edge
API access for developers
Price:
Learn more about their product and pricing here
Virtuous CRM lets fundraisers do everything from donor management, email marketing, and marketing automation to campaign management.
What we liked
Customizable dashboards with the data you need
Price:
Standard plan – $195/mo
Pro plan – $495/mo
Enterprise plan – $895/mo
Founded in 1999, CharityEngine is an all-in-one platform that offers plenty of features in a data warehouse-style CRM. With CharityEngine, you can take care of creating donation forms, sending email and direct mail campaigns to supporters, setting up events, and peer-to-peer fundraising.
What we liked
Ability to query and layer queries
Tracking donor opportunities, pledges, and gifts
Price:
Starting at $200.00/month
You May Also Like: The 10 Best Peer-To-Peer Fundraising Software For Nonprofits.
Network for Good is an easy-to-use fundraising software, that lets you process donations, email supporters, and even provides fundraising training, with an extensive collection of webinars, case studies, guides, and blog posts.
What we liked
Keep track of key analytics through the Dashboard
Comprehensive training material
Price:
$200/mo for 0-1000 contacts
$300/mo for 1000-5000 contacts
$400/mo for 5000-10,000 contacts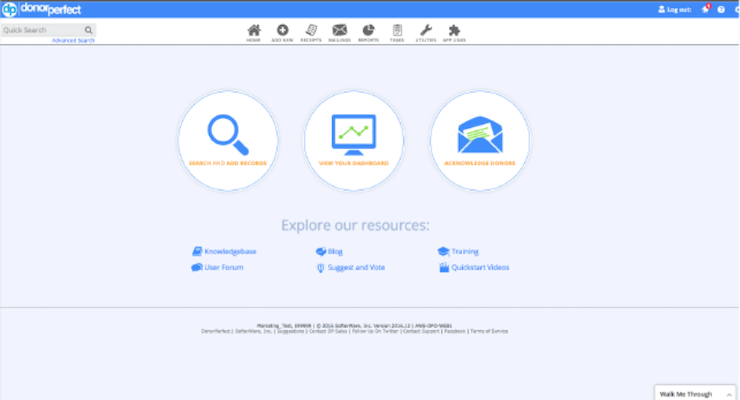 DonorPerfect is one such dedicated CRM solution for nonprofits. Their donor management solution helps your nonprofit reduce workloads and spend more time interacting with their supporters.
"No matter the outreach method, DonorPerfect provides the tools you need to track and grow your fundraising success."
What we liked
Pull up pre-defined reports from the database or specify your own
Customizable data entry screens with the Screen Designer
Excellent technical support, helpful webinars
Cost
Starting from $89.00/month for your first 1000 constituents.
Lite: $89/month
Express: $159/month
Essentials: $269/month
Premier: $459/month
Enterprise: $799/month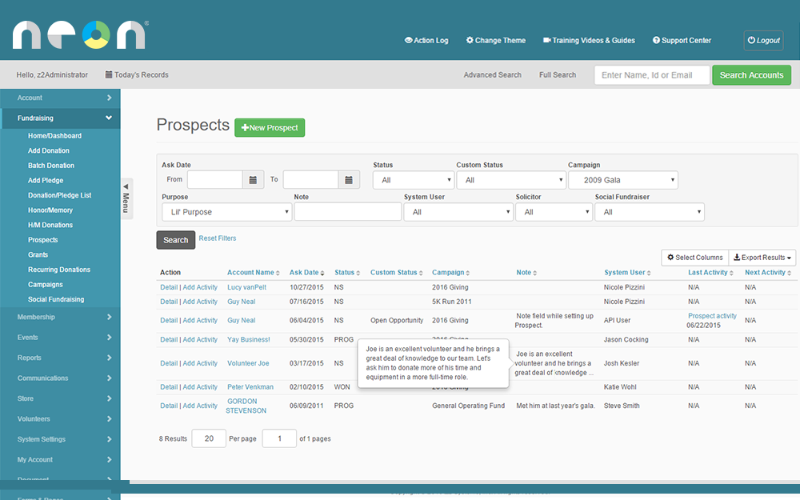 Giving credence to the claim that 90% of their staff are from a nonprofit background, NeonCRM is a powerful fundraising solution that can benefit nonprofits of all sizes. NeonCRM lets you engage with donors, manage memberships, plan events, track volunteers, and more.
What we liked
Flexible, customizable interface
Ability to schedule email broadcasts to donors
Seamless transfer of data from the website to CRM
Free online video training
Price:
Pricing starts at $100.00/month.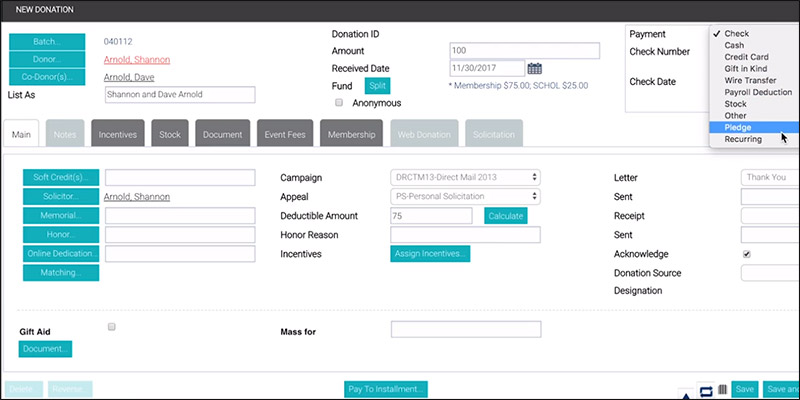 Developed by Bethesda, Maryland-based Salsa Labs, Inc., Salsa Labs provides fundraisers with donor management, digital marketing, peer-to-peer fundraising, and online fundraising tools to organizations.
What we liked
Robust integration of offline fundraising methods like direct mail
Donation tracking features and easy to set up gift acknowledgment
Rich donor profiles
Price:
Request pricing from their website here.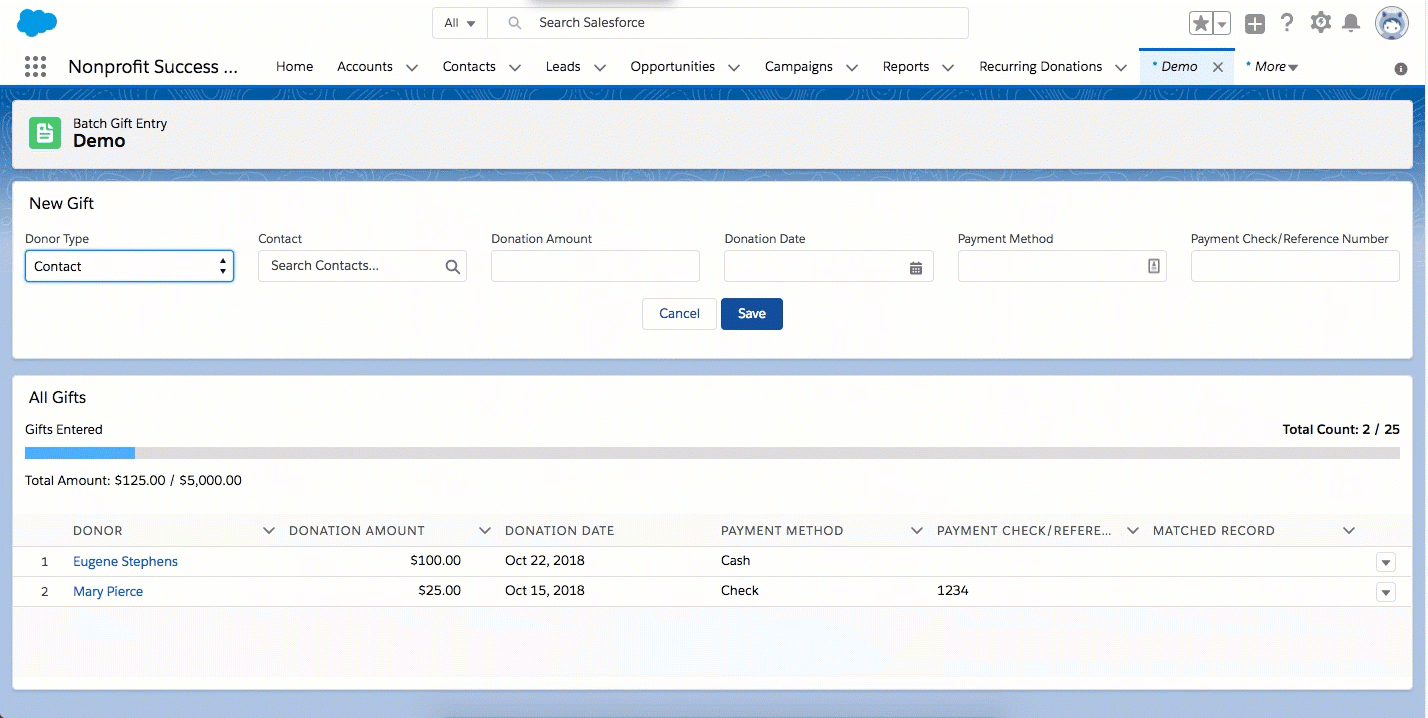 Salesforce offers the Nonprofit Success Pack (NPSP) to help your organization get started with the Salesforce CRM. NPSP is pre-configured with the needs of nonprofits in mind, helping with fundraising, donor management, and reporting.
What we liked
Highly customizable software that you can tweak to fit your organization's needs
Create custom automation and workflows
Free to use for nonprofits, with 10 free licenses
Plenty of integrations
Price:
10 free licenses for qualified 501(c)3 organizations, along with discounts for additional licenses.
Check Salesforce integration with CallHub.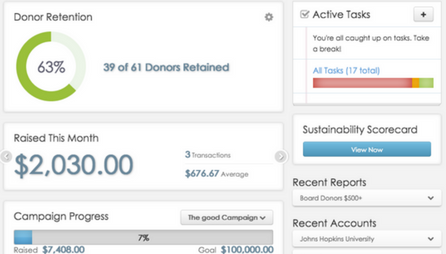 Since 2012, Bloomerang has provided a CRM solution for small and growing nonprofits. You can access your organization's donor records, and measure donor engagement levels to know when to contact them.
The CRM even ranks your engagement levels with your donors by "cold", "cool", "warm" and "hot" through the Donor Retention Cockpit.
What we liked
Interactive dashboard
Powerful integration with your nonprofit's website
Instructional webinars and video tutorials
Price:
$99 a month for up to 1,000 records
$199 a month for up to 5,000 records
$299 a month for up to 15,000 records
$399 a month for up to 25,000 records
$499 a month for up to 40,000 records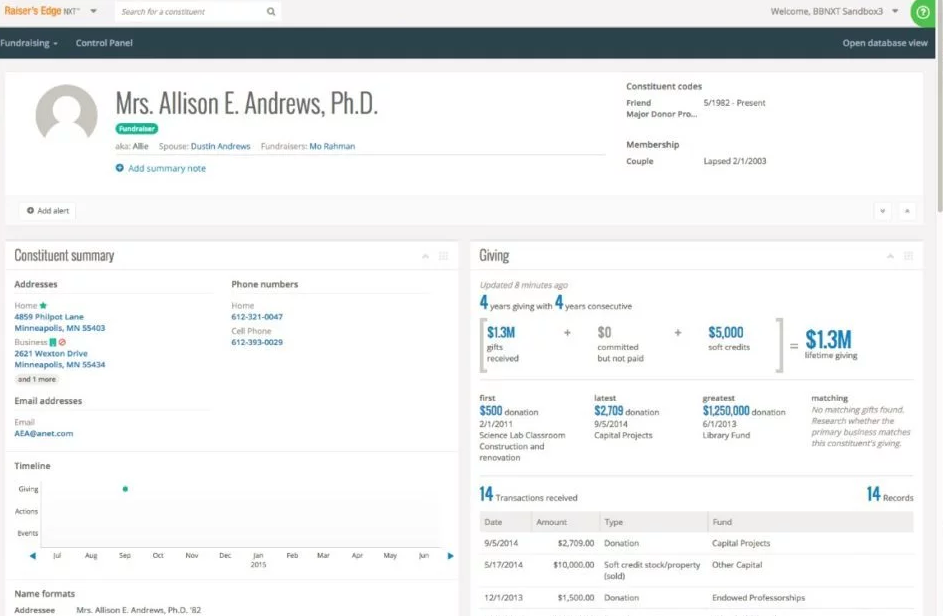 Blackbaud's CRM solution for nonprofits, Raiser's Edge is a customizable fundraising and donor relationship management solution. It provides nonprofits with features such as donor management, fundraising campaign management, reporting and analytics, and marketing tools for social media, email, and direct mail.
What we liked
Ability to access your donor data from anywhere, on any device
Create multiple dashboards to compare fiscal years, appeals, funds, recent gifts list, summaries
Visual analytics
The communication module, lets you share information with team members
Unlimited user accounts
Price:
Learn more about their product and pricing here.
Building on 30 years of experience helping nonprofits fundraise, ClearView CRM by SofTrek offers tools for donor relationship management, fundraising management, online marketing, reporting tools, and more. ClearView CRM is used by organizations like Dana-Farber Cancer Institute, Cystic Fibrosis Foundation, and Lincoln Center.
What we liked
Easy to create and read donor profile reports
Easy to use out of the box
Customizable landing page
A mobile app is available
Price:
A minimum fee of $500 plus $50 per user per month.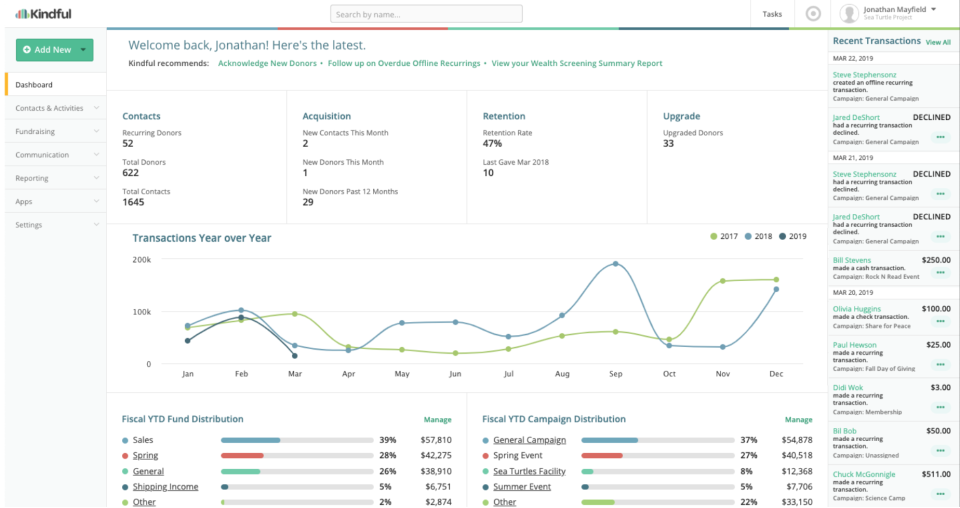 Kindful is an online fundraising platform built to help nonprofits with the three core aspects of fundraising:
"Managing online giving, building donor database and generating donation insights."
Kindful lets you built an unlimited number of donation pages and customize them according to your campaigns. Your campaigners and donor can also share their activity on social media like Facebook and Twitter with a click.
What we liked
Powerful reporting capabilities; export data into spreadsheets or import it to other software
Make notes and schedule future fundraising activities
Customizable, branded, unlimited donation pages
Works well with other fundraising tools
Price:
$100/Month for up to 1,000 Contacts
$200/Month for up to 5,000 Contacts
$300/Month for up to 15,000 Contacts
$400/Month for up to 25,000 Contacts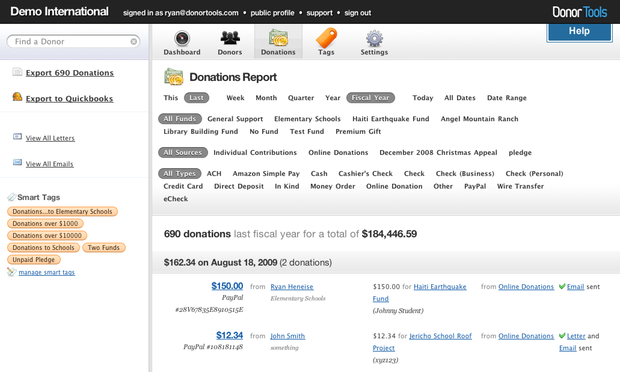 Donor Tools is an online giving and donor management software to aims to serve nonprofits and churches. Donor Tools claims to solve the problems of donation tracking issues like massive spreadsheets, inconsistent data entry, and the rotating door of volunteers for nonprofits.
What we liked
Custom permissions for user accounts
Custom Thank you notes and correspondence tracking
Let donors update their contact details, and access details of their past donations
Easy to use, low learning curve
Price:
Monthly fee of $39/month
Donation processing fee of 2.3% + $0.30 / donation for all cards (US & CA)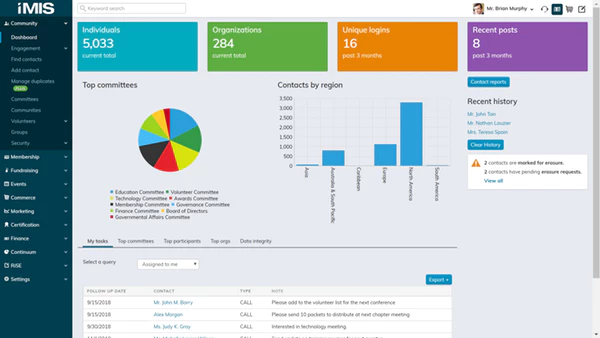 iMIS offers a cloud-based platform for nonprofit and association management. It provides a ton of functionality for nonprofits, including CRM, membership, fundraising, email marketing, events, and more.
iMIS also offers an open API, letting you access hundreds of integrations to help with fundraising.
What we liked
Highly customizable platform
Track your members' activities, billing dues, fundraising, AR, and event registration & management
Price:
Starting at $300/mo/user
Donor research software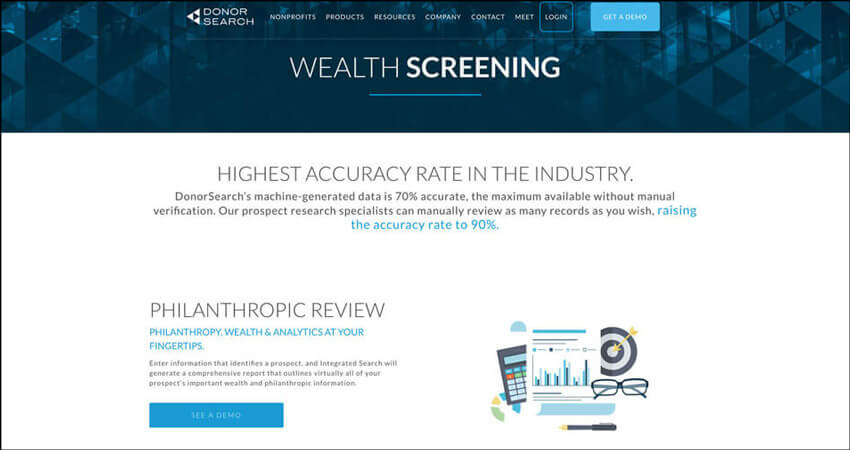 Founded in 2007, the goal of DonorSearch was to "provide more accurate, more comprehensive, more actionable data to help nonprofits of all types achieve better fundraising and outreach results."
DonorSearch pulls from over 25 databases to provide accurate, actionable donor data for nonprofits.
What we liked
Screen your existing donors to estimate their giving capability
Historical giving data of donors (charitable and political)
Wealth and income data
Find new donors by filtering based on demographics
Price:
Schedule a session with DonorSearch to get pricing details here
iWave is a prospect research platform for fundraising. iWave helps you determine a prospective donor's capacity and inclination to give by providing access to one billion wealth and philanthropic records, and fully customizable screens, scores, and profiles.
What we liked
The 360 search tool offers comprehensive search capabilities
High-quality donor data from a wide array of databases
Look up Real Estate information (property data and property history), Political and Charitable giving, and more
Price:
Schedule a consultation with iWave to learn more about the product here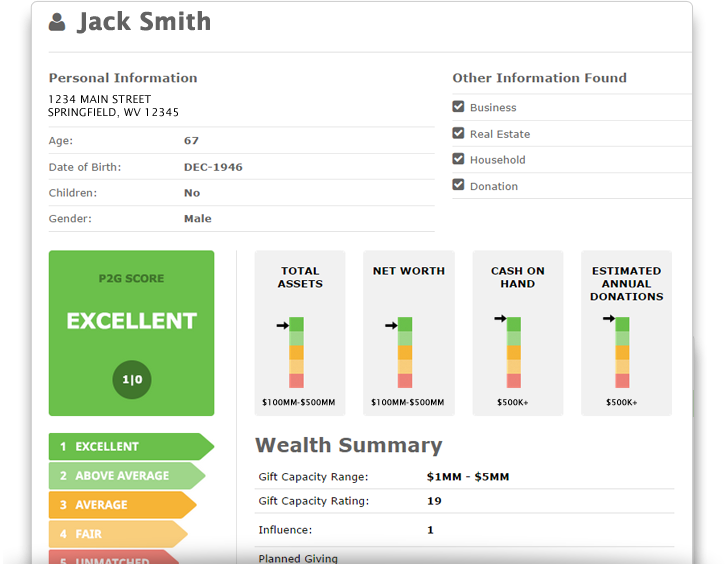 WealthEngine offers data services for fundraising, such as wealth screening and search, customer segmentation and modeling, and donor analysis.
What we liked
P2G (Propensity to Give) score lets you get a quick read on prospects
Comprehensive data that provides a clear picture of prospects' net worth and philanthropic tendencies
Training videos to get up to speed on the product
Price:
Schedule a session with WealthEngine to get pricing details here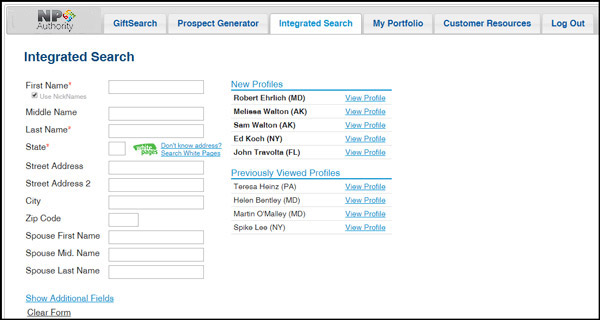 NPO Authority claims to be an affordable prospect research solution, aimed toward smaller nonprofits. They offer bulk screening services for a minimum of 100 donors per batch.
What we liked
Find new prospects through existing donors
Widen your search by using donor nicknames, along with first names
Screen past giving of potential donors
Affordable pricing
Price:
Starts from $1,200 annually with unlimited searches and training.
Peer to peer fundraising software
CauseVox is a peer-to-peer fundraising software that was designed to help fundraisers enable their donors to contribute to their cause. You can embed multiple types of content and host the page on your own website. The platform's drag-and-drop feature makes it easy for people with no design experience to customize pages.
What we liked
Quick and easy donation page setup
Real-time fundraising dashboard
Seamlessly export donor data to your database
Price:
The basic Plan is free
Lite Plan – $55
Standard Plan – $139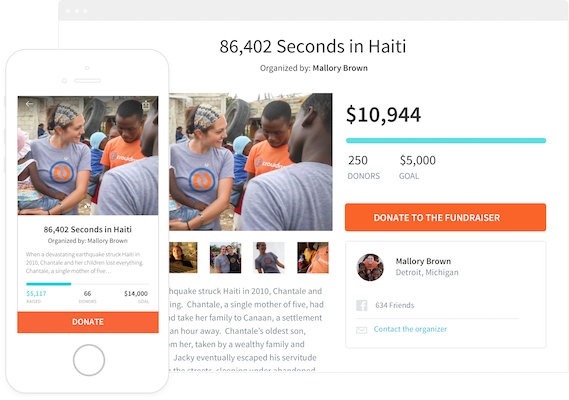 Crowdrise is a crowdfunding software built with Nonprofits and event fundraisers in mind, Crowdrise has helped organizations like UNICEF, American Red Cross, American Cancer Society, International Rescue Committee, Boston Marathon fundraise through events.
What we liked
Easy to use and customize pages for your campaign
Upload photos and videos
Track your fundraising goals
Price:
The Essential option is free, with a platform fee of 5% and a payment processing fee of 2.9% + 30¢.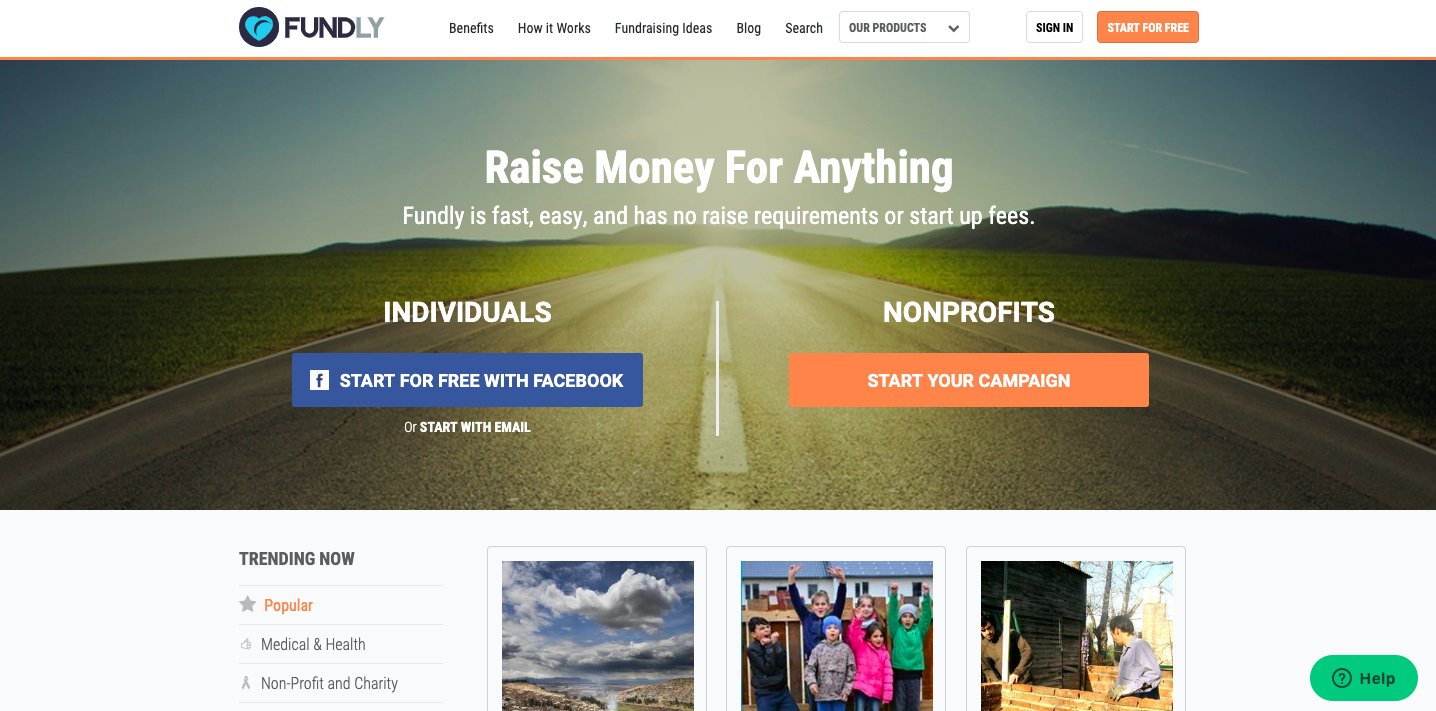 Fundly is an online fundraising platform that lets nonprofits raise money from their supporters via channels like Facebook, Twitter, LinkedIn, Google, and email.
Read our guide on social media fundraising.
What we liked
The acknowledgment feature lets you send receipts to donors
Integration with Facebook
Customizable donation page
Price:
Fundly will deduct a 4.9% fee from each donation that you receive. A small credit card processing fee of 3%
Here's a list of more peer-to-peer fundraising platforms you can try.
Fundraising communication software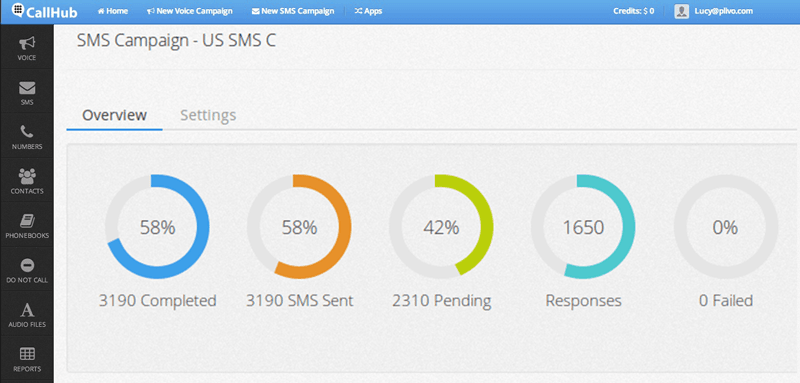 CallHub is a communication platform that lets nonprofits reach out to their supporters through calls and text messages, all from one place.
CallHub integrates with most major CRMs, letting you quickly access your contacts for your fundraising campaigns.
What CallHub offers:
Robust integrations with your CRM
Send personalized texts, receive responses, and build your subscriber list.
Automated manual and outbound calling campaigns.
Price:
CallHub's texting and calling services start at a pay as you go plan.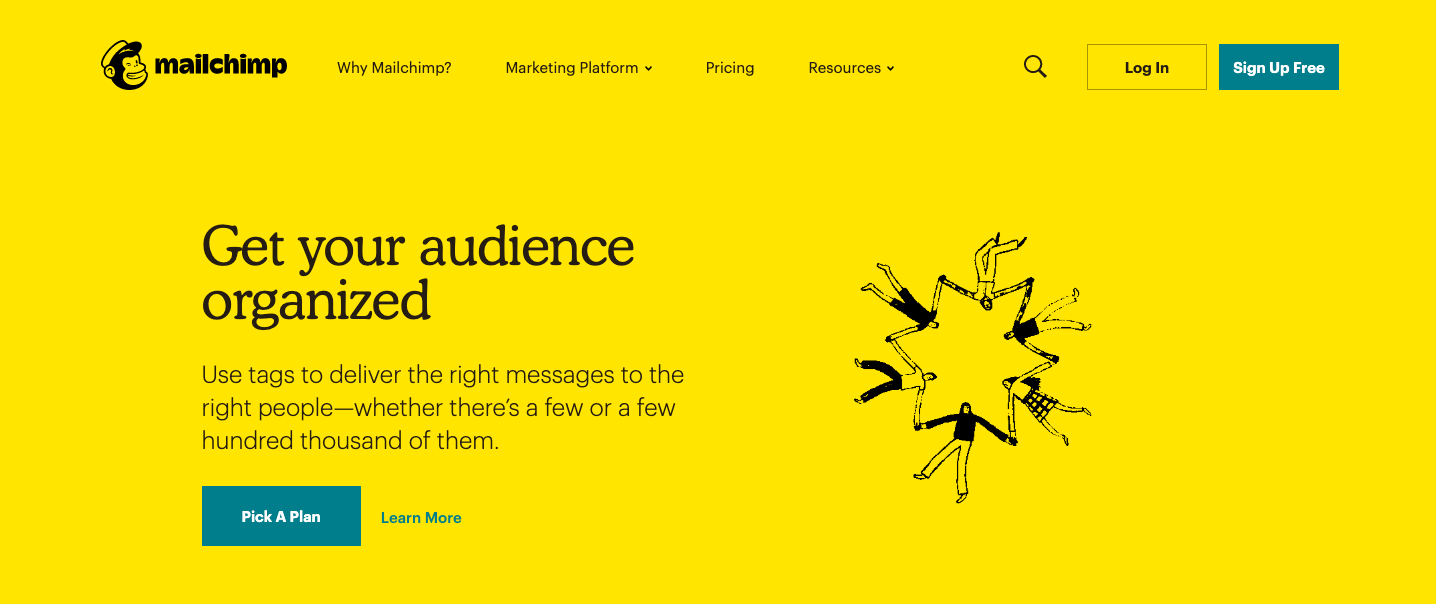 A popular marketing software, MailChimp is an email marketing platform and marketing automation service founded in 2001. Email is a crucial channel for communicating with donors and supporters.
What we liked
Merge tags
Statistical reporting on email campaigns
"Block" based email template editor
Integrates with WordPress to easily collect website signups
Price:
Free for up to 2000 contacts, with a 15% discount for nonprofits on paid plans.
Auction/Fundraising Enablers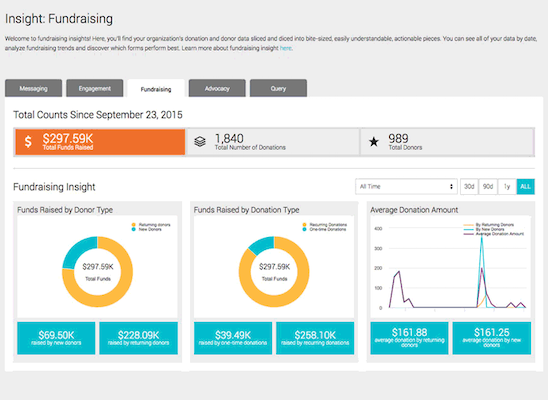 Since 2011, Classy has provided tools for all areas of fundraising, from peer-to-peer fundraising, crowdfunding to event registration and management and setting up one-time and recurring donations.
What we liked
Create appealing web pages and mobile responsive donation forms
Keep track of fundraising with comprehensive reporting
Track event registrations
Price:
Free for starters, with a 5% transaction fee
Classy Pro starting at $299
Enterprise starting at $1,499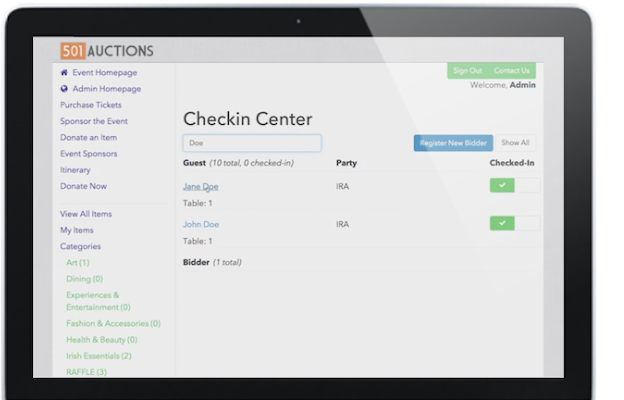 A cloud-based mobile bidding, charity auction solution, 501 Auctions aims to help nonprofits raise money. By streamlining the entire auction process, 501 auctions make it easier for nonprofits and supporters to participate in auctions.
What we liked
Send push notifications to bidders
Streamlined, mobile-friendly auction functionality
Manage event registration and check-in and check out
Price:
A flat fee structure. Reach out to them for a quote.

Double the Donation is a matching gift enablement software that lets your donors access matching gift information from anywhere on your site (such as your donation and acknowledgment page)
The software provides instructions for donors and allows them to submit matching gifts through linked forms.
What we liked
Easy to add to your site
Let's you raise funds that you would have otherwise missed out on
Price:
Basic – $299/year
Premium – $499/year
360MatchPro – $3,000/year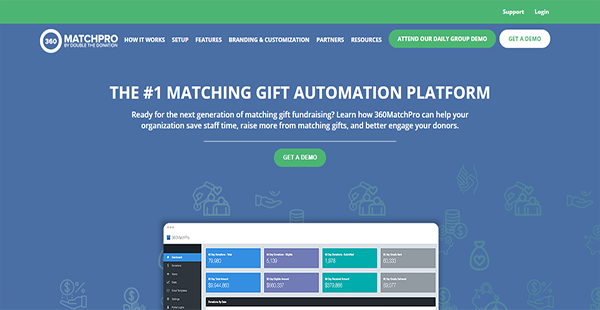 A more robust offering by Double the Donation for larger organizations, 360MatchPro fundraising software lets you identify and drive matching gift opportunities to completion.
What we liked
Identify matching gift opportunities through domain screening, email follow-ups, and bulk uploads.
Automate custom emails based on their matching gift eligibility
Make it easy for donors by streamlining matching gift emails
Price: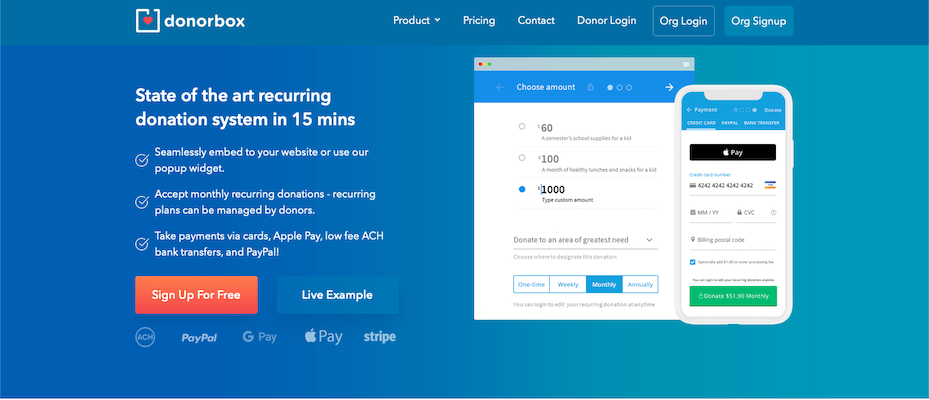 Donorbox lets you do away with traditional fundraising forms for your nonprofit website.
It is clean and easy to use, and they make it simple to embed donation forms onto your site. They support payments through PayPal, ACH bank transfers, Apple Pay, Google Pay, and other credit cards.
What we liked
Easy to set up recurring donations
Assign Donor profiles so donors can track their contributions
Enable gift matching for donors
Price:
Free if you receive less than $1000 in donations every month and a 1.5% fee if more.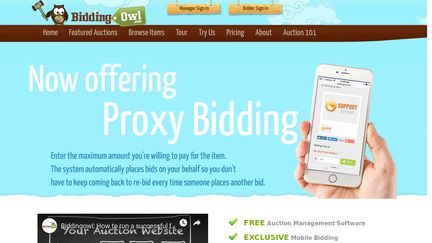 For those organizations looking to hold a fundraising auction, BiddingOwl is a viable platform that takes care of everything from mobile bidding, item and donor management, ticket sales, payments, and more.
What we liked
Simple item entry and management
Track auctions in real-time and save reports
Mobile bidding support
Price:
5% of your online bids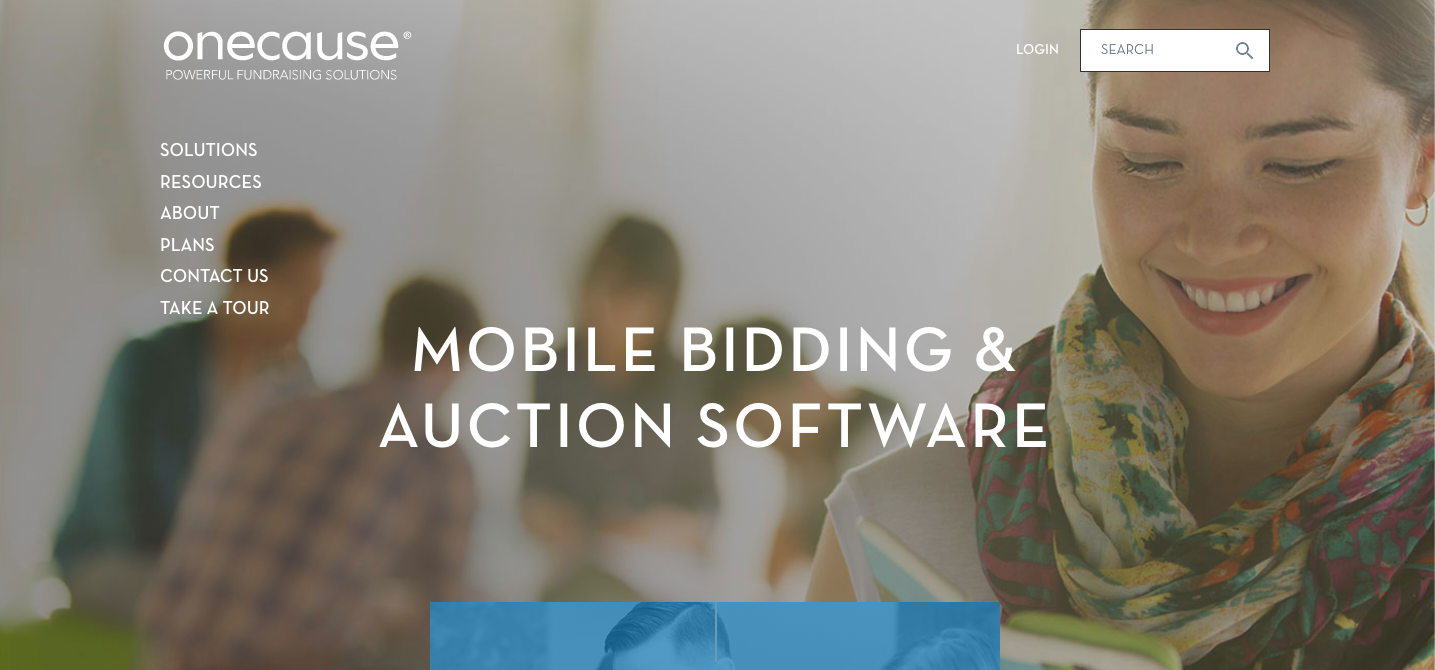 BidPal is a mobile bidding and auction tool offered by OneCause. It integrates with your CRM, making data sync quick and easy.
What we liked
Personalize your auction page for events
Mobile bidding support
Manage check-ins and check-outs
Price:
Please take a look at their pricing here.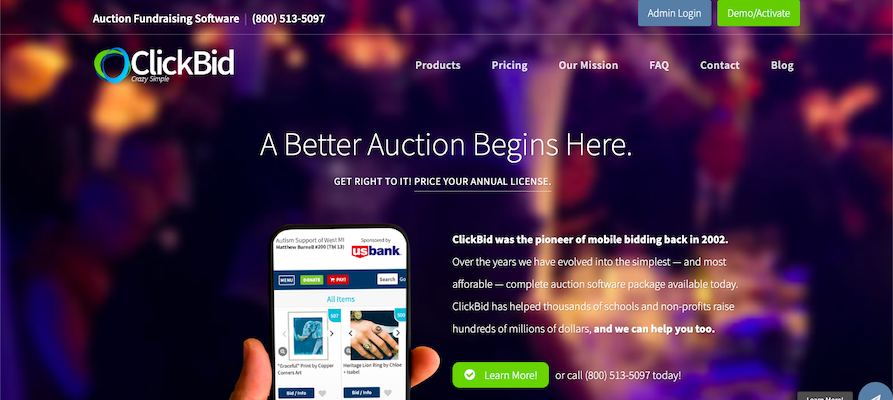 A mobile bidding software, ClickBid claims to offer transparent pricing, high return on investment, donor satisfaction, ease of use, and quality support.
What we liked
Batch upload pictures and items
Easy and intuitive for bidders to use
Notifies donors when they are outbid
Price:
Starting at $795.00/year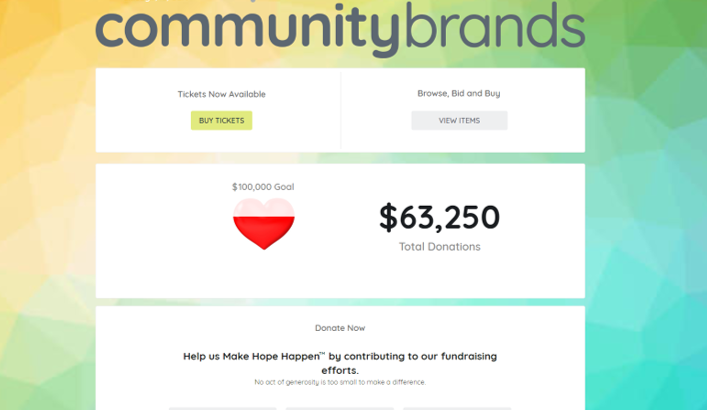 GiveSmart's platform allows your organization to engage donors, make it easier for them to support your mission, and maximize your impact.
For donors, volunteers, and staff, the GiveSmart platform is constantly innovating to make giving easier and event management tasks more efficient.
What we liked
Bidders are notified when outbid
Send custom texts to bidders and attendees
Track and manage, auction packages, ticket sales, and seating and meal requests.
Price:
Pricing starts at $1995.00/one-time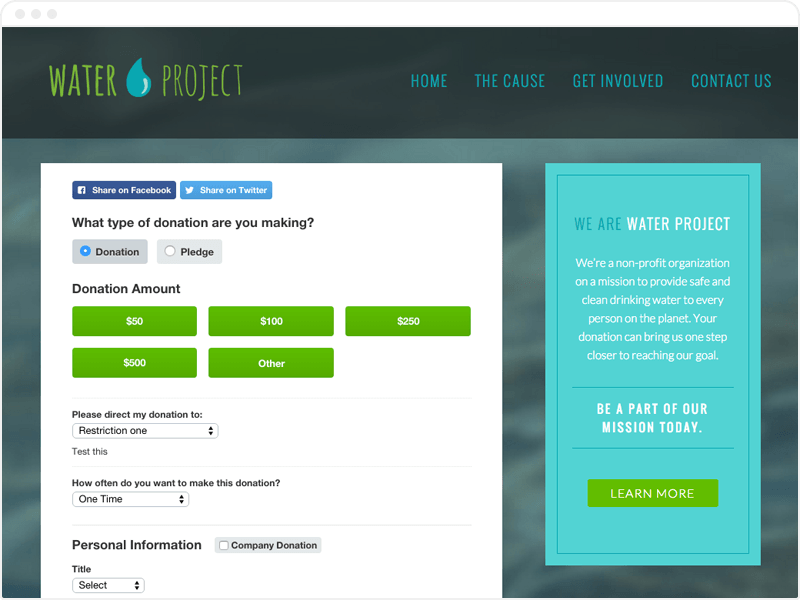 Qgiv is an online platform that enables online fundraising and event management for nonprofits. With Qgiv, you can build donation forms, manage events, offer text fundraising and peer-to-peer fundraising, manage auctions, and more.
Qgiv integrates with most major nonprofit CRM's, like Raiser's Edge, Salesforce, Bloomerang, Neon CRM and Donorperfect.
What we liked
Customizable donation forms
Track all your campaigns from your dashboard
Handle recurring payments and event registrations
Price:
A fee of 3.95% + $0.30 per transaction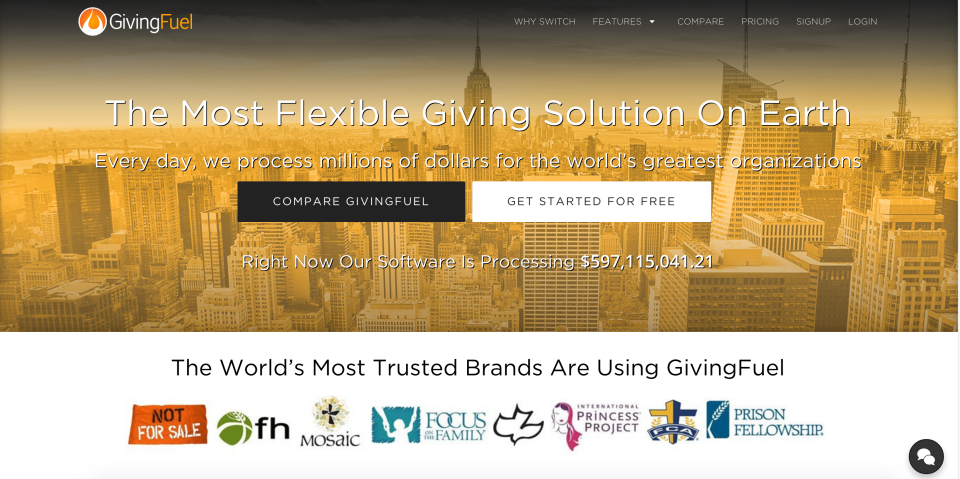 Givingfuel is an online giving solution for fundraisers. The platform offers tools that encompass all aspects of online giving, including recurring donations, text to give, social sharing, giving via the app, mobile compatibility, peer to peer fundraising, and more.
What we liked
Create highly custom donation pages
Recurring donation feature
Unlimited donation pages
Offers flexibility and integrations with an API driven interface
Price:
Free starter plan
Pro plan – $59/Mo
Enterprise plan – $99/Mo
Bonfire is a platform that lets you raise funds from your supporters by selling branded t-shirts. Use their interface to customize your t-shirts and sell them to your supporters.
What we liked
Library of free t-shirt templates to help you with your design
Free to use platform with no inventory costs
Price:
Donation processing fees of 3.5% if your verify your nonprofit on their platform.
Fundraising event management software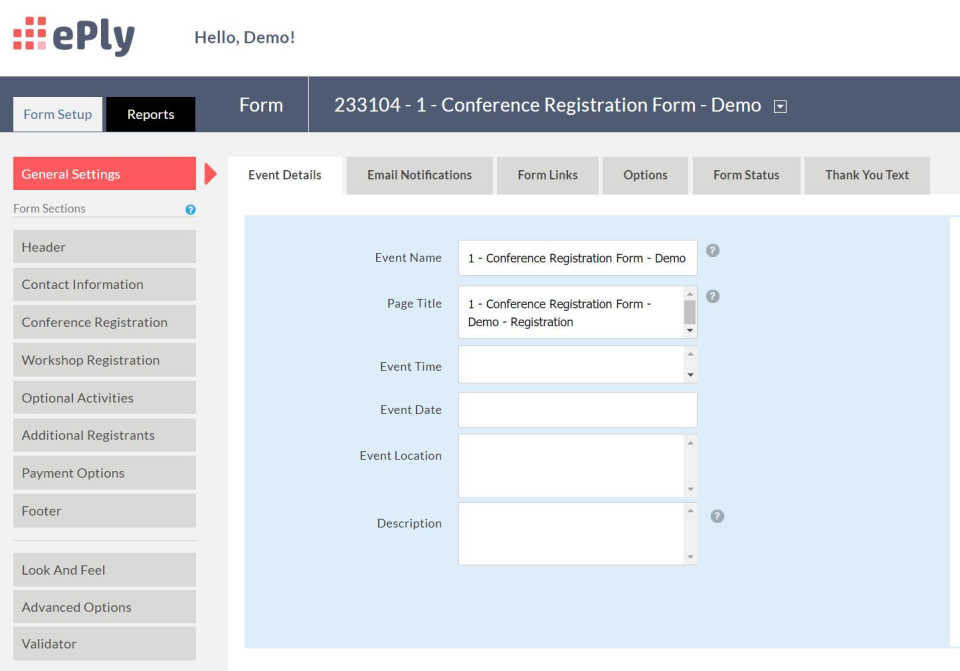 ePly is a platform that facilitates fast and easy event planning for your organization. With one-on-one support available, ePly is a good platform for busy fundraising professionals at associations, charities, and schools.
What we liked
Flexible custom reports
Great support
Downloadable formats
Easy to set up and user-friendly registration
Price:
$4 per registrant or a custom quote based on your estimate of registrants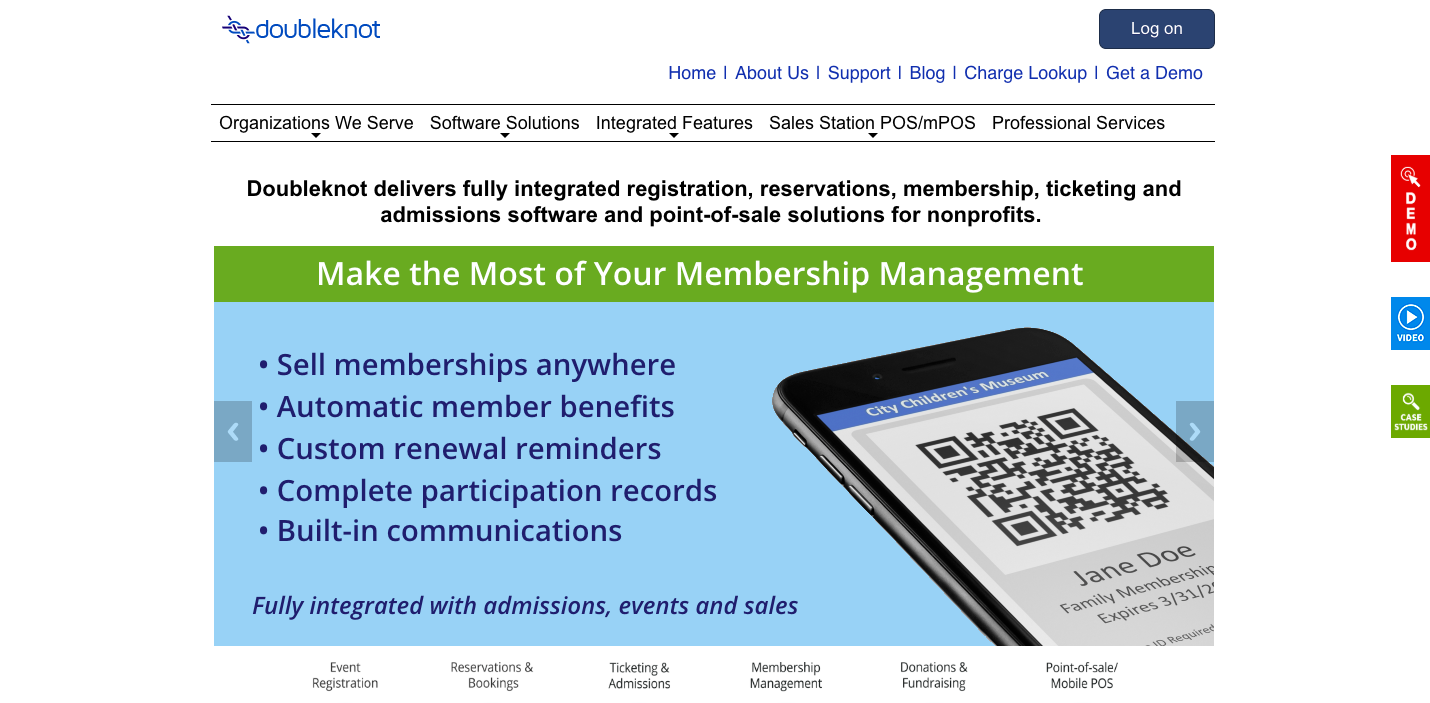 Doubleknot is an event management platform designed for nonprofit organizations such as museums and zoos. It helps with coordination, promotion, mobile and onsite ticketing, admissions, fundraising campaigns, and more.
What we liked
Flexible and can be used for different event types
User-friendly UI
Automated payment reminders
Mobile POS
Price:
Arrange a session with a Doubleknot representative
Regpack is an online registration platform that serves over 6000 organizations around the world. This tool makes it easy for your organization to set up a unique online registration process. The software includes flexible form building, real-time dynamic reporting, integrated online payments, and more.
What we liked
Waitlist feature
Customizable processes
Online payment options
Extract data with custom reports
Price:
Starter – $89/mo Per Admin
Essential – $134/mo Per Admin
Business – $224/mo Per Admin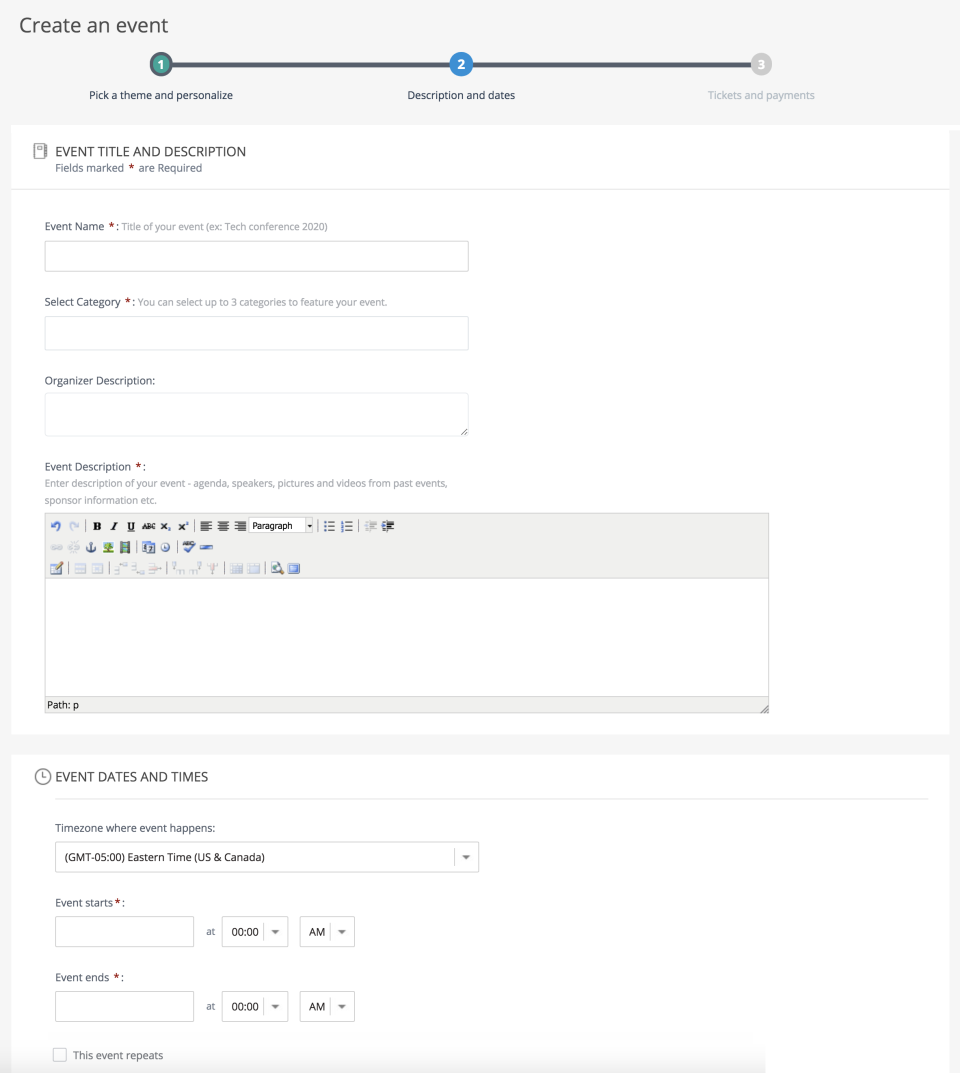 A fast-growing event ticketing and management platform, Eventzilla supports a wide array of events, including events with simple RSVPs to large conferences with thousands of attendees. You can sell tickets online, process payments, and promote events on social media.
What we liked
Send automated emails to participants and staff
Segmented ticket types
Easy to use interface
Price:
Free for free events
The Basic plan is $1.25/ticket
PRO plan is 1.9%+ $0.99/ticket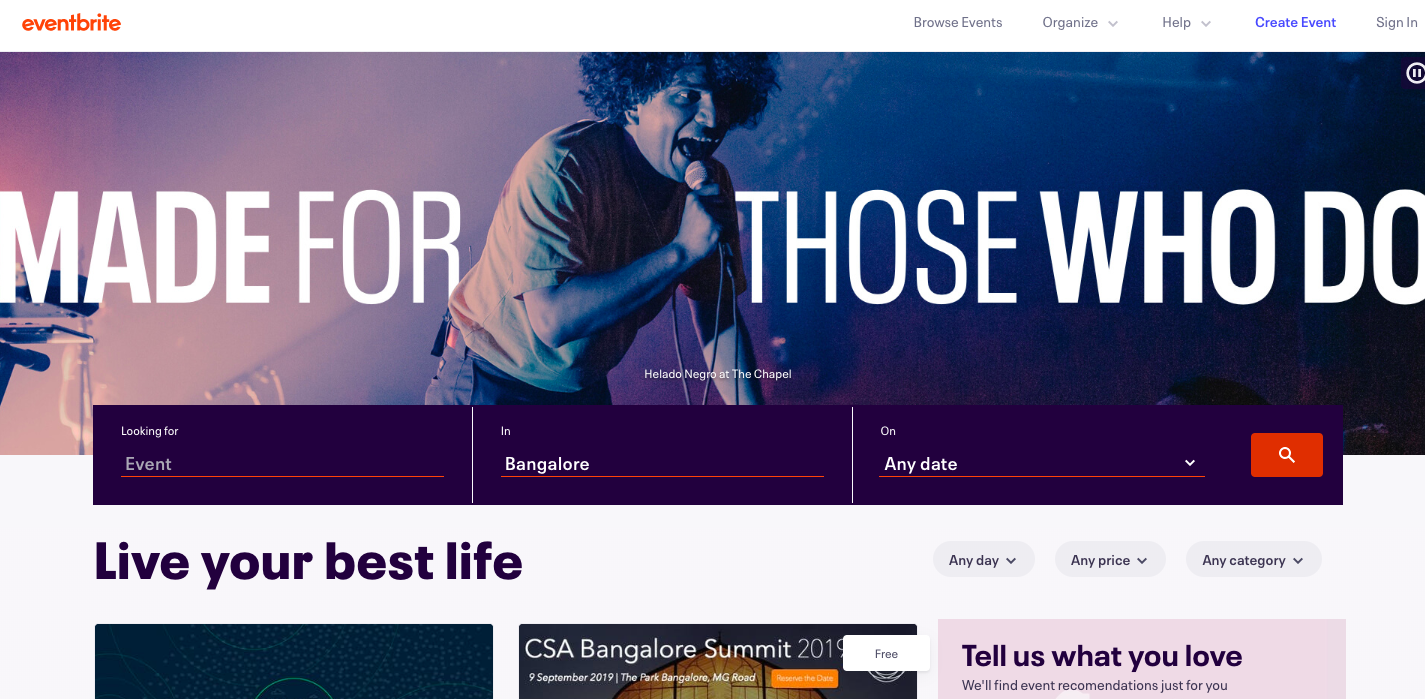 EventBrite is a popular ticketing and event technology platform. The online platform is accessible via mobile and desktop. Eventbrite is scalable and works for basic registration and also as a full-fledged event management platform.
What we liked
Create and track events across multiple platforms
Integrates with your site and emails
Integrates with Facebook
Price:
Free if you are not charging for tickets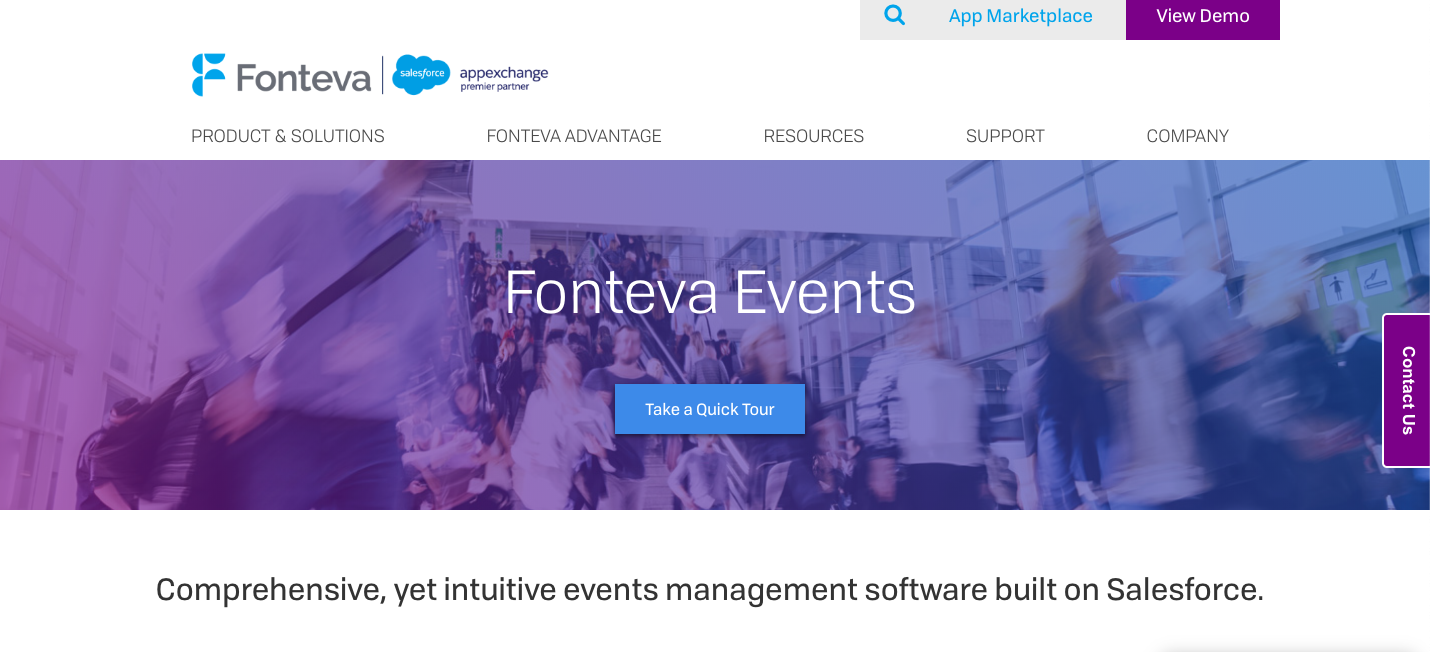 Fonteva is an add-on that brings event management functionality to the Salesforce CRM.
What we liked
Work great out of the box
Logs event data back to the Salesforce CRM
Build event websites
Price:
Starting at $8,400 per year
Bonus software for fundraising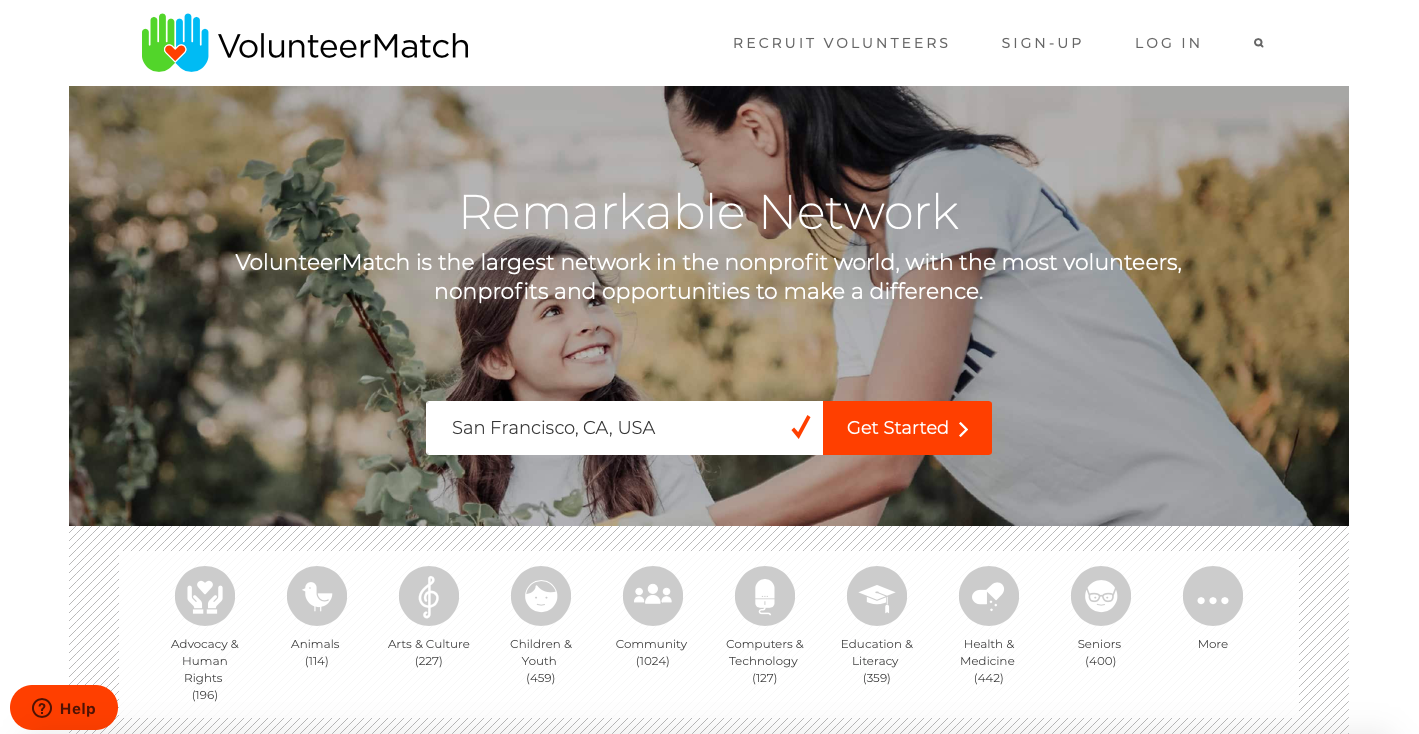 For nonprofits that want a simple way to recruit volunteers for their fundraising initiatives, VolunteerMatch is the solution. VolunteerMatch makes it convenient for you to find people wherever you are in the world. VolunteerMatch is used by Make A Wish, Crisis Text Line, CASA.
Why we like VolunteerMatch
Create and manage volunteer opportunities
Find volunteers for the skills you need
Price:
Free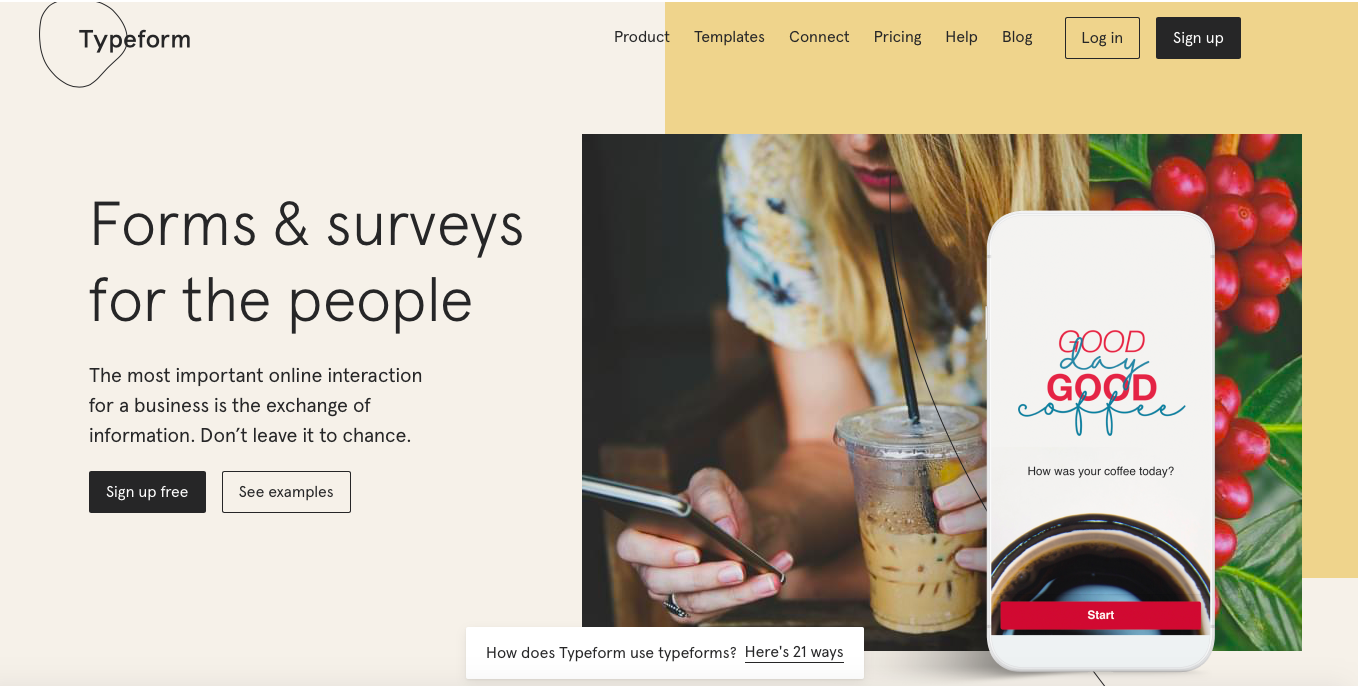 Collect your donor survey data through easy-to-use surveys and forms. The forms are responsive and adapt to both mobile and desktop browsers. The customization options are great and let you incorporate your nonprofit's color scheme and logo into your surveys.
What we liked
Get up to 100 responses per month
Ask up to 10 questions per form
Create an unlimited number of forms
Price
Free, with paid plans starting from $35 per month. Nonprofits can also apply for a discount for paid plans.
What we liked
Create posts and set a publishing schedule for all you social media accounts
Reply to conversations across your social media platforms
Analyze your social media performance
Price:
Pro Plan – 15$/month
Premium – 65$/month
Business – 99$/month
Mightycause is an online fundraising tool that lets you create beautiful branded donation pages. Mightycause lets you raise funds through peer-to-peer and team fundraising tools.
What we liked
Create personalized templates
Create a fundraising team to manage multiple individual campaigns
Page analytics and donor management
Price:
The starter plan is free
Advanced plan – 99$/month
Click & Pledge is a peer-to-peer fundraising platform that allows you efficient online fundraising, social fundraising, donor management, event management, and payment processing.
What we liked
Robust integration with Salesforce
A centralized payment processing system
Price:
Free with a processing fee of 3.75%+ $0.37 per transaction
Designed for medium-sized nonprofits, Giveffect lets you handle your online fundraising with their all-in-one platform. You can handle peer-to-peer fundraising, events, auctions, and donation processing.
What we liked
Web hosting and website building
Marketing and Management features
Price:
Reach out to them on their website for more information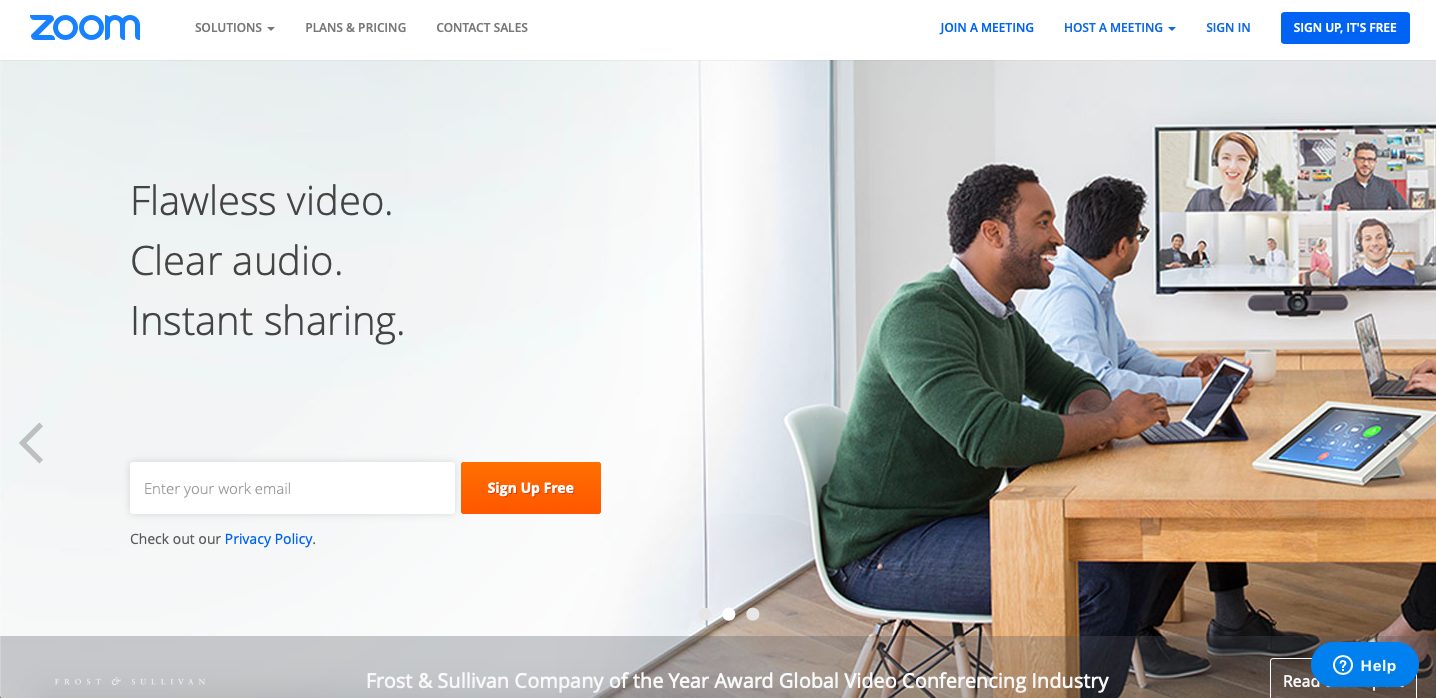 If you're planning to hold a nonprofit webinar and do it for free, there is no better option. Zoom lets you hold webinars and video conferences, with quality audio, video, and screen sharing capabilities.
What we liked
Host up to 100 participants on the free plan
Unlimited 1-to-1 meetings
Online support
Price
The Basic Plan is free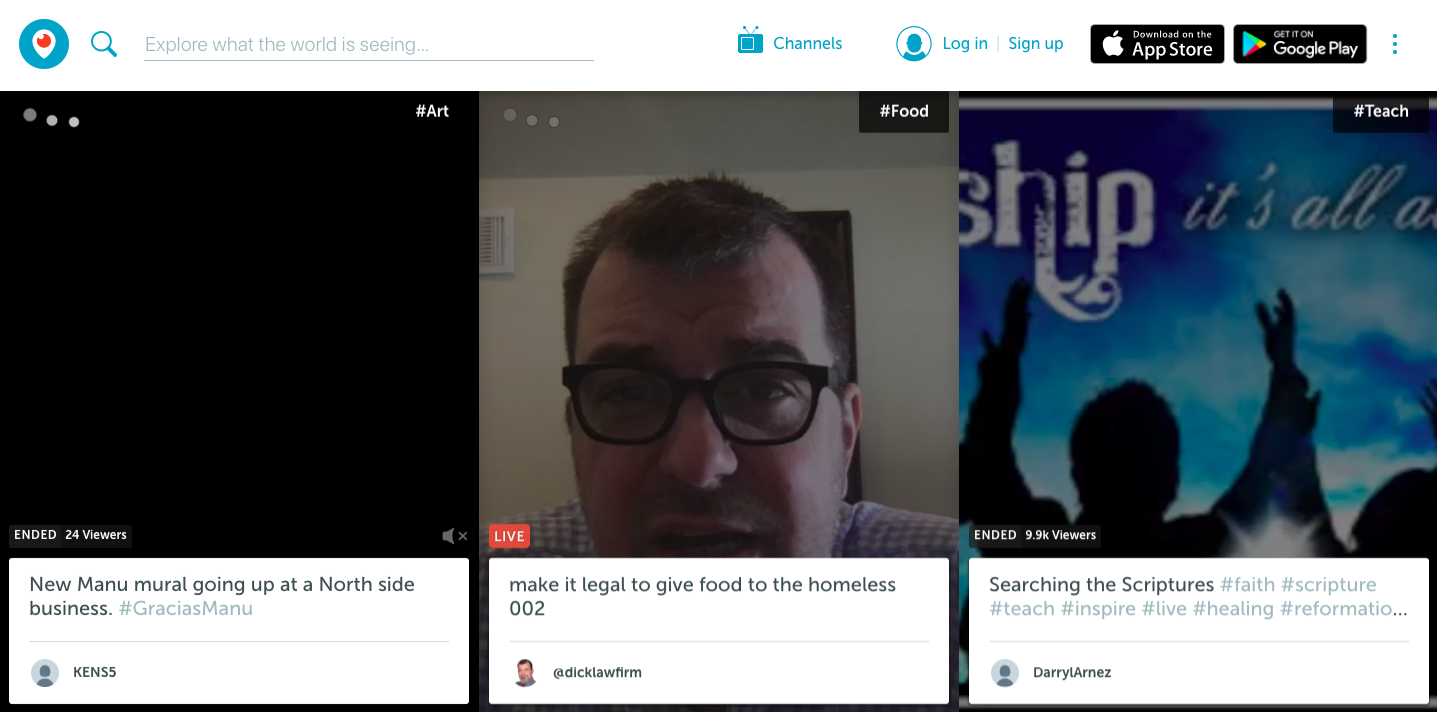 Twitter's native live streaming service, Periscope will let your supporters connect with your nonprofit and view your events from anywhere in the world. All in just a few swipes from your Twitter homepage.
What we liked
Interact with followers in real-time through chat
Save and replay broadcasts
Viewer stats after each live stream, and connect with Google Analytics
Connects straight to your Twitter account
Price:
Free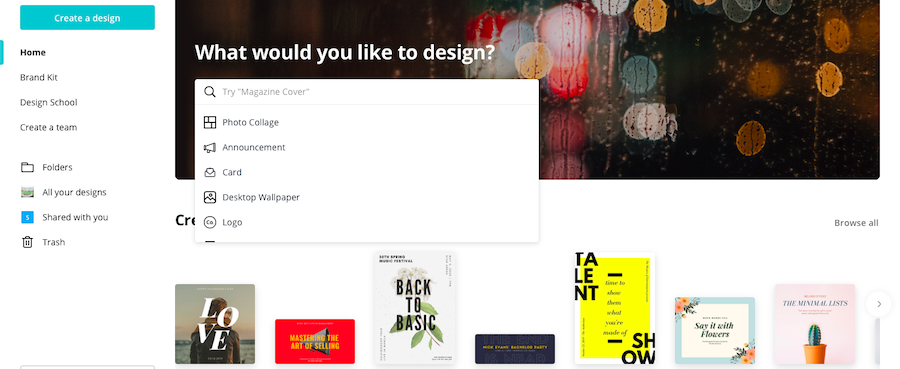 Canva is a graphic design software that makes it easy for you to create eye-catching visuals. Moreover, if you are a registered nonprofit, it's absolutely free. Canva is used by organizations like Fistula Foundation, Amnesty International and Stop Hunger Now.
What we liked
Create posters, banners, logos, infographics, and more.
Collaborate with your team on projects.
Choose from over 60,000 templates.
1GB of storage for photos and assets.
Price:
Registered nonprofits can get the premium version free.
Founded by nonprofit tech industry leader, Roger Craver, and technology expert Tim Hunnewell, TrueGivers aims to satisfy the basic data needs of nonprofits and reduce their technology overhead. They built low-cost, high-performance, data-driven applications for nonprofits.
"From our first release to our most current, we are constantly improving our products to help our customers get the most out of our services."
Why we like TrueGivers
Automated deceased suppression of your donor list
Update your mailing addresses with moves from the USPS NCOA 18/48 month process,
Enhance your database with age, income, real estate, and other individual & household demographic data
Price:
Data Appends – $25+ per thousand records matched
Traditional Screening – $85+ per thousand records output
Platform as a Service – $2,500 per month minimum
Every fundraising software has its pros and cons. Some tools might not have a specific feature you need to run your campaigns, others might be too expensive for your organization. The cons vary from organization to organization depending on their specific needs.
This list will give you a platform to start your search, compare tools and find the right fundraising software for you.
What to look for in a fundraising tool
Finding the best fundraising tools for your organization is a challenge. The tools you choose should be able to fit within your budget, as well as meet your organization's expectations. A broad overview of the features you should look at includes pricing, level of customer support, supported mobile devices, and offered integrations.
By taking stock of your organization's requirements, and spending a decent amount of time researching, you should be able to locate the software you need and at a reasonable price.
The list of tools above should minimize the time you spend on finding the right fundraising tools for your organization.
Further reading on fundraising
Feature image source: Towfiqu barbhuiya/Unsplash