The year-end giving campaign is one of the most important campaigns for nonprofits and here are a few reasons why:
But, this also shows that you're up for some serious competition during this part of the year and it's critical for you to get creative if you want to succeed. This post will help you there with a few strategies to ramp up each step of your campaign.
Let's start with what the year-end giving calendar looks like.
Year-end giving timeline
The typical year-end giving campaign is divided into three major stages that are spread across the year as follows: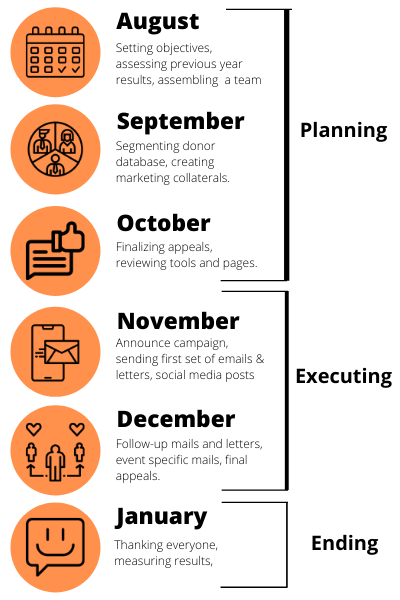 Let's take a look at each of these stages in detail.
Planning your year-end giving campaign
1. Setting objectives and engagement channels for the campaign
The first thing is setting specific goals for your year-end fundraising campaign. These goals will be divided into two main categories:
Primary goals – These are specific fund related objectives important for the campaign.
Supplemental goals – These include additional benefits you can get out of the campaign. They don't necessarily have to be measurable.
Goal type
Examples
Primary goals
Increasing total donations by 5% since last year's campaign

A 20% increase in new donors since last year

Converting 30% of first-time donors into repeat donors
Supplemental goals
Increasing engagement among volunteers

Increasing the number of followers on social media

Inspire at least 5% more supporters to hold p2p fundraisers than last year
You'll also need to shortlist the channels that you'll be employing to communicate and engage with your donors and prospects. Having clarity about it will help you allocate your efforts and resources efficiently. Some of the most popular channels include:
Social media
Texting
Phone calls
Email
Direct mail
Events
Media coverage, etc.
Tips to enhance your efforts
1. Set SMART goals
SMART is an acronym for:
Specific – Maintain focus on a specific area of performance. In this case, it will be the funds raised.
Measurable – The goal should be measurable, just like in the examples above.
Attainable – The goal should be ambitious but within the realm of possibility. Use your past data to inform your objectives this year.
Relevant – The goal should be connected to the overall mission of your nonprofit, which it usually is.
Time-bound – The goal should have a deadline which is usually the first week of January for year-end giving campaigns.
Use the SMART goals formula to set specific objectives for your campaign. Listing out your goals clearly gives your campaign a direction to follow and even makes you 42% more likely to achieve them.
Moreover, clear objectives make it easier for you to track performance metrics that can help you tweak your existing campaign to do better or inform your future campaigns.
2. Have a multichannel engagement approach
As per studies, it takes between 7 to 12 touches for a donor to decide to support a nonprofit. But, trying to achieve all these touches from a single channel just extends the donor journey and leads to more drop-offs.
A multichannel approach, on the other hand, helps you in a couple of ways:
It increases the chances of your message being seen which in turn boosts the chances of conversion.
Allows you to distribute the information you're trying to convey rather than cramming them in one piece of content, which can become overwhelming and hence ineffective.
Ensure that you don't go overboard and include as many channels as possible in your plan. Keep in mind the resources you have and the demographics of your target donors and select a few effective channels, ones that have shown the best results in the past.
Read Next: 3 Pro Tips for Driving Donor Engagement and Boosting Revenue
2. Segmenting your donor database
72% of people say they only engage with personalized messages.
With list segmentation, you can ensure that you send messages relevant to the recipient.
For your year-end giving campaign, the most common donors segments are based on:
Recency of giving – This will give you insights into whether your message should focus on thanking them and showcasing the impact they made (for recent donors), or remind them of their involvement and ask them for a gift again.
Frequency of giving – Contact frequent donors and ask them to get more closely involved with you (for example run a peer to peer fundraiser). For those who gave just once, encourage them to give again.
Average gift size – The average gift size tells you whether you should connect with the donor over a call (for major donors) or send them an email (for small donors).
Age – The age data helps you understand the best engagement channel for the donor. For example, a millennial would prefer a text whereas a baby boomer would like to receive a direct mail.
Tips to enhance your efforts
Separate a small part of each segment for A/B testing
To craft messaging that hits it right, you'll need to understand the behavior of the prospect and A/B testing can help with that.
Assume that you're testing a text message being sent to all millennials in your database. Here are the steps you'd take to do so:
Step 1: Decide what you'll be testing
This could be anything in your SMS:
The text copy (with or without abbreviations, emojis, etc.)
The link (use a shortened link or a full link, place it at the end or in the middle, etc.)
The type of SMS (would an MMS perform better, what kind of media can you use)
Step 2: Select a subsegment from the list
Select a small group of random contacts to test a variation of the message on. It is recommended that you use at least 10% of your list for testing.
In CallHub you can select these contacts and add them to another contact list. This will make it easier to track their performance side-by-side. 
Step 3: Send the message simultaneously
Sending the message at the same time will ensure that the results aren't skewed by time-factors. To test the best time to send texts, you won't need to segment your list, just send the message to the same list at two different times and track their performance.
Step 4: Measure the results
The most common KPIs that you can track for an SMS are:
Open rate
Click-through rate
Response rate (if it was a survey text)
Conversions (sometimes you may end up with better metrics for one variation but higher conversions for the other one, which is your final goal.)
Create these segments for A/B testing early on during the campaign, or even before it. Preferably before you start creating the marketing collaterals so you can plan for variations accordingly.
3. Build your fundraising team
An organized team of staff and volunteers with defined roles will ensure that your year-end giving campaign runs smoothly. A few roles that you'll need people for are:
Marketing and communications – They will be responsible for preparing communication collaterals for all channels and track their performance.
Donor engagement – These volunteers will connect with prospects to convert them or respond to their queries. This could be over text, email, or social media chat.
Major gift fundraising – You'll need a team to focus on securing major gifts by contacting prospects and past donors.
Operations – They will be required to manage schedules and ensure no technical issues arise. A group of them could also take over all the responsibilities for event management.
It won't be necessary to have people working specifically in a role. Volunteers or staffers of smaller organizations may wear multiple hats.
Tips to enhance your efforts
Maintain transparency with staff-wide meetings
Make sure that everyone in the organization knows what's happening in the campaign. This kind of transparency will be beneficial in two ways:
It will help you get different perspectives into all the processes which could help you improve them. For example, youth volunteers could give great tips to the marketing team for social media efforts.
In case someone leaves, it will make it easier for people from other roles to replace them and ensure your campaign is not affected.
There are two ways you can ensure transparency among staffers:
Conduct staff-wide meetings regularly – These could be in-person meets or virtual conferences over Zoom to discuss the plans of each team on a regular basis.
Set up an internal communications platform – A Slack channel for instance. Staffers can post highlights and raise issues too so others can step in to help.
4. Create marketing collateral
For all the channels you decide to use to engage with prospects, create the content collaterals that you will be pushing out. These commonly include:
Email and text copies (of appeals, follow-ups, general engagement)
Social media copies and graphics
Branding (logos for different channels, color schemes, etc.)
Calling scripts for stewardship
Posters and flyers (if you'll be using them), etc.
In case you don't have the content for the posts (for example, a personalized thank you shout out to a big donor on social media), create templates that you can fill content in later.
Tips to enhance your efforts
1. Use a storytelling approach for all messaging
As per studies, if you want people to donate, you need to appeal to their emotions and a story is the best way to do so.
To execute this, you'll first need to create an overarching narrative that resonates with your organization's mission. Next, you will have to fit this narrative into all your messaging.
For example, assume that your charity works to provide meals to underprivileged children. You can create a story for a group of children to be used for your messaging:
General fundraising appeals – John (add image) needs your help to get through the day. Donate today to provide them with a meal for today.
Follow-up messages – Mike got through yesterday with the help of someone generous, but his today depends on you. Donate now to give him a meal.
Thank you messages – Cara is thankful for you this Thanksgiving. Your donation truly made a difference in her life.
These messages can be distributed through emails, social media posts, and even texts. In texts you could leverage bulk MMS to send out a compelling story with strong visuals.
2. Maintain consistent branding in all your collaterals
Campaign branding is essential to make it stand out and easily identifiable among others. Moreover, branded campaigns raise 38% more donations than others. The major brand elements that you need to focus on are:
Campaign Name – You can use creative names (for example the Movember campaign) to make your year-end giving campaign stand out. Plus, it'll also be used as a hashtag in each social post to make the campaign searchable.
Logo – The logo of the campaign will be it's visual identity, especially if the name cannot be added or shown.
Color scheme – A set color scheme subconsciously creates the relation with your campaign and also makes it visually more identifiable.
Description – The campaign description on the campaign landing page or social profiles will set the tone for other communication. For example, a light and humorous description will carry over other messaging too.
Here's an example of a general information post from Movember USA on Twitter: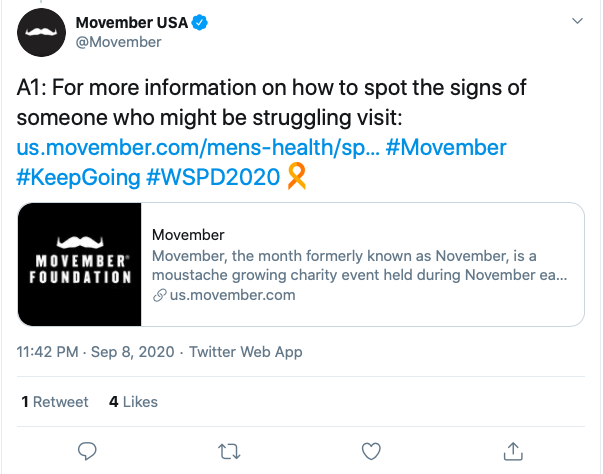 Note how they incorporate their logo in their profile picture, use the campaign name as a hashtag, and even have the logo in the feature image of the blog they are sharing.
You should have everything until this point ready by the last week of October as you'll be launching the campaign in November. Finish it earlier to get some time to review everything again.
Executing your year-end giving campaign
Once everything's in place, start the end of year fundraisers with an announcement letting everyone know.
The announcement could be an email blast, a social media post, a text blast, or everything combined. Ramp up your website, too, with new hero images and banners for the same.
Apart from that, here's everything that you need to set up to execute your campaign.
1. Launch your digital ad campaigns
Digital ads help you expand your campaign's scope by grabbing the attention of relevant prospects (given the targeting options) and driving traffic to your website.
Launch all your digital ad campaigns at the same time you schedule the announcement, or even a little earlier. Most nonprofits rely on the following year-end giving ad formats:
Social media ads
Search ads
Display ads
Video ads
Keep in mind that digital ads come with huge costs. If your budget keeps you from setting up different ad formats, here's what you can do:
Prioritize ads with the highest ROI – You don't have to launch search, display, social media, and video ads. Just go with one or two formats that have worked well in the past.
Apply for ad grants – For example, the Google Ad Grant provides nonprofits with $10,000/month in ad budget. Similarly, there are other grants that you can apply for to set up these ads for virtually nothing.
Tips to enhance your efforts
Create multiple copies of the same ad
Similar to your messaging, A/B testing your ads, too, can help you understand what works best. The elements of digital ads that you should be experimenting with include:
The ad copy (the message)
Call to action (primarily the text on the call to action button)
The audience (you have to define the audience based on intent or keyword)
The graphics (for video, social media, and display ads)
Creating an A/B test with digital ads is quite easy. All you need to do is:
Step 1: Create a copy of the ad you're launching.
Step 2: Edit the elements you wish to experiment with within the copy.
Step 3: Launch both versions of the ad.
Some platforms, like Facebook, make this process even simpler with an option that you can activate to set up another version.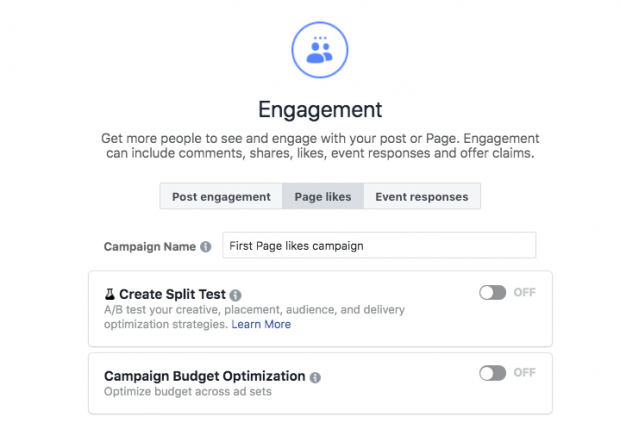 The platform algorithm takes care of testing both versions and, after a brief learning period, even starts displaying the better performing one more often.
2. Send out your emails
Similar to digital ads, the scope of emails too is huge. Add the ease of use and familiarity with the channel; emails will be an integral part of your campaign.
For year-end giving, nonprofits generally prepare the following sets of emails:
Initial announcement email
Initial donation appeal
Email appeals for events and holidays (Thanksgiving, Christmas, New year's eve, etc.)
Follow up emails for general donation appeals and holidays
Thank you emails
With an email marketing tool or CRM (with email functionality), you can automate all your emails by setting up a flow (as in the image below). For instance, you could set up a Thank You email that would be triggered after a donor goes through the donation process and reaches the payment confirmation page.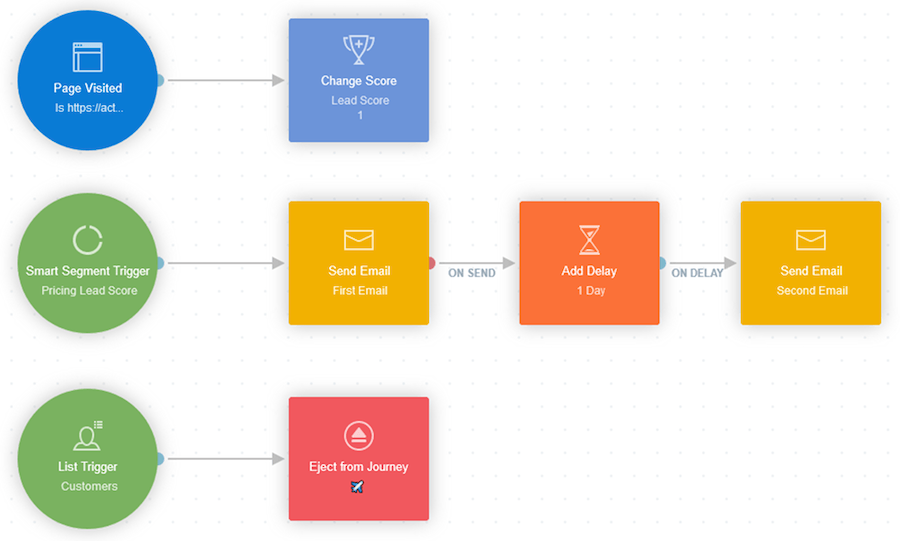 Automated flows would eliminate the manual effort needed to schedule and send out emails thereby giving you more time to focus on other essential tasks.
Tips to enhance your efforts
Use videos in your emails to increase engagement
Videos are great for engagement, and in emails, they can boost click-through rates by as much as 65%. When adding a video, here are a few things you can do to get the best results:
Keep the text copy short and relevant – Make sure that the text gives some context into the video. Add the video after the text, so people have an idea. Also, don't write a huge copy that may put the recipient off.
Host the video on your website – preferably on a dedicated landing page. It will be easier to convert people on your website than third-party sites since it is optimized for it.
Here's an example of a thank you email embedded with a video sent by Whale and Dolphin conservation: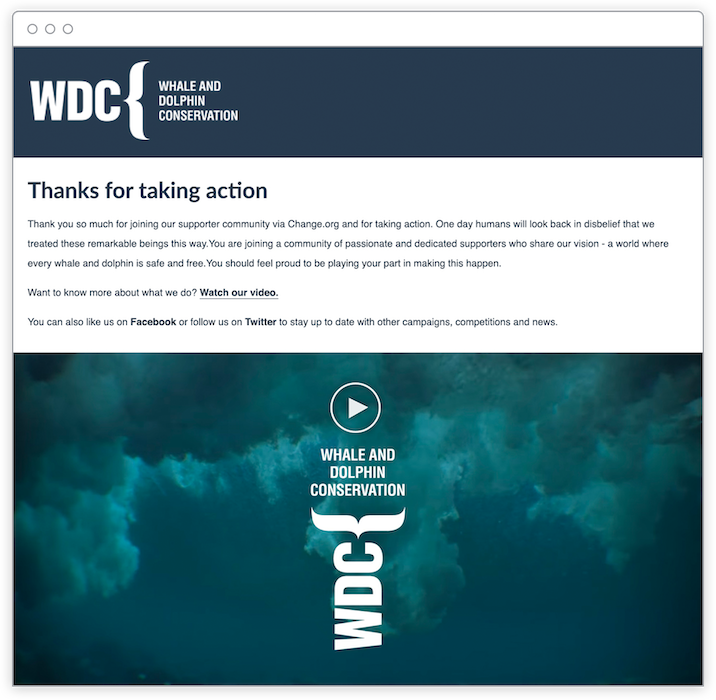 3. Post on social media
Social media is the perfect channel for nonprofits to engage with the younger audience. Plus, it is also easy for people to share content on social media, which can add to your reach significantly.
For year-end giving campaigns, here are a few posts that nonprofits share on social handles:
Donation appeals
Holiday greetings and appeals
Testimonials
Beneficiary or donor stories
Donor appreciation posts
Most social platforms are visual channels, so create posts with powerful graphics or videos that convey a big chunk of the message. Here's an example of Coral Acres Food Pantry's Giving Tuesday post: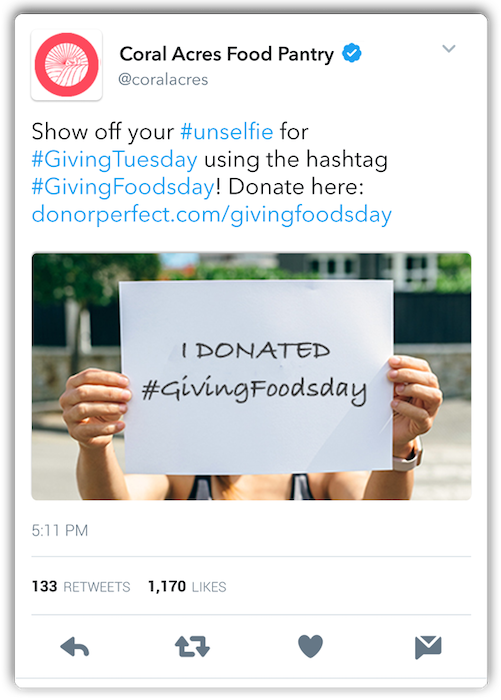 Notice how they use an image to showcase that people are donating thereby encouraging others to donate too.
Tips to enhance your efforts
Encourage sharing content
Word of mouth is an effective way to advertise your campaign. With the advent of social media, this practice has moved online.
By encouraging people to share your posts, you can create a ripple effect leading to a higher reach, more attention, and new donors. Here's what you can do to achieve this:
Start by asking people from your inner circle (supporters, staffers, volunteers) to share your content on their handles.
Prompt others to your posts by asking them to do so in the post copy. Make sure to mention how they would make a huge difference by doing so.
Use plugins to add social sharing buttons on your website making it easy for visitors to share content on their social channels.
People are more likely to engage with posts shared by their friends or family members than organizations, which is why this is important.
4. Set up a text-to-donate process
In 2019, the average gift size from text-to-donate campaigns increased by 15%. This indicates that setting up a text-to-donate process would be a worthy investment, given that you'll be able to secure larger donations. Plus, it's also a great way to build your contact list.
Setting up text-to-donate is easy and involves the following steps:
Rent a shortcode and define a keyword on your mass texting software
Set up a text message autoresponder to reply with the donation link when someone sends in the keyword
Set up an automated thank you message to be sent after the person goes through with the donation
Tips to enhance your efforts
1. Promote the keyword and shortcode everywhere possible
The key to a successful text-to-donate campaign is making sure everyone knows about it. To make sure of that, promote the keyword and shortcode everywhere possible. Here are a few popular ways you can do so:
Post the number and keyword as an image on a social media post. You can promote it organically or through ads
Including it on physical posters or banners that you may be putting up.
Add it in the banner image and description of your social handle.
Here's an example of a local church promoting SMS opt-in to make a donation through a social media post.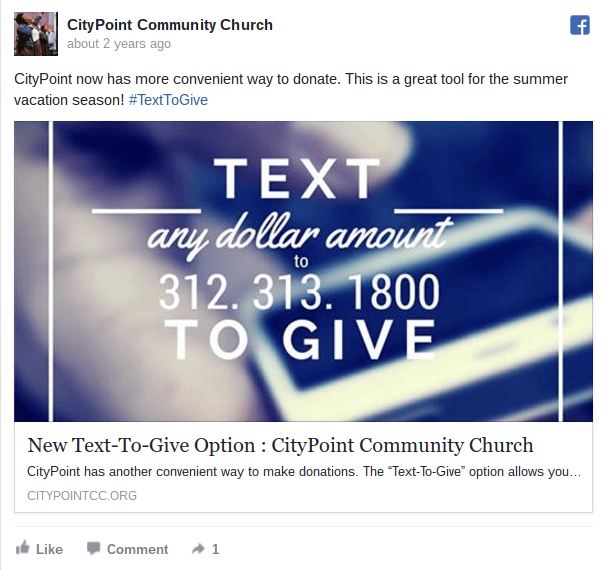 Apart from that, here are a few other best practices to follow:
Use a memorable short-code and keyword. People may not act immediately but may come back later. It should be easy to recall that later.
Make sure the page (the link of which you respond with) is mobile optimized. It's critical to deliver a good experience throughout the process.
2. Collect additional donor data
After a donor opts-in to your SMS list or makes a donation, try to gather more details about them. This information can be used to nurture them in the future and drive them to become more closely involved with your organization.
Here are a few ways to execute this:
Include additional fields in the donation form. The form (the link of which you respond with when someone sends the keyword) could have a few more fields (like email, phone number, region, etc.) to gather some insights into the donor. However, ensure that you don't make the form too long and drive them to dropout.
Schedule an automated text message sequence to collect their details. After they opt-in, you can schedule text messages requesting for more details, as shown in the image.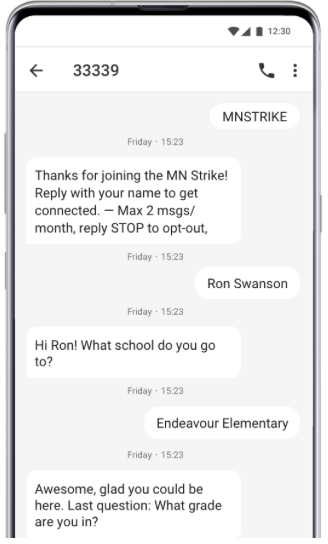 CallHub has numerous additional features that make the automated text messaging process more efficient. For example, you can schedule to send a reminder if the recipient doesn't reply to the last message. To learn more about this, refer to the article:
→ Automated text messaging: How to get started
5. Start arranging calls
Phone calls are personal and break through the clutter to connect with the prospects on a personal level. With response rates as high as 250X that of emails, they are perfect for engaging with major donors and building strong relationships.
For year-end campaigns, most charities typically use phone calls to:
Tips to enhance your efforts
1. Prioritize who you're going to call
Calling people is a labor-intensive task, and you may not always have the resources to call everyone. In that case, it will be helpful to prioritize people most likely to respond and generate a higher ROI. Most organizations prioritize their contacts in this order:
Existing or past major donors
Regular small and medium donors
Peer to peer fundraisers
One-time donors (start with those who donated recently and move back)
Lapsed donors
Social media advocates
Cold leads
Remember, the messaging and calling script will change based on who you're calling. For example, for major donors, the conversation should be structured to set up a meeting and get them to donate, whereas the objective to call regular donors would be to increase their average gift size.
2. Prioritize who will be making the calls
You will also have to plan and prioritize who will be making calls. This is because of the varying relationships between different types of donors and staffers.
For example, board members and senior staff would have personal relationships with major donors and corporate partners, and having new volunteers call them wouldn't be advisable. Here's an idea of how you can plan for callers and donors:
| | |
| --- | --- |
| Recipient | Caller |
| Existing or past major donors | Board, senior staff |
| Corporate partners | Board, senior staff |
| Regular mid-sized donors | Middle tier staff |
| Peer to peer fundraisers | Middle tier staff |
| One-time donors | Junior staff |
| Lapsed donors | Junior staff |
| Social media advocates | Volunteer |
| Cold leads | Volunteer |
To implement this, you can follow the list segmentation process described earlier to separate the contacts into different lists for each caller.
In CallHub, you can create sub-accounts and assign each of these lists to a separate calling campaign to make the process more seamless and avoid any overlap.
Ending the year-end giving campaign
Once the campaign ends (which is typically the 1st of Jan), here's what you will need to do in the final stages:
1. Thank everyone
Typically you should be sending thank you emails or texts right after someone makes a donation. At this point, however, the thank you messages will be more personalized and entail information like:
Whether you reached your objectives or not
A complete picture of how the funds were used
How did the campaign impact the beneficiaries?
When sending these thank you messages, make sure that they don't make another ask. This is a pure relationship building touchpoint.
Tips to enhance your efforts
1. Send thank-you messages through all channels of engagement.
At the end of the year-end giving campaign, you should spread donor and volunteer appreciation messages as thoroughly as your appeals. Make sure to cover all channels of engagement that you used for making asks. Here's what most charities do:
Post on social media (thank you messages, beneficiary stories, testimonials)
Send out an email or text blast to everyone involved
Handwritten note/letter from board members to major donors
Calls to mid-sized donors and those closely involved with the campaign
Lastly, remember that when you're crafting the content for these posts, the language is donor-centric. Make the donor (or volunteer) the hero of the story to make them feel valued, thereby inspiring them to give again in the future.
You May Also Like: Tips and Tricks for an Effective Annual Appeal Letter
2. Mail the tax receipts along with the thank-you mails
Many people participate in year-end giving to also receive a tax benefit, apart from helping out. Nevertheless, it's your responsibility to send out the receipts to everyone.
Since there is no defined format for the receipt, you can send them out along with the thank you messages, thereby making them more engaging while fulfilling the requirements. When sending out these receipts, make sure to mention:
What is tax-deductible and what is not
All the details of the contribution
A personalized thank-you message (as we spoke about above)
Tax-exempt status declaration and other organizational details
This only applies to people who you're sending emails or direct mails to.
2. Review your performance
The final step of the campaign is going over the performance of the campaign. This is the data that will inform your next year-end giving campaign and help you set SMART goals.
When measuring the results of the campaign, make sure that you look at numbers that answer all of the following questions:
• How much was raised last year? (Was it above or below expectations?)
This will help you set a realistic year-end giving goal for the next year.
• How many supporters engaged with the campaign?
This metric will give you the average reach of your campaign, again giving you enough details to set a practical goal.
• Who donated to your year-end campaign?
Keep track if they donate or engage with you again later. It'll help you segment them and keep track of who could be a potential volunteer or strong supporter.
• What was the theme of your campaign last year? (what was the response like?)
If the response was great, you could continue with the same theme. If not, you can try something new next year.
• What channels and strategies did you use to engage your audience? (how effective were they?)
This will tell you whether you need to explore new channels or strategies, or could you just follow the same ones in the next year-end giving campaign.
• How did you follow-up with and thank supporters for their contribution? (and how did they react)
You need this information to see how effective your thank you letters are in retaining donors.
Tips to enhance your efforts
Track relevant metrics
At the end of the campaign, you'll have a huge chunk of data available that could get overwhelming. However, remember that you won't need all of it. The following metrics are enough to start with:
Response rate and click-through rate for all communication
Average gift size
Cost per dollar
Return on investment (for each segment of the database)
Total amount raised
Average conversion rate
Having a CRM would be beneficial here as it will allow you to filter out the required data and calculate these metrics without too much effort.
To Conclude
The year-end campaign is one of the most important initiatives a nonprofit will tackle in any giving year. It requires planning and creativity to be successful, which is quite crucial. After all, it is one of the most important, if not the best, opportunity to meet your nonprofit's financial goals.
Hopefully, these strategies given above help you succeed in your year-end given fundraising efforts.
Feature image source: GiveWP